Die Walküre
Richard Wagner's opera Die Walküre is the second part of his monumental Der Ring des Nibelungen. Die Walküre premiered on 26 Juni 1870 at the Königlichen Hof- und Nationaltheater in Munich. The premiere as part of a complete Ring production was on 14 August 1876 at the Festival House in Bayreuth.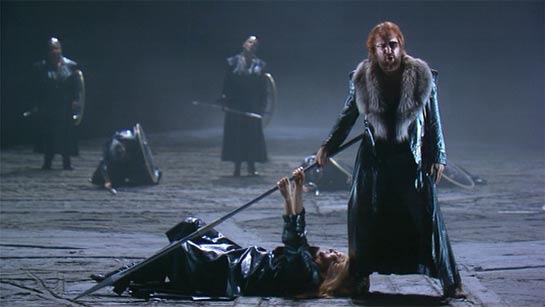 John Tomlinson as Wotan punishes Anne Evans (Brünnhilde) in Die Walküre, act 3. Photo from Harry Kupfer's production at the Bayreuth Festival.
Die Walküre (as part of the complete Ring des Nibelungen) was produced in the following cities years following the world premiere at the Bayreuth Festival on 14 August 1876.
| | |
| --- | --- |
| 1878 | München |
| 1879 | Wien |
| 1880 | Hamburg |
| 1881 | Berlin (Angelo Neumann's travelling Wagner-Theatre with guest performances in Berliner Viktoria-Theater) |
| 1882–1883 | Angelo Neumann's travelling Wagner-Theatre on tour: London (Her Majesty's Theatre), Breslau, Königsberg, Danzig, Hannover, Bremen, Barmen, Dresden, Amsterdam, Brüssel, Aachen, Düsseldorf, Mainz, Darmstadt, Karlsruhe, Strassburg, Stuttgart, Basel, Venice, Bologna, Rome, Torino, Triest, Budapest, Graz – totaling 135 performances of the Ring! |
(Audio + Full Score)
Thanks to YouTube user tomekkobialka for uploading this!
Synopsis
In the midst of a storm, Siegmund seeks refuge in an Hunding's house and encounters Sieglinde, the wife of Hunding. Instantly drawn to each other, they discover that they are long-lost twin siblings. Hunding, who is related to Siegmund's enemies, demands a duel with him the following morning. Alone later, Siegmund prays to his father, Wälse, for a promised sword. Sieglinde appears and reveals the sword embedded in a tree ("Winterstürme wichen dem Wonnemond"). As Siegmund pulls the sword, they recognize their kinship and celebrate their newfound bond.
In the mountains, Wotan wants his daughter Brünnhilde, a Valkyrie, to protect Siegmund in his forthcoming battle with Hunding. However, Fricka, the goddess of marriage and Wotan's wife, intervenes, insisting that Wotan must uphold Hunding's rights as a husband and punish Siegmund's forbidden love ("Wann ward es erlebt, dass leiblich Geschwister sich liebten?"). Wotan eventually yields to Fricka's demands. Brünnhilde, torn between her duty to her father and her compassion for Siegmund, decides to defy Wotan and aid Siegmund in battle. As Hunding approaches, Brünnhilde in a moving scene warns Siegmund of his impending fate in Valhalla ("Siegmund! Sieh auf mich!"). During Siegmund's fight with Hunding, Wotan intervenes, breaking Siegmund's sword and leaving him vulnerable to Hunding's attack. Brünnhilde rescues Sieglinde and escapes with her.
Brünnhilde arrives at her fellow Valkyries' mountaintop with Sieglinde, seeking refuge from Wotan's wrath. Sieglinde learns that she carries Siegmund's child. After Wotan appears, Brünnhilde is sentenced to lose her divine status and become a mortal woman. She pleads that her disobedience was, in fact, aligned with Wotan's true intentions. Unyielding, Wotan commands her to sleep, available as a prize to any brave hero. Brünnhilde requests a ring of fire to surround her, which only the boldest hero can penetrate. They realize that Sieglinde's unborn child will fulfill this role. Wotan kisses her eyes, bestowing upon her sleep and mortality. As he summons the god of fire to create the encircling flames, Wotan says that no one fearing his sword will be able to break through the fiery barrier ("Wer meines Speeres Spitze fürchtet, durchschreite das Feuer nie").
Sergey Eisenstein's production of Die Walküre at the Bolshoi Theatre
In 1940 the great film director Sergey Eisenstein staged a production of Die Walküre at the Bolshoi Theatre with creative use of lighting, later to be associated with New Bayreuth:
"Alexander Nevsky was suppressed in its native land in the year following its release du to the false friendship inspired by the Nazi-Soviet Non-Aggrassion Pact of 1939, but it was revived with great display of patriotism after Hitler's invasion of Russia in 1941. In the meantime, to commemorate a state visit by the Nazi propaganda minister, Goebbels, Eisenstein produced a remarkable version of Wagner's massive Teutonic music-drama Die Walküre at the Bolshoi Opera in which he attempted, as he later wrote, to achieve "a fusion between the elements of Wagner's score and the wash of colors on the stage through lighting. The psychologist of perception was still very much alive in Eisenstein, but he had advanced from reflexology to synthesia. And just as he had used the Proletkult Theatre asa testing ground for his developing theories of montage, he used his 1940 production of Wagner's opera as a laboratory for his new ideas on the dramatic interplay of sound, spae, and color, so important to his last two films." (David E. Cook: A History of Narrative Film, New York 1981, p. 319)
Richard Wagner: Der Ring des Nibelungen (Staatsoper Unter den Linden, Berlin. Dimitri Tcherniakov, Christian Thielemann)
Ride of the Valkyries
Berliner Philharmoniker, Daniel Barenboim
Said about Die Walküre
Eduard Hanslick on Die Walküre
The second drama, Die Walküre begins very impressively with the entrance of the fugitive Siegmund into Hunding's house. The tedious breadth of the scene at the table (Siegmund, Hunding and Sieglinde) is compensated for, gradually, in the course of the love duet between Siegmund and Sieglinde, in which the B flat major episode, 'Winterstürme wichen dem Wonnemond', enters like long-missed sunlight. Here we are revived by a ray of melodious sustaned song.
The second act is an abyss of boredom. […] Scenes like this recall the medieval torture of waking a sleeping prisoner by stabbing him with a needle at every nod.
On the first Wagner Festival, written 19 August 1876 (Bayreuth - The Early Years)
CASTORF / WAGNER Der Ring des Nibelungen 2013-2017: Bilingual book (French/German)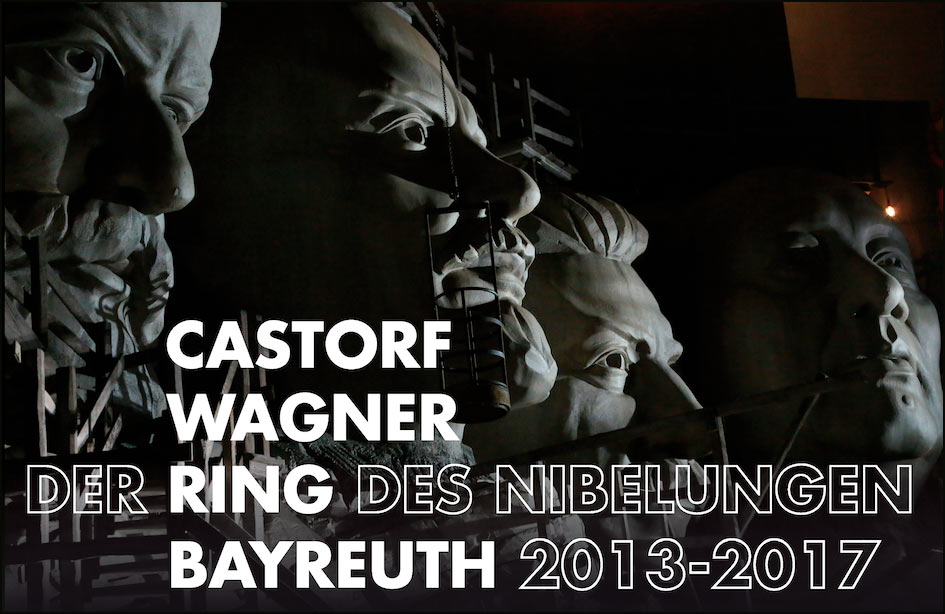 CASTORF / WAGNER Der Ring des Nibelungen 2013-2017: Bilingual book (french/german) about Frank Castorf's Ring production at Bayreuth edited by Guy Cherqui and David Verdier (Wanderer, Geneva)
Essays and Interviews Katharina Wagner (artistic director, Bayreuth), Frank Castorf (stage director), Aleksandar Denic (stage designer), Patric Seibert (assistant/actor), Adriana Braga Peretzki (costume designer), Wolfgang Koch (Wotan), Nadine Weissmann (Erda)...
Ring ABC
62 entries by Guy Cherqui and David Verdier
Specifics 26x17 cm 384 pages 200+ color plates, most of them exclusive photos
La Pommerie Éditions in collaboration with the Wanderer website ISBN 978-2-9564912-0-0 Info castorf.ringbook@wanderersite.com
More info here!
With essays by, and interviews of, the main architects of this project, this book aims for an in-depth analysis of the main lines of enquiry of a work that has already assured its place among the greatest Bayreuth productions. Frank Castorf's theater has found in Wagner an ideological and polemic sounding board that echoes our most extreme issues of the day. The second part of the book is a lexicon of characters, themes and references that offers both readers and viewers points of orientation in the Castorfian Gesamtkunstwerk.
Videos
The orchestral passage following Wotan's words "Denn einer nur freie die Braut, der freier als ich, der Gott". Here from a concert performance of Die Walküre, ending of Act 3. Thomas Stewart is Wotan. Leonard Bernstein conducts Wiener Philharmoniker. Wagner concert in Vienna, 1985.
Leonard Bernstein / Wiener Philharmoniker: Orchestral passage from Richard Wagner: Die Walküre Act 3. Wien 1985.
Leonard Bernstein conducting VPO in the ending of Die Walküre. Thomas Stewart is Wotan. From 1985.
Waltraud Meier (Sieglinde) and Gabriele Schnaut (Brünnhilde) at La Scala in Richard Wagner's opera Die Walküre (Act 3).
Johanna Meier (Brünnhilde) and Siegfried Jerusalem (Siegmund) in the Death Announcement scene (Todesverkündigung) from Die Walküre (Madrid, 1986)
Ute Vinzing sings Brünnhilde: Excerpt from Die Walküre Act 3 at a concert performance in Vienna, led by Leonard Bernstein (1985).
Riccardo Muti conducts Ride of the Valkyries at La Scala
Montserrat Caballé (Sieglinde) and Johanna Meier (Brünnhilde) in Die Walküre, Act 3: O, hehrstes Wunder. Madrid, 1986
Monte Pederson (1958-2001) as Wotan in a production of Die Walküre at La Scala. Gabriele Schnaut is Brünnhilde.
Gabriele Schnaut as Brünnhilde: War es so schmählich. Monte Pederson (1958-2001) as Wotan in a production of Die Walküre at La Scala
Der Ring des Nibelungen: Articles and Reviews
Nila Parly on Regietheater: Visions of the Ring
The Cry of the Valkyrie: Feminism and Corporality in the Copenhagen Ring
Sam Goodyear, Bayreuth 2022: Der Ring des Nibelungen (Valentin Schwarz)
Mark Berry, Bayreuth 2022: Das Rheingold (Valentin Schwarz)
Mark Berry, Bayreuth 2022: Die Walküre (Valentin Schwarz)
Mark Berry, Bayreuth 2022: Siegfried (Valentin Schwarz)
Mark Berry, Bayreuth 2022: Götterdämmerung (Valentin Schwarz)
Mark Berry: Bayreuth 2017: Das Rheingold (Frank Castorf / Marek Janowski)
Mark Berry: Bayreuth 2017: Die Walküre (Frank Castorf / Marek Janowski)
Mark Berry: Bayreuth 2016: Das Rheingold (Frank Castorf)
Mark Berry: Bayreuth 2016: Die Walküre (Frank Castorf)
Mark Berry: Bayreuth 2016: Siegfried (Frank Castorf)
Mark Berry: Bayreuth 2016: Götterdämmerung (Frank Castorf)
Mark Berry: Bayreuth 2014: Das Rheingold (Frank Castorf)
Mark Berry: Bayreuth 2014: Die Walküre (Frank Castorf)
Mark Berry: Bayreuth 2014: Siegfried (Frank Castorf)
Mark Berry: Bayreuth 2014: Götterdämmerung (Frank Castorf)
Germán A. Bravo-Casas: Wagner's Dream. A documentary film directed by Susan Froemke and edited by Bob Eisenhardt
Per-Erik Skramstad: Bayreuth 2013: There Will Be Blood: Frank Castorf Has Entered the Ring
Per-Erik Skramstad: Bayreuth 2010: Curtain Down on Tankred Dorst's Ring
Mark Berry: 2010 Cassiers Ring
Sam Goodyear: Laufenberg's Wiesbaden Ring 2017
Jerry Floyd: Rheingold, Metropolitan 2010
Jerry Floyd: Die Walküre, Metropolitan 2010
Jerry Floyd Washington National Opera: Siegfried
Jerry Floyd Washington National Opera: Siegfried II
Jerry Floyd Washington National Opera: Götterdammerung Concert (2009)
Jerry Floyd Washington National Opera: Götterdammerung Concert (2009)
Mark Berry: Richard Wagner für Kinder – Der Ring des Nibelungen (2011)