Stefan Herheim interviewed by Wagneropera.net
An honour to take part - Stefan Herheim on working at the Bayreuth Festival
By Erling E. Guldbrandsen and Per-Erik Skramstad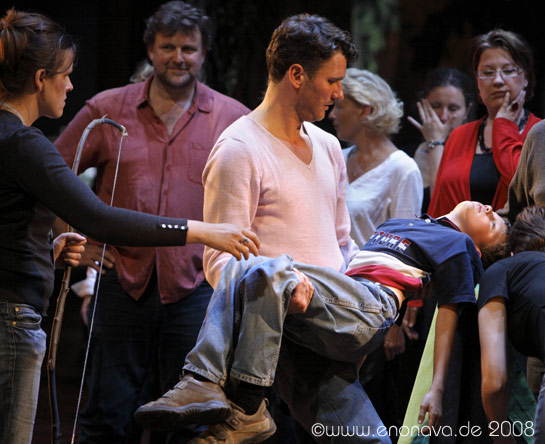 Bayreuth still offers a completely unique athmosphere for working on Wagner, compared to any other opera house with their normal opera seasons and routines. Herheim tells about aggressive journalism and extreme public expectations around Bayreuth, and describes the situation of working 16 hours a day, 7 days a week in a team where everybody sacrifice their summer holiday to reach for the virtually unattainable in art.
Stefan Herheim, what is it like to work as a director at Bayreuth?
To start with, there's nothing to match the Festival when it comes to producing in a focussed and efficient way. Everyone working at Bayreuth sacrifices their summer holidays to be part of something special, something that you just don't experience as a normal worker at a normal opera house in a normal season. Everyone is there to act and sing Wagner, in Wagner's own house. It's considered an honour to take part, and all are experts in their own field. And for me, this is exactly where the real importance of the Festival lies. Here, more than anywhere else, everything that you have prepared yourself for, everything you say and do really counts. The technical equipment in Bayreuth also offers tremendous possibilities, and you have greater means available than normally.
Do you get more rehearsal time in Bayreuth than elsewhere?
No, it's a myth that there are such long rehearsal periods in Bayreuth. In fact, you have fewer days and weeks than in most other places. But the motivation and work ethic are unmatched, and more is achieved in less time than in other opera houses, where there are often long waiting times, fatigue and a certain ignorance across the range of rehearsal activities. But Bayreuth is also a very tiring system to work within: the public's expectations are so high, some of the journalists come across very aggressively, and the cult around the Wagner management and celebrity hysteria brings things to an embarrassing low tabloid level. But when you rehearse up to 16 hours a day, 7 days a week, you become immune to such things. And for a workaholic like me, being pressed for time often has a positive effect. It has been a great experience to stage Parsifal at Bayreuth; I am humbled by the Festival idea, grateful to my many colleagues, and pleased that I took this opportunity.
Had you been in Bayreuth before you put on Parsifal there?
No. As a 15-year-old I bought the Chéreau Ring on video and studied books on the stage techniques behind Peter Hall's Ring production – the one where the Rhine Daughters swam in a real pool that took up half the stage. I found it all absolutely fascinating and had enormous reverence for this place. There's nothing to compare with the theatrical vision behind this house.

When and how did you get the offer to put on Parsifal in Bayreuth?
While I was holding rehearsals for Giulio Cesare in Oslo in December 2005, I received a phone call: "Hier spricht Wolfgang Wagner – spreche ich mit dem Regisseur Stefan Herheim?" I said yes. "Mögen Sie Parsifal?" The whole thing was weird as just two months before I had, for personal reasons, cancelled Parsifal with Daniel Barenboim in Berlin. So, it seemed as if I had unfinished business with this work. Wolfgang Wagner put me on to his secretary, a meeting was agreed and two weeks later we were dining together in Berlin. Gudrun let Wolfgang speak for five minutes before she took over. An odd couple ... the following summer, I sat for the first time in Bayreuth and watched Schlingensief's Parsifal.
What did you think? Did you know Schlingensief's work from before?
I had seen some of his projects in Hamburg and Berlin and got to know him personally some time after that. Christoph is an incredibly strong person and a very special artist who goes his own way, with admirable results. His multimedia installation theatre isn't really my cup of tea, but Parsifal had power and fascinated me as much as it confused me. Undoubtedly, this production was very important for Bayreuth's image and developing the tolerance levels of the audience.
You have said that Parsifal caused you anxiety. What did you mean by that?
I was a 16-year old extra when Parsifal was put on at the Opera in Oslo. It was the first time that, as an extra, I avoided being near the stage and was sitting in the cafeteria waiting for my entrance. I felt that there was something sinister about the music, something disturbing, which made me feel wary and anxious. Maybe I was afraid of the extra dimensions in this work, perhaps overly sensible to the relativity of time and space that you so clearly hear in Parsifal.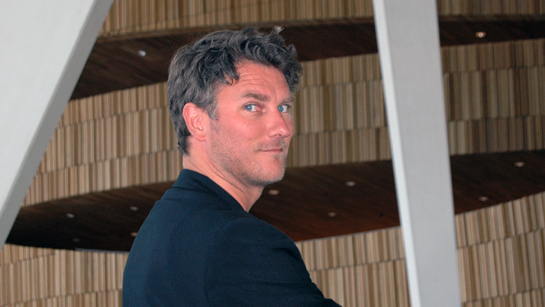 Stefan Herheim.
Photo: Per-Erik skramstad
What are the plans for your Parsifal in Bayreuth?
This production will certainly play through to 2012. Bayreuth is producing a new Ring in the bicentennial year of 2013, so there will be a break for Parsifal - and a summer holiday for me for the first time in five years. I don't know what will happen after that. I have many other major challenges before me in new houses, so I try as best I can to live in the present.
Translated by Jonathan Scott-Kiddie
Stefan Herheim interviews
Stefan Herheim links
Stefan Herheim: Parsifal - Selected Reviews and Comments
Associated Press (2009): More impressive is the thread Herheim weaves — a century of German history replete with back-projected footage of the two world wars, smoking ruins left by the fall of the Third Reich, on-stage depictions of war wounded, fleeing Jews and — toward the end — Germany as a phoenix rising from the ashes. The links are clear but effective. Sin begets misery in the knight-priest kingdom, and pulls the country into the vortex of destruction that ends only with the redemption wrought by Parsifal. Old and new are joined, and the result is an opera that is true to its roots but relates as well on the contemporary level.
Bayreischer Rundfunk (audio)
Bloomberg: The richness and psychological depth of Herheim's images and the seamless musicality with which he and his team have knitted them together add up to an evening of breathtaking impact.
Boulezian blog: Daniele Gatti's reading of the score rarely drew attention to itself but contributed to the unfolding dramas in exemplary fashion. […] The richness of the Bayreuth orchestra was ever apparent, but never more so than when it finally had our full attention, during the unstaged Prelude to Act III. That evocation of hard-won passing of time can rarely have seemed more apt than in the circumstances of this production. The gradual unfolding of the score's phrases and paragraphs was faultless. Each act was possessed both of its own character and of an array of variegation and cross-reference. And the bells sounded better than I can recall hearing them anywhere (except of course on the most venerable of old Bayreuth recordings).
Graham Bruce (The Wagner Society in Queensland): Herheim conceived PARSIFAL as a child's dream, with all of the Freudian implications that suggests. Now if that description suggests that this was yet another production which rode rough-shod over the text and music, I must assure my readers that conceptually, visually and musically, this was an outstanding success; indeed it's been some time since goose-bumps arose on my skin as they did during this performance.
Le Figaro: Un Parsifal politiquement correct
Financial Times: The performance works on so many levels that you emerge challenged and stimulated: Bayreuth at its best.
The Guardian: Herheim's production continually poses the direct question of whether Wagner's own Bayreuth legacy - like the decaying world of the Grail knights in Parsifal - can ever be morally cleansed. In pursuit of an answer, Herheim takes us on a formidably ambitious journey through a dazzlingly inventive theatrical deconstruction of Parsifal, of German history, of Wagner and, above all, of the way they are woven together in Bayreuth itself.
International Herald Tribune: The staging is grandiose, visually sensual, and scenically enthralling. The audience's attention rarely waned during the seven-hour performance, despite the slow, deliberate pace of the score as conducted by Italian Daniele Gatti. […] Herheim makes use of every modern stage technique available to him, deploying an endless succession of technological fireworks and visual provocations.
Mostly Opera: […] myriads of ideas, sufficient for several new Parsifal productions on an over-stuffed stage, downstaging both singers and music and ultimately creating confusion as opposed to enlightenment.
New York Times: In the end, it is moving. Directors get away with half-baked ingenuities because opera plots already require suspended judgment — and because of the music. Under Daniele Gatti's baton, the score unwinds in grave and luxurious fashion. The Bayreuth chorus is peerless, as always. Christopher Ventris, as an ardent Parsifal; Detlef Roth, the touching Amfortas; and Kwangchul Youn, a brooding Gurnemanz, make for unexpected stars. Mihoko Fujimura, notwithstanding the straining in her upper reaches, is the desperate, heartbreaking Kundry. If someone at Bayreuth could sift through Mr. Herheim's bounty of ideas, this might yet become a great production.
The Stage (Penelope Turing: Herheim is tempted by adding some 'ideas', but emerges triumphant because this is simply a great musical performance.)
Telegraph (Rupert Christiansen, 2009): I caught the first revival of the Norwegian director Stefan Herheim's production of Parsifal. Its first two acts are among the most beautiful and complex things that I have ever seen on a stage, and I can scarcely describe their import. [...] What further distinguishes Herheim's direction is its exquisitely sensitive musicality. The endlessly shifting and meticulously choreographed imagery flows in and out of the river of Wagner's score, as it progresses from the Bismarck era to Adenauer's reconstruction, through two world wars and the Weimar Republic, showing idealism turning to militarism and religious belief to political fanaticism.
The Wagner Journal (Barry Millington): This is one of the finest stagings of the work ever seen at Bayreuth, or anywhere else. While undeniably complex, the dramaturgy is strong, clear and focused. The stagecraft, moreover, is superb. (Review available in the printed edition.)
Westdutsche Allgemeine Zeitung: Herheims Parsifal ist vielschichtig, aber dabei nicht beliebig. Er hält eine kluge Balance zwischen Dokumentation und Traumkosmos. Und der Norweger ist ein Regisseur von großer Musikalität: Gesten und Blicke, Gänge und Verwandlungen korrespondieren punktgenau mit Wagners Musik.
"I have noticed a tendency to the (historically) excessive since 2008 in the production on the Green Hill by Stefan Herheim, Schlingensief's successor as director of Parsifal: as if these directors knew what wealth Wagner had left in his last opera but did not feel able to control it and make it fertile. I think we should not be too complicated, nor always think of history before and after Wagner and show it on stage. As Lars von Trier said: if we want Wagner, then Wagner is what we want." Christian Thielemann. As quoted in Christian Thielemann: My Life with Wagner (p. 249). Orion. Kindle Edition.
Scandinavian reviews
Parsifal at the Bayreuth Festival. Directed by Uwe Eric Laufenberg. Reviews and comments.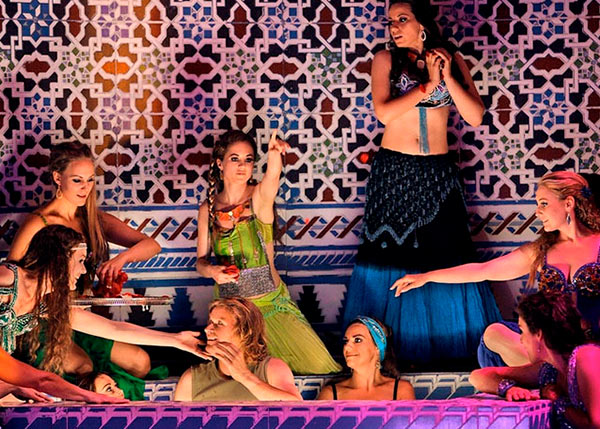 Foto: Enrico Nawrath/Bayreuther Festspiele
Wagneropera.net recommends
Parsifal on DVD and CD