Interview with Dame Anne Evans
Anne Evans: At the time I hadn't realised what a powerful impact it made
With the release of the Kupfer/Barenboim Ring on DVD, Dame Anne Evans has been discovered by the younger generation all over the world and those who couldn't go to the Festival. Her moving portrayal of Brünnhilde has made her performance, as well as the whole production, a Bayreuth classic. In this interview Anne Evans tells about her Bayreuth success.
Dame Anne Evans, when did you first develop your relationship with Wagner's music?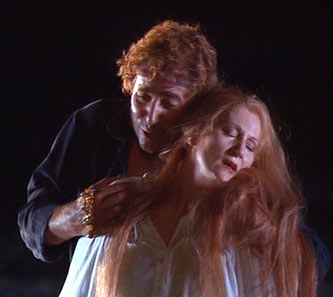 This happened in Geneva, where I studied for two years at the Conservatoire de Musique after completing four years at the Royal College of Music in London. The opera class in Geneva was run by Herbert Graf, who was also Intendant of the Grand Théâtre.
Graf gave the most promising students the chance to sing roles in the theatre, which at the time was preparing a Ring cycle. I was given Woglinde, Helmwige and Third Norn! It was a wonderful chance to get to know, not just the scenes in which I was taking part, but the whole Ring, because I was able to attend the rehearsals for the entire cycle, What a baptism of fire. Casts included Ramon Vináy as the Rheingold Wotan and the young Anja Silja as the Walküre Brünnhilde. Georges Sebastian conducted and Graf directed. I was completely hooked.
Anne Evans in Bayreuth
1983 Ortlinde (Die Walküre), 3. Norn (Götterdämmerung)
1984 3. Norn (Götterdämmerung)
1989 Brünnhilde (Die Walküre, Siegfried, Götterdämmerung)
1990 Brünnhilde (Die Walküre, Siegfried, Götterdämmerung)
1991 Brünnhilde (Die Walküre, Siegfried, Götterdämmerung)
1992 Brünnhilde (Die Walküre, Siegfried, Götterdämmerung)
What was the direct reason for your being invited to Bayreuth to play Brünnhilde?
Harry Kupfer knew and liked my work. I had sung in his productions of Elektra (Chrysothemis) and Fidelio (Leonore).
When in late 1988 Bayreuth unexpectedly found itself without a Brünnhilde, Harry came to hear me sing the role in Götz Friedrich's production at the Deutsche Oper in Berlin. He must have thought it was all right, because shortly afterwards I was asked to audition the role for Barenboim. This took place at the Palais Garnier in Paris, which had been hired specially for the afternoon. His young assistant - Antonio Pappano, no less - played the piano, making it sound like an orchestra.
It was not long before Barenboim took over the piano and started saying things like, 'Let's try it this way' and 'Why don't we do it like this?' And I said, 'Hold on a minute, are you saying I've got the job?' And he said, 'Oh, sure!' and went on playing as though he hadn't said anything significant at all.
How do you regard your Bayreuth success and the Bayreuth years in the light of your whole career?
Appearing at Bayreuth as Brünnhilde was the pinnacle of my career. Only one thing equalled it – singing Isolde, but alas I never got the chance to do that role at Bayreuth, though I sang it in Berlin, Dresden, London and Paris among other places.
What was the atmosphere like at the Bayreuth Festival?
Wolfgang and Gudrun Wagner were not remote figureheads. They were incredibly supportive and always available to discuss any problems that arose. There was a real family atmosphere. Everyone who worked in the theatre, from Wolfgang to the youngest stage-hand, ate in the canteen, and there was always someone to talk to. I never felt lonely there.
How would you describe the rehearsal work at Bayreuth compared to other opera houses?
Very intense, particularly for The Ring, because all four parts were rehearsed simultaneously. You might find yourself going straight from a scene in Walküre in the morning to, say, the end of Götterdämmerung in the afternoon. I didn't mind that at all. I had been brought up in the English National and Welsh National Opera companies, both of which took rehearsing very seriously. In addition, we all got individual coaching sessions with Barenboim, which was a wonderful luxury. For me the Bayreuth experience was particularly rewarding, because as each year passed I was able to develop the character of Brünnhilde that bit further.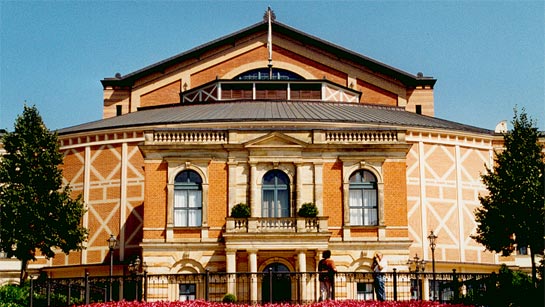 What do you think of the acoustics at the Festspielhaus?
For the audience they are very special. Because the orchestra pit is very deep and part-covered by the cowl, you get an unusually good blend of voices and orchestra.
For the singer, on the other hand, there is a small but unusual problem to which one has to adjust. Because of the cowl and the unusual depth of the pit, the sound from the orchestra reaches the stage fractionally later than it would in a theatre with a conventional pit, so you have to sing very slightly behind the conductor's beat to ensure that everyone is together. Barenboim warned me about this and I soon got used to it.
The Kupfer-Barenboim production of The Ring was not your first encounter with Bayreuth. In 1983 you sang Ortlinde (Die Walküre) and 3. Norn (Götterdämmerung) in the Peter Hall/Georg Solti Ring. How did you experience that summer in Bayreuth?
It was quite intimidating to start with, because I was very conscious of the theatre's history. After all, it had been built specially for the performance of Wagner's operas and the first complete Ring had been given there. Standing on the stage for the first time I thought of all the famous people who had sung there over the years. Vocally it was not such an enormous challenge, because I had sung the Norn and Valkyries before.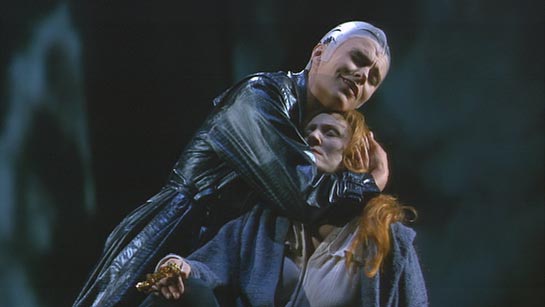 Some critics thought it was a bad idea to cast you as Brünnhilde in the early '80s. How they were proved wrong! Later you sang this role to great critical acclaim, not just at Bayreuth. How would you describe the challenges you were facing when you undertook this difficult task? In a Wagner context your voice has been described as "more lyrical than heroic". What do you think about that?
First I should say that I agree with you completely about my voice being 'more lyrical than heroic', but there is no single way of singing Brünnhilde. Before the arrival of the great Flagstad,who was followed by singers like Traubel, Varnay and Nilsson, audiences were used to a more lyrical approach to the role, as exemplified by singers ranging from Lilli Lehmann and Nordica to the great Frida Leider.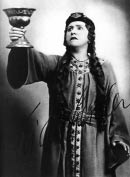 It was listening to recordings of the earlier generation of Wagner singers, Leider in particular, that made me think that it was possible to approach the role in my own way. Lyrical Brünnhildes might not have the sheer heft of a Flagstad or Nilsson, but they can bring a young, tender, feminine quality to the role, ideally with a wide range of colours and dynamics. The other thing to remember is that whether you're a heroic Brünnhilde or a lyrical one, you still have to have the stamina for the role – and that I certainly had! I never once felt remotely tired at the end of Götterdämmerung.
Of course Brünnhilde is a huge challenge for any singer, but I studied the role slowly, performing the operas one at a time. I felt it was very important to get it not only into the voice, but also into the muscles of my body, because that is where the support for the voice comes from. Though I was very influenced by Frida Leider, I have never tried to copy her sound. That is fatal for a singer. One must always bring one's own sound and individuality to a role.
In Kupfer's Ring how did all the physical activity on stage – with all the running around, falling and interacting – affect your singing?
Physically it was probably the hardest Ring I ever performed in, but I never allowed it to compromise my singing. You had to be like an athlete and I kept myself very fit. During the first year I never marked at rehearsal, because it was important to discover long before the opening just how far I could push myself both vocally and physically without running out of breath, particularly in the second act of Götterdämmerung, where I had to run up and down the "Spindel".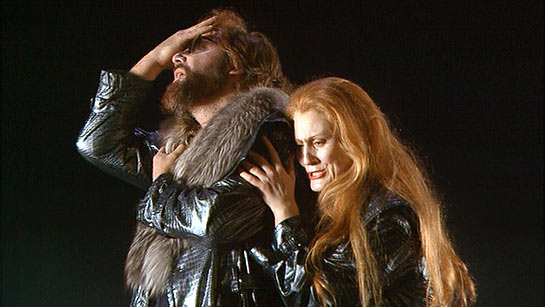 Brünnhilde's confrontation with her raging father in Die Walküre (act 3) is really great in the Kupfer production. How was your collaboration with John Tomlinson during rehearsals and performances?
John and I were good friends and we had an exhilarating working relationship, always testing each other to the limit. (I had an equally inspiring relationship with my Siegfried, Siegfried Jerusalem.) Watching the Walküre act 3 on DVD recently after a long gap, I was amazed to find how powerfully it came across. At the time I hadn't realised what a powerful impact it made because we were concentrating so hard.
Brünnhilde negotiates with Wotan to get a milder punishment, and she succeeds. Only the best of heroes will be able to pass through the flames that guard her. For Brünnhilde this is defeat and victory at the same time. In this production of Die Walküre the final punishment is displayed as a rather wonderful thing, based on Brünnhilde's and Wotan's reactions. How do you interpret the ending of Die Walküre as Kupfer staged it?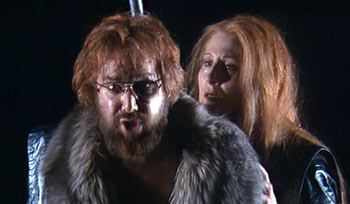 The production for this scene gradually evolved between Harry, John and I as we rehearsed it. It was Harry's idea that, after the phrase "Denn einer nur freie die Braut, der freier als ich, der Gott", instead of falling into each other's arms, we should fling out our arms to embrace the world and then fall to the ground to kiss the earth, thus consecrating the ground where Brünnhilde would be put to sleep.
There is one particular – and much commented on – scene in Götterdämmerung on which I want to hear your opinion, and that is Wotan's arrival at Siegfried's funeral. What did Kupfer say about this scene? And what did you think about it?
I don't remember Kupfer discussing it with me, but personally I found it very convincing and moving.
This scene raises the question: How far can the director go beyond what is in the stage directions and the score? What is your opinion on that?
A theatrical masterpiece must be seen through the eyes of each new generation. I was always prepared to try anything, provided it didn't go completely against what the music was telling me. How boring it would be if every production was identical.
Currently you devote yourself to giving master classes for hopeful singers. What is your recipe for singers who want to become a world class Brünnhilde or Isolde?
Could I amend the question? I do give master classes, but not in Wagner. For example, last summer I ran a series of classes for young singers on Mahler and Strauss Lieder at the Britten-Pears school at Aldeburgh. I also concentrate on teaching and coaching singers for roles they are about to perform. I find this immensely rewarding. Wagner singing, particularly in the big roles, is for experienced singers. Contrary to a widespread belief, nobody is born a Wagner singer.
Too many young hopefuls think it's just a matter of singing as loud as possible for as long as possible, but that way they will soon come to grief. To survive, you need a well-schooled voice. A good technique helps to give you vocal stamina. I was very lucky. I was grounded in the Mozart repertory, which stood me in very good stead, because I learned, not just how to sing, but also about dynamics, vocal colours, vocal line and the importance of getting the words across – all things that are vital in Wagner.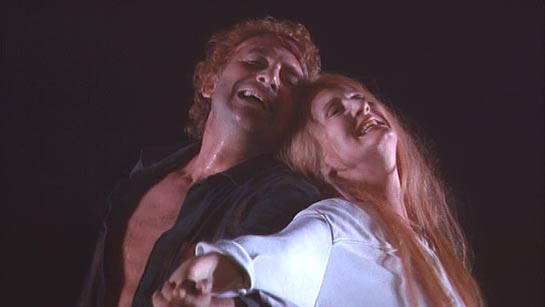 And the Heldentenor situation today? Is there any hope of hearing a new Lauritz Melchior in the foreseeable future?
Who can tell? As I have said already, there is more than one way to sing these great roles. Good singers will emerge. The finest Heldentenor in my time was Siegfried Jerusalem and I consider myself hugely fortunate to have had the opportunity to sing with him so often.
Anne Evans's Wagner roles
Brünnhilde
Isolde
Kundry
Senta
Elsa
Elisabeth
Eva
Sieglinde
Freia
Gutrune
Helmwige
Ortlinde
3. Norn
Wellgunde
Wesendonk-Lieder in concert and recital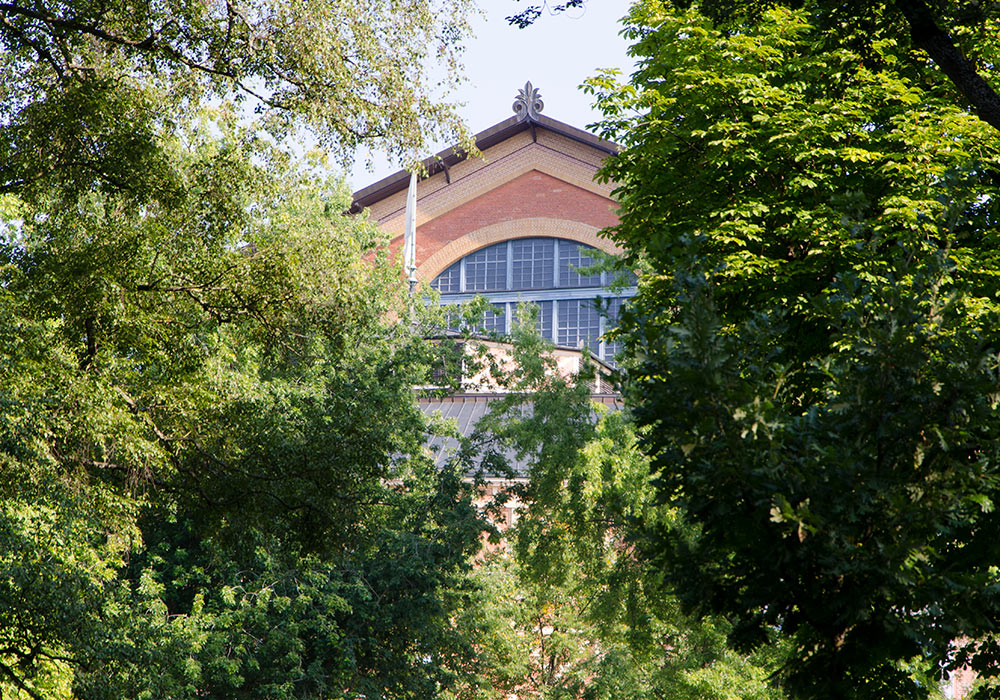 The Festspielhaus in Bayreuth.
Anne Evans
Anne Evans, established as one of Britain's most internationally successful singers, has appeared in opera and concert throughout the world.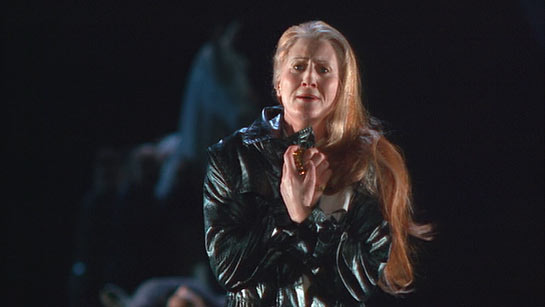 She sang Brünnhilde at the Bayreuth Festival with Daniel Barenboim from 1989 to 1992. These performances are available on CD and DVD. She also sang this role to great critical acclaim in Berlin, Vienna, Paris, Covent Garden, Buenos Aires, Nice, Welsh National Opera, in concert with the Cleveland Orchestra and Christoph von Dohnanyi, and in semi-staged performances at the Royal Albert Hall in London with Bernard Haitink.
Anne Evans, a celebrated Isolde, sang the role in Berlin, Paris, Dresden, Brussels, for Welsh National Opera and Scottish Opera, and at the Ravello Festival. Her performances of Leonore (Fidelio) included the Metropolitan Opera New York, the Edinburgh Festival, and Stuttgart, and other notable engagements have included Sieglinde (San Francisco), Elisabeth in Tannhäuser at the Metropolitan New York, the Marschallin (Der Rosenkavalier) in a new production for English National Opera, Ariadne at the Edinburgh Festival, The Turn of the Screw at La Monnaie in Brussels (released on CD), and Les Dialogues de Carmelites at Glimmerglass.
In the concert hall she has sung with many of the world's leading conductors and has given recitals at the Wigmore Hall and the Edinburgh Festival. In August 2003 she sang excerpts from Der Rosenkavalier with the BBC Symphony Orchestra and Sir Charles Mackerras at the BBC Proms in what was to be her farewell public appearance.
Anne Evans was made a Dame of the British Empire in June 2000.
Anne Evans on Wikipedia
Singing Isolde
"You have to work yourself up into a lather at the start. But other times it's like flying. It's my favourite Wagner role, but you have to know what you're doing. You can blast yourself into bits in the first act and have nothing left for the third. It's very varied. It's like owning a huge chest of drawers and opening the one you need at each different stage."
Anne Evans (The Guardian)