Interview with Iréne Theorin, Isolde in Bayreuth
Interview with Iréne Theorin, Bayreuth: Isolde is incredibly intense, and that really suits me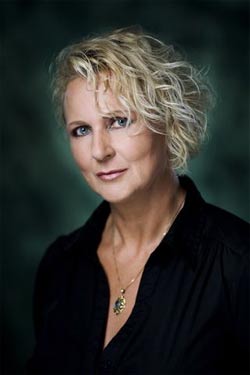 Iréne Theorin appears as Isolde in this year's Wagner Festival at Bayreuth. She also sings Brünnhilde in the Copenhagen Ring, which has just been released on DVD. In conversation with Wagneropera.net (Bayreuth, 6 August 2008), she talks about Isolde, the prompter's special role at Bayreuth, the Wagner Festival, and of the future.
Iréne Theorin, what does Bayreuth mean to you?
It's just wonderful to come to Bayreuth when you sing Wagner and have these roles in your repertoire. The orchestra is made up of the most talented musicians. And at Bayreuth, the orchestra members don't just come and take their month's pay and wait to get home. You come because you have a passion for Wagner's music.
There isn't anything greater for a Wagner singer. The audiences are also very knowledgeable and committed here. I recently had lunch with someone who had waited 13 years on the waiting list to get tickets; that says more than a little about motivation…
You debuted here as Ortlinde in 2000 in Jürgen Flimm's Ring. How did it actually happen that you came here?
It was recommended that I should come, and I was invited to come for an audition as a Valkyrie in the Ring that Sinopoli conducted. Ortlinde was actually my first freelance job.
At this time you were actually connected to The Royal Theatre in Copenhagen?
Yes. I still am as a matter of fact, even if I'm not there so often now.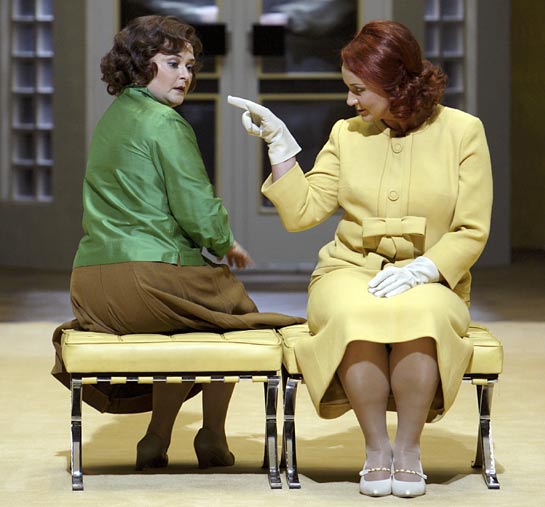 Michelle Breedt (left) and Iréne Theorin in Christoph Marthaler's production of Tristan und Isolde at Bayreuth.
Photo: Enrico Nawrath
What's it like to belong to a company as compared to working freelance?
I think this is very dependent on the company, the opportunity you have to shape your repertoire, how much work you get and so on. There are some opera houses, in my opinion, where one gets too much to do and too many different roles.
In Copenhagen, I built up a large repertoire, and was able to perform many, varied roles which I obviously wouldn't have had as a freelance singer. For then I would have been given the same type of roles rather early and would have been more limited. In Scandinavia, we do get the opportunity to perform the Italian repertoire and mix a little repertoire even if we are called Wagner singers. And that's really great for me. Since then, I have mixed the Wagnerian and Italian repertoire every season.
Do the singers receive individual coaching from the conductor, Peter Schneider?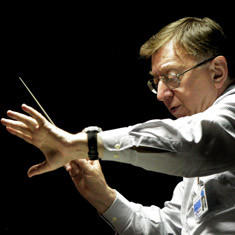 Peter Schneider has attended absolutely all the rehearsals here. It's the first time I've experienced a conductor be there so often – every day, every evening. And, I think, this again is one of the really special things here at Bayreuth. The conductors take the time and go into great detail into the musical work. It's so fantastic for singers to have such direct contact with the conductor right from the beginning.
For my part, the individual coaching consists of going through the music part with the pianist and the conductor. But this is the way it usually is in other places, too.
Is this focus on the musical details only positive?
No, it's obvious that when you are in the first days' rehearsals and trying to get things straight and working out whether you should go to the right or the left, it can be a little annoying when someone says something like, "Listen, you should work harder on that consonant" or such. But, broadly speaking, it's fantastic, and particularly in a restaging such as this Tristan (which had its premiere in 2005) where the rehearsal time is more limited.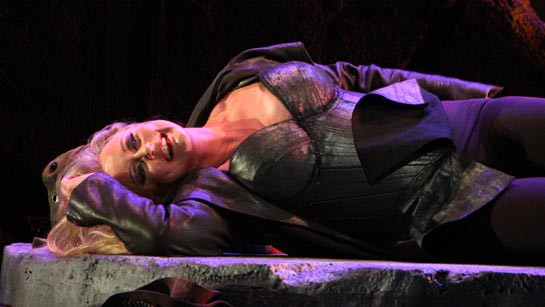 Iréne Theorin as Brünnhilde at Washington National Opera, May 2009. Photo: Karin Cooper / WNO
Is it easier or more difficult to carry over the orchestra here compared with other opera houses?
What's wonderful here is that you can hear yourself both at the front and the back of the stage. It isn't always like this in concert halls and opera houses. There can be a very dry acoustic, but that isn't the case at Bayreuth. Sometimes the orchestra is incredibly loud and that's when it's important to take care not to exert yourself too much. You have to be focused. It's the conductor's job to quieten the orchestra if it's too loud. Singing too loudly is the worst thing you can do.
Do you have someone who helps you to regulate the volume?
No, it's really the conductor's job to adjust the orchestra to us. The conductors here don't have the ideal role as he is dependent on his assistants. During rehearsals, they sit on the telephone and get feedback from their assistants who sit in the auditorium. We can only sing with the voice we have and even if we add a few decibels, the difference is minimal.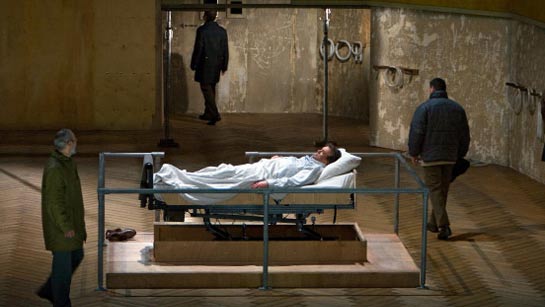 The dying Tristan (Robert Dean Smith) in Act 3 of Christoph Marthaler's production of Tristan und Isolde.
Photo: Enrico Nawrath
Did you get used to the acoustic through the minor roles you had?
Yes, but not just by singing, but also by being on the spot during the whole process and seeing what those in the principal roles have done. The advantage of doing the minor roles is that you are actually here in the house. And then you get the opportunity to sit and listen and compare how the voice projects out into the auditorium, with how you experience them singing when you are on the stage
What's it like to sing with Robert Dean Smith as Tristan?
Fantastic! He is such a lovely colleague. The whole team has been tight and positive and straightforward. It has actually been very uncomplicated! And that is certainly not a given.
How would you describe Christoph Marthalers staging?
Intellectual, very intelligent and tastefully done. Very distinctive. Introspective. If you are expecting a traditional Tristan, you might be disappointed. But it gives food for thought. People really talk about it. In my opinion, if a staging creates debate, then it has been successful.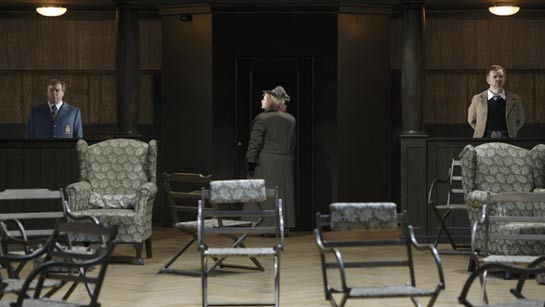 At first, I felt that it was very static and monotonous, but in the course of a day or two, I understood that it was absolutely just as great as the stagings where one works in a more extrovert manner. All the great emotions are there. And if people experience this at a distance, the emotion can be even greater.
Catching a cold just before the premiere was a dramatic start for your Bayreuth debut as Isolde. How did it go?
It was really exhausting. We were so well-prepared and felt "finished" and ready. It isn't always that you feel this way before the premiere of a production, but we did for this. So, I was really furious. I was on antibiotics until the end of last week, but was also affected by the cold during yesterday's performance. And at the premiere, I was just stuffed with medicines. The general rehearsal wasn't open to the public - during which I lay in bed with a fever. The staff were seated in the auditorium as it's important to have an audience present to check the acoustics.
How did they solve the problem of your absence?
I think that it was the director's assistant who moved around in my place during the general rehearsal, but I'm not actually sure.
Is it the case that there is always a cover ready for the principal roles at Bayreuth?
I can't actually answer that. I only know that I myself have been a cover, and I also know of colleagues who are here now as covers. But, I don't know who my cover is. I have, in fact, seen performances here where a singer has stood on the side and sung while the indisposed singer has acted the role on stage without singing. When I was a cover for Brünnhilde, I was ready to step in at short notice, even though I hadn't had any stage rehearsals. But, I followed with what was done during the rehearsals and performances.
What's it like to jump in like that?
I've jumped in a number of times, at both short and longer notice. It's always a little strange when you come into a staging because the different singers are so unalike, whether you have had rehearsals or not. It usually works very well because all the other singers know exactly how and where to stand. It also has to do with how often one has performed the role and how complicated the staging is.
Iréne Theorin sings Brünnhilde in the Copenhagen Ring.
The steps and the rest usually come quite naturally for me. If it's an older staging, you already have a picture of how the set looks and what you will do with the part, even if you haven't had a rehearsal. It often comes more naturally than you expect when you know what the director is thinking, what your relationship is to the others, and what the basic mood of the production is. In Wagner, there's lots of conversation. It doesn't matter very much if you stand two metres to the right or two metres to the left. What's more important is the tension between the characters.
Quite another thing to being a cover is that – in addition to a new staging – you also have a new opera house, new colleagues and a new conductor to relate to.
As a cover, how do you relate to the the conductor's tempi?
You hope at least to be able to meet each other, exchange a few requests, but most often I usually just say: "Let's get on with it!" It can also be difficult to reach agreement, because if you say that you want something fast, the conductor may well have a completely different understanding of what fast is.
Had you been to Bayreuth before you came for audition?
Yes, I had been here on a scholarship just after I had started to sing – something I did very late. It must have been between 1995 and 1997. I saw Heiner Müller's Tristan with Siegfried Jerusalem and Waltraud Meier. It was fantastic.
You usually have a week off between performances down here. How do you use your free time?
I go to the gym, give interviews, and today I have just been signing photographs at a book shop and have another so-called Signierstunde in a week's time. We have to be here in Bayreuth two days before the performance, in case anything should happen. In this way, there is a little time for rehearsals if someone should fall sick.
What are the greatest challenges for you in singing Isolde?
It's necessary to expend your energy wisely with roles this long and demanding; I find where I should use my physical and vocal strength, and where I can perhaps use 80 percent. But during the performance, I try to avoid thinking about what is coming in 10 minutes or in a later act. If you stress over what's coming or the difficult parts, you just go mad.
Isolde is actually my most recent part. I didn't do what so many later told me you should do: learn an act at a time, and possibly do a concert version and when you are comfortable with the act, take another step and in that way work into the roll over an extended period. On the contrary, I studied the role in a very short time and went straight on. And that worked, too. It was at a staging in Brussels barely two years ago. I haven't done so many performances yet, so it is very fresh – still. With roles like Isolde and Brünnhilde, you can't stand in a rehearsal room and sing yourself into the part; you have to do it for real, with scenery in a staging.
What are the major differences between singing Isolde and singing Brünnhilde?
As Brünnhilde, you have more time to develop the emotions. Isolde has a great outburst in the first few minutes, then comes down again, acting out the whole register with irony, warmth and love and pain. It passes quickly through her body.
With Isolde there are more markedly bel canto parts than with Brünnhilde, more long lines. The whole Liebestod is a long expression of love, one could say. Mild und leise is very introspective and filled with emotion. Fortissimo also appears in some places, but in these places I see this strength as something other than just singing strongly, for if you sing too strongly here, I think it can seem cold.
Brünnhilde's final scene is, in a way, more of a physical expression. Moreover, Brünnhilde is really three different roles. In Die Walküre, after the first "Hojotoho", Brünnhilde is very much a mezzo role, while Brünnhilde in Siegfried lies very high. In Götterdämmerung, we get a combination of both.
As Brünnhilde, you go off stage more often. Whereas, Isolde is on stage for the whole of the first two acts. And just as in this production, you don't have the opportunity to turn away and get a pastille or the like.
Are prompters used here at Bayreuth?
Yes. As I see it, prompters hold a particularly important position at Bayreuth. The conductor trusts the prompter to give cues. They concentrate more on the orchestra and don't always give cues. It does vary, though, from conductor to conductor. But they do trust that the prompter will give cues.
There are places, however, where prompters aren't used, but I don't really like it. When I debuted as Isolde in Brussels, we didn't have any prompter.
An important responsibility for the prompter is to be there when things go wrong. If there's a cue where you rely on a clarinetist or a horn player and they fluff it, then everything goes wrong. And that places a greater responsibility on the conductor and the other performers. You can also trip on stage or lose track, or whatever. The other performers can also lose track. Anything can happen.
Actually, it was said of a colleague of the old school that he never learned the roles, but trusted entirely in the prompter. I witnessed this and was very impressed by the singer's collaboration with the prompter. But you really can't work in such a way today.
During the Tristan performances yesterday, the prompter made a major mistake. They, too, can make mistakes. During my first entry in the second act, the prompter probably wasn't concentrating, for when I was due to begin singing, she gave a hand signal that I shouldn't start. The result was that I missed my cue. You trust that they know what they are doing. So, I started in the middle of the phrase.
Do you identify with Isolde?
Well, is it best to say 'yes' or 'no' here? [Laughter] Isolde is incredibly intense, and really suits my personality. I think that I can identify with most of the roles that I do. There is always something I can pick out that I like. Even Turandot, and that's something that can be a little risky to say as she kills people. I like playing Isolde because she is so temperamental; you get to play a role where you use all the colours. What is important is that what I do is true to me.
What is it like to sing in such different stagings?
I really enjoy it and I have done so with all my roles. It gives me the opportunity to find different colours and moods. I then develop the role and myself as a person. The day I stop developing and find it boring, I'll stop singing. It's important not to lock yourself in a notion of how a role should be. I am open to trying the wishes of the director to see if it works.
Most of the music in Isolde's Liebestod has already been heard in the second act. What is it then that makes Liebestod so great?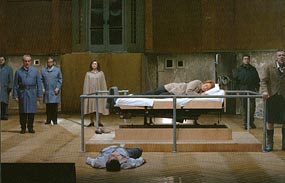 That was a difficult question, which I don't know if I can answer. The Liebestod is one great, incredible emotion. What makes it so great, perhaps, is that you can't go in and take a single phrase, but that everything is so intertwined. One possible reason why the Liebestod has such great impact is that the music has been presented before… and it is such a beautiful ending. When it works musically, which I feel it does here in this staging with the orchestra and conductor and me, an extra dimension is achieved. The conductor, Peter Schneider, does something here that I haven't experienced before, namely that he keeps the whole Liebestod at the same tempo. Traditionally, you push a little more in the middle, and it becomes more thrilling. He said himself that he had never done it this way before, but suddenly felt that it should be this way because there is no longer a range of emotions; there is only a single, great emotion. And I got it straight away. We hadn't been in agreement on this beforehand. It happened during the first orchestra rehearsal.
Do you listen much to other recording and watch other stagings on DVD?
Yes, especially when I am taking on a new role. Then, I listen to different recordings and watch DVDs to get a better grasp of the role. I listen a lot to Birgit Nilsson as it is possibly her that I can identify with most, her way of singing. I particularly appreciate live recordings as you know that it isn't being faked.
Have you managed to see this year's new Parsifal?
No, unfortunately, I haven't been able to see Herheim's Parsifal as yet. I was sick for a while here in the beginning but I got to see Katharina Wagner's staging of Meistersinger.
Do you like such 'Regitheater' stagings?
Yes, absolutely! I have seldom laughed so much as when I saw Meistersinger here the other day. I thought it was fantastically entertaining. And thoughtful. I have also seen Schlingensief's Parsifal and liked it very much. It developed with every year. I shall try to get hold of a ticket so I can get to see Parsifal as I've heard so many good things about it.
Don't artists have their own box they can use?
No, we don't, there isn't a box we can use to see what we want when we want. On the other hand, there is a box for singers' guests. I get one ticket for each performance I sing in. Otherwise, it isn't so easy for us to get tickets as there are only a certain number of chairs in the auditorium.
What is next for you after Bayreuth?
I'm now going to perform lots of Turandot! I don't have any new roles until autumn, but can concentrate on a single role. I'm going to Tokyo to sing in a new staging of Turandot and then directly to Tel Aviv for a Turandot with Zubin Mehta, and then to Covent Garden where I shall also sing - Turandot! And then it's Christmas, and in January there are also some Turandots. Later in the New Year, I'm heading to Washington to sing Brünnhilde and then Isolde in Copenhagen.
Photos: Bayreuther Festspiele
Wagneropera.net recommends