About Wagneropera.net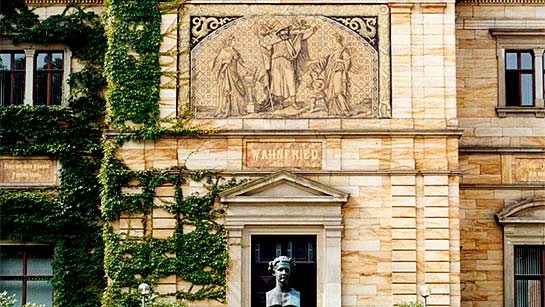 Wagneropera.net is developed and managed by Per-Erik Skramstad. He is a freelance web editor specializing in search engine optimized content for (mostly) Norwegian web sites. Other business areas are: developing and managing web sites for various clients, like Hurtigruten, Volvat, Cosmo Clinic and Gjenskinn, managing social media projects, photography, building sites for small companies, quality assurance and analyzing sites, advice regarding visibility in search engines. Richard Wagner's operas are Skramstad's great passion. Bayreuth Festival visits in 1990, 1997, 2008, 2010 and 2013.
Wagneropera.net is also on Facebook and Twitter.
Contributors
Erling E. Guldbrandsen
Erling E. Guldbrandsen is professor at the Department of Musicology, University of Oslo since 2004. He has published widely on Wagner, Bruckner, Mahler, J.S. Bach, Pierre Boulez and musical modernism, on Norwegian opera after Wagner, and on music history, contemporary music, aesthetics and performance studies.
His most recent publication on Wagner is "Staging the King. Readings of Wagner's Tristan" (in Studia Musicologica Norvegica 41, Oslo: Universitetsforlaget 2015).
His next book, Transformations of Musical Modernism, which he is co-editing with prof. Julian Johnson at the University of London, Royal Holloway, is forthcoming on Cambridge University Press in 2015. Guldbrandsen also works as a music critic (for the Norwegian Broadcasting Corp. and for the weekly paper, Morgenbladet) and he has covered the Richard Wagner Festival in Bayreuth since the 1990s.
For his recension of Lohengrin (performed at the Norwegian national opera in March 2015) he received the award, "Critique of the year".
Mark Berry
Mark Berry is Reader in Music History at Royal Holloway, University of London, and previously taught and lectured in History at the University of Cambridge. He has written widely on intellectual, cultural, and musical history from the later seventeenth century to the present day. He is the author of Treacherous Bonds and Laughing Fire: Politics and Religion in Wagner's Ring (2006) and After Wagner: Histories of Modernist Music Drama from 'Parsifal' to Nono (2014). He will also co-edit the forthcoming Cambridge Companion to Wagner's 'Ring'. Further reviews may be found at http://boulezian.blogspot.com.
Sam Goodyear
Sam Goodyear is an opera fan and Wagner enthusiast, originally from Portsmouth but now living in Germany. He read history at Peterhouse, Cambridge, and has at various times worked as a bookie, translator, trader, journalist, and TV researcher. He currently works in socially responsible investment. While very much an amateur, his interest in music has in the past led to him singing on BBC radio, and playing the trumpet in front of the queen. He attends as much Wagner both at home and abroad as time and money will permit, and he has written on Wagner for Classical Music Magazine.

Nila Parly
Nila Parly is a research fellow in music and theatre at the University of Copenhagen, currently working on a study of death in operas by Wagner and Richard Strauss from a performative angle. She was trained as a soprano singer at the music academy Santa Cecilia in Rome before taking up the study of musicology, literature, and modern culture at the Universities of Copenhagen and Princeton. Her doctoral dissertation on 'Women Characters in Wagner's Works' (2006) was supervised by Jens Brincker, Live Hov, and Carolyn Abbate, and will soon be published in English as 'Vocal Victories'.

Jerry Floyd
Jerry Floyd lived in Washington, D.C. and has written reviews and feature articles for Opera, The Wagner Journal, Wagner Notes (Wagner Society of New York), Opera News, The San Francisco Opera Magazine, Baltimore Sun, The Washington Star, and The Sondheim Review. Jerry served as co-editor and editor of The Washington National Opera Magazine from 1976-78. Since 1986, he worked at the World Bank as a writer, editor, and researcher. Jerry filed newspaper and radio reports from Bayreuth, including coverage of 1979 performances of the Chéreau Ring Cycle. Jerry died on 12 April 2012. Wagneropera.net is forever grateful for his contributions, and for all advice and assistance on Wagnerian matters and editing of the web site.