Wagner Books
CASTORF / WAGNER Der Ring des Nibelungen 2013-2017: Bilingual book (French/German)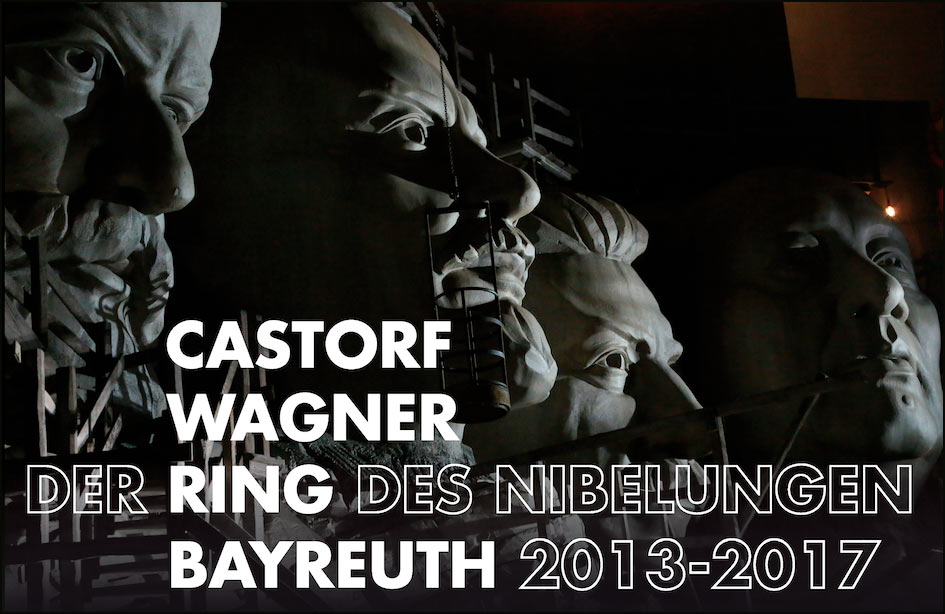 CASTORF / WAGNER Der Ring des Nibelungen 2013-2017: Bilingual book (french/german) about Frank Castorf's Ring production at Bayreuth edited by Guy Cherqui and David Verdier (Wanderer, Geneva)
Essays and Interviews Katharina Wagner (artistic director, Bayreuth), Frank Castorf (stage director), Aleksandar Denic (stage designer), Patric Seibert (assistant/actor), Adriana Braga Peretzki (costume designer), Wolfgang Koch (Wotan), Nadine Weissmann (Erda)...
Ring ABC
62 entries by Guy Cherqui and David Verdier
Specifics 26x17 cm 384 pages 200+ color plates, most of them exclusive photos
La Pommerie Éditions in collaboration with the Wanderer website ISBN 978-2-9564912-0-0 Info castorf.ringbook@wanderersite.com
More info here!
With essays by, and interviews of, the main architects of this project, this book aims for an in-depth analysis of the main lines of enquiry of a work that has already assured its place among the greatest Bayreuth productions. Frank Castorf's theater has found in Wagner an ideological and polemic sounding board that echoes our most extreme issues of the day. The second part of the book is a lexicon of characters, themes and references that offers both readers and viewers points of orientation in the Castorfian Gesamtkunstwerk.
Patrick Carnegy: Wagner and the Art of the Theatre
Barry Millington: The New Grove Guide to Wagner and His Operas
Jonathan Brown: Great Wagner Conductors
Philippe Olivier: Der Ring des Nibelungen in Bayreuth von den Anfängen bis heute
Oliver Hilmes: Cosima Wagner: The Lady of Bayreuth
Frederic Spotts: Bayreuth - a History of the Wagner Festival
Nicholas Vazsonyi: Richard Wagner: Self-Promotion and the Making of a Brand
Hannu Salmi: Wagner and Wagnerism in Ninetinth-Century Sweden, Finland, and the Baltic Provinces - Reception, Enthusiasm, Cult
Courtney W. Howland, A Feminist Perspective on Opera Interpretation: The Case of Richard Wagner's Der fliegende Holländer
David Trippett: Wagner's Melodies
Tom Artin: The Wagner Complex - a psychoanalytic interpretation of Wagner's Ring
Wagner's Eternal Ring - The Complete Otto Schenk / James Levine Production at The Metropolitan Opera (Nancy Ellison)
Edward R. Haymes: Wagner's Ring in 1848 – New Translations of The Nibelung Myth & Siegfried's Death
William Kinderman: Wagner's Parsifal
Brigitte Hamann: Winifred Wagner - a Life at the Heart of Hitler's Bayreuth
Patrick Carnegy: Wagner and the Art of the Theatre
"My book is an attempt to answer the question, 'Why is it a good thing that operas can and should be done in very different ways?"
Patrick Carnegy to The Guardian
The production of Wagner's operas is fiercely debated. In this groundbreaking stage history Patrick Carnegy vividly evokes the—often scandalous—great productions that have left their mark not only on our understanding of Wagner but on modern theatre as a whole. He examines the way in which Wagner himself staged his works, showing that the composer remained dissatisfied with even the best of his productions.
After Wagner's death the scenic challenge was taken up by the Swiss visionary Adolphe Appia, by Gustav Mahler and Alfred Roller in Vienna, and by Otto Klemperer and Ewald Dülberg in Berlin. In Russia the Bolsheviks reinvented Wagner as a social revolutionary, while cinema left its indelible imprint on the Wagnerian stage with Eisenstein's Die Walküre in Moscow in 1940.
Hitler famously appropriated Wagner for his own ends. Patrick Carnegy unscrambles the interaction of politics and stage production, describing how post-war German directors sought a way to bury the uncomfortable past. The book concludes with a critique of the iconoclastic interpretations by Patrice Chéreau, Ruth Berghaus, and Hans-Jürgen Syberberg.
"People who say that Wagner knew exactly how he wanted his works produced - so what right have you to stage the Ring on Mars or down a salt mine - are wrong," he says. "Wagner was precise [in his stage directions] because the theatrical world into which he launched his works was a total mess, and the quality was very poor. The reason he took such trouble was defensive: it wasn't so much that he knew what he wanted, but he jolly well knew what he didn't want."
Patrick Carnegy to The Guardian
Patrick Carnegy on the Bayreuth Festival
Patrick Carnegy first came to Bayreuth as a young critic in 1967. "I was bowled over," he said to The Guardian. "It was the year after Wieland Wagner had died; to be able to see his productions was a total knock-out. These bare stagings, where everything was done with lighting. The light changed with the music, and the shadows and patterns seemed as archetypal as the music itself. Nobody had done that on the stage before. I thought it was extraordinary and wonderful."
Patrick Carnegy to The Guardian
Barry Millington: The New Grove Guide to Wagner and His Operas
One of the most controversial figures in the history of ideas as well as music, Richard Wagner continues to stimulate debate whenever his works are performed. Drawing upon the scholarship of The New Grove Dictionary of Opera, the most comprehensive dictionary of opera in the world, Barry Millington offers a concise, portable survey and guide, which will make a welcome addition to the shelf of anyone who loves opera.
Barry Millington has completely updated the original pieces and contributed four new chapters on Wagner, including a summary of Wagner productions from 1876 to the present day, a suggested listening and viewing gyide, complete chronology of Wagner's operas, and a glossary of terms that will delight any opera-goer. In addition, there are detailed entries on each of Wagner's operas, a main biographical section, and a group of separate articles on such topics as Leitmotif and Gesamtkunstwerk, as well as a newly revised updated article on Bayreuth. Complete with a new preface, updated bibliography, glossary, and discography - including first release dates of each recording - The New Grove Guide to Wagner and his Operas furnishes both seasoned Wagner-lovers and neophytes with all they require for an in-depth appreciation of this unique historical figure.
Barry Millington is the editor of The Wagner Journal
Jonathan Brown: Great Wagner Conductors
Great Wagner Conductors took five years to research and write, and the result is very impressive indeed. Jonathan Brown examines the work of twenty-three great Wagner conductors, and includes extensive discographies and timings. The book is meticulously researched and very well written - a must for all Wagnerians interested in performance history.
Jonathan Brown limited himself to conductors born in the nineteenth century, and favoured those conductors for whom Wagner was an essential part of their professional life:
Richard Wagner
Hans von Bülow
Hans Richter
Anton Seidl
Hermann Levi
Felix Mottl
Karl Muck
Arthur Nikisch
Albert Coates
Gustav Mahler
Felix Weingartner
Bruno Walter
Arturo Toscanini
Artur Bodanzky
Wilhelm Furtwängler
Fritz Busch
Erich Kleiber
Hans Knappertsbusch
Clemens Krauss
Karl Böhm
Richard Strauss
Otto Klemperer
Fritz Reiner
Artur Bodanzky
The author has made a survey of every recorded fragment available, and read a vast number of biographies and reviews. The compilation of discographies is impressive, and aims to list every published Wagner recording of the conductors featured in the book.
There is a comprehensive discography for each conductor. Rare recordings are documented: shellac and vinyl that have never made it to compact disc, "pirate" and commercial recordings. Brown comments on all of the major recordings – and many of the more obscure – or includes excerpts from reviews. A section on timings of performances and recordings from Wagner onwards reveals how widely practice has varied.
Jonathan Brown studied history, philosophy and law at the Australian National University and the University of Cambridge. He is the author of two critical discographies: Parsifal on Record (Greenwood, 1992), and Tristan und Isolde on Record (Greenwood, 2000). In 2001, the latter won an Association for Recorded Sound Collections (ARSC) Award for Excellence in Historical Recorded Sound Research for Best Research in Recorded Classical Music. He is a former Australian diplomat and international lawyer, and lives in Canberra, Australia.
Mark Berry: After Wagner
This book is both a telling of operatic histories 'after' Richard Wagner, and a philosophical reflection upon the writing of those histories. Historical musicology reckons with intellectual and cultural history, and vice versa. The 'after' of the title denotes chronology, but also harmony and antagonism within a Wagnerian tradition. Parsifal, in which Wagner attempted to go beyond his achievement in the Ring, to write 'after' himself, is followed by two apparent antipodes: the strenuously modernist Arnold Schoenberg and the æstheticist Richard Strauss. Discussion of Strauss's Capriccio, partly in the light of Schoenberg's Moses und Aron, reveals a more 'political' work than either first acquaintance or the composer's 'intention' might suggest. Then come three composers from subsequent generations: Luigi Dallapiccola, Luigi Nono, and Hans Werner Henze. Geographical context is extended to take in Wagner's Italian successors; the problem of political emancipation in and through music drama takes another turn here, confronting challenges and opportunities in more avowedly 'politically engaged' art. A final section explores the world of staging opera, of so-called Regietheater, as initiated by Wagner himself. Stefan Herheim's celebrated Bayreuth production of Parsifal, and various performances of Lohengrin are discussed, before looking back to Mozart (Don Giovanni) and forward to Alban Berg's Lulu and Nono's Al gran sole carico d'amore. Throughout, the book invites us to consider how we might perceive the æsthetic and political integrity of the operatic work 'after Wagner'. After Wagner will be invaluable to anyone interested in twentieth-century music drama and its intersection with politics and cultural history. It will also appeal to those interested in Richard Wagner's cultural impact on succeeding generations of composers. MARK BERRY is Senior Lecturer in Music at Royal Holloway, University of London.
Philippe Olivier: Der Ring des Nibelungen in Bayreuth von den Anfängen bis heute
Since the world premiere of Der Ring des Nibelungen at the Bayreuth Festival in 1876, there have been many important productions at the Wagner Festival. Der Ring des Nibelungen is Wagner's main work and continues to fascinate audiences all over the world.
Every production at Bayreuth is followed very closely. Philippe Olivier's book Der Ring des Nibelungen in Bayreuth von den Anfängen bis heute is a walk through all the Bayreuth productions of the tetralogy from the inauguration production in 1876 up to the Christian Thielemann/Tankred Dorst Ring running now. The book is richly illustrated with impressive large and small pictures. Many of the pictures have never been published before.
Philippe Olivier has collected important background information about the productions, and writes with insight. At the same time his text has a personal touch, making it never boring.
Olivier sees the productions as part of the time they were made, and the Bayreuth Festival not as a hermetically sealed unit. For each production he gives information about important events in the world, events making a frame for the productions.
Penelope Turing: New Bayreuth (1969, second impression 1971)
Penelope Turing has attended the Bayreuth Festival almost every year from 1952. She has followed Wieland and Wolfgang Wagner's so called New Bayreuth style productions from the time they emerged and later developed.
Wagneropera.net met Penelope Turing in the Festival cafeteria during the second intermission of Stefan Herheim's Parsifal production. An interview we made a few days later with Ms Turing will be published here shortly.
In 1969 Turing's book about Bayreuth after the reopening in 1951 was published. It was reprinted in 1971 and brought up-to-date.
Penelope Turing's book includes a description of every Festival from 1951 to 1970, covering all the productions.
The book also includes information about all the singers and conductors 1951-70. You will also find all the Bayreuth Festival recordings up to 1970.
Interview with Penelope Turing
Oliver Hilmes: Cosima Wagner: The Lady of Bayreuth
(Jerry Floyd)
Cosima Wagner's life was a maelstrom of Illegitimacy, cuckoldry, mendacity, vindictiveness, anti-semitism, jingoism, and risky gay affairs by her son Siegfried.
All this and more is detailed in Oliver Hilmes' biography, Cosima Wagner: The Lady of Bayreuth.  Originally published in Germany in 2007 as Herrin des Hügels: Das Leben der Cosima, the book was  translated into English by noted Wagnerian Stewart Spencer. The English-language version was recently released as a paperback by Yale University Press.
In his Prologue Hilmes notes that he is the first Cosima biographer to have full access to the National Archives of the Richard Wagner Foundation. Much of this collection is still un-catalogued. 
Yet for all of the reference material available, including Cosima's two-volume diary, at times in Hilmes' book Cosima seems more like a passive participant than a central figure in the various dramas swirling around her.
As Hilmes writes, "it is difficult for even most hardened Wagnerians to form a clear picture of Cosima's personality… the outlines of [Cosima's] physiognomy remain strangely blurred, and for the most part her personality disappears behind her self-appointed mission in life." 
Missing Father?
The illegitimate daughter of composer and pianist Franz Liszt and Marie d'Agoult, Cosima and her two siblings were placed under the care of a strict, rigidly conservative governess. At one point Liszt was absent for 12 years and as she grew up Cosima developed a perverse sense of humility, self sacrifice and denial of personal needs, reinforced by her reading influenced by Thomas à Kempris' "De Imitatione Christi".
These traits defined her submissive relationship with the egotistical Wagner. Cosima grew up without her absent father and her first husband, Hans von Bülow, was a weak-willed spouse. Since Wagner was 24 years old than Cosima, one wonders if there was a filial undercurrent in the Wagner's relationship.
Institutionalizing a Legacy
Following Wagner's death in 1883, Cosima lived for another 47 years, managing the festival and directing productions there until 1906, when frail health finally forced her to retire. (Wagneropera.net's Cosima Wagner page lists the productions Cosima directed. Her productions of the four Ring operas continued to be staged in Bayreuth for two seasons after she died in 1930.)
Cosima's unwavering mission was to perpetuate her composer-husband's legacy and to ensure that the Richard Wagner Festival continued under the Wagner family's stewardship. The festival was an experiment during Wagner's lifetime but under Cosima it became "a flourishing family concern and a social institution."
Cosima maintained a behind-the-scenes presence for at least 18 more years after she retired, attending rehearsals and sending notes to artists as late as 1924.
During her final years Cosima was an invalid, until she died at the age of 92 (she was born on Christmas Eve, 1837). Siegfried, the Wagners' only son, died a few months afterward.
Haunted House
In 1923, Cosima and son-in-law Houston Stewart Chamberlain, Bayreuth's most virulent anti-semite, watched from a first-floor window at Haus Wanfried as 6,000 SA troops paraded through the streets of Bayreuth. Chamberlain's dairy does not mention whether Hitler was introduced to Bayreuth's elderly doyenne when he visited the Wagner family the following day.
"It was Cosima's charisma as the legitimate 'guardian of the grail', her organizational skill and her ideological obstinacy that enabled Bayreuth to prove so disastrously effective as a political force in Germany," Hilmes writes. 
There's no question that Cosima's prejudices made it easier for Chamberlain and her daughter-in-law Winifred to embrace Nazi ideology.  But it seems unfair for Hilmes to assign so much blame to Cosima for the Wagner family's anti-semitism, especially given Wagner's repugnant views before he and Cosima married.
Other Sources
Hilmes supplemented Cosima's voluminous (and at times unreliable) diaries and the massive amount of correspondence and other material in the Wagner Archives with records from other sources, including undiscovered material from the attorney for one of Cosima's  and Richard's illegitimate offspring, Isolde Beidler (née Isolde von Bülow)
These records are partly the basis for one of the book's most engrossing accounts, the conflict between the Wagner family and Isolde and her husband, conductor Franz Beidler.  This increasingly acrimonious relationship ended in Isolde's being disinherited in 1914 after she filed an unsuccessful paternity suit.
The lawsuit's outcome also ensured that Siegfried, wife Winifred and their descendents retained control over the Wagner Festival.
Franz Wilhelm Beidler's Cosima Biography
Hilmes characterizes most previous Cosima biographies as bombastic, propagandistic or incomplete.  He is especially dismissive of Richard Du Moulin-Eckart's two-volume study published in 1929, shortly before Cosima's death, and biographies written by Ilse Lotz and Max Millenkovich-Morold in the 1930s when the National Socialists were ascendant in Germany.
However Hilmes does praise "Franz Wilhelm [Beidler]'s writings on his grandmother, for even though he was denied access to the Bayreuth archives, [Beidler] was able to relate the many published sources and in that way produce a convincing picture of Cosima's character and the age in which she lived."
Beilder was the son of Franz and Isolde Beidler and the cover of his recently reissued biography, Cosima Wagner: Ein Portrait, includes a photo of the infant Franz Wilhelm next to his grandmother, Cosima. (The photo was taken before Cosima and the Beidlers were permanently estranged and even in this photo Cosima appears to be detached and severe.) Beidler's book was first published in 1997 and re-issued this year. For now, it is only available in German.
Hilmes' rather opaque prose lacks the vibrancy found in similar studies such as Brigitte Hamann's Winifred Wagner biography, Jonathan Carr's The Wagner Clan and especially Alan Walker's Hans von Bülow: A Life and Times. Nonetheless, Cosima: The Lady of Bayreuth is a book many Wagnerians and others interested in nineteenth- and early-twentieth century German history will want to read.
Other Reviews and Links
Frederic Spotts: Bayreuth - a History of the Wagner Festival
Frederic Spotts has written a very good history of the Wagner Festival in Bayreuth. This book is a must for everyone interested in Richard Wagner and the Wagner Festival in Bayreuth.
The book covers everything: the planning, the building of the Festspielhaus, the festival leaders, the singers, the directors, all the productions.
Nicholas Vazsonyi: Richard Wagner: Self-Promotion and the Making of a Brand
There is of course no news that Richard Wagner also was a master of marketing and self-promotion. He worked systematically on building the Richard Wagner brand in a way that, even today, is impressive. Nicholas Vazsonyi has studied Wagner's method in detail in his new book on Cambridge University Press, "Richard Wagner: Self-Promotion and the Making of a Brand".
With a wealth of references Vazsonyi unfolds the story of a genius promoting himself as "the poor German artist" loathing "profit", the true successor of Beethoven, the most German of all, the man representing the artwork of the future.
Wagner promoted himself as the poor in contrast to the inferior composers who composed for profit, the most German of all because this suited his marketing strategies in a time when the Italians dominated the opera world, making a contrast also to the French cultural hegemony at the time. Ideas about German superiority fitted perfectly into Wagner's marketing strategy. Creating or exploiting dichotomies was, and still is, a good marketing principle. Not only Wagner's sworn followers and fans helped him build his remarkable brand, even his emenies had a part in this project. Wagner's presentation of himself as a victim was also important.
Wagner's announcement that he was composing for an audience that did not as yet exist was no doubt a rhetorical stroke of genius. This made his admirers and supporters identify with a noble cause. And how about Wagner's declaration that he was an opera composer who did not compose operas.
Nicholas Vazsonyi's book Richard Wagner: Self-Promotion and the Making of a Brand is the first study to examine the innovative ways in which Wagner made himself a celebrity, promoting himself using every means available: autobiography, journal articles, short stories, newspaper announcements, letters, even his operas themselves. Vazsonyi reveals how Wagner created a niche for his works in the crowded opera market that continues to be unique.
One wonders how Wagner would have developed his brand with the marketing means of our age...
Hannu Salmi: Wagner and Wagnerism in Ninetinth-Century Sweden, Finland, and the Baltic Provinces - Reception, Enthusiasm, Cult
"Wagner's connections with Scandinavia and the Baltic countries are more far-reaching than generally supposed, and Hannu Salmi's axhaustively researched study throws fascinating light on the contemporary reception of his works and ideas in that part of the world."
Barry Millington
Courtney W. Howland, A Feminist Perspective on Opera Interpretation: The Case of Richard Wagner's Der fliegende Holländer
Drawing upon gender studies, musicology, German studies, and literary theory, A Feminist Perspective on Opera Interpretation develops a feminist analytic framework for interpreting opera and for critiquing the usual interpretations of opera, using Richard Wagner's Der fliegende Holländer as a case study.
The feminist analysis, in contrast to prior interpretations of Holländer, identifies the intersection of gender and religion as at the core of the opera's main woman character, Senta. This analysis allows for recognition of Senta's power and moral agency and demonstrates that the theory of interpretation rather than the opera text determines the narrative.
Courtney W. Howland is the inaugural Research Scholar at the Barnard Center for Research on Women, Barnard College, Columbia University.
David Trippett: WAGNER'S MELODIES
(Aesthetics and Materialism in German Musical Identity)
Since the 1840s, critics have lambasted Wagner for lacking the ability to compose melody. But for him, melody was fundamental – 'music'ʹs only form'ʹ. This incongruity reflects the surprising difficulties during the nineteenth century of conceptualizing melody. Despite its indispensable place in opera, contemporary theorists were unable even to agree on a definition for it. In Wagner'ʹs Melodies, David Trippett re-examines Wagner'ʹs central aesthetic Claims. He places the composer'ʹs ideas about melody in the context of the scientific discourse of his age: from the emergence of the natural sciences and historical linguistics to sources about music'ʹs stimulation of the body and inventions for 'automatic'ʹ composition. Interweaving a rich variety of material from the history of science, music theory, music criticism, private correspondence and court reports, Trippett uncovers a new and controversial discourse that placed melody at the apex of artistic self-consciousness and generated problems of urgent dimensions for German music aesthetics.
Tom Artin: The Wagner Complex - a psychoanalytic interpretation of Wagner's Ring
The Wagner Complex sets forth an unapologetically psychoanalytic interpretation of Wagner's Ring. Though it seems a commonplace that Wagner's works offer fertile ground for such an approach, remarkably little analysis along these lines has actually been published.
The Wagner Complex fills a conspicuous void in the vast literature on Wagner. Its primary focus is on the genesis and meaning of The Ring, but the book is by the way an essay in the intellectual and cultural history of nineteenth century Europe, an exploration of the Zeitgeist in whose atmosphere Wagner's operatic creations and Freud's psychological speculations alike came to fruition, most notably the emerging conjecture – scientific as well as philosophical – of the fundamental role played by the unconscious in everyday life and the creative process.
The overarching conclusion of The Wagner Complex is that The Ring comprises not merely fanciful adventures (and misadventures) of gods, giants, and dwarves, of super-human heroes and anti-heroes such as traverse its intricate surface, but shadows forth symbolically the drama of unconscious psychic conflict.
Paul Dawson-Bowling: The Wagner Experience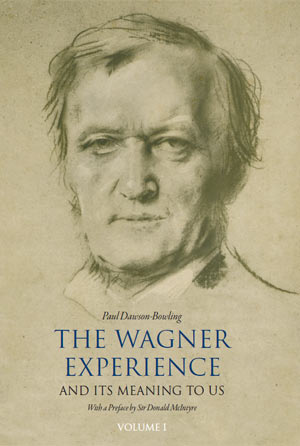 In this bicentenary celebration of Wagner and his music, Paul Dawson-Bowling introduces, deepens and enriches the Wagner Experience for the newcomer and the seasoned Wagnerian alike.
Paul Dawson-Bowling: The Wagner Experience reviewed by Dame Gwyneth Jones here...
Expounding in colourful style the stories, the sources and the lessons of Wagner's great dramas, he offers unusual insights into the man, his works and their meaning, while grappling with the music's almost occult power. Before taking us through the ten great dramas themselves, he discusses Wagner's formative experiences, his aspirations and his mentality; also his first wife Minna and her immense but unrecognised impact. This sets up lenses through which the reader may more accurately view not only Wagner the man and his less appealing aspects, but more importantly his stage works, since, as Dawson-Bowling insists, the best encounter with Wagner's dramas is the direct one. Uniquely drawing on a lifetime's experience in General Medical Practice, the author brings a wisdom, humanity and psychological understanding to his study of the life and work of Wagner, with especial reference to the thought of Carl Jung. Above all, this book draws out the vital lessons which Wagner's extraordinary, didactic dramas can offer us. It reveals their lessons as life-enhancing: capable of transforming our society, our lives and ourselves. There is no other book about Wagner quite like it.
Paul Dawson-Bowling studied Classics and Philosophy at school and at Oxford. He worked for the Civil Service before leaving, at 29, to train as a Doctor of Medicine. For thirty years he was a family doctor in Kent. In retirement, he remains a trustee of the Sick Doctors Trust. In 1958, when still a schoolboy, he bicycled across Europe for the Bayreuth Festival. For twenty-five years he has been a principal reviewer for Wagner News, and has published numerous articles on Wagner in the UK and America; he is also well known as a lecturer.
"I am nearly 80, but I am forever looking for adequate answers to Wagner's questions. I have had many telephone conversations with Paul and he is undoubtedly the man to examine the many questions that Wagner posed. These questions are now waiting to be explored by you, the reader. Read Paul's book!"
Sir Donald McIntyre
'People who take to the Wagner Experience encounter something wonderful, like gazing into a silver mirror which dissolves into a miraculous, self-contained world, glinting with life-changing possibilities. There are others who sense its appeal but find it difficult, and the first aim of this study is to provide an Open Sesame for anyone wanting it.'
From the author's introduction
'Paul Dawson-Bowling's book draws on a deep knowledge of medical and psychological matters to offer valuable insights into Wagner's inner life and thus into the works themselves.'
Barry Millington
Paul Dawson-Bowling: The Wagner Experience reviewed by Dame Gwyneth Jones here...
Wagner's Eternal Ring - The Complete Otto Schenk / James Levine Production at The Metropolitan Opera (Nancy Ellison)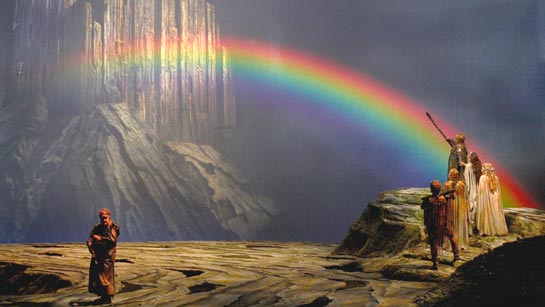 © Wagner's Eternal Ring by Nancy Ellison, Rizzoli New York, 2010
Loved by many Wagnerians who appreciated Otto Schenk for retelling the saga instead of interpreting it, the Schenk/Levine production is now celebrated with a magnificent book with lots of awesome photographs by Nancy Ellison.
The photographs show all scenes of the complete Ring "as seen through the wide eyes of an admiring new fan," as Nancy Ellison puts it in the foreword. And Ellison's admiration for the production is visible in most of the photographs, capturing the drama and the highlights with fine details and great intensity. Some of the photos would have benefitted from a smaller format, though, due to problems getting them sharp in the difficult lighting conditions. The singer's movement also causes some problems, but on the whole the book is a treat to read. I caught myself thinking that the book in a way - a bit jokingly said - is even better than the production, for I must confess that I am no fan of the Otto Schenk Ring, a production that leaves me indifferent, lacking new perspectives, not challenging me or Wagner's work.
Wagner's Eternal Ring by Nancy Ellison, Rizzoli New York, 2010
Preface by Eva Wagner-Pasquier
Foreword by Peter Gelb.
Contributions by Otto Schenk, James Levine, and Robert Tuggle.
In association with The Metropolitan Opera
This book's primary target group are all the fans of this production, and especially in the US this Ring has many fans. For them this beautifully produced volume in full-page color photographs, complete with historical materials and a timeline culled from the Metropolitan Opera's archives will no doubt be on the wish list for Christmas.
The Ring of the Nibelung in Otto Schenk's and set designer Günther Schneider-Siemssen's vision was photographed as it was performed in full for the last time at the Metropolitan Opera in 2009. The illustrated timeline outlines the evolution of this enduring masterpiece.
I miss a full cast list of all the singers participating from the premiere in 1986 to its last performance in 2009. It would have been great to see all the names. I am sure they are easily available in the Metropolitan archives.
About the author and contributors
Nancy Ellison is the author of Rizzoli's In Grand Style: The Glory of the Metropolitan Opera and In Classic Style: The Splendor of American Ballet Theatre.
Eva Wagner-Pasquier is the great-granddaughter of Richard Wagner and leader the Bayreuth Festival with Katharina Wagner. She is also senior artistic adviser at the Metropolitan Opera.
Peter Gelb is general manager of the Metropolitan Opera.
Otto Schenk is a producer at the Metropolitan Opera.
James Levine is the musical director at the Metropolitan Opera.
Robert Tuggle is the director of archives at the Metropolitan Opera.
"Wagner's Ring is one of those works of art that you think you know, but every time you return to it, you find brilliant moments that hadn't struck you with the same force before."
James Levine, Musical Director, The Metropolitan Opera
Edward R. Haymes: Wagner's Ring in 1848 – New Translations of The Nibelung Myth & Siegfried's Death
Edward R. Haymes' "Wagner's Ring in 1848" is a new translation of Siegfried's Tod (Siegfried's Death) and the sketch "Der Nibelungen-Mythus" (The Nibelung Myth). The passages that survived the transformation from Siegfrieds Tod to Götterdämmerung are marked in italic, and this is a valuable feature. Edward R. Haymes has written a 43 pages long introduction as well as commentaries.
In 1848 Richard Wagner began what would become the largest stage work of his career, the Ring of the Nibelung. In preparation for the task he composed an overview of the Nibelung myth designed to lead to a drama; he then composed the verse "libretto" Siegfried's Death.
Although Wagner abandoned the idea of a single opera on Siegfried in favor of the huge project that developed out of it in the succeeding years – the Ring cycle – he did consider the two early documents important enough to include them in his collected works.
"Wagner's Ring in 1848" seeks to inform the English-speaking reader in three ways:
by providing modern, reliable translations of the two Wagner texts, which are otherwise not available (the German original is provided on facing pages)
by furnishing an overview of German scholarship available to Wagner and others working on the Nibelung legend in the first half of the nineteenth century
by making available a bibliography of further reading.
"Wagner's Ring in 1848" will be useful to students of musicology, to students and historians of myth and legend, and to all Wagnerians interested in the genesis of the Ring cycle. Accessible to the general reader, it maintains scholarly rigor and provides information about materials not available in English.
Edward R. Haymes is Professor in the Department of Modern Languages at Cleveland State University
William Kinderman: Wagner's Parsifal
Wagner's Parsifal (Studies in Musical Genesis, Structure, and Interpretation), by William Kinderman.
New York: Oxford University Press, 2013, x+ 327 pages. Hardcover.
Review and comments by Germán A. Bravo-Casas here
Brigitte Hamann: Winifred Wagner - a Life at the Heart of Hitler's Bayreuth
Brigitte Hamann's book Winifred Wagner - a Life at the Heart of Hitler's Bayreuth is a very good and interesting biography about Richard Wagner's daughter-in-law, Winifred Wagner, who was the head of the Bayreuth Festival during Hitler's rule and one of Hitler's most devoted supporters.
A must for all Wagnerians and those interested in the link between the Bayreuth Festival and the Nazi movement.