Lioba Braun on Brangäne, Bayreuth and Wagner
As this interview is being published (February 2009), Lioba Braun sings Brangäne in Patrice Chéreau's production of Tristan und Isolde in Milan. It was when she stepped in at the Bayreuth Festival in 1994 in this very role that her career accelerated. Now Lioba Braun is a regular guest at major opera houses all over the world.
Lioba Braun, a look at your future engagements shows that you will perform almost only Wagner. Why this specialization in Wagner?
I have to correct you there, since I have just performed Bluebeard's Castle two times in concert, and in the autumn I'll sing my first Donna Elvira. Then, in spring next year, I will sing my first Amme (Die Frau ohne Schatten) in Maggio Musicale in Florence. In my calendar there is always a great variety of concerts with Romantic and Late Romantic repertoire, both with symphonies, oratorios and Lieder by Mahler, Berg, Reger and Strauss. Wagner is certainly an important part of my repertoire, but only a part of the whole.
Your career got a boost when you stepped in to sing Brangäne at the Bayreuth Festival in 1994. How was your first meeting (as a singer) with Bayreuth?
My heart dropped into my boots as our car drove towards the Festspielhaus. But thanks to the unbelievable cordiality from all the participants, especially Daniel Barenboim and Waltraud Meier, I could relax and feel well, in spite of the great respect I felt for this very special house and its importance.
Did you ever attend the Bayreuth Festival before you came there to sing?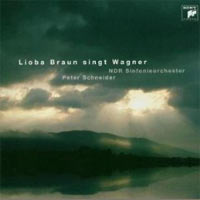 In 1986 I won a special Prize at the VDMK song contest for German singers in Berlin. Included were two tickets for a Meistersinger performance in Bayreuth, which I attended with my then friend, now husband. According to my husband I swore that I would return one day to sing, and that actually happened eight years later.
Besides your 1994 appearance, you played Brangäne in the same Heiner Müller production in 1999. Tell me, how did you experience this production?
At the beginning I was very sceptical. I even had anxiety for this somewhat minimalistic production. For example in the first Act there was very little space at our disposal. Where should all the energy go which this music releases? But during rehearsals I got positive feelings for this kind of production. I understood that our gestures got quite a diffent meaning because of the confined space. In the end I loved the production, particularly since I had such a strong partner in Waltraud Meier. She has a scenic precision you can always rely on.
In this Heiner Müller production a transparent curtain was used for its visual effect. How did you and the other singers experience singing behind this curtain?
I cannot say how the other singers felt about it, but we all knew that it didn't affect the acoustics. We just had to focus on singing as if the curtain was not there.
Brangäne is one of your signature roles. Does this role suit your voice especially good?
The tessitura of Brünnhilde's role seems to suit my vocal disposition very well, but this is also the case with Ortud and with Kundry.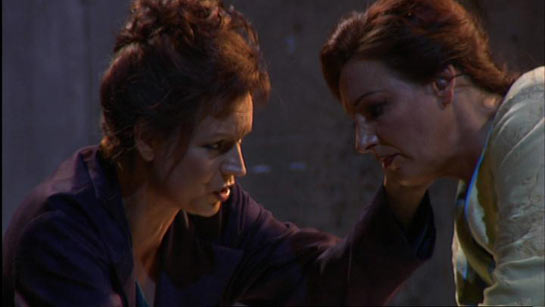 Brangäne is obviously a tricky role for many producers. Should she be discreet and have just a supporting presence on stage, or should she stand out as a more developed character? What is your view on how Brangäne should be played?
In the end this is something that depends on the stage production. In Patrice Chéreau's production she is an elderly woman, but I have also played her as a young friend of Isolde. The serving role is inherent in the dramaturgy of the piece. Whether she is young or old, however, I find it important that Brangäne's character is clearly defined, so that she can be the female counterpart that Isolde needs. This finds a parallel in the Kurwenal-Tristan relation. In other words, this is a question of building a character that can be clearly perceived according to the director's conception of the piece.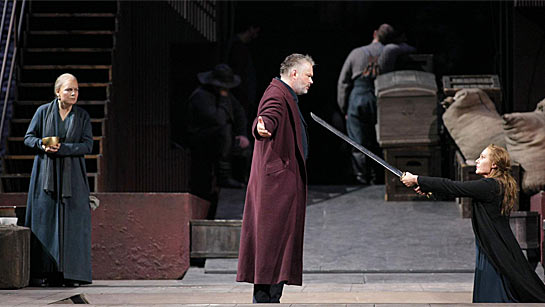 On your Wagner repertoire we find such different characters as the "good" Sieglinde and Waltraute (Götterdämmerung) and the more ambivalent Venus and Kundry, not to mention the evil scapegoat character Ortrud. Which of these characters do you like the most to portray on stage?
I love them all, for each of these characters demands different colours, both vocally and scenically.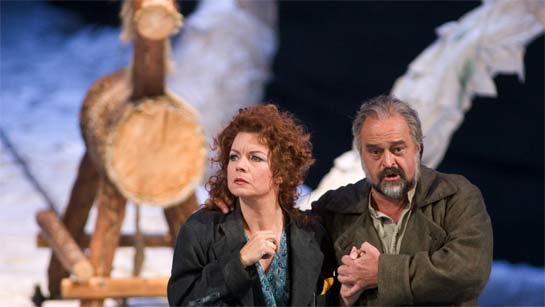 Some producers portray Fricka as a hysterical, silly, nagging and narrow-minded housewife. Is this a male perspective on Fricka? What is your view on the Fricka character?
I have dealt quite a lot with these so-called "bad" characters, since a mezzo-soprano will often assume this type of roles. I have to say I find it rather mistaken to paint dramatic characters only in black or white. In my opinion that would not be theatre at all. I find it quite important to understand this kind of roles from the personal history of that character, so to speak. You should always ask the question: How did she turn into this kind of person. Take the role of Fricka, for instance, the one you were asking about: Why is this woman so angry, so emotionally charged when she enters that scene with Wotan? She is neither a bitch nor a frustrated wife, she has simply been terribly hurt and humiliated by his way of leading his life. She represents marriage and loyalty, the law and order so to speak, while Wotan represents liberal or even libertine ideas. They both find themselves situated in this perennial field of tension, or conflict. These are highly interesting matters to deal with. Even today we quite often have to ask ourselves: What moral values should we actually defend and preserve, and which ones do we rather have to dispense with, in order to develop a kind of human or moral progress? The word "progress" I here take in an artistic or creative sense. But to return to the representation of the characters: It is my wish to make the audience ask themselves which one of these persons are actually right, and even to be able to understand Fricka's position.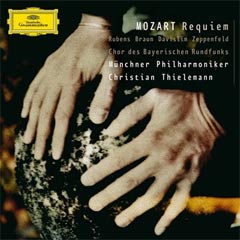 Singers sometimes tell me that they are reluctant to listen to recordings, and one of the reasons is that they don't want to be influenced by other interpretations. Do you avoid listening to other interpretations of the works you sing?
By principle I never listen to recordings of parts that I am learning, to avoid getting my mind "invaded" by this or that interpretation. The only exception till now has been Bluebeard's Castle, since the Hungarian language is not that easy to pronounce.
What are your future Wagner plans? What will you be singing in five years? Are there any surprises ahead?
Many wonderful tasks are awaiting me, for instance Alban Berg's "Sieben frühe Lieder" with Jeffrey Tate, Donna Elvira in "Don Giovanni" with Bo Skovhus in Oviedo, Kundry in Genf, Die Amme in "Die Frau ohne Schatten" under the baton of Zubin Mehta in Maggio Musicale in Florence and Ortrud with Andris Nelson in Birmingham and Tokyo. I have also received an inquiry about Isolde. So just go ahead and let yourself be surprised.
Lioba Braun's Homepage
Lioba Braun
Teatro alla Scala
Portrait photos by: Susie Knoll.
Other photos from Tristan und Isolde (Barcelona), Munich production of Parsifal (photo: Wilfried Hoesl), and Teatro alla Scala.
Lioba Braun's Wagner roles:
Venus (Tannhäuser)
Kundry (Parsifal)
Brangäne (Tristan und Isolde)
Isolde (in concert, Tristan und Isolde)
Ortrud (Lohengrin)
Waltraute (Götterdämmerung)
Siegrune (Die Walküre)
Sieglinde (Die Walküre)
Fricka (Das Rheingold, Die Walküre)
2. Norn (Götterdämmerung)
Wesendonck-Lieder
Wagneropera.net recommends