Los Angeles Opera: Das Rheingold (director and designer: Achim Freyer)
Kowaljow and Conlon Triumphs in Achim Freyer's Confusing LA Rheingold
This reviewer has been at sort of a loss when it comes to describe this offering of Das Rheingold from Los Angeles Opera. Fans from all over have been waiting with excitement to see the Ring finally coming to Los Angeles. After hearing it, they can only clamor for more. After seeing this, they might have wished that they waited a little longer.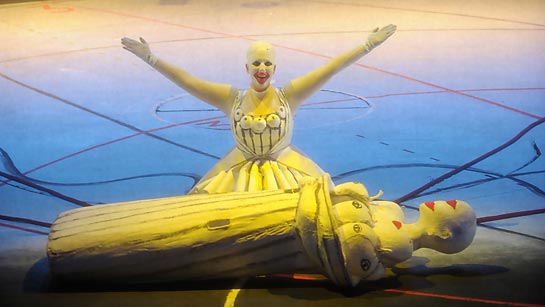 Ellie Dehn (Freia). Photo By: Monika Rittershaus
Superb singing
I attended the March 8th 2009 matinee. Let me begin on a positive note, this was some of the best singing I have heard at LAO. Unlike some of their prior Wagner offerings, which have been somewhat spotty, here were mature and glorious voices spilling out into the Dorothy Chandler Pavilion.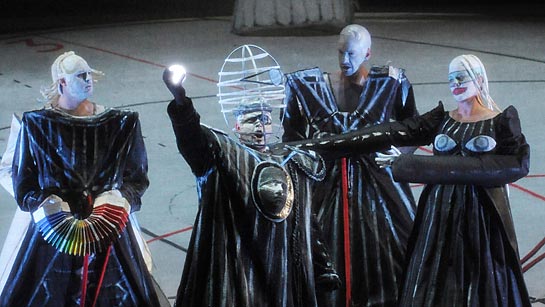 Beau Gibson (Froh), Vitalij Kowaljow (Wotan), Wayne Tigges (Donner) and Michelle De Young (Fricka). Photo by: Monika Rittershaus
Wotan was brilliantly sung by the splendid Ukrainian bass Vitalij Kowaljow. His big booming voice was intense and brooding. His wife Fricka was Michelle DeYoung in her company debut, with a lovely rich and powerful sound. Gordon Hawkins sang a menacing and appropriately unpleasant Alberich, despite having to wear a huge and unwieldy head. His brother Mime, was sung delightfully by Graham Clark. Even with his giant strange head mask, it was fabulous singing. Ellie Dehn sang an intricate and silvery voiced Freia, despite having to haul around a sort of a body mask everywhere she went.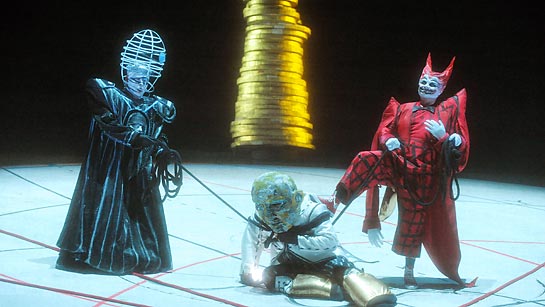 Vitalij Kowaljow (Wotan), Gordon Hawkins (Alberich), and Arnold Bezuyen (Loge). Photo by: Monika Rittershaus
While Fafner, well performed by Morris Robinson and Fasolt given equal effort by Eric Halfvarson. They were clearly heard in spite of the fact that they were prisoners to the back of the stage rake. Loge, one of the only singers allowed to move around a great deal, was slyly portrayed by Arnold Bezuyen, in his company debut.The Rhine Maidens were given a good turn by Stacey Tappan as Woglinde, Lauren McNeese as Welgunde and Flosshilde was Beth Clayton.
Wayne Tigges as Donner and Beau Gibson as Froh sang well from their upstage posts, on either side of the giants.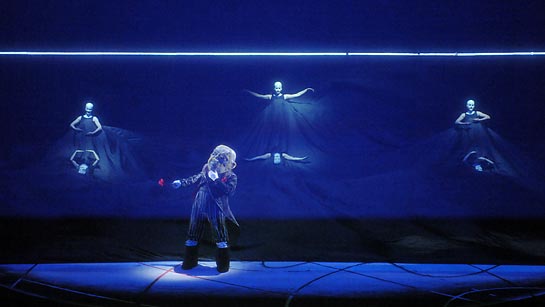 Gordon Hawkins (Alberich). Rear: Stacey Tappan (Woglinde), Beth Clayton (Flosshilde), Lauren McNeese (Wellgunde). Photo by: Monika Rittershaus
James Conlon with verve and the majesty
The problem here, was in no way the singing. It was inspired, flawless and soared through the venue like a warm syrup. James Conlon at the baton led the ensemble with verve and the majesty that was due Wagner's sumptuous score. He showed the utmost respect to the singers, never overpowering them and letting them shine. No supertext was needed here, as the singers had such accurate and well placed diction, that every syllable could be heard and understood. The performance was musically perfection itself.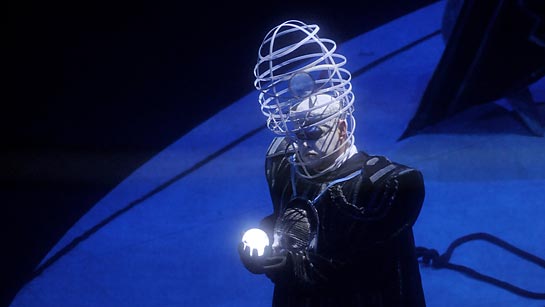 Vitalij Kowaljow (Wotan). Photo by: Monika Rittershaus
Darkish and brooding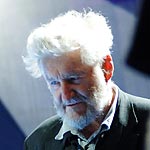 Achim Freyer
However, when you group together some of the most glorious singing that I have heard, with that abomination of a set, laughable prisons which were apparently their costumes, and just plain dull staging, it's an issue. This production is not just darkish and brooding, it's frankly ugly to look at for any amount of time and the projections are verging on the annoying. Achim Freyer did the staging, set design and part of the lighting with Brian Gale. Just precisely why a skeletal vintage plane with pilot, and another man stuck inside a small cage were suspended from the air, is beyond this reviewer. And that does not even touch the reddish and bloodshot eyeball that lurked on down stage right. There was some odd decision to project lines trolling downwards all over the scrim at the front of the stage, and I am far too stupid to understand any of the symbolism indicated here.
Appalling costumes and freakish long arms
Achim's daughter Amanda Freyer gave us some truly appalling costumes. I would love to tell you that the singers acted as well as they sang, but honestly, there was no way to tell. I felt sorry for these singers, that were frankly singing their guts out, primarily because there was nothing that one could do to act in these freakish characterizations that passed for costumes. Oh, and Fricka, well someone must have an odd obsession with arms, because she had some freakish long arms, the likes of which have only been seen at a Marilyn Manson concert. In fact, many characters had extra arms, and I just am not sure why.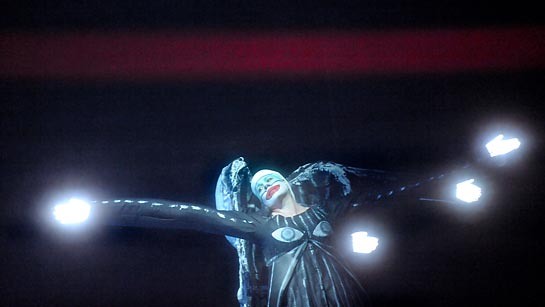 Michelle De Young (Fricka). Photo by: Monika Rittershaus
The women were all wearing skullcaps, including Freia, whom as I recall is supposed to be the Goddess of love and beauty. Why her head fit through an enormously tall white dress and popped out unceremoniously between giant globes that looked to be multiple breasts, I will never figure out. Surely Freia should be portrayed as exceptionally beautiful? I am not sure why Alberich was interested in the Rhine Maidens at all, being portrayed as bald and trapped in their watery prison. The only women who wore a wig, was Erda and the wig was rather unattractive, well, as was Erda herself.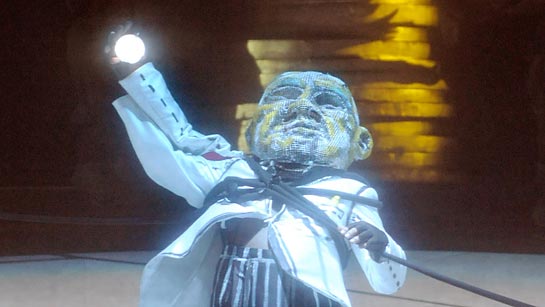 Gordon Hawkins (Alberich). Photo by: Monika Rittershaus
Waiting for Domingo
Go for the singing, which was awesome. Plácido Domingo himself is singing Siegmund for most of the performances of the upcoming Die Walküre in April, as well as many of the Rheingold cast. It should be a real singing event.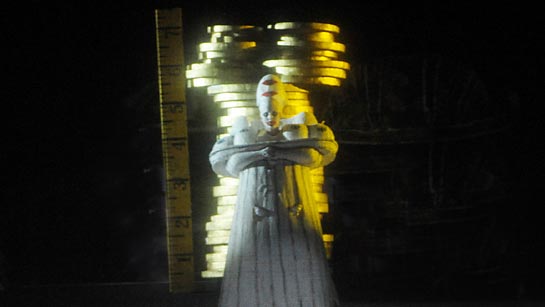 Ellie Dehn (Freia). Photo by: Monika Rittershaus
Der Ring des Nibelungen: Articles and Reviews
Nila Parly on Regietheater: Visions of the Ring
The Cry of the Valkyrie: Feminism and Corporality in the Copenhagen Ring
Sam Goodyear, Bayreuth 2022: Der Ring des Nibelungen (Valentin Schwarz)
Mark Berry, Bayreuth 2022: Das Rheingold (Valentin Schwarz)
Mark Berry, Bayreuth 2022: Die Walküre (Valentin Schwarz)
Mark Berry, Bayreuth 2022: Siegfried (Valentin Schwarz)
Mark Berry, Bayreuth 2022: Götterdämmerung (Valentin Schwarz)
Mark Berry: Bayreuth 2017: Das Rheingold (Frank Castorf / Marek Janowski)
Mark Berry: Bayreuth 2017: Die Walküre (Frank Castorf / Marek Janowski)
Mark Berry: Bayreuth 2016: Das Rheingold (Frank Castorf)
Mark Berry: Bayreuth 2016: Die Walküre (Frank Castorf)
Mark Berry: Bayreuth 2016: Siegfried (Frank Castorf)
Mark Berry: Bayreuth 2016: Götterdämmerung (Frank Castorf)
Mark Berry: Bayreuth 2014: Das Rheingold (Frank Castorf)
Mark Berry: Bayreuth 2014: Die Walküre (Frank Castorf)
Mark Berry: Bayreuth 2014: Siegfried (Frank Castorf)
Mark Berry: Bayreuth 2014: Götterdämmerung (Frank Castorf)
Germán A. Bravo-Casas: Wagner's Dream. A documentary film directed by Susan Froemke and edited by Bob Eisenhardt
Per-Erik Skramstad: Bayreuth 2013: There Will Be Blood: Frank Castorf Has Entered the Ring
Per-Erik Skramstad: Bayreuth 2010: Curtain Down on Tankred Dorst's Ring
Mark Berry: 2010 Cassiers Ring
Sam Goodyear: Laufenberg's Wiesbaden Ring 2017
Jerry Floyd: Rheingold, Metropolitan 2010
Jerry Floyd: Die Walküre, Metropolitan 2010
Jerry Floyd Washington National Opera: Siegfried
Jerry Floyd Washington National Opera: Siegfried II
Jerry Floyd Washington National Opera: Götterdammerung Concert (2009)
Jerry Floyd Washington National Opera: Götterdammerung Concert (2009)
Mark Berry: Richard Wagner für Kinder – Der Ring des Nibelungen (2011)