Der Ring des Nibelungen - Staatsoper Berlin - Guy Cassiers (2010-2013)
Das Rheingold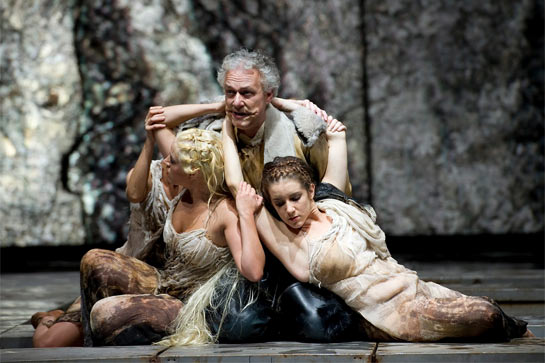 Das Rheingold, Staatsoper Berlin,
31 October 2010
Wotan – Hanno Müller-Brachmann
Donner – Jan Buchwald
Froh – Marco Jentzsch
Loge – Stephan Rügamer
Fricka – Ekaterina Gubanova
Freia – Anna Samuil
Erda – Anna Larsson
Alberich – Johannes Martin Kränzle
Mime – Wolfgang Ablinger-Sperrhacke
Fasolt – Matti Salminen
Fafner – Timo Riihonen
Woglinde – Aga Mikolaj
Wellgunde – Maria Gortsevskaya
Flosshilde – Marina Prudenskaja

Guy Cassiers (director, stage designs)
Enrico Bagnoli (stage designs)
Tim Van Steenbergen (costumes)
Enrico Bagnoli (lighting)
Arjen Klerkx, Kurt D'Haeseleer (video)
Sidi Larbi Cherkaoui (choreography)
Michael P Steinberg, Detlef Giese (dramaturgy)
Dancers from the Eastman Company
Staatskapelle Berlin
Daniel Barenboim (conductor)
Not at all what I was expecting: Berlin's new Ring opened with a puzzling whimper – visually, at least. Already staged at La Scala, Guy Cassiers's production seems to have little to say, hence the puzzlement, given that this is a work positively overflowing with ideas. Cassiers doubtless has a point concerning Chéreau-epigones: so many productions from the last thirty years or so have taken as read the insights afforded by Patrice Chéreau's 'Centenary' Ring for Bayreuth and, consciously or otherwise, that of the late Joachim Herz for Leipzig. Günter Krämer's Paris Ring, due to be concluded with Siegfried and Götterdämmerung this season, stands very much in this line, though I think it benefits greatly from doing so. Nevertheless, I can appreciate that someone might want to try something different, even in Das Rheingold, the 'reddest' of all Wagner's dramas. It is difficult, however, to discern anything much to Cassiers's production beyond 'taking the politics out', and not just the nineteenth-century politics, of a deeply political work. What has been put in place of Wagner's revolutionary socialism? And why was there a programme article with the subtitle, 'Reflexions über politische Aspekte von Wagners "Ring"'? Answers on a postcard, please.
The most striking aspect of the production is the inclusion of dancers. Members of the Eastman Company did very well what they were asked to do. That seemed more relevant when they actually interacted with members of the singing cast; their coming together to represent the Tarnhelm was a genuinely effective stroke, mirroring the rootless menace and mystery of Wagner's harmony and orchestration. For the most part, however, Sidi Larbi Cherkaoui's choreography simply had them attempting to turn the work into a ballet manqué. It is a point of view, I suppose, though not one I can understand, let alone endorse. Nevertheless, it was boorish and misplaced for a minority of the audience to boo the dancers, who impressed upon their own terms. They certainly contributed a litheness absent from the concept. Stage designs (Cassiers and Enrico Bagnoli) make little impression either way, with a few exceptions, such as the 'real' water for the Rhine: initially noteworthy in a positive sense, less so when it degenerates into a juvenile paddling pool. Video projections are inoffensive, but the shots of what seems to be a generic 'ancient' civilisation do little to contribute to a greater idea. Costumes veer slightly between dampened down 'operatic' and hints of science fiction. The giants became giants by virtue of large shadows cast upon the backdrop: fair enough, but hardly a coup de théâtre.
The singing was generally of a standard one would expect from the Staatsoper, though I have heard more inspired evenings from the company. René Pape had played Wotan in Milan but was already booked to sing Boris Godunov in New York; he was therefore replaced, apparently for Das Rheingold alone, by Hanno Müller-Brachmann. Müller-Brachmann, it was announced, was suffering from cold and a fever. At the beginning, one could certainly hear intimations of that in his voice, but the adrenalin must have begun to flow, for his performance rallied and, as one might have expected, proved attentive to words and music. His mesmerised reaction to the ring, despite its shiny vulgarity, was a powerful moment on stage. I doubt that Müller-Brachmann would flourish as a Walküre Wotan, still less as the Wanderer, but that is not at issue here. Johannes Martin Kränzle was an impressive Alberich, less black of tone than some, but as attentive as his dialectical antithesis to Wagner's poem. If anything, his reading of the text tended to take priority over musical line, and there was arguably too much hissing exaggeration, but one certainly gained a feel for the character. Perhaps the best stage assumption, as so often in Rheingold, was that of the Loge, Stephan Rügamer. He was the sole singer to dance too: presumably attributable to his status as demi-god, but then why not the giants, say? At any rate, he handled well the handicap of his bizarre sci-fi costume – if only we could have had the Paris production here, with Kim Begley in drag as cabaret artiste – to insinuate and to criticise.
Matti Salminen (his predecessor, not him, pictured to the left), sang the role of Fasolt for one night only, making the most of his plangent bass to evoke sympathy for the sole character who feels something akin to true love. Timo Riihonen did his job as Fafner, though true malevolence only really came to the fore at the very end. It was difficult to imagine Wolfgang Ablinger-Sperrhacke's Mime as a master craftsman, creator of the Tarnhelm, but he was hardly responsible for the production's 'idea' of him essentially as a big baby. Ekaterina Gubanova and Anna Samuil sang with considerable beauty of tone as Fricka and Freia, but again seemed hamstrung by the production, which appeared to have little interest in them at all. Jan Buchwald blustered as Donner, whilst Marco Jentzsch, the odd slip aside, displayed an appropriately attractive lyric tenor as Froh. The Rhinemaidens sang well enough for the most part, though there were occasional peculiarities of pronunciation – and not just when it came to vowels. Last but not least, Anna Larsson's Erda was a brief joy to encounter: a true Nordic goddess on stage and in voice: perhaps not quite so deep of tone as many, but that is a matter of taste as much as anything else.
What truly surprised in the musical performance, however, was Daniel Barenboim's conducting. I wonder how much of this was due to the acoustic of the Schillertheater, the Staatsoper's temporary home, but I do not think it can have been the only factor at work. Barenboim seemed to have rethought his approach from earlier Ring performances. Now we heard a more chamber-like reading, more so even than Karajan. There was also a slight distancing of tone – perhaps the acoustic – which led to an alienating impression not entirely dissimilar to interwar Neue Sachlichkeit. Barenboim retained sense of line from his erstwhile hero, Furtwängler, but otherwise he seemed to be in rebellion. There were moments of greater, deeper orchestral sonority, but these were reserved for climaxes. Whether this, or indeed the temper of the production, will be pursued into Die Walküre remains to be seen – and heard.
Die Walküre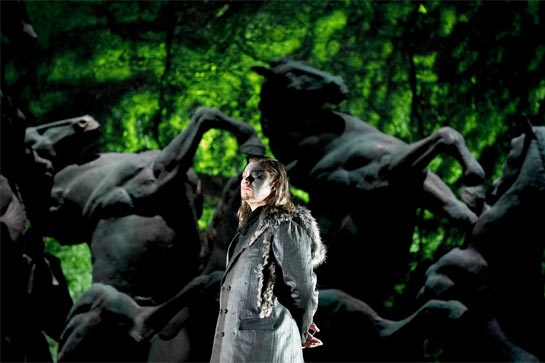 Die Walküre, Staatsoper Berlin
17 April 2011
Schiller Theater, Berlin

Siegmund – Simon O'Neill
Sieglinde – Anja Kampe
Hunding – Mikhail Petrenko
Wotan – René Pape
Brünnhilde – Iréne Theorin
Fricka – Ekaterina Gubanova
Gerhilde – Danielle Halbwachs
Ortlinde – Carola Höhn
Waltraute – Ivonne Fuchs
Schwertleite – Anaïk Morel
Helmwige – Erika Wueschner
Siegrune – Leann Sandel-Pantaleo
Grimgerde – Nicole Piccolomini
Rossweisse – Simone Schröder
Dancers – Guro Nagelhus Shia, Vebjorn Sundby
Guy Cassiers (director, set design)
Enrico Bagnoli (set design, lighting)
Tim van Steenbergen (costumes)
Arjen Klerkx, Kurt D'Haeseleer (video)
Michael P Steinberg, Detlef Giese (dramaturgy)
Csilla Lakatos (choreography)
Staatskapelle Berlin
Daniel Barenboim (conductor)
Guy Cassiers's production of the Ring continues, in its second instalment, to baffle, but the nature of my bafflement is different from any other Ring I can recall. If ever there were a work overflowing with ideas – the overflowing and the conflict being part and parcel of the experience – it is surely the Ring. Yet the Belgian director, making his first foray into the opera house, seems to have none at all, let alone any sympathy with the strenuous intellectual and emotional demands presented by Wagner's score. I was highly critical of the Weimar Ring, released on DVD, but at least it tried to present some conceptual framework, however confused. The concern of the present production, already staged at La Scala, seems to be to present a pleasant backdrop for what otherwise might as well be a concert performance. (Of course a staged performance never quite feels like that, since one tends to be more frustrated than one would in the concert hall, which possesses its own, symphonic virtues.) Lack is keenly felt here. The production is not 'traditional' in the sense of Otto Schenk's mindless, 'restorationist' production for the Metropolitan Opera; it merely seems empty, devoid of meaning, whether political or otherwise. Quite what two dramaturges, Michael P Steinberg and Detlef Giese, did to earn their crust I cannot imagine. Taking the politics out is one thing, and the urge to be something other than a second-generation epigone of Joachim Herz or Patrice Chéreau is comprehensible, yet surely something then needs to be put in place of Wagner's revolutionary socialism.
Take the Ride of the Valkyries. I recall Deryck Cooke's wise retort to Eric Blom's jibe about 'the most tasteless piece of music ever written': namely, 'what could have been the use of a tasteful Ride of the Valkyries?' This seems to be it, or at least to approach it: a scenic backdrop of elegant black horses, not entirely dissimilar from what one might find emblazoned on a Baroque fountain. That is it. At a push, one might speculate whether a point were being made concerning representational culture, a feudal order on the verge of being overthrow; however, there is no real suggestion of that being the case. A little later, we see 'tasteful' video projections of a male nude, credited as a dancer, almost Old Master-ish; I have no idea why. It seemed as though it were intended to do anything but épater les bourgeois. The Staatsoper has, after all, moved for the period of the Unter den Linden house's closure, to the bürgerlich security of Charlottenburg's Schillertheater, but a few hundred yards from the Deutsche Oper. Whereas Das Rheingold had at least provided novelty, if questionable, in the form of dancers on stage, their brief filmed sublimation here suggested running out of already limited steam. Video projections of René Pape's (Wotan's) face occasionally surfaced during the first act, when Wälse was mentioned; otherwise, it was difficult to note any other feature to the production. Red poles descend from the ceiling during the third act: they are not unpleasant to look at, yet do not seem to signify anything. Tim van Steenbergen's costumes tend to be expensive-looking but unflattering, Brünnhilde's taffeta-style bustle a case in point. Make of that, perhaps in West Berlin terms, what you will.
The performance proved considerably superior. Daniel Barenboim led a warmly Romantic account, starkly contrasting with the startling Neue Sachlichkeit objectivism he had imparted to Das Rheingold. I assume contrast between the frigid world of the gods and the purely human love of the Volsungs to have intended; that, at any rate, is how it came across, to the benefit of the present drama if not to that of the cycle's Vorabend. It may be of interest to note that Barenboim has insisted upon a semi-covered pit for the Schillertheater, in partial imitation of Bayreuth. I am not sure what good this does; it is difficult to tell whether the somewhat restrained – or constrained – result is a product of the less than sensational acoustic of the Staatsoper's temporary home or a matter of deliberate intent. What I can say is that Barenboim's reading proved full of momentary incident whilst maintaining the necessary longer line, an especially difficult task in the second and third acts. This seemed to me the best conducted Walküre I had heard since Bernard Haitink's account with the Royal Opera at the Royal Albert Hall; no one I have heard live has managed the melos of the second act of this drama quite so flawlessly as Haitink, but Barenboim was far from disgraced by the comparison. The Staatskapelle Berlin's performance was not faultless – as it had arguably proved for the previous night's Wozzeck, also conducted by Barenboim – but a number of errors were more than compensated for by the rich and variegated tone that emanated from the pit.
The cast was generally strong. Simon O'Neill's Siegmund slightly disappointed, though O'Neill certainly did not lack power. His metallic timbre is not to my taste and his stage presence might best be described as old-fashioned gestural. (On the other hand, it was not clear that any of the singers received any assistance from the director.) Anja Kampe proved an increasingly spirited Sieglinde, improving in each act, her performance culminating in a radiant 'O höchstes Wunder!' Mikhail Petrenko maintained the high standards I noted from him as Hunding in Aix – and Hagen there in Götterdämmerung too. Most Hundings have been blacker of tone, yet Petrenko's malevolent stage presence and delivery of text are ample substitute for the accustomed sound. Ekaterina Gubanova presented an imperious, wounded Fricka: the woman within and the stern moralising presence without were placed in finely judged counterpoint. The excellence of her Lyubasha in Rimsky-Korsakov's The Tsar's Bride, which had opened in London just three nights earlier (!), was admirably maintained. Iréne Theorin, Bayreuth's current Isolde, overcame the handicap of her strange costume to portray a Brünnhilde gaining in humanity throughout her two acts, Wagner's Feuerbachian conception of the 'purely human' being finely served. I have heard Valkyries more beautiful of tone, but Theorin presented no particular reason for complaint and displayed considerably more dramatic commitment than the production might have led one to expect.
René Pape's Wotan, however, proved somewhat frustrating. He had sung Wotan in the Scala Rheingold but, already booked to sing Boris in New York, had ceded to the excellent Hanno Müller-Brachmann for Berlin. Müller-Brachmann's Papageno-baritone was unlikely, however, to prove suitable for the Walküre Wotan, though perhaps the voice of a fabled Sarastro erred in the opposite direction, the tessitura sometimes sounding awkward. There is a tendency to sound wan in higher notes, though there is ample – too ample? – richness in the true bass register. I heard Pape a few years ago as Don Giovanni, again in Berlin under Barenboim. Then he merely seemed miscast; that was less apparent on this occasion, though doubts remained. That said, Pape's beauty of tone certainly came very much to the fore at times; there was painful bitterness to be heard too. A more serious concern was apparent straying of his attention, most persistently during his 'Farewell' scene, in which a good number of words were the victims of substitution. I am told that there had been a greater number of errors during the final rehearsal. A great hope for the role, surely the summit for any pretender's career, has yet, it seems, to fulfil the promise in which many of Pape's admirers have long believed.
Under the terms of the co-production with La Scala, Siegfried and Götterdämmerung will be seen first in Berlin and subsequently in Milan. Those final two evenings will be staged during the Staatsoper's 2012-13 season, culminating in complete cycles scheduled for Holy Week and Eastertide of the composer's bicentenary.
Siegfried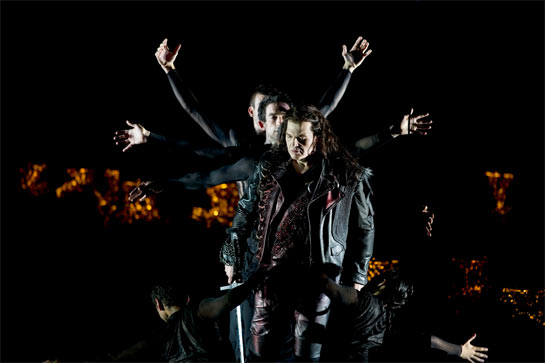 Siegfried, Staatsoper Berlin, 18 April 2013
Schiller Theater, Berlin

Siegfried – Lance Ryan
Mime – Peter Bronder
The Wanderer – Terje Stensvold
Alberich – Johannes Martin Kränzle
Fafner – Mikhail Petrenko
Erda – Anna Larsson
Brünnhilde – Iréne Theorin
The Woodbird – Rinnat Moriah

Guy Cassiers (director, set design)
Enrico Bagnoli (set design, lighting)
Tim van Steenbergen (costumes)
Arjen Klerkx, Kurt D'Haeseleer (video)
Michael P Steinberg, Detlef Giese (dramaturgy)
Sidi Larbi Cherkaoui (choreography)

Staatskapelle Berlin
Daniel Barenboim (conductor)
And so, the Berlin State Opera's Ring nears completion. Nothing has changed with respect to the bafflingly vacuous production served up by Guy Cassiers and his colleagues from the Antwerp Toneelhuis. It is not that ideas are banal or underdeveloped; rather, there seem to be no ideas at all, a truly extraordinary state of affairs when it comes to Wagner, of all dramatists. The production apparently aspires to the condition of something one might see or have seen at New York's Metropolitan Opera, whether Otto Schenk or the still worse Robert Lepage, albeit with refined visual taste. Quite why anyone would think tasteful Wagner desirable is quite beyond me. There are pretty stage effects, sometimes from video, sometimes not, but effects without cause they remain. Oddly, given the plentiful use of video, the dragon is conjured up by the Eastman Company – yes, I am afraid the dancers are back – and some sheets. It starts off rather well, viewed with disinterested æsthetic contemplation, only to degenerate into a vision more akin to a group laundry activity. There is doubtless some enjoyment to be derived from the lithe dancers, choreographed well enough in the abstract, but what any of it might have to say about the Ring is not even obscure. If Cassiers presents, as is claimed, a Ring for the twenty-first century, may God have mercy upon our culture-industry-enfeebled souls. Politics, religion, any variety of thought, even any variety of drama, have been banished to the nineteenth and twentieth centuries; it is enough to have one wish to embark upon a spot of time travel.
Daniel Barenboim and the Staatskapelle Berlin came to the rescue. I have not heard a better conducted, better played Siegfried, even from the Royal Opera and Bernard Haitink. The Berlin Philharmonic and Sir Simon Rattle may have offered breathtaking orchestral virtuosity in Aix-en-Provence, but there was something of virtuosity for its own sake in that case, partly, I think, because Rattle's reading failed to dig anything like so deep. This was Barenboim at his more than estimable best. The great paragraphs of Wagner's imagination unfolded with unforced, unexaggerated inevitability, not monumental in, say, the Knappertsbusch mode, but teeming with dramatic life born of the musico-dramatic material. Scenes, dialogues, phrases were sharply, colourfully characterised, playful yet steely Beethoven to the fore in the final scene of the first act, a grinding sense of peripeteia possessing us at the opening of the third. There was none of the reluctance one encounters from lesser conductors to let the orchestra speak as Greek chorus, no alleged 'consideration' for vocal fallibility. This was above all orchestral drama, as fully achieved in a Furtwänglerian sense as I have heard from Barenboim in Wagner.
Lance Ryan had his moments as Siegfried, especially during the second act. Up until the scene with Brünnhilde, I should have said that at least he did not tire – quite an achievement in itself – but alas, a pattern of too much shouting and not enough singing took its toll. Iréne Theorin's Brünnhilde, by contrast, was highly variegated in tone, at times almost too much, having one strain to hear the words. A rather wooden Wanderer from Terje Stensvold was shown up by Johannes Martin Kränzle's vivid, detailed Alberich. Peter Bronder was very much the singing actor as Mime, stronger in tone than one often hears, but sometimes edging too much, against Wagner's urgings, toward caricature. Mikhail Petrenko's voice seemed to have lost some of its darkness, but there could be few real complaints about his Fafner. Anna Larsson's otherworldly depth of tone reminded us why she is very much the Erda de nos jours. Rinnat Moriah navigated the Woodbird's lines with admirable ease. It remained, however, Barenboim's and the Staatskapelle's show.
Götterdämmerung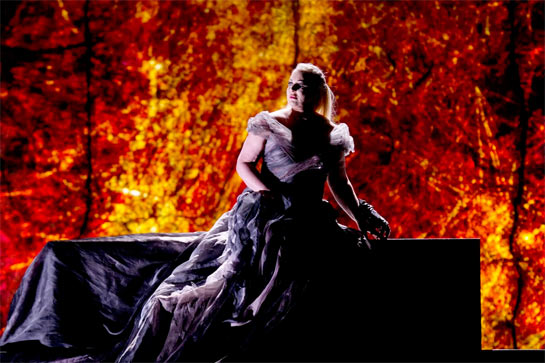 Götterdämmerung, Berlin Staatsoper
21 April 2013
Schiller Theater, Berlin

Siegfried – Andreas Schager
Gunther – Gerd Grochowski
Alberich – Johannes Martin Kränzle
Hagen – Mikhail Petrenko
Brünnhilde – Iréne Theorin
Gutrune – Anna Samuil
Waltraute – Waltraud Meier
First Norn – Margarita Nekrasova
Second Norn – Waltraud Meier
Third Norn – Anna Samuil
Woglinde – Aga Mikolaj
Wellgunde – Maria Gortsevskaya
Flosshilde – Anna Lapkovskaja

Guy Cassiers (director, set design)
Enrico Bagnoli (set design, lighting)
Tim van Steenbergen (costumes)
Arjen Klerkx, Kurt D'Haeseleer (video)
Michael P Steinberg, Detlef Giese, Erwin Jans (dramaturgy)
Sidi Larbi Cherkaoui (choreography)
Luc de Wit (choral choreography)

Staatsopernchor Berlin (chorus master: Eberhard Friedrich)
Staatkapelle Berlin
Daniel Barenboim (conductor)
This, I know, has become wearily repetitive, but the rewards of the Berlin Ring were once again shown to be entirely musical. Götterdämmerung had for some reason acquired a third dramaturge, prior instalments having relied upon a mere brace. What they might have done, or rather what director Guy Cassiers might have listened to, is utterly beyond me. For all its faults, and it seems to me undeniable that Götterdämmerung was a bit of a mess dramaturgically, Keith Warner's Covent Garden Ring had ambition, had ideas, and some of the time managed to communicate them. This sorry co-production with La Scala, brought to us courtesy of the Toneelhuis Antwerpen, appears, quite literally, to have nothing whatsoever to say to us. That would be odd in the case of any musical drama worthy of the name – many are not, but that is another story – but, in the case of Der Ring des Nibelungen, it is simply beyond comprehension. Yet again, we are simply faced with a few 'tasteful' costumes and effects, and in this case, far too much video. The Tarnhelm dancers return, rather to my surprise offering the saving grace of the staging. Their menacing writhing around Brünnhilde during her shameful and shaming possession by Siegfried struck a note of rare, indeed unique, dramatic power. The appearance of sub-Damien Hirst creatures in formaldehyde offers slight variety, but no discernible point, and more than anything irritates in its acquiescence to the wearisome stylisation of the designs. As I said with respect to Siegfried, we might as well have been at the Met. Of Wagner's desired 'emotionalisation of the intellect', Cassiers offers neither emotion nor intellect, let alone a dialectic between the two. Baffling!
If not on quite such superlative form as in Siegfried, Daniel Barenboim and the Staatskapelle Berlin nevertheless did Wagner's score proud, a more than promising augury for the forthcoming Proms performances of the Ring as a whole. (I shall be speaking at an introduction to Siegfried.) Line and dramatic momentum were impressive, though tension sagged slightly – and surprisingly – at a somewhat anti-climactic conclusion to the second act. Maybe that was a matter of tiredness more than anything else. Barenboim's almost 'French' ear for colour – he knows that Wagner leads to Debussy as well as to Schoenberg, and indeed employs that ear in the music of the latter composer too – offered more than its fair share of textural revelation, the Staatskapelle's woodwind as euphonious here as in Mozart. Eberhard Friedrich's chorus acquitted itself very well throughout.
There was a great deal to praise in terms of singing too. Waltraud Meier as Second Norn must be the very definition of luxury casting. Stage animal that she is, she made something out of the non-production even here, let alone in her well-nigh definitive Waltraute (also one of the very few redeeming features of the recent, dismal New York Götterdämmerung). Meier can have few peers, if any, and certainly no superiors, in her melding of text and music, in her instinctive yet searching theatrical communication. She offered a standing rebuke to the vacuity of the contribution from Cassiers. Iréne Theorin continued to present a creditably variegated account of Brünnhilde's part. There was more of the lyrical, less of the heroic, than one often hears, though there remained plenty of the latter nonetheless. I wondered occasionally whether her choices with respect to scaling down, to containment, always made the best sense, but there was a great deal to admire here. Mikhail Petrenko's Hagen remains controversial. I first heard it in Aix-en-Provence, under Simon Rattle. During the first act, I was less convinced, the relative lightness – this is definitely not the black-toned Hagen we have come to expect – veered on occasion towards the non-committal, though of course Cassiers did not help. However, menace asserted itself, psychotically so, ensuring that the darkness of Hagen's character duly struck a terror quite lacking in the staging. Gerd Grochowski offered more in the way of clear verbal projection than psychological depth, but again the fault for that may really have lain elsewhere. Anna Samuil's Gutrune, alas, seemed a victim of miscasting; there was little sense of character and her blowsy delivery, though reined in during the third act, was by any standards stylistically quite inappropriate. The trio of Rhinemaidens (Aga Mikolaj, Maria Gortsevskaya, and Anna Lapkovskaja) was truly excellent, both in solo and ensemble terms.
Andreas Schager's Siegfried I have left until last. Schager was a replacement for the advertised Ian Storey, Lance Ryan having taken the part in Siegfried, but not Götterdammerung. (Schlager had also had to step in for Ryan in the previous cycle, when the Canadian tenor arrived late to the theatre, missing the first act.) I am not sure that I have heard so excellent an account of the role in the theatre; I have certainly heard none better. We can hark back to Melchior all we like, even to Windgassen, but we all know that such expectations are, for whatever reasons, entirely unrealistic. Schager's Siegfried was of the here and now, dramatically committed – certainly not something of which one could always accuse Melchior – and finely sung, without a hint of the dreadful barking, let alone shouting, that disfigures so many performances. There was no discernible tiring; indeed, a portrayal of youthful, naïve enthusiasm did much of the work the staging ought to have been doing by itself, contrasting tellingly with the corruption of the Gibichung court. This is a production, then, that should be discarded as quickly as humanly possible; it remains just possible, however, that a star may have been born amongst this all-too-tastefully-designed 'heap of broken images'.
The review has previously been published on Mark Berry's blog Boulezian
Mark Berry is Professor of Music and Intellectual History at Royal Holloway, University of London and will be a visiting scholar at the Humboldt University, Berlin, for the academic year 2023-4. He is the author of Treacherous Bonds and Laughing Fire: Politics and Religion in Wagner's 'Ring' (2006), After Wagner: Histories of Modernist Music Drama from 'Parsifal' to Nono (2014), and Arnold Schoenberg (2019), and co-editor with Nicholas Vazsonyi of The Cambridge Companion to Wagner's 'Der Ring des Nibelungen' (2020). His reviews of concert and opera performances are collected on his blog, Boulezian.
Der Ring des Nibelungen: Articles and Reviews
Nila Parly on Regietheater: Visions of the Ring
The Cry of the Valkyrie: Feminism and Corporality in the Copenhagen Ring
Sam Goodyear, Bayreuth 2022: Der Ring des Nibelungen (Valentin Schwarz)
Mark Berry, Bayreuth 2022: Das Rheingold (Valentin Schwarz)
Mark Berry, Bayreuth 2022: Die Walküre (Valentin Schwarz)
Mark Berry, Bayreuth 2022: Siegfried (Valentin Schwarz)
Mark Berry, Bayreuth 2022: Götterdämmerung (Valentin Schwarz)
Mark Berry: Bayreuth 2017: Das Rheingold (Frank Castorf / Marek Janowski)
Mark Berry: Bayreuth 2017: Die Walküre (Frank Castorf / Marek Janowski)
Mark Berry: Bayreuth 2016: Das Rheingold (Frank Castorf)
Mark Berry: Bayreuth 2016: Die Walküre (Frank Castorf)
Mark Berry: Bayreuth 2016: Siegfried (Frank Castorf)
Mark Berry: Bayreuth 2016: Götterdämmerung (Frank Castorf)
Mark Berry: Bayreuth 2014: Das Rheingold (Frank Castorf)
Mark Berry: Bayreuth 2014: Die Walküre (Frank Castorf)
Mark Berry: Bayreuth 2014: Siegfried (Frank Castorf)
Mark Berry: Bayreuth 2014: Götterdämmerung (Frank Castorf)
Germán A. Bravo-Casas: Wagner's Dream. A documentary film directed by Susan Froemke and edited by Bob Eisenhardt
Per-Erik Skramstad: Bayreuth 2013: There Will Be Blood: Frank Castorf Has Entered the Ring
Per-Erik Skramstad: Bayreuth 2010: Curtain Down on Tankred Dorst's Ring
Mark Berry: 2010 Cassiers Ring
Sam Goodyear: Laufenberg's Wiesbaden Ring 2017
Jerry Floyd: Rheingold, Metropolitan 2010
Jerry Floyd: Die Walküre, Metropolitan 2010
Jerry Floyd Washington National Opera: Siegfried
Jerry Floyd Washington National Opera: Siegfried II
Jerry Floyd Washington National Opera: Götterdammerung Concert (2009)
Jerry Floyd Washington National Opera: Götterdammerung Concert (2009)
Mark Berry: Richard Wagner für Kinder – Der Ring des Nibelungen (2011)