Das Rheingold: Metropolitan Opera. Robert Lepage & James Levine
Going for the Gold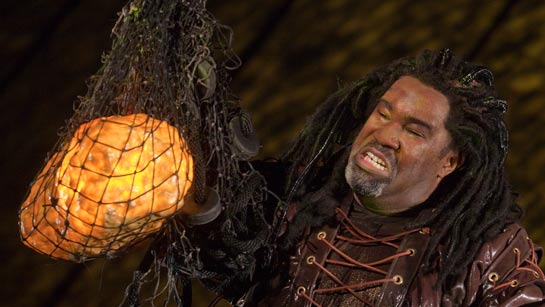 Eric Owens as Alberich. Photo: Ken Howard/Metropolitan Opera
Review based on the Metropolitan Opera's Das Rheingold High Definition (HD) telecast on October 9, 2010.
As Alberich, bass-baritone Eric Owens stole the Rhinemaiden's gold and nearly stole the show in the Metropolitan Opera's Das Rheingold High Definition (HD) telecast on October 9, 2010. Coincidentally, the HD transmission to hundreds of cinemas in 40 countries took place exactly 23 years after the Met's previous Rheingold production premiered on October 9, 1987.
Cuddly as a teddy bear when he first encountered the Rhinemaidens, Owens evolved into a bitter, malevolent character whose coruscating curse of the ring provided a dramatically pallid performance with a much-needed spark. Vocally resplendent, Owens justifiably earned the loudest ovation by the Met audience after the performance ended.
There was also hearty applause for Owens from the capacity crowd at the Washington, DC cinema where I saw the HD telecast. (The audience at this movie theatre included soprano Evelyn Lear, whose late husband, Thomas Stewart, sang Wotan in the premiere of an even older Met Rheingold, in 1968.)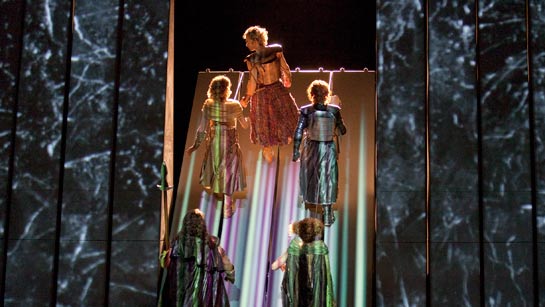 The gods, portrayed by stunt doubles, crossing the rainbow bridge. Photo: Ken Howard/Metropolitan Opera
The Met's sterling orchestra was gloriously led by conductor James Levine, returning to the podium after a long hiatus for surgery. Even though the onstage action was often muted, the orchestra never faltered and although his gait is more measured that before, Levine remains one of our greatest Wagner conductors.
This new Rheingold production opened the Met's 2010-11 season on September 27, 2010 and will be reprised twice next spring, shortly before the company unveils Die Walküre.
Bayreuth Festival 2019 Reviews
Bayreuth Festival 2017 Reviews
Bayreuth Festival 2016 Reviews
Bayreuth Festival 2015 Reviews
Bayreuth Festival 2014 Reviews
Bayreuth Festival 2013 Reviews
Bayreuth Festival 2012 Reviews
Bayreuth Festival 2011 Reviews
Bayreuth Festival 2010 Reviews
A complete Ring is planned in 2012 and a "Become a Ring Leader" brochure requesting a contribution of upwards of $25,000 US for the 2012 cycle was in my mailbox when I returned home from the HD telecast.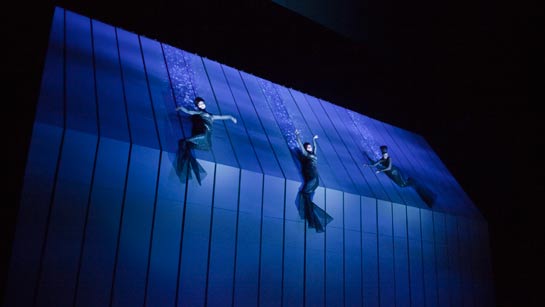 The Rheinmaidens appear to swim, atop the production's massive unit set. Photo: Ken Howard/Metropolitan Opera
The mailing was probably no coincidence. With costs for the new Ring estimated to range from $20-$40 million US (including nearly $5 million to reinforce the stage floor), the Met is understandably seeking funds to help underwrite the cycle.
Right now, however, Rheingold is more about technical wizardry than delineating the saga's interpersonal conflicts, including the simmering tension between Wotan and Fricka. The lack of sharp direction results in a lumbering Rheingold, which is even less dramatically effective than the hoary Otto Schenk/Gunther Schneider-Siemssen production that preceded it.
At the conclusion of the opening night performance some boos were aimed at director Robert Lepage, whose production team designed the expensive 45-ton unit set, dubbed "the machine". Two towers on either side of the stage support 24 planks that are turned and twisted into a variety of shapes, including a staircase leading to Nibelheim.
High-tech projections, complex computer programs, and aerial work, sometimes with acrobatic doubles, are other production components, and the same set will be used throughout the Met's Ring.
However technically advanced and acrobatic it may be, this Rheingold, at least, has a long way to go before it delivers the impact of the Valencia Ring staged by La Fura dels Baus. In the latter production, Valhalla is depicted by a group of suspended acrobats whose gyrations gradually enclose the gods. In Lepage's production, acrobatic doubles, rather than the singers portraying the gods, pretend to walk across the steeply slanted rainbow bridge.
Lepage wasn't seen at the conclusion of the HD telecast. But as tenor Richard Croft, Loge, took his curtain call some booing could be heard from inside the Met's auditorium. Best known for his Mozart roles, Croft's voice is too lightweight for Loge. But given his conscientious singing and nimble acting, including backpedalling up a ramp, the booing was churlish.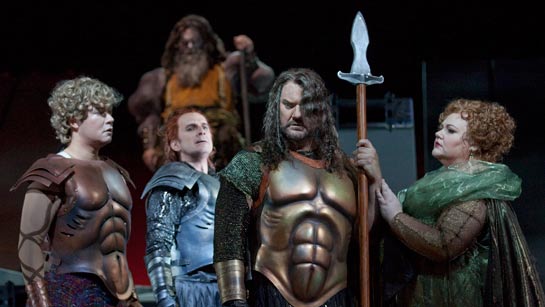 Adam Diegel as Froh, Dwayne Croft as Donner, Bryn Terfel as Wotan and Stephanie Blythe as Fricka in Richard Wagner's "Das Rheingold". Photo: Ken Howard/Metropolitan Opera
Other miscast singers included bass-baritone, Bryn Terfel, a dramatically impassive and vocally underpowered Wotan. The microphones used for the HD telecasts make it difficult to determine how effectively a voice projects, but the role's length, the Walküre Wotan may be even be more challenging. Terfel's characterization wasn't help by the unattractive breast-plate and stringy, grungy wig he wore. Though he is attractive offstage, in this Rheingold, Terfel looks more like the rock singer Meat Loaf than the leader of the gods.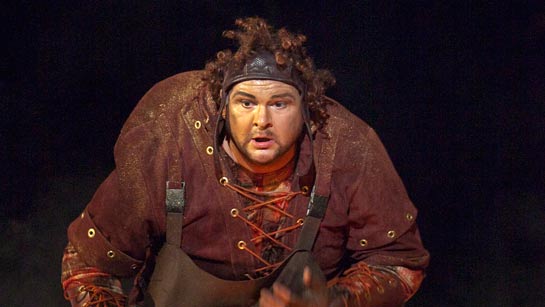 Gerhard Siegel, an appropriately comic Mime.
Though mezzo-soprano Patricia Bardon is an exquisite Handel interpreter, her timbre is too soft-grained for Erda's doom-laden prophecy. Compared to, say, the other-worldly Erda in Patrice Chéreau's Bayreuth Rheingold, Bardon's Erda hardly seemed spectral or mysterious in what should be one of the opera's most riveting scenes.
Fortunately, there were some Wagnerian-sized voices in the Met's production, including mezzo-soprano Stephanie Blythe, a regal Fricka, whose vocal opulence transcended her frumpish costume. Two vocally sturdy German giants, Franz-Josef Selig (Fasolt) and Hans-Peter König (Fafner) and German tenor Gerhard Siegel were all effective vocally and Siegel was an appropriately comic Mime.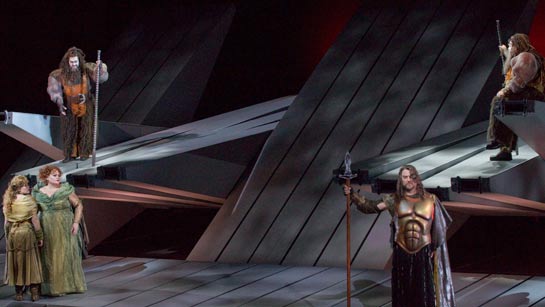 Franz-Josef Selig (Fasolt) and Hans-Peter König (Fafner) are waiting to be paid for building Valhalla. Stephanie Blythe (Fricka) is trying to protect Wendy Bryn Harmer (Freia), while Bryn Terfel (Wotan) contemplates. Photo: Ken Howard/Metropolitan Opera
Other cast members included Wendy Bryn Harmer (Freia), Adam Diegel (Froh), and Dwayne Croft (Donner, also Richard Croft's brother). The three Rhinemaidens, Lisette Oropesa, Tamara Mumford, and Jennifer Johnson sang alluringly while perched 30 feet above the stage.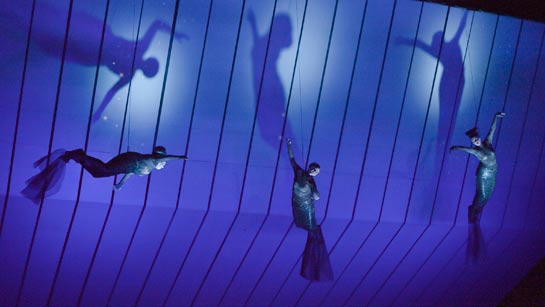 The Rhinemaidens. Photo: Ken Howard/Metropolitan Opera
When they aren't singing, the Rhinemaidens are dangling from the flies in body harnesses as the pretend to swim about the depths of the Rhine. "This is f-ing freaky!" one of them exclaimed during a videotaped tech rehearsal. The sequence is part of planned documentary about the production. The excerpts preceded the HD telecast and presumably will accompany a DVD release.
According to a Bayreuth press spokesman in the late 1970s, the aforementioned Chéreau Ring cost $100,000, roughly equivalent to $400,000 today. Production and labor costs have skyrocketed since the historic Bayreuth cycle debuted in 1976. But even if the Met's Ring isn't as expensive as rumored, the new Rheingold falls well short of the Wagnerian gesamtkunstwerk ideal.
Additional tinkering is also needed with camera angles before the Walküre HD telecast next May. Static angles reinforced Rheingold's dramatic ennui and fewer close-ups of perspiring faces and those unattractive wigs donned by some cast members would result in a more visually appealing telecast.
Soprano Deborah Voigt interviewed Terfel backstage shortly before the performance began. Currently appearing as Salome with the Washington National Opera, Voigt is scheduled to sing Brünnhilde in the upcoming Walküre and in the complete Met cycle in 2012. Hopefully, both the production and camera teams will sharpen the cycle's focus before Voigt's "Ho-jo-to-hos" ring out next spring.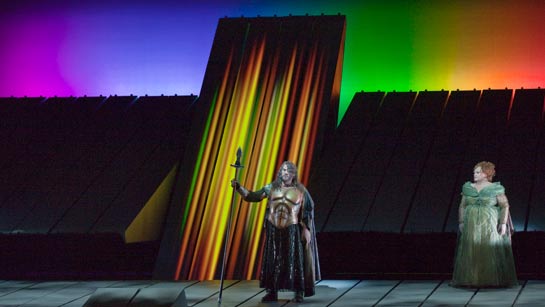 Ihrem Ende eilen sie zu, die so stark im Bestehen sich wähnen. Wotan and his wife Fricka in Robert Lepage's production of Das Rheingold. Photo: Ken Howard/Metropolitan Opera
---
The Lepage Ring at Metropolitan: Reviews
We recommend
Der Ring des Nibelungen: Articles and Reviews
Nila Parly on Regietheater: Visions of the Ring
The Cry of the Valkyrie: Feminism and Corporality in the Copenhagen Ring
Mark Berry: Bayreuth 2017: Das Rheingold (Frank Castorf / Marek Janowski)
Mark Berry: Bayreuth 2017: Die Walküre (Frank Castorf / Marek Janowski)
Mark Berry: Bayreuth 2016: Das Rheingold (Frank Castorf)
Mark Berry: Bayreuth 2016: Die Walküre (Frank Castorf)
Mark Berry: Bayreuth 2016: Siegfried (Frank Castorf)
Mark Berry: Bayreuth 2016: Götterdämmerung (Frank Castorf)
Mark Berry: Bayreuth 2014: Das Rheingold (Frank Castorf)
Mark Berry: Bayreuth 2014: Die Walküre (Frank Castorf)
Mark Berry: Bayreuth 2014: Siegfried (Frank Castorf)
Mark Berry: Bayreuth 2014: Götterdämmerung (Frank Castorf)
Germán A. Bravo-Casas: Wagner's Dream. A documentary film directed by Susan Froemke and edited by Bob Eisenhardt
Per-Erik Skramstad: Bayreuth 2013: There Will Be Blood: Frank Castorf Has Entered the Ring
Per-Erik Skramstad: Bayreuth 2010: Curtain Down on Tankred Dorst's Ring
Mark Berry: 2010 Cassiers Ring
Sam Goodyear: Laufenberg's Wiesbaden Ring 2017
Jerry Floyd: Rheingold, Metropolitan 2010
Jerry Floyd: Die Walküre, Metropolitan 2010
Jerry Floyd Washington National Opera: Siegfried
Jerry Floyd Washington National Opera: Siegfried II
Jerry Floyd Washington National Opera: Götterdammerung Concert (2009)
Jerry Floyd Washington National Opera: Götterdammerung Concert (2009)
Mark Berry: Richard Wagner für Kinder – Der Ring des Nibelungen (2011)