Stefan Herheim: Parsifal, Bayreuth 2011
Electricity enhanced by expectation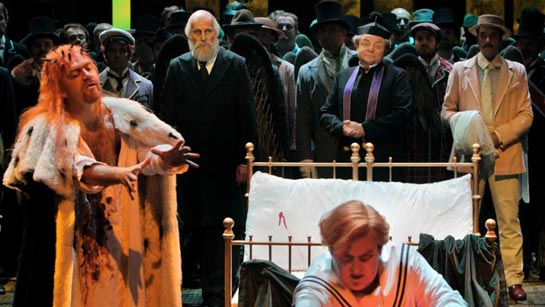 Detlef Roth (Amfortas) and Simon O'Neill (Parsifal) in Act 1 of Stefan Herheim's Parsifal production at Bayreuth (2011). Photo: Enrico Nawrath / Bayreuther Festspiele
This is a complex, in many respects quite Hegelian, work, with an equally complex history; Herheim's genius, not a word I use lightly, was and is to tell the story of both, and that includes the score, the director's musicianship and belief in music's redemptive power no more in doubt than his stagecraft.
Parsifal - Bayreuth 2011
Conductor Daniele Gatti
Production Stefan Herheim
Stage design Heike Scheele
Costumes Gesine Völlm
Dramaturgy Alexander Meier-Dörzenbach
Video Momme Hinrichs, Torge Møller
Chorus Master Eberhard Friedrich
Amfortas Detlef Roth
Titurel Diógenes Randes
Gurnemanz Kwangchul Youn
Parsifal Simon O'Neill
Klingsor Thomas Jesatko
Kundry Susan Maclean
1. Gralsritter Arnold Bezuyen
2. Gralsritter Friedemann Röhlig
1. Knappe Julia Borchert
2. Knappe Ulrike Helzel
3. Knappe Clemens Bieber
4. Knappe Willem van der Heyden
Klingsors Zaubermädchen Julia Borchert, Martina Rüping, Carola Guber, Christiane Kohl, Jutta Maria Böhnert, Ulrike Helzel
Altsolo Simone Schröder
Should one cross the same river twice? Could Stefan Herheim's – and Daniele Gatti's – Parsifal possibly match up now to my first-time experience in 2008? (See also Per-Erik Skramstad's review from the same festival.) As with the Boulez-Chéreau 'Centenary' Ring, one of the few opera DVDs I find persistently engrossing, the answers are 'yes' – and triumphantly so. It appears almost mandatory to voice a cavil, and I have a small one, so shall get it out of the way now: there are sections of the stage direction that have been relatively simplified. In most cases, that tends to be good: a removal of clutter helped Keith Warner's Royal Opera House Ring upon its second outing. Yet there was no clutter in Herheim's Parsifal. Complexity, yes, but this is a complex, in many respects quite Hegelian, work, with an equally complex history; Herheim's genius, not a word I use lightly, was and is to tell the story of both, and that includes the score, the director's musicianship and belief in music's redemptive power no more in doubt than his stagecraft. The first half of the third act now looks for the most part surprisingly 'traditional', not that it did not incorporate and develop tradition, but I slightly regret the thinning out. (Some commentators thought first time around that too much was going on, that Herheim should have concentrated on but a single line; that seemed to me to miss the whole point of his production.)
I do not intend to give a full account of the production, since that would doubtless try readers' patience beyond endurance, and much can already be read in the two accounts I mentioned above (mine and Per-Erik's). What I should like principally to do is to talk about some points that especially captured my intention on this particular occasion.  However, it is worth briefly mentioning the broad thrust, or rather thrusts. We witness, not so much in parallel, but inextricably interlinked, as faithful a telling of Parsifal as one is ever likely to find – at least for anyone interested in Wagner's meaning and dialectical thinking rather than fetishisation of incidental matters of costume – and a perceptive retelling of the course of German history from the time of the first performance until the present.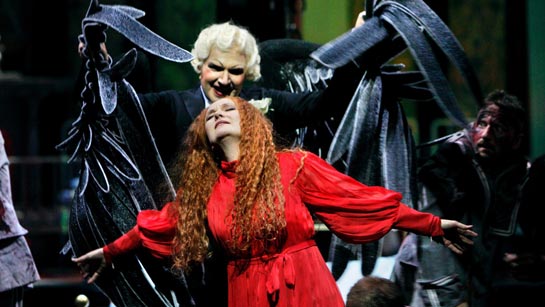 Thomas Jesatko (Klingsor) and Susan Maclean (Kundry). Photo: Enrico Nawrath / Bayreuther Festspiele
The metamorphosis of the first-act's Wahnfried into Siena Cathedral and back again is subtle and yet telling enough; but note that the pillars of both remain, transformed, in the field hospital of the Flowermaidens, as directed by Klingsor as Cabaret Master of Ceremonies. (Transvestite show-business is an obvious career path for the self-castrated, not unlike the castrati of old.)  Herheim's turning the mirror on the audience not a gimmick, but an invitation, indeed an incitement, to question everything we have thought. 'Educating Parsifal' is also 'educating Parsifal', and is also 'educating us', not in a didactic fashion but as part of a drama in which we would be fools not to participate. (Some such fools booed; another, astonishingly, asked during an overheard interval rant, 'Why can't it be like the Met?') As Tristan tells King Marke, 'das kann ich dir nicht sagen; und was du frägst, das kannst du nie erfahren.' In the almost overwhelming emotional context Herheim has developed, as opposed to the abstraction of a mere act of reporting, it would be an unimaginative soul indeed who did not accept the mirror's invitation. Identities are blurred, or better enhanced, by the play conducted not only between these two stories but  also between characters: Parsifal, at various stages from baby to old man, with Amfortas – compassion or fellow-suffering  (the German, Schopenhauerian Mitleid, suffering with) indeed; or Kundry and Herzeleide, whose childbirth and troubled, necessarily incestuous relationship – is any act of parenting not? – with Parsifal is worked out with Parsifal's own education and reversion.  Wagner's anticipations of Freud have never seemed so clear as in the second-act congress with Herzeleide-Kundry. The visual motif, both on stage and on film, of Kundry as Rose of Hell – Klingsor's 'Urteufelin, Höllenrose!' – guides that educative process, taking Parsifal beyond Tristan's Nietzschean 'voluptuousness of Hell' and renewing in itself in the malevolence of Wagner's Bergian chromaticism. The near-identity of Kundry and Parsifal, Christ-like, albeit Amfortas-Christ-like, at the beginning of the third act, brings us as close as we come, or indeed Wagner comes, to Christianity: helping the stricken, after the Sermon of the Mount. And those stricken in this context are the female victims of war and its aftermath, that is of one of the most violent struggles yet thrown up by the accumulation of capital and, as Adorno and Horkheimer would have it, the dialectic of Enlightenment. This is, as Per-Erik Skramstad has pointed out, a definite hommage to Götz Friedrich's Tannhäuser : Herheim studied with Friedrich, another rare example of the musician-director.
One might have expected the electricity to wane in the second-time viewing of such coups de théâtre as the unfurling of swastikas at the destruction of Klingsor's castle – and of Weimar – as a brown-shirted boy, perhaps Parsifal reincarnated or perhaps not, implies, incorrectly as it would turn out, that tomorrow will belong to him. Not at all: if anything, the electricity was enhanced by expectation. (We do not, after all, stop listening to Parsifal once we know what happens next in the plot.) The families gathered around beforehand for departure make their point chillingly. I could not help but think of the chasm between Herheim's intelligence and the dreadful 'Holocaust as entertainment', The Producers without comedy, of Terry Gilliam's recent Damnation of Faust. Gilliam boasted of his ignorance of Berlioz's life and thought; Herheim, from the tying of individual movement to Wagner's phrasing, to the broadest conceptual sweep, shows his understanding of Wagner and his reception.
Amfortas – and the Federal Republic – on trial in the Bundstag remains a potent, terrifying image following the Third Act Transformation Music. The opening of Titurel's coffin, draped in the flag, elicits mass revulsion not only on stage but, more importantly, in the audience. (There are musical reasons for that too, to which I shall return.)  The monochrome contrast, moreover, with the warmth of Ulrich Niepel's springtime lighting for the Good Friday Music, tells its own story. Christian charity has been replaced by politics, just as the Wagner brothers' (Wieland and Wolfgang) post-war request, that political discussion desist on the Green Hill, shown here during the Transformation Music without comment, could not have been more of a political act had they too emblazoned the stage with swastikas. The video wall built up during this scene around Wagner's image – perhaps also an echo of Wieland's Bayreuth wall, on whose other side lay his mother, Winifred? – is the very same wall constructed every day by those who, after Otto Schenk, wish only to see fairy-tales of knights and dragons, wilfully deaf to the words and music of Richard Wagner.
Some have complained that Daniele Gatti's masterly pacing, slow by the clock for those who care about such things, worked against the dramatic urgency of Herheim's staging. My experience was quite the opposite. By giving time for the drama to unfold, whilst never – I repeat never – failing to maintain the line of Wagner's melos, Gatti presented the orchestra very much in Wagner's Opera and Drama image of the Greek Chorus. Moreover, there was nothing unvaried about his approach. There was violence, and a nasty violence at that, in the Flowermaidens' Music, stage images of Weimar cabaret turned sour enhanced, indeed seemingly built upon, an integrated understanding of Wagner's harmony and colouring that foretold Schoenberg's Golden Calf Orgy (Moses und Aron). On the other hand, the luxuriant decadence – or Nietzschean décadence? – of Kundry's seduction spoke of Berg and Mahler. It is surely no coincidence what a fine conductor of Mahler and the Second Viennese School Gatti has proved himself to be. I mentioned above the revulsion on stage as Amfortas opened Titurel's coffin. That was as nothing compared to the Mahlerian, indeed Schoenbergian (think of the Five Orchestral Pieces, op.16) horror Gatti screwed up in the pit. This was an exemplary collaboration between conductor and director.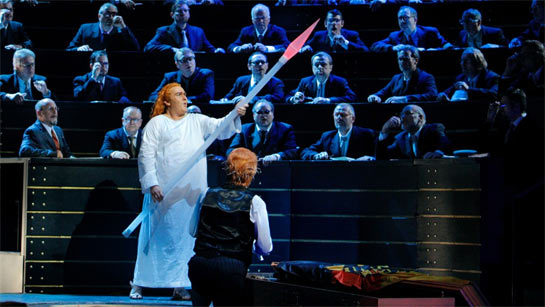 Simon O'Neill as Parsifal in the Bundestag and Detlef Roth as the suffering Amfortas. Act 3. Photo: Enrico Nawrath / Bayreuther Festspiele
What of the singers? Simon O'Neill's Parsifal was a grave disappointment. Such is the strength of Herheim's production – and Gatti's conducting – that the meaning absent from O'Neill's delivery of the text could in general be supplied elsewhere, but there was nowhere to hide when it came to the unpleasant, thin yet shouted tone production. (It was nowhere near as bad as John Treleaven's unbearable Siegfried and Tristan, but seemed to be moving in that direction.) Christopher Ventris was superior in every respect in 2008. Susan Maclean, by contrast, was a revelatory Kundry. I have admired Maclean in the same role before, in Leipzig (twice). Here she showed the difference between a dutiful, for the most part well-sung, yet hardly seductive, portrayal (Mihoko Fujimura last time around) and one that truly engaged with the production as living musical drama. This Kundry repelled and seduced, shrieked and consoled, provoked and served. The production might have been made for her. Thomas Jesatko remained an excellent Klingsor, revelling in his kinky sleights of hand. The agonies of Detlef Roth's Amfortas were searingly portrayed: his was a performance that made one feel not only the unsparing nature of Amfortas's wound, but the lyrical, almost Schubertian possibilities of a future that never came. We need to believe that Amfortas's life could have been different, and we did. Sad to say, Kwangchul Youn's Gurnemanz proved at best variable, wideness of vibrato and occasional hoarseness never compensated for by the outsize personality artists such as Sir John Tomlinson can still bring to the role. The Flowermaidens, however, were excellent: I am sure that we shall hear more of many of them. And the choral singing was superlative, as weighty and clear as in Tannhäuser and Lohengrin: congratulations once again to the Bayreuth Festival Chorus and Eberhard Friedrich. This was not a perfect cast, then, though one could hardly have asked for more from Maclean, Jesatko, and Roth, nor from the chorus. But crucially, nothing detracted from the overwhelming force of Herheim's and Gatti's vision. There was no doubt, moreover, about the final redemption: it was of, for, and through Wagner's miraculous score, 'lit from behind'. Even if one thought Parsifal stood in no need of redemption, one realised that work and audience had been blessed.
Four requests:
Bayreuth: to release this production on DVD. It is a milestone not only in the staging of Parsifal but of opera tout court.
Stefan Herheim: to stage Die Frau ohne Schatten and Die Soldaten, works crying out for such musico-dramatic attention.
The Royal Opera (with apologies to readers, should this sound unduly parochial): to engage Herheim and Gatti to present a Wagner work at Covent Garden. (And no, Les Vêpres siciliennes, in which Herheim is posed to make his London debut, will not do.)
Bayreuth: to persuade Herheim to direct its next-but-one Ring.
Mark Berry
Mark Berry is Reader in Music History at Royal Holloway, University of London, and previously taught and lectured in History at the University of Cambridge. He has written widely on intellectual, cultural, and musical history from the later seventeenth century to the present day. He is the author of Treacherous Bonds and Laughing Fire: Politics and Religion in Wagner's Ring (2006) and After Wagner: Histories of Modernist Music Drama from 'Parsifal' to Nono (2014). He will also co-edit the forthcoming Cambridge Companion to Wagner's 'Ring'. Further reviews may be found at http://boulezian.blogspot.com.
Bayreuth 2015
Parsifal: Articles and Reviews
William Kinderman: Wagner's Parsifal (Review and comments by Germán A. Bravo-Casas)
Mark Berry: Bayreuth 2017: Parsifal
Mark Berry: Bayreuth 2016: Parsifal
Mark Berry: Bayreuth Festival: 2012: Parsifal
Mark Berry: Bayreuth Festival: 2011: Parsifal
Colin Bayliss: Parsifal and anti-Semitism
Bayreuth 2008: Stefan Herheim: Parsifal (Per-Erik Skramstad)
Jerry Floyd on Claus Guth's Parsifal production at Gran Teatre Liceu
Daniel Barenboim: Complete Wagner Operas (34 CD)