One-dimensional and unmoving Dutchman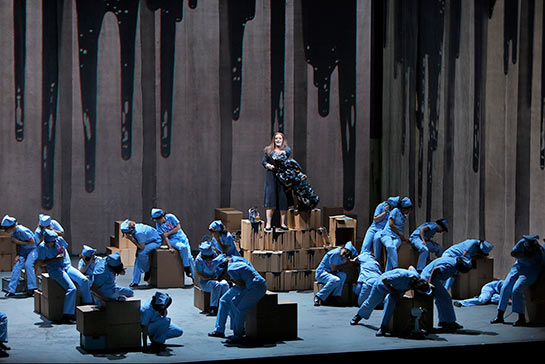 Ricarda Merbeth (Senta) in Jan Philipp Gloger's production of Der fliegende Holländer at Bayreuth 2015.
Photo: Enrico Nawrath, Bayreuther Festspiele
An excellent chorus, brilliant soloists and a powerful, though somewhat blunt orchestral interpretation cannot save a strangely one-dimensional and unmoving production burdened by abstract conceptual ideas.
Richard Wagner: The Flying Dutchman (Der fliegende Holländer)
Bayreuth Festival
Premiere, Thursday 25 July 2013
Review of opening night, Friday 31 July 2015
Axel Kober, Conductor
Jan Philipp Gloger, Director
Christof Hetzer, Stage Design
Karin Jud, Costumes
Urs Schönebaum, Lighting
Martin Eidenberger, Video
Sophie Becker, Dramaturgy
Eberhard Friedrich, Chorus Master
Samuel Youn, The Dutchman
Ricarda Merbeth, Senta
Kwangchul Youn, Daland
Benjamin Bruns, The Steersman
Christa Mayer, Mary
Tomislav Mužek, Erik
Bayreuth Festival Orchestra
Bayreuth Festival Chorus
In this rendering of "The Flying Dutchman" the different stage settings throughout the three acts come across as overly cerebral ideas rather than absorbing expressions of a human, musical drama. The pictures, as well as the passive stage direction lack a convincing – not to mention seductive – inner connection to the fate of the Dutchman and Senta and their otherworldly mythical story. Abstract ideas supplant dynamic music theatre and create a disappointingly one-dimensional production.
The opening scene's stormy weather is represented by a huge, darkish metal construction featuring streams of data, as if exposing the innards of a vast computer calculating the ongoing financial progress of global capitalism. The Dutchman, suitcase in hand, is depicted as a victim, restlessly roaming around an overwhelmingly commercial world, forever travelling across the crushingly powerful structures of the global economy, searching for the harbour he cannot find: eternal peace and death. The natural force of storms, and the mythical forces of damnation are supplanted by a politically correct critique of capitalism. As a spectator, this abstract signification requires rational deduction, it doesn't reach out and actively engage with your emotions and your experience through purely musico-dramatical means.

Likewise, in the next stage setting, Daland's factory is now a local unit for the packaging and distribution of small, electrical table fans designed for office utilization; another production of wind in modern society, perhaps. In the sterile production hall, filled with efficient female workers dressed in modern suits, Senta sticks out, busily working on her own project. Only later does it dawn upon this audience member that she is here conceived as an artist working on a sculpture of the Flying Dutchman.

During the evening, some fine visual images arise, but they never seem to cohere into a single compelling narrative. Different stage pictures proliferate, one after the other, as if scattered around, adding little or nothing to the inner development of the actual drama. The grand duet of Senta and the Dutchman in Act II, for instance, presents a rotating stage with projectors casting the protagonists' gliding shadows over the walls. It is a fine image (for all that), but so what, is my question.
Again, and unfortunately, the great final scene suffers a dramatic implosion into sheer anti-climax. As this is Wagner's revised version, with the added "transfiguration music" that he inserted having completed Tristan, the curtain falls while the music is still playing. When the curtain abruptly rises again, the shop previously selling office fans is now selling small sculptures of Senta and The Dutchman. Eternal love is turned into another product of the capitalist market.

The idea, when presented this way on stage, leaves me singularly unimpressed. There is something mechanical to the whole presentation, palpably lacking in musical and human warmth. For all their alleged desperation, the protagonists and their fates leave me cold, as if observed through a one-way mirror. The conductor, furthermore, presses the orchestra into violent blasts of crescendi and fanfares. Although the balance between orchestral groups is well taken care of in general, the finer workings of Wagnerian transitions are roughly shaped as hard and edgy contrasts, as if the musical process were simply chopped up into episodes, the relations to be found only in juxtaposition. I would have liked a much smoother and more flexible articulation of orchestral development and texture. Even though this is the earliest of Wagner scores to have made it to the Bayreuth Festival, completed in 1843, long before the idea of Wagnerian music drama was conceived and developed, the musical potential of the score is much richer and more nuanced than in Axel Kober's interpretation.
Among the soloists, Kwangchul Youn is a particularly powerful Daland, both in voice and as a stage presence. Samuel Youn as the Dutchman offers a comparatively lighter baritone but with beautiful tone and interpretation. Ricarda Merbeth is a strong and dramatic Senta throughout, and together with Samuel Youn, she contributes compellingly to our impression of a couple in love. Christa Mayer (who is also Brangäne in this year's new Tristan) sings with an overwhelming vocal power that almost threatens to disrupt the balance of the ensemble. Tomislav Mužek is a sympathetic and lyrical Erik and shows considerable dramatic talent, and Benjamin Bruns, with his beautiful tenor, is an extraordinarily lucid Steersman, one of the vocal stars of the evening. The chorus, which plays such an important role in this piece, is wonderfully led and instructed throughout.


Erling E. Guldbrandsen
Erling E. Guldbrandsen is professor at the Department of Musicology, University of Oslo since 2004. He has published widely on Wagner, Bruckner, Mahler, J.S. Bach, Pierre Boulez and musical modernism, on Norwegian opera after Wagner, and on music history, contemporary music, aesthetics and performance studies.
His most recent publication on Wagner is "Staging the King. Readings of Wagner's Tristan" (in Studia Musicologica Norvegica 41, Oslo: Universitetsforlaget 2015).
His next book, Transformations of Musical Modernism, which he is co-editing with prof. Julian Johnson at the University of London, Royal Holloway, is forthcoming on Cambridge University Press in 2015. Guldbrandsen also works as a music critic (for the Norwegian Broadcasting Corp. and for the weekly paper, Morgenbladet) and he has covered the Richard Wagner Festival in Bayreuth since the 1990s.
For his recension of Lohengrin (performed at the Norwegian national opera in March 2015) he received the award, "Critique of the year".
Bayreuth 2015