Bayreuth Festival 2017: Die Walküre (Castorf/Janowski)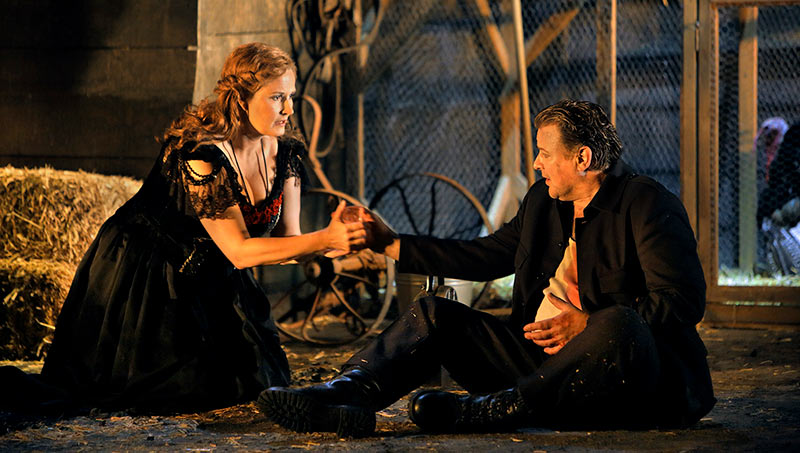 Camilla Nylund (Sieglinde) and Christopher Ventris (Siegmund).
Photo: Enrico Nawrath / Bayreuther Festspiele
Opera is such a difficult thing to get right: so many variables, so many contradictions. They are, however, part of its attraction and, when everything or most things in some sense come together, its greatness too. Not for nothing did Wagner designate the orchestra as his Greek Chorus: framer of, participant in, commentator and critic on the drama. During the first two acts of this Walküre, I found myself wishing that someone had told Marek Janowski. His reputation – largely amongst those who disapprove of treating Wagner as drama, with a fair sprinkling of pseudo-'authenticists' – is a mystery to those who know great Wagner conducting either of the present or the past. The best that could be said of the way he led these two acts – splendidly played, it must be said, by the Bayreuth Festival Orchestra – was that it was efficient. There were no catastrophes; we were not, thank God, on London's Planet Pappano. But nor was there any great insight. What had come across as possible, even plausible objectivity in Das Rheingold, a very different drama, here merely sounded non-committal: a bit like those churned out Beethoven cycles certain fashion-victims excite themselves about. 'Modern instruments and period style' or some such nonsense: anything to avoid commitment, let alone a critical standpoint. Perhaps we should call it 'Macron-meets-Vänskä', or 'music for the high street'; a few years hence no one will have heard of it, let alone listen to it.
I have never heard a less storm-like prelude to the first act; it proceeded smoothly, as if mowing a sufficiently, yet not excessively, watered lawn. As for the inconsequentiality of the orchestra during Wotan's second act monologue, it sounded like recitative as understood by people who do not understand recitative. There is so much going on there: past, present, and future. It is one of the great turning-points of the entire Ring.  John Lundgren's estimable efforts as Wotan notwithstanding, the tendency was more towards preparing a list for the weekly shopping. There is domesticating Wagner and there is that. Even the great climaxes were undersold – on the terms of the performance, let alone on other terms. I do not know what had been secreted in Janowski's second-interval oranges, but it proved most welcome. If hardly Wagner on the level of a Barenboim, a Haitink, a Karajan, or a Furtwängler, we heard a much stronger sense of generative drama in the orchestra, more – if still not enough – of a dynamic range, and a greater willingness, occasionally at least, to let the Bayreuth strings have their head at climaxes. Woodwind solos also proved beguiling and, in a few cases, intriguingly curdling, Tristan not so very far away – as indeed the harmony tells us anyway.
I am not sure Frank Castorf's production helped in that respect either. Although I found more to admire in it last year than I had in 2014 – I think! Again I shall re-read later – there was, at least in actual performance, a little too much generalised standing around and singing. I think I understand the reasoning behind it, or at least a possible reasoning behind it, and shall attempt to explain, but it seemed to me to need to be more forcefully projected. A post-Brechtian critique of Wagner's (post-)Romanticism is apparent, but might have been much more so. And if we are going to deconstruct, even mock, 'Du bist der Lenz' and so on, we really need the orchestra – as well as the splendid singers – to be offering the case for the defence, or at least the material to be deconstructed. Alone, there is only so much even singers such as Christopher Ventris and Camilla Nylund can offer – although I loved the camera close-ups on Sieglinde's knowingly exaggerated expressions as she prepares Hunding's potions. (One need not agree that such plot devices are hokum to appreciate the accomplishment of both direction and interpretation – especially when allied to such singing.)
The scene-setting is good, indeed thought-provoking: both at the time and afterwards. An agrarian yet industrialising society is in many ways ideal, not least on account of little – or not so little – scenic complexities, contradictions, provocations. Hunding makes excellent sense: a barbarous killer in Victorian clothing, ultimately very much Wagner's vision too. Sieglinde is his chattel; he plays with her, wishes to destroy her (refusing her initial greeting), and then forces himself upon her. Such is marriage. When a bookish Patric Seibert seemingly willingly – yet driven by what compulsion? – takes the caged place of farmyard fowl, becomes animalised, is rescued, and takes his place again as Azerbaijani oil is hit, all manner of possibilities present themselves. Life – and the mind – is never dull when he is on stage; perhaps it is no coincidence that we must wait until the third act for that. For Castorf's intelligent, illuminating contradictions come into far greater relief then too – doubtless assisted by the greater orchestral canvas. The gods having adopted traditional, patriarchal guise and customs – Fricka with conjugally enforcing whip as much as Wotan, the lazy patriarch drinking shots and reading Pravda – inflict themselves and their continued oil project upon the world, but they might have done more strongly, more clearly. The lack of clarity in who Wotan here is to begin with does not seem to me an especially fruitful ambiguity, at least on this occasion. But perhaps the fault lies with me. At any rate, the shift to alternative historical and geographical paths – Baku, 1942, Hitler in pursuit of oil, such pursuit to be denied, thereby enabling the world of Siegfried... – retains its force, if more in retrospect than in the white heat, and/or Brechtian alienation, of the theatre.
It speaks extraordinary well, then, of Ventris and Nylund that they made such an impression – in almost 'traditional' terms – as they did. The Volsungs' musical achievement was unquestionably theirs, not Janowski's. Ventris's ardent singing, verbal clarity, and verbal meaning were quite exceptional. I am not sure I have heard a better Siegmund.  Nylund's Sieglinde, if lacking the final ounce or two of ecstasy in that third act solo, was nevertheless beautifully, thrillingly sung – and, insofar as permitted, acted. Following a surprisingly uncertain entrance – anyone can make a slip – Georg Zeppenfeld's Hunding proved very much the dark, heartless foil. Again, he never forgets the importance of the words; nor will he let us do. Lundgren's stage presence, again insofar as permitted, was godlike, the anger of his delivery palpable, indeed terrifying, especially during the third act; Castorf's touch of undermining, childish petulance – a silly act with a bearskin, whilst Brünnhilde sings – proved a truer instance of what we surely should have seen more of earlier on. This was, by any standards, a commanding performance, sadly let down by Janowski during that crucial monologue. Tanja Ariane Baumgartner's Fricka was probably the most chilling of the three assumptions I have seen and heard, as merciless in her instrumental reason as with her whip. And Catherine Foster's enthusiastic, even lovable Brünnhilde was just the ticket for the character at this stage in her development. One felt with her as well as for her; we wish her well in her transition to humanity, such as it might be. The Valkyries were truly outstanding; one might have taken dictation, such were the individuality and clarity, within bounds, of their contribution. Almost all of them, I felt, might readily have been singing 'larger' roles; of course, Nadine Weissman is.
Perhaps, then, my expectations were unfeasibly high after the previous night's Vorabend. And in a way, necessary contrast was provided here, at least on stage. Was it always quite the right sort of contrast, though? It may yet be that, reading back Siegfried and even Götterdämmerung into the staging here, more will emerge. Let us hope, though, that Janowski will be on final act form.
Festspielhaus
Siegmund – Christopher Ventris
Hunding – Georg Zeppenfeld
Wotan – John Lundgren
Sieglinde – Camilla Nylund
Brünnhilde – Catherine Foster
Fricka – Tanja Ariane Baumgartner
Gerhilde – Caroline Wenborne
Ortlinde – Dara Hobbs
Waltraute – Stephanie Houtzeel
Schwetleite – Nadine Weissmann
Helmwige – Christiane Kohl
Siegrune – Mareike Morr
Grimgerde – Weibe Lehmkuhl
Rossweiße – Alexandra Petersamer
Frank Castorf (director)
Patric Seibert (assistant director and dramaturgical collaboration)
Aleksandar Denić (set designs)
Adriana Braga Peretski (costumes)
Rainer Kasper (lighting)
Andreas Deinert, Jens Crull (video)
Bayreuth Festival Orchestra
Marek Janowski (conductor)
Mark Berry is Professor of Music and Intellectual History at Royal Holloway, University of London and will be a visiting scholar at the Humboldt University, Berlin, for the academic year 2023-4. He is the author of Treacherous Bonds and Laughing Fire: Politics and Religion in Wagner's 'Ring' (2006), After Wagner: Histories of Modernist Music Drama from 'Parsifal' to Nono (2014), and Arnold Schoenberg (2019), and co-editor with Nicholas Vazsonyi of The Cambridge Companion to Wagner's 'Der Ring des Nibelungen' (2020). His reviews of concert and opera performances are collected on his blog, Boulezian.
The Bayreuth Festival 2017 Reviews
Mark Berry: Die Meistersinger von Nürnberg (Kosky/Jordan)
Sam Goodyear: Die Meistersinger von Nürnberg (Kosky/Jordan)
Mark Berry: Parsifal (Laufenberg/Haenchen)
Mark Berry: Das Rheingold (Castorf/Janowski)
Mark Berry: Die Walküre (Castorf/Janowski)
Mark Berry: Siegfried (Castorf/Janowski)
Mark Berry: Götterdämmerung (Castorf/Janowski)
CASTORF / WAGNER Der Ring des Nibelungen 2013-2017: Bilingual book (French/German)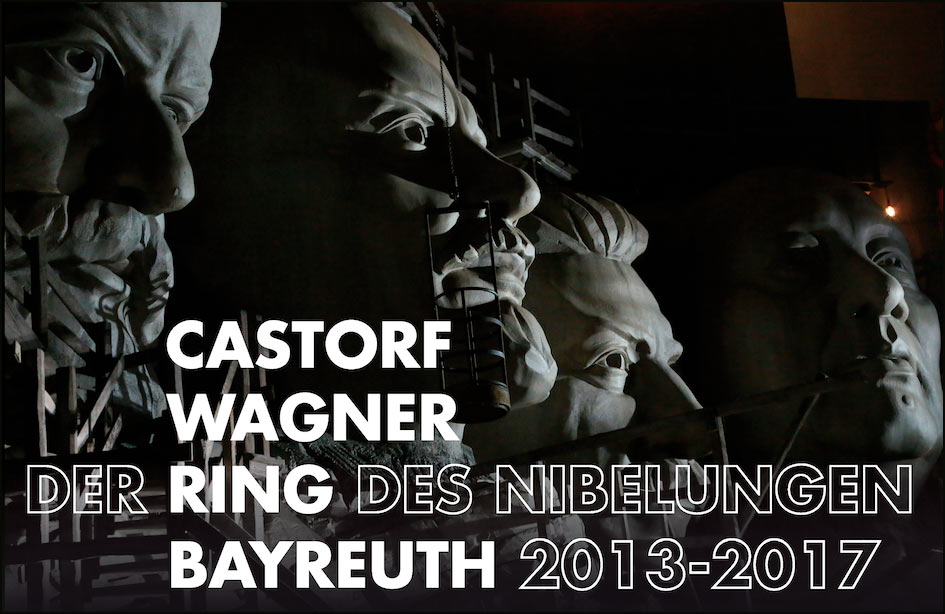 CASTORF / WAGNER Der Ring des Nibelungen 2013-2017: Bilingual book (french/german) about Frank Castorf's Ring production at Bayreuth edited by Guy Cherqui and David Verdier (Wanderer, Geneva)
Essays and Interviews Katharina Wagner (artistic director, Bayreuth), Frank Castorf (stage director), Aleksandar Denic (stage designer), Patric Seibert (assistant/actor), Adriana Braga Peretzki (costume designer), Wolfgang Koch (Wotan), Nadine Weissmann (Erda)...
Ring ABC
62 entries by Guy Cherqui and David Verdier
Specifics 26x17 cm 384 pages 200+ color plates, most of them exclusive photos
La Pommerie Éditions in collaboration with the Wanderer website ISBN 978-2-9564912-0-0 Info castorf.ringbook@wanderersite.com
More info here!
With essays by, and interviews of, the main architects of this project, this book aims for an in-depth analysis of the main lines of enquiry of a work that has already assured its place among the greatest Bayreuth productions. Frank Castorf's theater has found in Wagner an ideological and polemic sounding board that echoes our most extreme issues of the day. The second part of the book is a lexicon of characters, themes and references that offers both readers and viewers points of orientation in the Castorfian Gesamtkunstwerk.
The Bayreuth Festival, 2016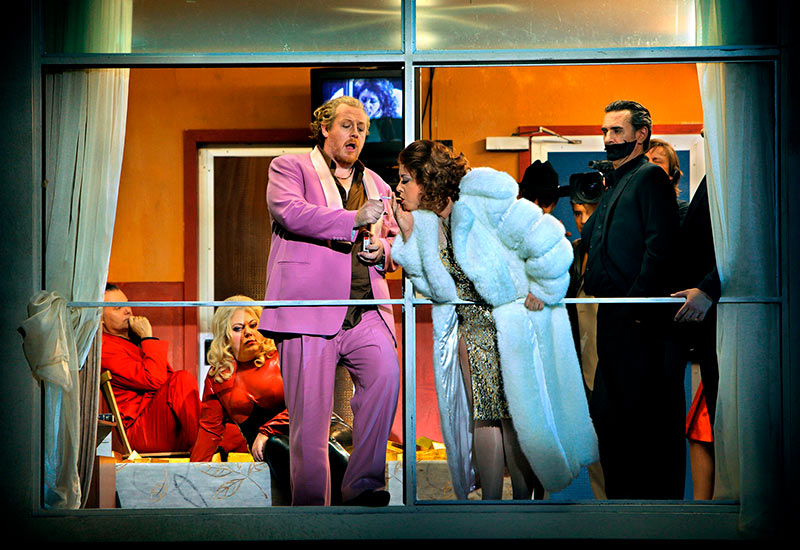 Das Rheingold (Castorf / Janowski), Bayreuth Festival, 2016
Die Walküre (Castorf / Janowski), Bayreuth Festival, 2016
Siegfried (Castorf / Janowski), Bayreuth Festival, 2016
Götterdämmerung (Castorf / Janowski), Bayreuth Festival, 2016
Tristan und Isolde (K. Wagner / Thielemann), Bayreuth Festival, 2016
Parsifal (Laufenberg / Haenchen), Bayreuth Festival, 2016
Der Ring des Nibelungen: Articles and Reviews
Nila Parly on Regietheater: Visions of the Ring
The Cry of the Valkyrie: Feminism and Corporality in the Copenhagen Ring
Sam Goodyear, Bayreuth 2022: Der Ring des Nibelungen (Valentin Schwarz)
Mark Berry, Bayreuth 2022: Das Rheingold (Valentin Schwarz)
Mark Berry, Bayreuth 2022: Die Walküre (Valentin Schwarz)
Mark Berry, Bayreuth 2022: Siegfried (Valentin Schwarz)
Mark Berry, Bayreuth 2022: Götterdämmerung (Valentin Schwarz)
Mark Berry: Bayreuth 2017: Das Rheingold (Frank Castorf / Marek Janowski)
Mark Berry: Bayreuth 2017: Die Walküre (Frank Castorf / Marek Janowski)
Mark Berry: Bayreuth 2016: Das Rheingold (Frank Castorf)
Mark Berry: Bayreuth 2016: Die Walküre (Frank Castorf)
Mark Berry: Bayreuth 2016: Siegfried (Frank Castorf)
Mark Berry: Bayreuth 2016: Götterdämmerung (Frank Castorf)
Mark Berry: Bayreuth 2014: Das Rheingold (Frank Castorf)
Mark Berry: Bayreuth 2014: Die Walküre (Frank Castorf)
Mark Berry: Bayreuth 2014: Siegfried (Frank Castorf)
Mark Berry: Bayreuth 2014: Götterdämmerung (Frank Castorf)
Germán A. Bravo-Casas: Wagner's Dream. A documentary film directed by Susan Froemke and edited by Bob Eisenhardt
Per-Erik Skramstad: Bayreuth 2013: There Will Be Blood: Frank Castorf Has Entered the Ring
Per-Erik Skramstad: Bayreuth 2010: Curtain Down on Tankred Dorst's Ring
Mark Berry: 2010 Cassiers Ring
Sam Goodyear: Laufenberg's Wiesbaden Ring 2017
Jerry Floyd: Rheingold, Metropolitan 2010
Jerry Floyd: Die Walküre, Metropolitan 2010
Jerry Floyd Washington National Opera: Siegfried
Jerry Floyd Washington National Opera: Siegfried II
Jerry Floyd Washington National Opera: Götterdammerung Concert (2009)
Jerry Floyd Washington National Opera: Götterdammerung Concert (2009)
Mark Berry: Richard Wagner für Kinder – Der Ring des Nibelungen (2011)