Washington National Opera: Siegfried
A Tale of Two Siegfrieds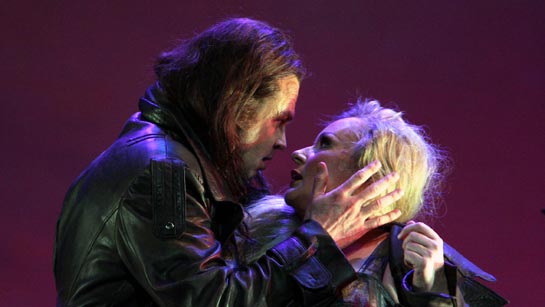 Pär Lindskog and Iréne Theorin as Siegfried and Brünnhilde at Washington National Opera, May 2009. Photo: Karin Cooper / WNO
"We are going to have to present two Siegfrieds," Washington National Opera general director Plácido Domingo told the Kennedy Center Opera House audience just before the company's first performance of Siegfried on May 2, 2009.
Siegfried Pär Lindskog
The Wanderer/Wotan Alan Held
Alberich Gordon Hawkins
Brünnhilde Iréne Theorin
Fafner Gidon Saks
Mime Andreas Conrad
Erda Nancy Maultsby
Woodbird Micaela Oeste
Conductor Michael Güttler
Director Francesca Zambello
Associate Director Christian Räth
Set Design Michael Yeargan
Costume Design Catherine Zuber
Lighting Design Mark McCullough
Video/Projection Design Jan Hartley
Associate Projection Design Katy S. Tucker
Siegfried is performed May 2, 5, 9, 14, 17
See review of the May 9 performance: Siegfried Redux: Fiery Vocal Finale
We've had a lot of difficulties," Domingo explained. The lead tenor, Pär Lindskog has a bad case of bronchitis and because the production is quite complicated, Lindskog is acting the role while another tenor, Scott MacAllister, is singing from the side of the stage, Domingo added.
And the difficulties Domingo referred aren't limited to an ailing principal. At the April 27 technical rehearsal, the large mechanical dragon broke down, reportedly angering director Francesca Zambello and the final dress rehearsal on April 29 was not open to the public, as is usually happens during Washington Opera rehearsals.
So in addition to the two Siegfried protagonists, the Washington, D.C. audience experienced Zambello's willful, problematic production and—happily—a much more successful musical rendition by the Washington National Opera Orchestra and a group of veteran Wagner soloists, led by the very talented, youthful conductor Michael Güttler.
Bayreuth Festival 2022 Reviews: Das Rheingold • Die Walküre • Siegfried • Götterdämmerung •
Bayreuth Festival 2019 Reviews
Bayreuth Festival 2017 Reviews
Bayreuth Festival 2016 Reviews
Bayreuth Festival 2015 Reviews
Bayreuth Festival 2014 Reviews
Bayreuth Festival 2013 Reviews
Bayreuth Festival 2012 Reviews
Bayreuth Festival 2011 Reviews
Bayreuth Festival 2010 Reviews
Siegfried and Siegfried: MacAllister and Lindskog
MacAllister sang a strong, virile Siegfried from stage right as Lindskog mimed Zambello's sociopathic youth. Siegfried dunked Mime's head into a bucket of water a couple of times during the first act, which some have construed as waterboarding and in Act II, Siegfried doused the corpses of Mime and Fafner with gasoline, and threatened to use a cigarette lighter to set fire to them until the Forest Bird instructed him not to do so.
As he acted, Lindskog lip synched Siegfried's lines, a bit distracting at times, given Lindskog's physical distance from MacAllister as Lindskog clambered about the stage. In a somewhat similar situation during the Seattle Opera's first 2001 Ring cycle an injured Alan Woodrow also sang Siegfried's lines from the side of the stage while Richard Berkeley-Steele mimed the role.
In Seattle, Berkeley-Steele both sang and acted the role during the last two cycles. On May 2, a Washington National Opera press spokesman said the company is in a "wait and see" mode about Lindskog, that the company and artist are monitoring his condition very closely and there is optimism that Lindskog will be able to sing the role at some point in the run.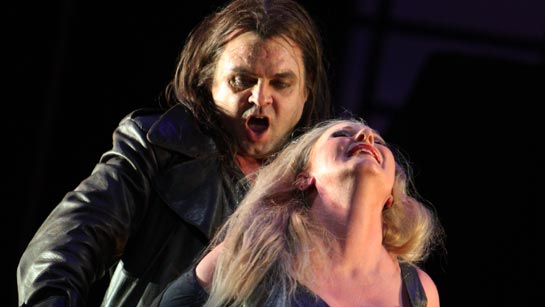 Pär Lindskog and Iréne Theorin as Siegfried and Brünnhilde at Washington National Opera, May 2009. Photo: Karin Cooper / WNO
But as apparently happened in Seattle, Washington National Opera's audience adjusted to the unusual vocal/acting arrangement and intermission chatter focused more on the production's idiosyncrasies than on the dual Siegfrieds.
Iréne Theorin nailed the high notes
Washington's Brünnhilde, soprano Iréne Theorin, was originally scheduled to make her American debut in this production. Instead, Theorin sang the Die Walküre and Siegfried Brünnhildes in April at the Metropolitan Opera, replacing Christine Brewer.
Whereas Theorin barely managed Siegfried Brünnhilde's optional final high C during the April 18 Met broadcast performance, she nailed the character's high notes in Washington. Even though she lacks the vocal power of her some of her Nordic forebears, Theorin is a very attractive, appealing Brünnhilde.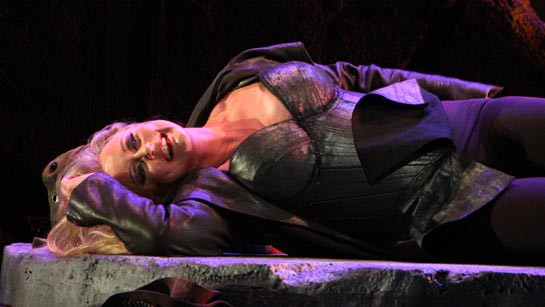 Iréne Theorin as Brünnhilde at Washington National Opera, May 2009. Photo: Karin Cooper / WNO
In fact, the soprano appears to have slimmed down since the Copenhagen Ring cycle, taped in 2006. In Washington, Theorin is sexily clad in a dominatrix outfit—with tightly laced bustier—recycled from the Washington National Opera's 2003 Walküre, a production that preceded the current Ring cycle.
Magnificent Alan Held and Gordon Hawkins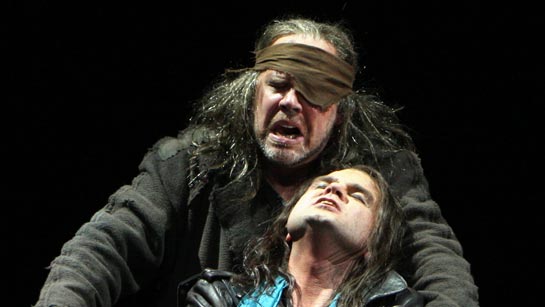 Alan Held (Wotan) and Pär Lindskog (Siegfried) in Francesca Zambello's production of Siegfried at Washington National Opera, May 2009. Photo: Karin Cooper / WNO
According to a company spokesman, bass Alan Held is singing his twentieth role with the Washington troupe. Certainly Held has developed into an even more admirable, reflective Wotan since first appearing locally in the role in the 2003 Walküre and in the company's 2007 version.
In the more recent Walküre, Wotan is a business tycoon operating from a skyscraper penthouse office in New York. In Siegfried, however, the character has devolved into a homeless, unhygienic hobo, a Wanderer who splashes water onto his armpits in Act I and attempts to bathe in the dragon's steam in Act II.
Except for a brief unsteady moment at the very end of Wotan's confrontation with Siegfried in the last act, Held sang magnificently, his vocal prowess belying the seedy character he is required to depict.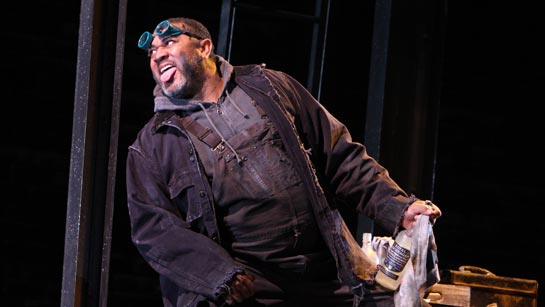 Gordon Hawkins as Alberich at Washington National Opera, May 2009. Photo: Karin Cooper / WNO
Gordon Hawkins' raging, malevolent Alberich was the standout of the 2006 Das Rheingold that inaugurated the current cycle and Hawkins is also Siegfried's most vocally and dramatically impressive character, his voice ringing forth with stygian Wagnerian splendor.
However, to fit Zambello's concept of the deterioration and increasing moral squalor of American society, Alberich runs a small-scaled "chemical" business whose bottles fit easily into a shopping cart he wheels offstage in the second act.
Andreas Conrad often underplayed Mime, his bland characterization barely suggesting the neurotic character's tics and anxieties. Gideon Saks was the dragon, actually Fafner the construction worker giant from the Das Rheingold production, who now operates a large earth moving machine meant to be the dragon.
There was something similar hereabouts when the Deutsche Oper brought Götz Friedrich's Ring production to the Opera House in 1989. However, the Deutsche Oper dragon was both entertaining and menacing. Zambello's mechanized beast, part of which is sliced by the sword-wielding Siegfried, is merely outsized and cumbersome, an unnecessary expense in these frugal operatic times.
Erda, sung by Nancy Maultsby, no longer sports the Native American garb worn by the Rheingold Erda. Now the character is clad in the sort of elegant, robed gown that Washington socialites display at some of this city's more elegant parties and receptions. It's not clear how this new costume fits into Zambello's conception of a dysfunctional society. The other character, the lithe, fetching, and smartly attired Woodbird, was sung by Micaëla Oeste.
The American Ring
Billed as the "American Ring", the Washington cycle is now three-quarters complete. Due to financial exigencies, the full cycle planned for later this year has been postponed (2013 is the rumored new date). The company will instead present two concert performances of Götterdämmerung in November with principals originally scheduled to appear in the full cycle. Meanwhile, the cycle's completed productions are being shared with the San Francisco Opera.
The Washington postponement provides an opportunity for Zambello and her production team to rethink the production. Having Act I of Siegfried take place in a rubbish yard, Act II in an abandoned industrial building, and Brünnhilde's Act III awakening in a ruined southwestern Indian pueblo does make some cogent points about decay and squalor that permeates parts of American society. And these conditions have grown worse in recent years because of unbridled financial excesses and resulting chaos.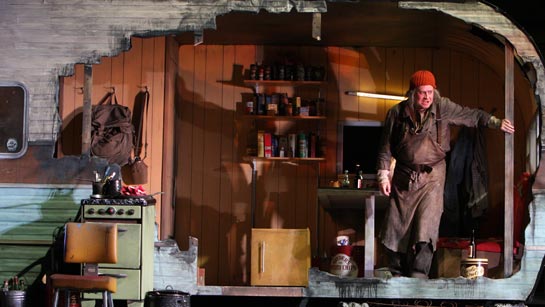 Andreas Conrad as Mime in Siegfried at Washington National Opera, May 2009. Photo: Karin Cooper / WNO
But Francesca Zambello's narrow focus largely ignores Wagner's mythos and titanic sweep, as well as the role nature plays in the Ring (a forest scene is projected onto the back of the stage at the very end of Act II of Siegfried and except for a few other distracting projections during the orchestral passages that open Acts II and III, we don't experience the natural world that is supposed to permeate this opera).
The first three productions in the Washington National Opera's Ring cycle have for the most part worked very well musically, the Siegfried especially so. But the cycle still needs a lot of tweaking to be an effective dramatic interpretation of Wagner's epic vision.
Der Ring des Nibelungen: Articles and Reviews
Nila Parly on Regietheater: Visions of the Ring
The Cry of the Valkyrie: Feminism and Corporality in the Copenhagen Ring
Sam Goodyear, Bayreuth 2022: Der Ring des Nibelungen (Valentin Schwarz)
Mark Berry, Bayreuth 2022: Das Rheingold (Valentin Schwarz)
Mark Berry, Bayreuth 2022: Die Walküre (Valentin Schwarz)
Mark Berry, Bayreuth 2022: Siegfried (Valentin Schwarz)
Mark Berry, Bayreuth 2022: Götterdämmerung (Valentin Schwarz)
Mark Berry: Bayreuth 2017: Das Rheingold (Frank Castorf / Marek Janowski)
Mark Berry: Bayreuth 2017: Die Walküre (Frank Castorf / Marek Janowski)
Mark Berry: Bayreuth 2016: Das Rheingold (Frank Castorf)
Mark Berry: Bayreuth 2016: Die Walküre (Frank Castorf)
Mark Berry: Bayreuth 2016: Siegfried (Frank Castorf)
Mark Berry: Bayreuth 2016: Götterdämmerung (Frank Castorf)
Mark Berry: Bayreuth 2014: Das Rheingold (Frank Castorf)
Mark Berry: Bayreuth 2014: Die Walküre (Frank Castorf)
Mark Berry: Bayreuth 2014: Siegfried (Frank Castorf)
Mark Berry: Bayreuth 2014: Götterdämmerung (Frank Castorf)
Germán A. Bravo-Casas: Wagner's Dream. A documentary film directed by Susan Froemke and edited by Bob Eisenhardt
Per-Erik Skramstad: Bayreuth 2013: There Will Be Blood: Frank Castorf Has Entered the Ring
Per-Erik Skramstad: Bayreuth 2010: Curtain Down on Tankred Dorst's Ring
Mark Berry: 2010 Cassiers Ring
Sam Goodyear: Laufenberg's Wiesbaden Ring 2017
Jerry Floyd: Rheingold, Metropolitan 2010
Jerry Floyd: Die Walküre, Metropolitan 2010
Jerry Floyd Washington National Opera: Siegfried
Jerry Floyd Washington National Opera: Siegfried II
Jerry Floyd Washington National Opera: Götterdammerung Concert (2009)
Jerry Floyd Washington National Opera: Götterdammerung Concert (2009)
Mark Berry: Richard Wagner für Kinder – Der Ring des Nibelungen (2011)