Bayreuth Festival - Lohengrin, 30 July 2014 (Neuenfels/Nelsons)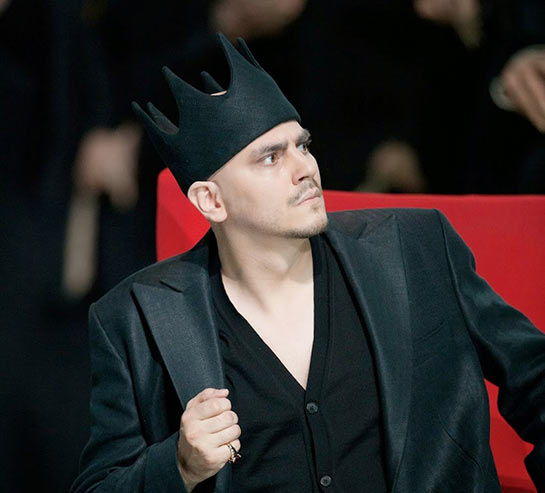 Wilhelm Schwinghammer's subtle portrayal of King Henry made him a far more interesting character than one often hears: partly Neuenfels's doing, no doubt, but also the consequence of a thoughtful approach to musical dramatisation on stage, in which weakness and power (both relative) found themselves in fruitful contradiction.
Photo: Enrico Nawrath / Bayreuther Festspiele
by Mark Berry
Bayreuth Festspielhaus
King Henry the Fowler – Wilhelm Schwinghammer
Lohengrin – Klaus Florian Vogt
Elsa – Edith Haller
Friedrich von Telramund – Thomas Johannes Mayer
Ortrud – Petra Lang
King's Herald – Samuel Youn
Brabantian Nobles – Stefan Heibach, Willem van der Heyden, Rainer Zaun, Christian Tschelebiew

Hans Neuenfels (director)
Reinhard von der Thannen (designs)
Franck Evin (lighting)
Björn Verloh (video)
Henry Arnold (dramaturgy)
Bayreuth Festival Chorus (chorus master: Eberhard Friedrich)
Bayreuth Festival Orchestra
Andris Nelsons (conductor)
What a relief amidst the debris of the Castorf Ring! Hans Neuenfels's Lohengrin is now widely acclaimed as a classic staging: not, of course, the only way to do it, for there is no single way, but a consistent, brilliantly-executed production, whose run has now been extended for another year. (Sebastian Baumgartner's Tannhäuser is, by contrast, saying farewell a year earlier than originally envisaged; I cannot imagine why…) Having given accounts of the staging in 2011 and 2012, I do not have a great amount to add to description of what happens, but shall add a few remarks concerning particular aspects that struck me. There was perhaps a sense – born of a first-night performance? – of slight comparative slackness, especially in the first act, but that is really to quibble excessively; certainly the third act was at least as gripping as before, partly because Andris Nelsons's focus had greatly improved by that stage too. (Again, that is comparative; it was in no way bad beforehand.)
The concept at the heart of the production is a mysterious experiment. (Are not all experiments in a sense mysterious, whatever the claims to the contrary?) During the first act Prelude – though not immediately: Neuenfels permits the music to speak first – Lohengrin seems to be trying to gain entrance to wherever it is that the action is taking place. That initial failure signals that whoever is running the show, it is not Lohengrin; indeed, judged by his record over the evening – and this is Wagner's doing as much as it is Neuenfels's – he is a singularly unsuccessful hero, very much in line with most of Wagner's heroes, Parsifal and Walther excepted. Nor is anyone else we see in charge, least of all the flawed, Fisher-King-like Henry the Fowler, his stooping reminiscent of many an Amfortas. The rats are certainly not free agents, though there are instances of what might just be such free agency, just as there are with Ortud and Telramund, arguably at least as much so as with Lohengrin and Elsa. They are moments, though, and the inevitable victory comes, be it on the part of Fate or a higher earthly power.  It is, of course, to speculate concerning who – if anyone – is running the experiment, but we seem invited to do so, if only to realise the futility of the attempt. Much like late capitalism and its scientific handmaidens more generally, one might say. At any rate, the tragedy is clear, as is our voyeuristic status as observers. A leader at the end has been born or created, but his embryonic status tells the true story, or at least part of it. 'Reality' will prevail, which is to say a mystified claim upon scientism's part will prevail. 'Objectivity' is deconstructed, as of course it has been many times before, but when will the powers that be listen?
Nelsons's leadership grew in stature as the evening progressed. I suspect that it will do so still further as the festival continues. Flexibility and line were rarely in competition, but generally revealed to be two sides of the same coin, just as they should be. If there were a few moments when the score did seem to meander a little, even when the orchestra sounded slightly subdued, they were readily forgotten in a blaze of orchestral glory for the third act. Daniel Barenboim, amongst present conductors, may find greater metaphysical depth, broader terms of reference, in the score, but few others will. Eberhard Friedrich's chorus gave a superlative performance: one could have taken verbal as well as musical dictation. And that, let us remember, was at the same time as having to perform highly intricate individual stage manoeuvres, often whilst dressed in rat costumes. There remains no greater opera chorus on earth.
Klaus Florian Vogt likewise retains his standing – at least for many of us – as the world's premier ranking Lohengrin. The nay-sayers will not be convinced; they do not care for his tenor, light but extraordinarily powerful, and they are perfectly within their rights not to do so. The unearthly quality of his voice seems just right to me, its purity as chilling as it is alluring. Again, it is not, of course, the only way, but it is a uniquely compelling way. He looks and acts the part too. Edith Haller replaced Annette Dasch. She had a few uncertain moments, not least concerning intonation in the first act, but her performance grew in conviction, peaking like that of many others in the final act. Thomas Johannes Mayer offered an outstanding Telramund, his perfect marriage of poem and musical line having one wish he were singing Wotan. (But then he might be wasted in the Castorf Ring.) Petra Lang was likewise a truly world-class Ortrud; I can only think of Waltraud Meier in the same breath. Her stage malevolence and vocal magnificence were truly as one. Wilhelm Schwinghammer's subtle portrayal of King Henry made him a far more interesting character than one often hears: partly Neuenfels's doing, no doubt, but also the consequence of a thoughtful approach to musical dramatisation on stage, in which weakness and power (both relative) found themselves in fruitful contradiction. Samuel Youn had one notable slip with tuning, but otherwise made for a characterful Herald. Above all, the characters increasingly worked together – and with the chorus and orchestra. A wonderful, much-needed tonic, however disturbing!
Mark Berry is Professor of Music and Intellectual History at Royal Holloway, University of London and will be a visiting scholar at the Humboldt University, Berlin, for the academic year 2023-4. He is the author of Treacherous Bonds and Laughing Fire: Politics and Religion in Wagner's 'Ring' (2006), After Wagner: Histories of Modernist Music Drama from 'Parsifal' to Nono (2014), and Arnold Schoenberg (2019), and co-editor with Nicholas Vazsonyi of The Cambridge Companion to Wagner's 'Der Ring des Nibelungen' (2020). His reviews of concert and opera performances are collected on his blog, Boulezian.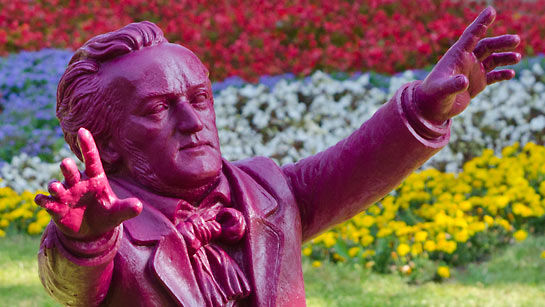 Photo: Per-Erik Skramstad
The Bayreuth Festival 2017 Reviews
Mark Berry: Die Meistersinger von Nürnberg (Kosky/Jordan)
Sam Goodyear: Die Meistersinger von Nürnberg (Kosky/Jordan)
Mark Berry: Parsifal (Laufenberg/Haenchen)
Mark Berry: Das Rheingold (Castorf/Janowski)
Mark Berry: Die Walküre (Castorf/Janowski)
Mark Berry: Siegfried (Castorf/Janowski)
Mark Berry: Götterdämmerung (Castorf/Janowski)
Bayreuth 2015
Reviews by Mark Berry on Wagneropera.net
Bayreuth Festival
More Reviews