Haenchen/Kušej: Der fliegende Holländer
Going Dutch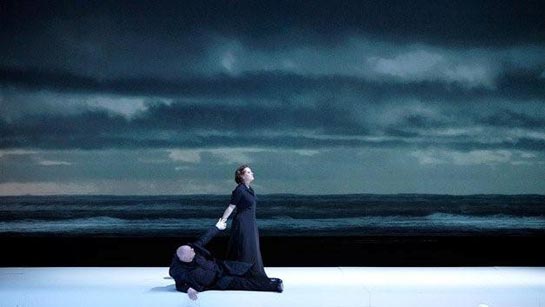 Juha Uusitalo (Dutchman) and Catherine Naglestad (Senta) in the Act III finale.
Strong singing and acting by most of its principals and a taut dramatic arc make this Netherlands Opera performance of Die fliegende Holländer one of the best releases in Opus Arte's expanding Blu-ray/DVD catalogue of Wagner's works.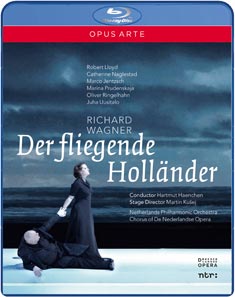 Conductor: Hartmut Haenchen
Stage Director: Martin Kušej
Daland: Robert Lloyd
Senta: Catherine Naglestad
Erik: Marco Jentzsch
Mary: Marina Prudenskaja
Steersman: Oliver Ringelhahn
Dutchman: Juha Uusitalo
Chorus of The Netherlands Opera
Netherlands Philharmonic Orchestra
Set Designer: Martin Zehetgruber
Costume Designer: Heide Kastler
Chorus Director: Martin Wright
TV Director: Joost Honselaar
Director Martin Kušej and set designer Martin Zehetgruber's sleek, contemporary interpretation transcends a lot of pitfalls that mar many contemporary régie stagings.
And the two leads, bass-baritone Juha Uusitalo (the Dutchman) and soprano Catherine Naglestad (Senta), deliver career-defining performances in this Dutch production, filmed during two live performances in February 2010.
Uusitalo is a variable singer but he sings powerfully whilst communicating his character's anxiety and yearning for redemption. When he mistakenly believes Senta has betrayed him, Uusitalo's anguish is captured in camera close-ups.
Certainly Uusitalo is a more compelling Dutchman than he was in Wotan in Valencia's recently released La Fura del Bas Ring cycle. The Nederlandse Opera's white unit set provides a much more intimate setting for Uusitalo to develop his character.
Bayreuth Festival 2022 Reviews: Das Rheingold • Die Walküre • Siegfried • Götterdämmerung •
Bayreuth Festival 2019 Reviews
Bayreuth Festival 2017 Reviews
Bayreuth Festival 2016 Reviews
Bayreuth Festival 2015 Reviews
Bayreuth Festival 2014 Reviews
Bayreuth Festival 2013 Reviews
Bayreuth Festival 2012 Reviews
Bayreuth Festival 2011 Reviews
Bayreuth Festival 2010 Reviews
Scintillating Senta
Naglestad is an appealing, intense Senta. She conveys the character's fierce independence and yearning to escape her nouveau-riche environment. While Naglestad does not possess the blazing upper register of her forebear, Leonie Rysanek, Nagelstad's kinetic stage presence evokes Rysanek's scorching assumption of Senta decades ago.
Though she wears an almost funeral, floor-length black dress throughout the production, Naglestad's character seems more a 21st-century liberated woman than a delusional, self-sacrificing romantic heroine.
Mary and the women chorus in Act II are clad in garish contemporary outfits and the bar-hopping clothes the festive party goers wear during Act III contrast with the somber outfits worn by Senta, the Dutchman and the Dutchman's crew, which in this production are a group of hooded dark-skinned immigrants (and one of the production's few miscalculations).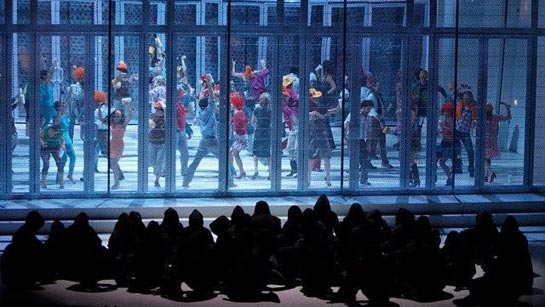 The townspeople enjoy themselves as the Dutchman's crew silently look on.
Tenor Marco Jentzsch (Erik) and mezzo-soprano Marina Prudenskaja (Mary) are much more vivid secondary characters than one usually experiences in performances of this opera. Jentzsch appeared as Walter in Glyndebourne Festival and Komische Oper productions of Walter during summer 2011. Based on his performance in the video stream of the Glyndebourne production, Jentzsch does not appear to be ready to sing heavier Wagner roles.
A lighter tenor, Oliver Ringelhahn, is an appealing steersman-cum-lounge singer. However, bass Robert Lloyd (Daland) sounds vocally underpowered. Too many years have passed since Lloyd's appearance as the youthful, noble Gurnemanz in Hans-Jürgen Syberberg's 1981 Parsifal film.
Veteran Netherlands Opera Hartmut Haenchen and the Netherlands Philharmonic craft a detailed, spirited reading of the score and the choristers, led by Martin Wright, busily move about the stage in this energetic staging. At times, the rushing to and fro seems very derivative of Patrice Chereau's blocking in the 1976 Ring cycle.
Immigrant Status
Since the Netherlands and other European countries are wrestling with immigrant issues, Kušej may be trying to make a socially conscious statement by depicting the Dutchman's crew as displaced immigrants. If so, the concept may have backfired. Does having the immigrants careen threateningly about the stage in Act II expose phobias some have towards immigrants from emerging nations? Or does it reinforce these phobias?
After one of the dead immigrants falls into the swimming pool, his blood reddens the water. A somewhat similar and equally gratuitous moment occurs when Alberich rips out a young swimmer's heart in the the Danish Opera's production of Das Rheingold and the aquarium water turns red.
Withal, the Nederlandse DVD's sharply focused camera work, crisp editing, and vibrant sound are plusses, as is the high-quality resolution in the Blu-ray disk I viewed. Even more importantly, the performance's musical values and strong acting make this Holländer one of the best Wagner releases in recent years.
Links