Der Ring des Nibelungen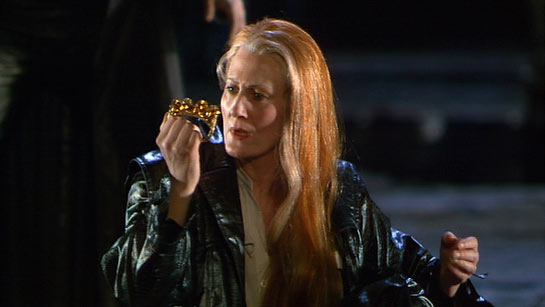 Anne Evans as Brünnhilde in Harry Kupfer's Ring production at Bayreuth.
Der Ring des Nibelungen (The Nibelung's Ring / The Ring of the Nibelung) is called "ein Bühnenfestspiel für drei Tage und einen Vorabend" (a stage festival drama for three days and a preliminary evening).
Der Ring des Nibelungen had its world premiere at the first festival in Bayreuth in 1876. Three cycles were performed. Richard Wagner was stage director and Hans Richter was the conductor. Artists and celebrities from all over the world had come to Bayreuth to be a part of this event. The next time the complete Ring was produced in Bayreuth was in 1896.
The first complete Ring productions
1876: Bayreuth Festival
1878: München
1879: Wien
1880: Hamburg
All productions of Der Ring des Nibelungen at Bayreuth Festival here.
Premiere cast at the first Bayreuther Festspiele 1876
Das Rheingold: Cast 13 August 1876
Conductor Hans Richter
Wotan Franz Betz
Loge Heinrich Vogl
Fricka Friederike Grün
Freia Marie Haupt
Donner Eugen Gura
Froh Georg Unger
Erda Luise Jaide
Alberich Karl Hill
Mime Karl Schlosser
Fasolt Albert Eilers
Fafner Franz von Reichenberg
Woglinde Lilli Lehmann
Wellgunde Marie Lehmann
Flosshilde Minna Lammert
So there was much in 1876 that could never be repeated – Wagner, of course, in his full creative power and the splendid setting of Bayreuth that gave us such freedom for expression. As Rhine-maidens we played our part to the full – gay and capricious of mood at the beginning of Rheinhold and grave in our solemn warning to Siegfried in the last act of Götterdämmerung. And here I must mention that I always sang in my part in Rheingold – 'Nur wer der Minne Macht entsagt' never versagt as I always heard it sung later. I drew Levi's attention to this in 1884 at Munich, when he wanted me to sing 'versagt' instead of 'entsagt'.
Lilli Lehmann in her memoirs
Die Walküre: Cast 14 August 1876
Conductor Hans Richter
Siegmund Albert Niemann
Sieglinde Josephine Schefsky
Hunding Josef Niering
Wotan Franz Betz
Fricka Friederike Grün
Brünnhilde Amalie Materna
Gerhilde Marie Haupt
Ortlinde Marie Lehmann
Waltraute Luise Jaide
Schwertleite Johanna Jachmann-Wagner
Helmwige Lilli Lehmann
Siegrune Antonie Amann
Grimgerde Hedwig Reicher-Kindermann
Rossweisse Marie Lammert
Siegfried: Cast 16 August 1876
Conductor Hans Richter
Siegfried Georg Unger
Mime Karl Schlosser
The Wanderer Franz Betz
Alberich Karl Hill
Fafner Franz von Reichenberg
Waldvogel (the woodbird) Marie Haupt
Erda Luise Jaide
Brünnhilde Amalie Materna
Götterdammerung: Cast 17 August 1876
Conductor Hans Richter
Siegfried Georg Unger
Brünnhilde Amalie Materna
Gunther Eugen Gura
Gutrune Mathilde Weckerlin
Hagen Gustav Siehr
Alberich Karl Hill
Waltraute Luise Jaide
First Norn Johanna Jachmann-Wagner
Second Norn Josephine Schefsky
Third Norn Friederike Grün
Woglinde Lilli Lehmann
Wellgunde Marie Lehmann
Flosshilde Minna Lammert
Ring performances the first years after the world premiere:
| | |
| --- | --- |
| 1878 | München/Leipzig |
| 1879 | Wien |
| 1880 | Hamburg |
| 1881 | Berlin (Angelo Neumann's travelling Wagner-Theatre with guest performances in Berliner Viktoria-Theater) |
| 1882–1883 | Angelo Neumann's travelling Wagner-Theatre on tour: London (Her Majesty's Theatre), Breslau, Königsberg, Danzig, Hannover, Bremen, Barmen, Dresden, Amsterdam, Brüssel, Aachen, Düsseldorf, Mainz, Darmstadt, Karlsruhe, Strassburg, Stuttgart, Basel, Venice, Bologna, Rome, Torino, Triest, Budapest, Graz – totaling 135 performances of the Ring! |
Said about Der Ring des Nibelungen
James Levine, Musical Director, The Metropolitan Opera
Wagner's Ring is one of those works of art that you think you know, but every time you return to it, you find brilliant moments that hadn't struck you with the same force before.
Peter Tchaikovsky on Der Ring des Nibelungen
Wagner's tetralogy is so complicated and so finely detailed that much time is necessary for a study of it - and it really ought to be heard often.
In a letter to Modeste Tchaikovsky, written 14 August 1876 (Bayreuth - The Early Years)
Edvard Grieg
Every performance is so exhausting emotionally that it leaves one quite worn out.
Edvard Grieg, 17 August 1876
Siegfried's death and Funeral march
Klaus Tennstedt, London Philharmonic, Suntory Hall (Tokyo, Japan)
Ride of the Valkyries
Berliner Philharmoniker, Daniel Barenboim
Wolfgang Wagner
Wolfgang Wagner's Ring production 1974. Franz Mazura, Theo Adam, Jean Cox. Das Rheingold. Götterdämmerung.
Der Ring des Nibelungen: Articles and Reviews
Nila Parly on Regietheater: Visions of the Ring
The Cry of the Valkyrie: Feminism and Corporality in the Copenhagen Ring
Mark Berry: Bayreuth 2017: Das Rheingold (Frank Castorf / Marek Janowski)
Mark Berry: Bayreuth 2017: Die Walküre (Frank Castorf / Marek Janowski)
Mark Berry: Bayreuth 2016: Das Rheingold (Frank Castorf)
Mark Berry: Bayreuth 2016: Die Walküre (Frank Castorf)
Mark Berry: Bayreuth 2016: Siegfried (Frank Castorf)
Mark Berry: Bayreuth 2016: Götterdämmerung (Frank Castorf)
Mark Berry: Bayreuth 2014: Das Rheingold (Frank Castorf)
Mark Berry: Bayreuth 2014: Die Walküre (Frank Castorf)
Mark Berry: Bayreuth 2014: Siegfried (Frank Castorf)
Mark Berry: Bayreuth 2014: Götterdämmerung (Frank Castorf)
Per-Erik Skramstad: Bayreuth 2013: There Will Be Blood: Frank Castorf Has Entered the Ring
Per-Erik Skramstad: Bayreuth 2010: Curtain Down on Tankred Dorst's Ring
Mark Berry: 2010 Cassiers Ring
Sam Goodyear: Laufenberg's Wiesbaden Ring 2017
Jerry Floyd: Rheingold, Metropolitan 2010
Jerry Floyd: Die Walküre, Metropolitan 2010
Jerry Floyd Washington National Opera: Siegfried
Jerry Floyd Washington National Opera: Siegfried II
Jerry Floyd Washington National Opera: Götterdammerung Concert (2009)
Jerry Floyd Washington National Opera: Götterdammerung Concert (2009)
Mark Berry: Richard Wagner für Kinder – Der Ring des Nibelungen (2011)