Die Walküre
Die Walküre premiered on 26 Juni 1870 at the Königlichen Hof- und Nationaltheater in Munich. The premiere as part of a complete Ring cycle was on 14 August 1876 at the Festival House in Bayreuth.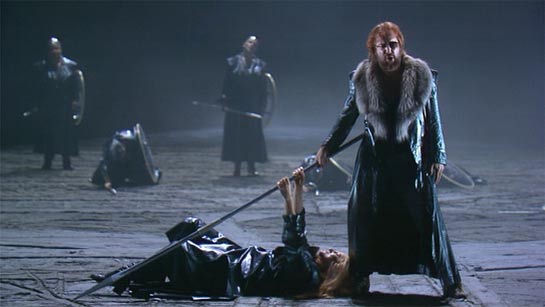 John Tomlinson as Wotan punishes Anne Evans (Brünnhilde) in Die Walküre, act 3. Photo from Harry Kupfer's production at the Bayreuth Festival.
Die Walküre (as part of the complete Ring des Nibelungen) was produced in the following cities years following the world premiere at the Bayreuth Festival on 14 August 1876.
| | |
| --- | --- |
| 1878 | München |
| 1879 | Wien |
| 1880 | Hamburg |
| 1881 | Berlin (Angelo Neumann's travelling Wagner-Theatre with guest performances in Berliner Viktoria-Theater) |
| 1882–1883 | Angelo Neumann's travelling Wagner-Theatre on tour: London (Her Majesty's Theatre), Breslau, Königsberg, Danzig, Hannover, Bremen, Barmen, Dresden, Amsterdam, Brüssel, Aachen, Düsseldorf, Mainz, Darmstadt, Karlsruhe, Strassburg, Stuttgart, Basel, Venice, Bologna, Rome, Torino, Triest, Budapest, Graz – totaling 135 performances of the Ring! |
Ride of the Valkyries
Berliner Philharmoniker, Daniel Barenboim
Said about Die Walküre
Eduard Hanslick on Die Walküre
The second drama, Die Walküre begins very impressively with the entrance of the fugitive Siegmund into Hunding's house. The tedious breadth of the scene at the table (Siegmund, Hunding and Sieglinde) is compensated for, gradually, in the course of the love duet between Siegmund and Sieglinde, in which the B flat major episode, 'Winterstürme wichen dem Wonnemond', enters like long-missed sunlight. Here we are revived by a ray of melodious sustaned song.
The second act is an abyss of boredom. […] Scenes like this recall the medieval torture of waking a sleeping prisoner by stabbing him with a needle at every nod.
On the first Wagner Festival, written 19 August 1876 (Bayreuth - The Early Years)
Der Ring des Nibelungen: Articles and Reviews
Nila Parly on Regietheater: Visions of the Ring
The Cry of the Valkyrie: Feminism and Corporality in the Copenhagen Ring
Mark Berry: Bayreuth 2017: Das Rheingold (Frank Castorf / Marek Janowski)
Mark Berry: Bayreuth 2017: Die Walküre (Frank Castorf / Marek Janowski)
Mark Berry: Bayreuth 2016: Das Rheingold (Frank Castorf)
Mark Berry: Bayreuth 2016: Die Walküre (Frank Castorf)
Mark Berry: Bayreuth 2016: Siegfried (Frank Castorf)
Mark Berry: Bayreuth 2016: Götterdämmerung (Frank Castorf)
Mark Berry: Bayreuth 2014: Das Rheingold (Frank Castorf)
Mark Berry: Bayreuth 2014: Die Walküre (Frank Castorf)
Mark Berry: Bayreuth 2014: Siegfried (Frank Castorf)
Mark Berry: Bayreuth 2014: Götterdämmerung (Frank Castorf)
Per-Erik Skramstad: Bayreuth 2013: There Will Be Blood: Frank Castorf Has Entered the Ring
Per-Erik Skramstad: Bayreuth 2010: Curtain Down on Tankred Dorst's Ring
Mark Berry: 2010 Cassiers Ring
Sam Goodyear: Laufenberg's Wiesbaden Ring 2017
Jerry Floyd: Rheingold, Metropolitan 2010
Jerry Floyd: Die Walküre, Metropolitan 2010
Jerry Floyd Washington National Opera: Siegfried
Jerry Floyd Washington National Opera: Siegfried II
Jerry Floyd Washington National Opera: Götterdammerung Concert (2009)
Jerry Floyd Washington National Opera: Götterdammerung Concert (2009)
Mark Berry: Richard Wagner für Kinder – Der Ring des Nibelungen (2011)