Götterdämmerung - Twilight of the Gods
Götterdämmerung is the fourth and final of the operas in the tetralogy Der Ring des Nibelungen.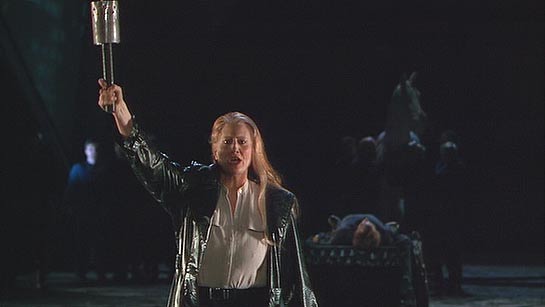 Anne Evans in Harry Kupfer's production of Götterdämmerung at Bayreuth, filmed in 1991 and available on DVD.
The premiere of Götterdämmerung was on 17 August 1876 at the Festival House in Bayreuth, as part of a complete Ring cycle. Conductor was Hans Richter.
Götterdämmerung (as part of the complete Ring des Nibelungen) was produced in the following cities the first years after the world premiere at the Bayreuth Festival on 17 August 1876
| | |
| --- | --- |
| 1878 | München |
| 1879 | Wien |
| 1880 | Hamburg |
| 1881 | Berlin (Angelo Neumann's travelling Wagner-Theatre with guest performances in Berliner Viktoria-Theater) |
| 1882–1883 | Angelo Neumann's travelling Wagner-Theatre on tour: London (Her Majesty's Theatre), Breslau, Königsberg, Danzig, Hannover, Bremen, Barmen, Dresden, Amsterdam, Brüssel, Aachen, Düsseldorf, Mainz, Darmstadt, Karlsruhe, Strassburg, Stuttgart, Basel, Venice, Bologna, Rome, Torino, Triest, Budapest, Graz – totaling 135 performances of the Ring! |
Siegfried's death and Funeral march
Klaus Tennstedt, London Philharmonic, Suntory Hall (Tokyo, Japan)
| | | | |
| --- | --- | --- | --- |
| German | English | French | Italian |
| Der Ring des Nibelungen | The Ring of the Nibelung | L'Anneau du Nibelung | L'anello del Nibelungo |
| Das Rheingold | The Rhinegold | L'Or du Rhin | L'oro del Reno |
| Die Walküre | The Valkyrie | La Walkyrie | La Valchiria |
| Siegfried | Siegfried | Siegfried | Sigfrido |
| Götterdämmerung | Twilight of the Gods | Le Crépuscule des dieux | Il crepuscolo degli dei |
Der Ring des Nibelungen: Articles and Reviews
Nila Parly on Regietheater: Visions of the Ring
The Cry of the Valkyrie: Feminism and Corporality in the Copenhagen Ring
Mark Berry: Bayreuth 2017: Das Rheingold (Frank Castorf / Marek Janowski)
Mark Berry: Bayreuth 2017: Die Walküre (Frank Castorf / Marek Janowski)
Mark Berry: Bayreuth 2016: Das Rheingold (Frank Castorf)
Mark Berry: Bayreuth 2016: Die Walküre (Frank Castorf)
Mark Berry: Bayreuth 2016: Siegfried (Frank Castorf)
Mark Berry: Bayreuth 2016: Götterdämmerung (Frank Castorf)
Mark Berry: Bayreuth 2014: Das Rheingold (Frank Castorf)
Mark Berry: Bayreuth 2014: Die Walküre (Frank Castorf)
Mark Berry: Bayreuth 2014: Siegfried (Frank Castorf)
Mark Berry: Bayreuth 2014: Götterdämmerung (Frank Castorf)
Per-Erik Skramstad: Bayreuth 2013: There Will Be Blood: Frank Castorf Has Entered the Ring
Per-Erik Skramstad: Bayreuth 2010: Curtain Down on Tankred Dorst's Ring
Mark Berry: 2010 Cassiers Ring
Sam Goodyear: Laufenberg's Wiesbaden Ring 2017
Jerry Floyd: Rheingold, Metropolitan 2010
Jerry Floyd: Die Walküre, Metropolitan 2010
Jerry Floyd Washington National Opera: Siegfried
Jerry Floyd Washington National Opera: Siegfried II
Jerry Floyd Washington National Opera: Götterdammerung Concert (2009)
Jerry Floyd Washington National Opera: Götterdammerung Concert (2009)
Mark Berry: Richard Wagner für Kinder – Der Ring des Nibelungen (2011)