Siegfried - Zweiter Tag aus dem Bühnenfestspiel Der Ring des Nibelungen
The premiere of Siegfried was on 16 August 1876 at the Festival House in Bayreuth, as part of a complete Ring cycle. Conductor was Hans Richter.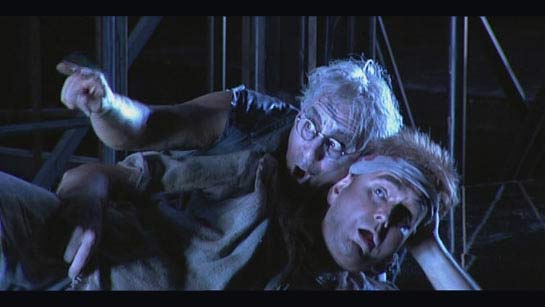 Mime (Graham Clark) is trying to teach Siegfried (John Treleaven) what fear is. Screenshot from Harry Kupfer's production at Gran Teatre del Liceu in Barcelona, available on DVD from Opus Arte.
Siegfried (as part of the complete Ring des Nibelungen) was produced in the following cities the first years after the world premiere at the Bayreuth Festival on 16 August 1876
| | |
| --- | --- |
| 1878 | München |
| 1879 | Wien |
| 1880 | Hamburg |
| 1881 | Berlin (Angelo Neumann's travelling Wagner-Theatre with guest performances in Berliner Viktoria-Theater) |
| 1882–1883 | Angelo Neumann's travelling Wagner-Theatre on tour: London (Her Majesty's Theatre), Breslau, Königsberg, Danzig, Hannover, Bremen, Barmen, Dresden, Amsterdam, Brüssel, Aachen, Düsseldorf, Mainz, Darmstadt, Karlsruhe, Strassburg, Stuttgart, Basel, Venice, Bologna, Rome, Torino, Triest, Budapest, Graz – totaling 135 performances of the Ring! |
Videos
Christa Ludwig as Erda in Act 3 of "Siegfried". Thomas Stewart is Wotan. Concert performance 1985 in Vienna.
Leonard Bernstein & Wiener Philharmoniker: Siegfried Vorspiel Act 3. Thomas Stewart as Wotan. Wagner concert in Wien 1985.
Thomas Stewart as Wotan trying to wake up the earth goddess Erda. From a concert in Vienna 1985. Bernstein/Vienna Philharmonic
Thomas Stewart as Der Wanderer in Richard Wagner's "Siegfried". Concert Vienna 1985. Leonard Bernstein conducting.
Leonard Bernstein conducted Wiener Philharmoniker in a Wagner Concert in Vienna 1985. Clip from Siegfried Act 3
James King as Siegfried. Siegfried Act 3. Wagner concert Vienna 1985. Leonard Bernstein, VPO.
Said about Siegfried
On the page Siegfried doesn't look that daunting – just long – but when I did it I realised how impossible it is to have an absolute success as Siegfried. It requires three different tenor voices, incredible stamina, and no matter how well you do it you will have two-thirds of the audience not liking you – one-third want only baritonal heft, others only want a steely sound coming out, whilst the others want an extraordinarily youthful Windgassen sound.
Stephen Gould in an interview with Jim Pritchard
Der Ring des Nibelungen: Articles and Reviews
Nila Parly on Regietheater: Visions of the Ring
The Cry of the Valkyrie: Feminism and Corporality in the Copenhagen Ring
Mark Berry: Bayreuth 2017: Das Rheingold (Frank Castorf / Marek Janowski)
Mark Berry: Bayreuth 2017: Die Walküre (Frank Castorf / Marek Janowski)
Mark Berry: Bayreuth 2016: Das Rheingold (Frank Castorf)
Mark Berry: Bayreuth 2016: Die Walküre (Frank Castorf)
Mark Berry: Bayreuth 2016: Siegfried (Frank Castorf)
Mark Berry: Bayreuth 2016: Götterdämmerung (Frank Castorf)
Mark Berry: Bayreuth 2014: Das Rheingold (Frank Castorf)
Mark Berry: Bayreuth 2014: Die Walküre (Frank Castorf)
Mark Berry: Bayreuth 2014: Siegfried (Frank Castorf)
Mark Berry: Bayreuth 2014: Götterdämmerung (Frank Castorf)
Per-Erik Skramstad: Bayreuth 2013: There Will Be Blood: Frank Castorf Has Entered the Ring
Per-Erik Skramstad: Bayreuth 2010: Curtain Down on Tankred Dorst's Ring
Mark Berry: 2010 Cassiers Ring
Sam Goodyear: Laufenberg's Wiesbaden Ring 2017
Jerry Floyd: Rheingold, Metropolitan 2010
Jerry Floyd: Die Walküre, Metropolitan 2010
Jerry Floyd Washington National Opera: Siegfried
Jerry Floyd Washington National Opera: Siegfried II
Jerry Floyd Washington National Opera: Götterdammerung Concert (2009)
Jerry Floyd Washington National Opera: Götterdammerung Concert (2009)
Mark Berry: Richard Wagner für Kinder – Der Ring des Nibelungen (2011)