Dmitri Tcherniakov: Der Ring des Nibelungen, Das Rheingold - Staatsoper unter den Linden, Berlin, 2022
Tcherniakov: Das Rheingold, Staatsoper Berlin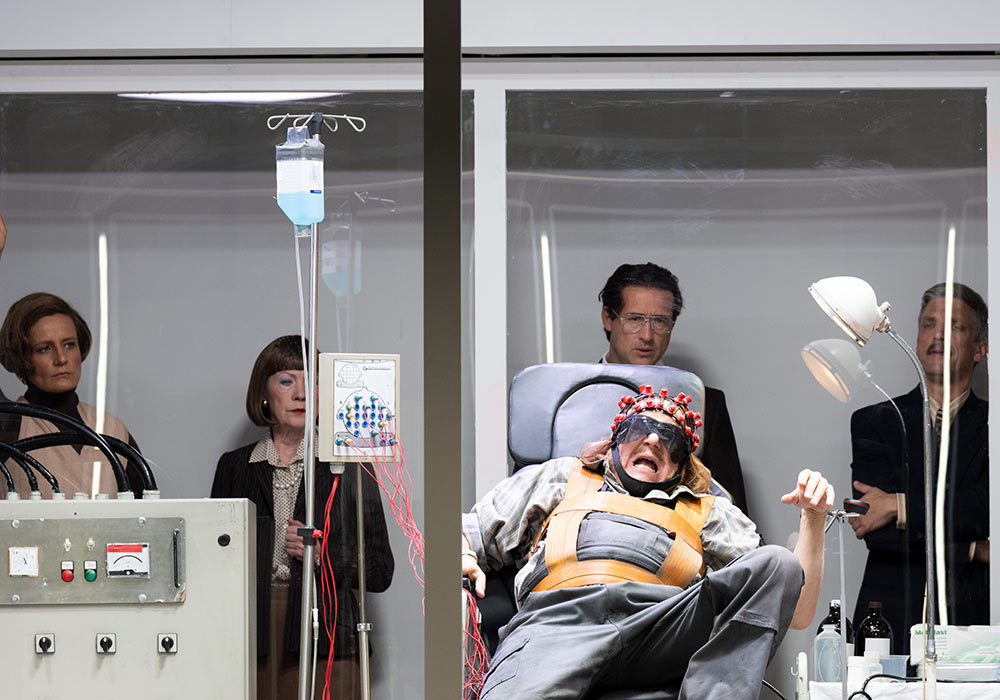 Johannes Martin Kränzle was a strong Alberich, with vocal heft and attention to the text matched by an acting performance that successfully incorporated the subtlest hand twitching, the wildest desk smashing, and most things in between. (Photo: Monika Rittershaus)
If Dmitri Tcherniakov's new production of Der Ring des Nibelungen for the Staatsoper Unter den Linden opened with a sense of anticipation for what the acclaimed director might draw out of the work, it also opened with an inescapable awareness of who was absent. I'm sure the feelings I had when I heard the news that Daniel Barenboim would be stepping back from conducting engagements due to ill health were shared by many – sadness of course, but also gratitude for all he has given to music thus far, both as a performer and an ambassador. My best wishes for a full and speedy recovery go out to him. Crass as it might seem to now abruptly shift gears and talk about the production, the old cliché of the show going on is what all artists live by; so with the caveat that it was "only" Das Rheingold, I'm happy to report that the opening night of the cycle very much whetted the appetite for what was to come, even if, or perhaps, because, it twisted my head in knots at times.
Before a note was sounded, a screen depicting the floor plan of a large research facility covered the stage. If there were any doubt that this was to be the location for the drama, it was immediately removed when the curtain was lifted to reveal a scientific lecture hall in which a video of experiments being conducted on brain cells played. Moreover, the name of the facility – the acronym E.S.C.H.E – seemed a clue that this institute was, like the World Ash, the ultimate source of Wotan's power (and perhaps also a hint that it will decay into ruin by the final evening?). We then moved, through the first of many smoothly realised horizontal and vertical scenic shifts to different rooms of the institute, to a laboratory in which a psychological "stress" experiment was being conducted. The subject? Alberich – blindfolded, tethered to a chair, electrodes attached to his head, and watched over by the Rhinemaidens, who were apparently either lab technicians or scientists.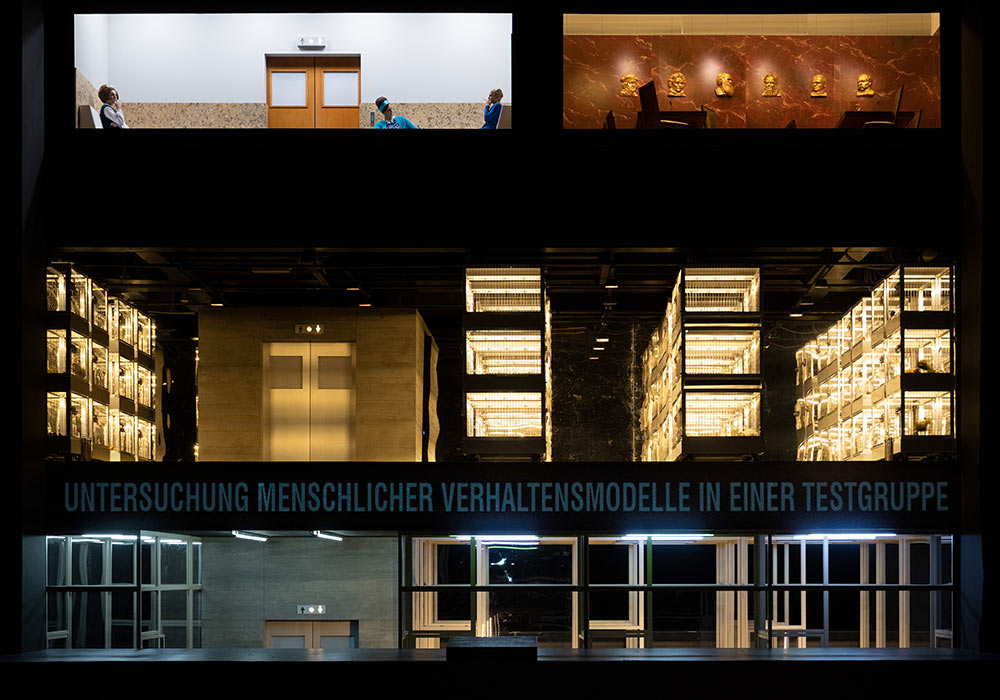 Many smoothly realised horizontal and vertical scenic shifts to different rooms of the institute, in which a psychological "stress" experiment was being conducted. (Photo: Monika Rittershaus)
Who was Alberich in this scenario then? Someone who had, like Wozzeck, reluctantly volunteered to participate in whatever was going on? An employee of the facility? A patient in an asylum? It was unclear at this stage, and perhaps unimportant. What was clear, was the mental toll the Rhinemaidens' taunts progressively took on him, with ever more desperate attempts to free himself from the chair culminating in him destroying the laboratory equipment and making off with an armful of broken machinery. "Gold", then, that could be interpreted as being the means of understanding the mind, or alternatively, of having power over people.
Back in the lecture hall and its adjoining rooms, flared trousers, shirt collars folded outside lapels, and a general preponderance of the colour brown, put us in the 1970s. I am not an expert in the history of experimental psychology, but the time period seemed to generally fit as a location for scientific techniques that may now seem to us to have as much in common with leeches and laudanum as with modern medicine. In any case, Wotan clearly appeared to be the intendant of the facility. Was he the brains behind the experiments, or merely an administrator? Perhaps Loge, who one might think of as the psychologist of the opera, was the scientific driving force behind what was taking place there? Any answer was not explicit, although Loge deliberately waiting outside the door for some minutes before his entrance did very much give the impression than he was in control. The identity of the giants also intrigued, flanked as they were by heavies in Burberry raincoats and sunglasses, but not seemingly dressed in a way to indicate high status or official position. Gangsters, maybe? Meanwhile, from a walkway above, Erda watched all the wrangling over payment, and appeared to be an employee from another part of the research centre.
More clues, if not always more clarity, were gained after the descent into Nibelheim, revealed as the facility's basement rooms. Here, a floor containing rabbits in cages sat above another one containing bigger, human sized booths in which the Nibelungen were at work. In between the two floors appeared the text "Untersuchung menschlicher Verhaltensmodelle in einer Testgruppe" (investigation of human behaviour models in a test group). The numbered hats the Nibelungen wore clearly implied they were the members of this group. Did the same group contain Alberich, meaning all were subjects for the original test? Or was this a new "investigation" overseen by him with his newfound power? Either way, he had Mime and the others working with the broken machinery he had stolen, apparently in an attempt to recreate the devices that had been used on him. The Tarnhelm therefore became a cap full of electrodes, only in this instance a kind of non-functional fake. Nothing happened at all when it was worn, despite Alberich clearly believing that something magical was at work, suggesting that he was suffering from delusions, whether induced by the experiment or pre-existing it. Loge and Wotan then laughed at him in a way that would have made Nurse Ratched blush, before calling for orderlies to carry him away. The ring too though, being just a ring, seemed entirely unremarkable, making it unclear exactly what Wotan was gaining by taking it back. Unless he too was beginning to suffer from a delusion? It would be too early to conclude that at this point but I also wouldn't rule it out.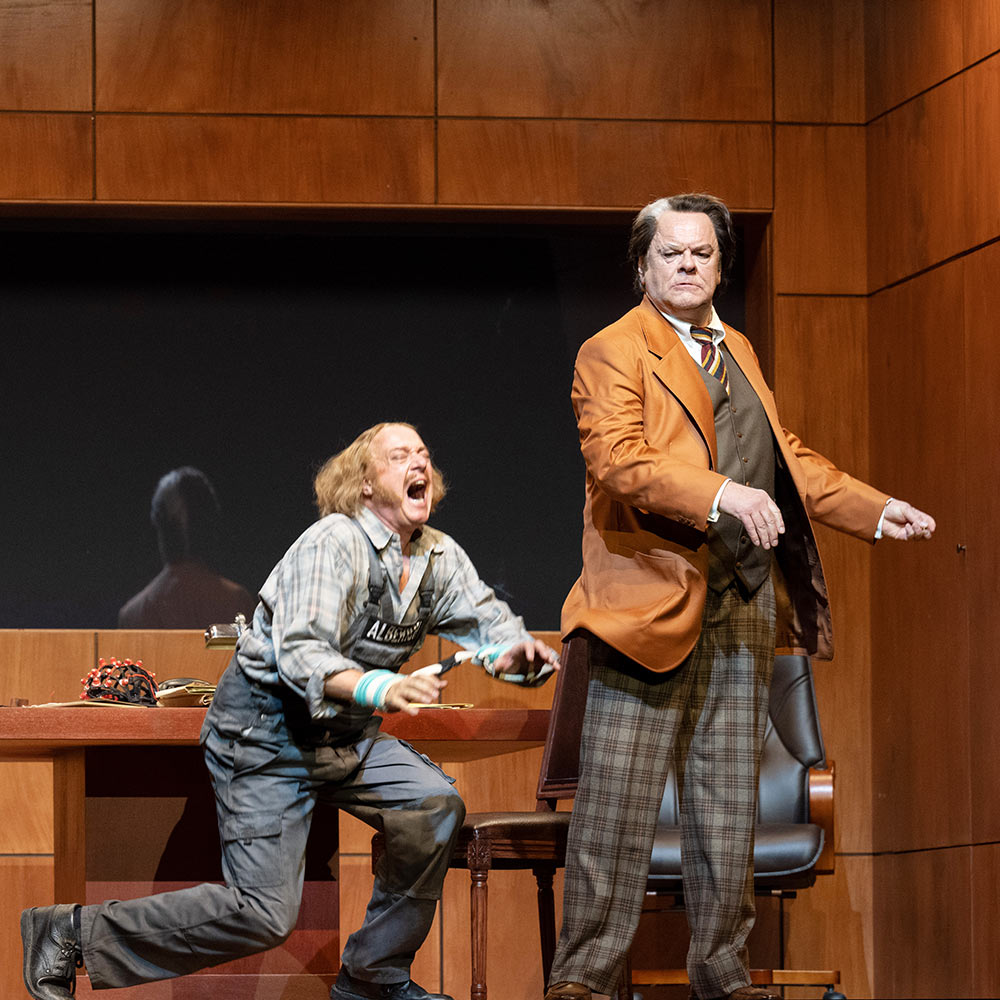 Johannes Martin Kränzle as Alberich, and Michael Volle as Wotan in Dmitri Tcherniakov's production of Das Rheingold at Staatsoper unter den Linden, Berlin. (Photo: Monika Rittershaus)
Returning to Alberich, the fact that he began to talk to imaginary people in the following scene seemed only to confirm his state of mind. Indeed, it made me wonder whether the Nibelungen we had just seen had existed at all, or were not rather a figment of his imagination. A more or less "standard" fight over the ring then took place in which all of the participants seemed to believe in its power despite there being no evidence for it, followed by a final scene in which Donner and Froh performed simple magic tricks depicting thunder and rainbows for a crowd of people in the facility, further muddying the waters as to what was real, who was imagining things, who was experimenting on whom, and why.
On the musical side of things, it is probably the case that Christian Thielemann is the only Wagner conductor in the world who could step in for Barenboim and not be an obvious downgrade on paper. His skill in this repertoire was certainly on show, with balance – both between orchestral sections and between stage and pit – seeming just right, allowing multiple lines to reveal themselves at once, at least from where I was sitting. Dynamic variation was there in abundance, but true fortissimo used sparingly, and his reading showed once again that conveyance of musical momentum can be done at a variety of tempi.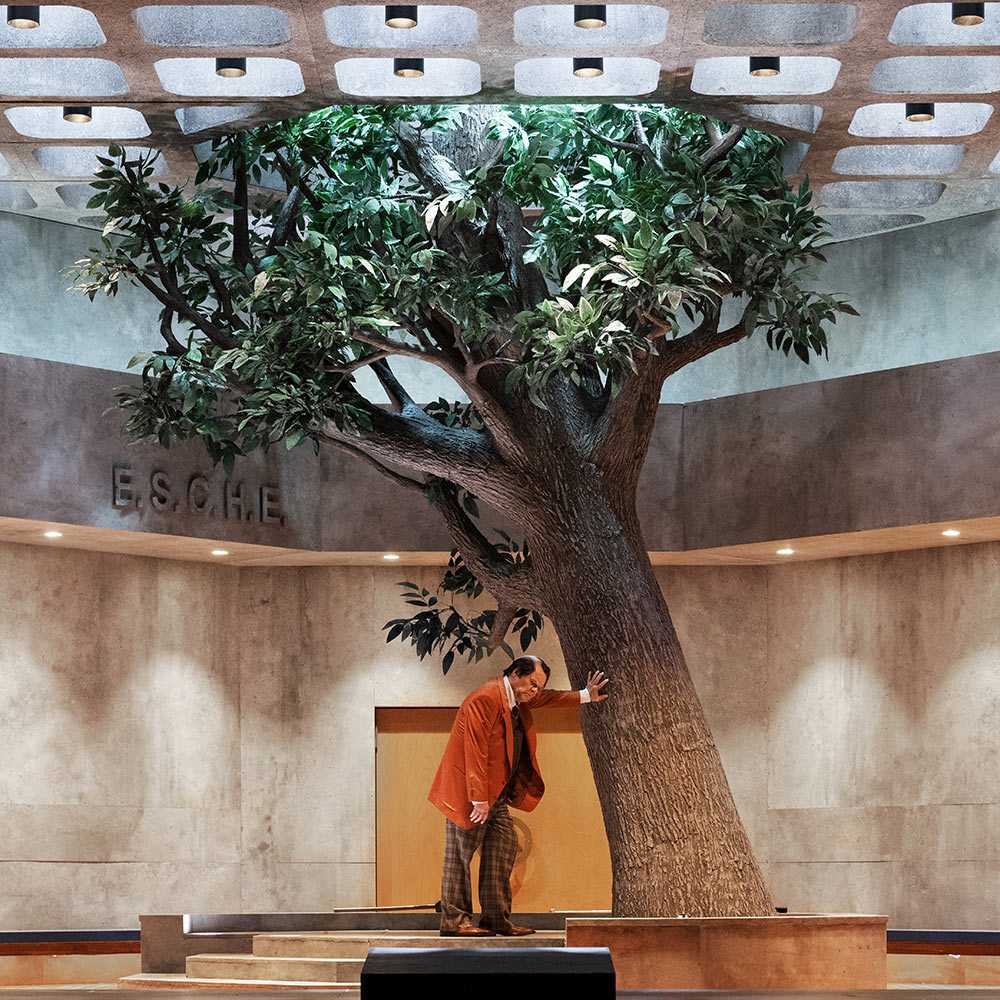 Michael Volle as Wotan: Tone, phrasing, facial expressions, physicality, diction, understanding of the text, whatever aspect of opera singing you want to talk about, they were all excellent in a nuanced performance of a confident man becoming gradually more stressed. (Photo: Monika Rittershaus)
As Wotan, Michael Volle once again proved himself to be one of the best singing-actors in the world. Tone, phrasing, facial expressions, physicality, diction, understanding of the text, whatever aspect of opera singing you want to talk about, they were all excellent in a nuanced performance of a confident man becoming gradually more stressed.
Talking of the best singing-actors, Johannes Martin Kränzle was equally strong as Alberich, with vocal heft and attention to the text matched by an acting performance that successfully incorporated the subtlest hand twitching, the wildest desk smashing, and most things in between.
The casting of Rolando Villazón as Loge was an intriguing choice – the operatic equivalent of Henry Fonda suddenly playing the bad guy for the first time in his career in Once Upon a Time in the West – and the results were no less surprising. Any thoughts that it might sound like Cavaradossi had somehow got lost and ended up in Das Rheingold were quickly put to bed, as his delivery was every inch that of a character tenor. In fact, I think he went a bit too far in that direction, as a clearly committed, admirable focus on words and delivery sometimes veered into overenunciation and led to something that felt like a homage to the more sprechgesangy interpretations of bygone decades. That being said, I actually rather enjoyed his performance. He was extremely compelling viewing, gesticulating and emoting around the stage like Heinz Zednik on steroids, and firmly gave the impression that his character was the lynchpin of everything.
Those of us based in Frankfurt have known for some time that Claudia Mahnke is the real deal in big mezzo roles, and she gave a typically full-voiced portrayal of a defiant Fricka. Mika Kares also stood out as Fasolt with a wonderful rich, dark tone, while Siyabonga Manqungo sang Froh with a pleasing sweet sound. Evelin Novak, Natalia Skrycka, and Anna Lapkovskaja blended superbly as the Rhinemaidens, while Anett Fritsch, Anna Kissjudit and Stephan Rügamer took their roles as Freia, Erda and Mime well. Lauri Vasar and Peter Rose both perhaps lacked the vocal weight one might ideally want in the roles of Donner and Fafner, but were nevertheless solid.
Any conclusions at this early stage will be on a hiding to nothing, and if Das Rheingold by its nature as the "preliminary evening" tends to raise more questions than it does answers, it did so even more than usual on this occasion. However, if I had to give an overall takeaway, a general feeling of where the concept might be going, it would be: an exploration into the psychology of power, or perhaps the power of psychology. Whether that proves correct or not, we will see. But this was a thought-provoking, auspicious start.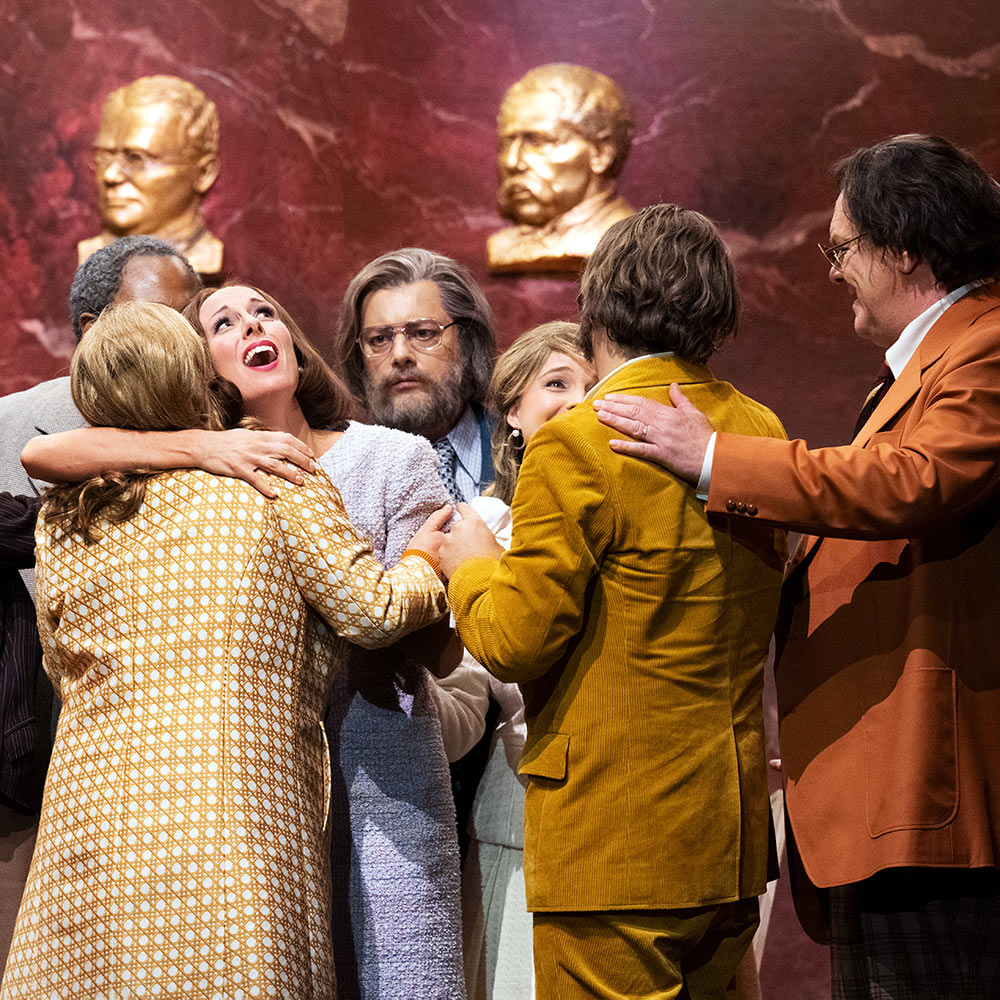 The gods celebrate Freia's return. (Photo: Monika Rittershaus)
Das Rheingold, 29 October 2022
Conductor: Christian Thielemann
Director, designs: Dmitri Tcherniakov
Costumes: Elena Zaytseva
Light: Gleb Filshtinsky
Video: Alexey Poluboyarinov
Dramaturgy: Tatiana Werestchagina, Christoph Lang
Wotan: Michael Volle
Donner: Lauri Vasar
Froh: Siyabonga Maqungo
Loge: Rolando Villazón
Fricka: Claudia Mahnke
Freia: Anett Fritsch
Erda: Anna Kissjudit
Alberich: Johannes Martin Kränzle
Mime: Stephan Rügamer
Fasolt: Mika Kares
Fafner: Peter Rose
Woglinde: Evelin Novak
Wellgunde: Natalia Skrycka
Flosshilde: Anna Lapkovskaja
STAATSKAPELLE BERLIN
→ Tcherniakov: Das Rheingold, Staatsoper Berlin, 2022
→ Tcherniakov: Die Walküre, Staatsoper Berlin, 2022
→ Tcherniakov: Siegfried, Staatsoper Berlin, 2022
→ Tcherniakov: Götterdämmerung, Staatsoper Berlin, 2022
More reviews of Dmitri Tcherniakov's Ring production at Staatsoper Berlin
Das Rheingold
The Rheingold Experiment: Tcherniakov's new Ring des Nibelungen at the Staatsoper Berlin (Alexandra Richter, bachtrack.com)
Die Walküre
N/A
Siegfried
N/A
Götterdämmerung
Zwei Zimmer, Küche, Bad: Götterdämmerung an der Staatsoper Berlin (Alexandra Richter, bachtrack.com)
The Ring
Review: Berlin Takes Wagner's Approach to Staging the 'Ring'. All four parts of Wagner's epic were presented within a week, in a new production by Dmitri Tcherniakov inspired by the work's experimental roots. (Joshua Barone, The New York Times)
Outstanding performances can't save Dmitri Tcherniakov's new production of the Ring – originally due to have been conducted by Daniel Barenboim – from closing to a barrage of boos (Fiona Maddocks, The Observer)