Dmitri Tcherniakov: Der Ring des Nibelungen, Die Walküre - Staatsoper unter den Linden, Berlin, 2022
Tcherniakov: Die Walküre, Staatsoper Berlin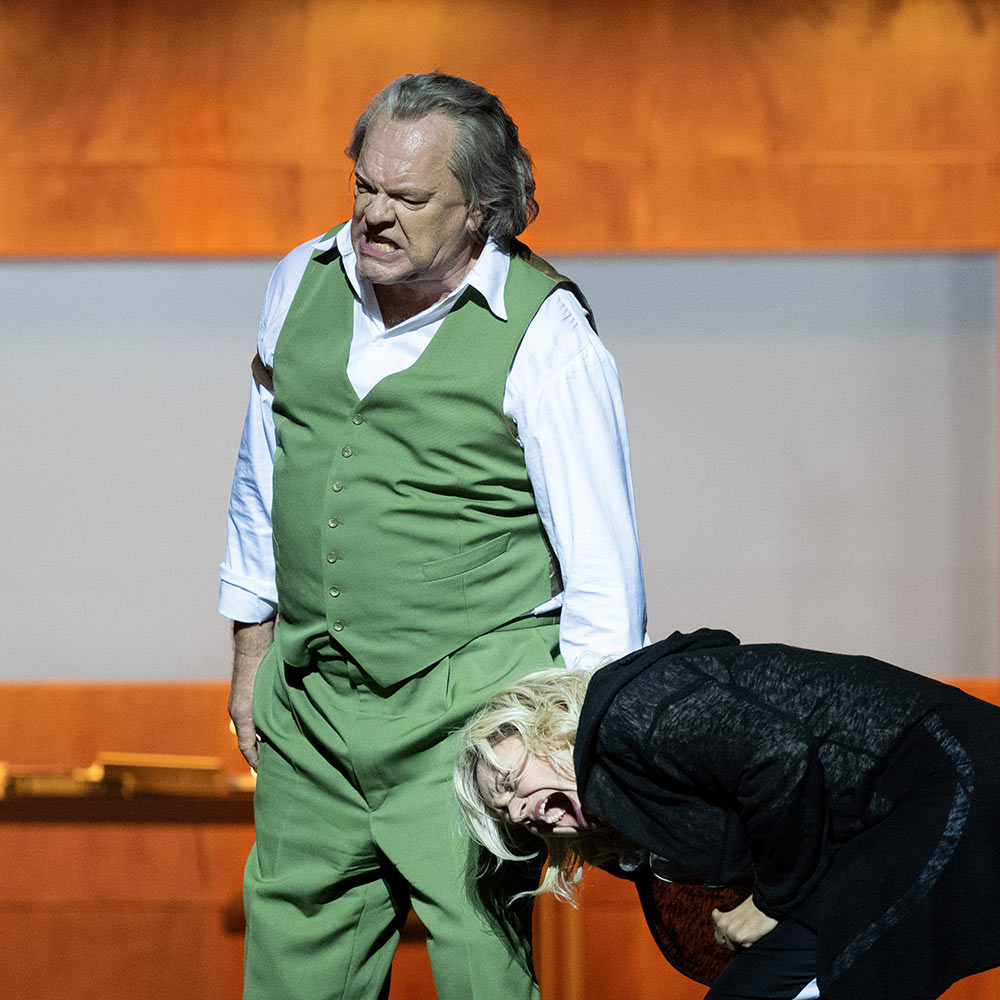 Michael Volle (Wotan) and Anja Kampe (Brünnhilde). (Photo: Monika Rittershaus)
Towards the end of King Lear, the Earl of Gloucester, despairing over the cruelty and hopelessness of existence, delivers one of Shakespeare's most famous lines: "As flies to wanton boys are we to the Gods; they kill us for their sport." If this production of Die Walküre did not quite lead us to places as dark as that, then the mental disintegration of many of the main players throughout the evening at least made us ponder the extent to which people are been born to suffer. For while Das Rheingold introduced us to the consequences of an explicit psychological experiment being carried out on Alberich, the second night of the tetralogy was no less affecting in its presentation of a more implicit experiment, one in which the subjects to some extent escape from the lab.
We might think that Siegmund and Sieglinde appear to have agency in their lives, making choices to come together, to flee Hunding, to keep an unborn child etc.; but do they really? Their very existence is, after all, the product of a kind of experiment by Wotan, a decision by him to father children not for the purpose of creating lives with their own independent hopes and dreams, but to give himself new chess pieces in his attempt to regain the ring. To some extent, their fates are predetermined, or at least, he hopes they are. There were no machines, electrodes, or scientists taking notes this time around, but the sterile, cookie-cutter design of Hunding's hut immediately hinted that it might be nothing more than a Truman Show-style construction. Such a theory was confirmed at the end of the first act, when the stage revolved to reveal Wotan watching the action coldly from his office through a secret connecting window.
Before that, Siegmund – here an escaped convict described by police as "psychologically unstable" – displayed a short temper and fidgetiness that seemed to indicate the mental strain of his life prior the start of the opera had already had an effect, while Sieglinde, at first comparatively more stable and collected, soon began breaking out into bouts of laughter, shaking, and dancing, suggesting that any initial appearance of normality had merely been a façade behind which the trauma of her forced marriage to Hunding had been bubbling away.
Robert Watson (Siegmund) and Vida Miknevičiūtė (Sieglinde). (Photo: Monika Rittershaus)
The second act saw the pair flee down to the basement testing facilities seen in Das Rheingold, by which time Sieglinde had clearly become the more mentally damaged of the two. By the time that Siegmund was carried off by riot police to his death, she was virtually in a trance, sleepwalking her way around the stage, a mental state that would continue for the rest of the evening, save for a last, brief, desperate moment of clarity upon hearing she was carrying the unborn Siegfried. Meanwhile, the appearance of the Norns to check on the rabbits while the action took place below removed any remaining doubts about the Wälsungen being akin to the lab rats of Hans Neuenfels' Bayreuth Lohengrin.    
But we have all seen those movies – The Fly, Jurassic Park etc. – in which the scientific revolution goes wrong and begins to devour the scientist, and as the evening progressed it became increasingly clear that any killing of flies was also creating trauma for the Gods. Already noticeably stressed following his conversation with Fricka, by the end of the evening Wotan seemed on the verge of a nervous breakdown, chain smoking and chair kicking his way through Act 3, head often in hands. Brünnhilde too was not spared the consequences of his actions, her impending punishment first leading to floods of tears, and then an apparent regression to a childlike mental state in which the ring of fire would merely be a game of make-believe played with daddy. But it was no game, and she would be left at the end of the opera alone on stage, school rucksack over her shoulder, confused and afraid. Throughout all of the action, strong Personenregie helped draw parallels between the pairs of characters, with actions such as embraces, the drinking of water, and things being pushed off tables reminding one of previous events.
Musically, I found this a more uneven performance than Das Rheingold, with higher highs but also lower lows. Christian Thielemann seemed to take a while to get going in this one, with the Act 1 love duet lacking the sort of seamless, inexorable momentum towards its conclusion that it needs, but featuring some jarringly loud brass entries. Things were vastly better in Acts 2 and 3, however, with dramatic purpose and flow being ever present, not least during Wotan's Abschied, which featured a masterful orchestral interlude that built from pianissimo to fortissimo at a broad tempo, giving it the sort of profundity one gets from Knappertsbusch on a good day.
Perhaps some of the improvement I felt from the pit was also down to interaction with the singers, as I also felt Robert Watson struggled somewhat as Siegmund throughout the first act only to improve thereafter. Slightly underpowered compared with some of his peers, there were times when the voice felt forced and high notes were scooped from below; but his later exchanges with Brünnhilde about being led to Valhalla and whether Sieglinde could join him were poignant and almost moved me to tears. Additionally, his dramatic commitment never wavered, and he gave a convincing portrayal of a man attempting to keep a lid on inner troubles for the sake of love.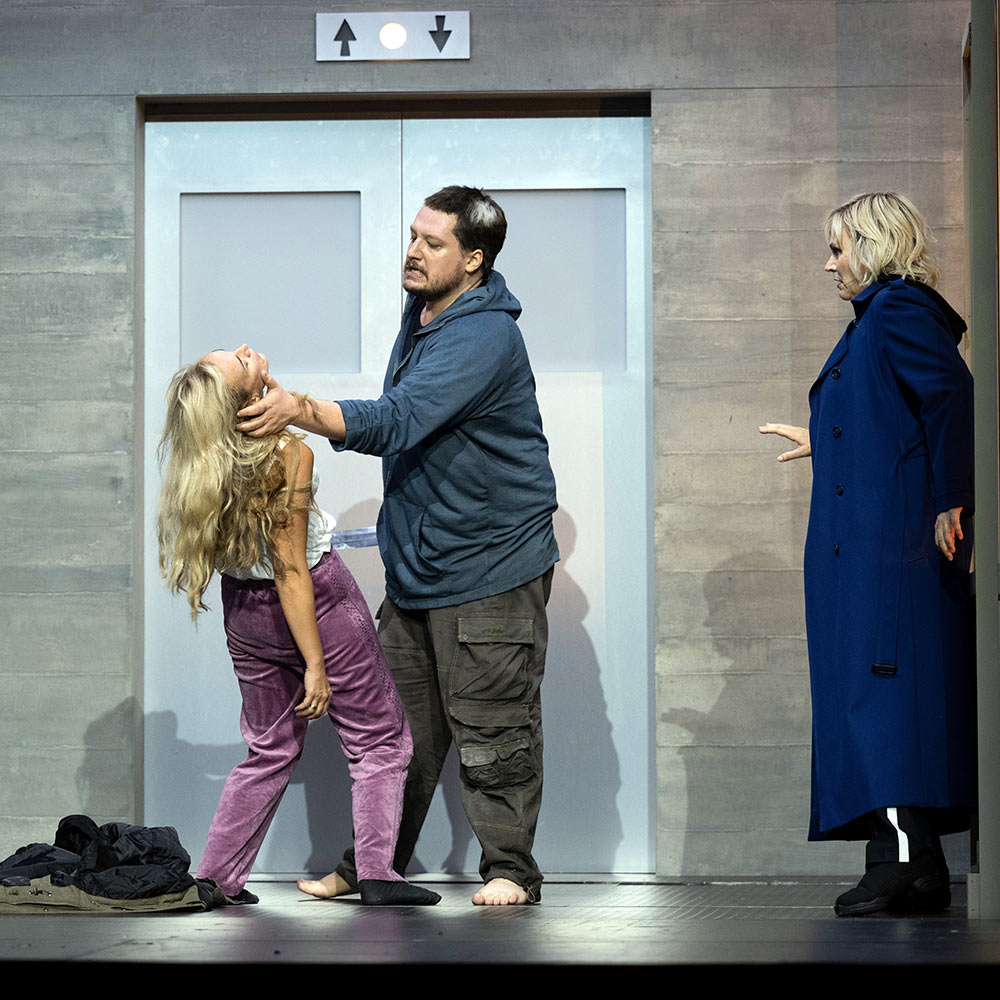 Vida Miknevičiūtė (Sieglinde), Robert Watson (Siegmund) and Anja Kampe (Brünnhilde). (Photo: Monika Rittershaus)
Vida Miknevičiūtė as his Braut und Schwester was new to me, but now someone I hope very much to hear often. Her effortless power reserves were coupled with a tone that had beauty but also just enough of an edge to add to its dramatic versatility. Furthermore, her acting performance was excellent, and made Sieglinde's journey as harrowing as I have seen it.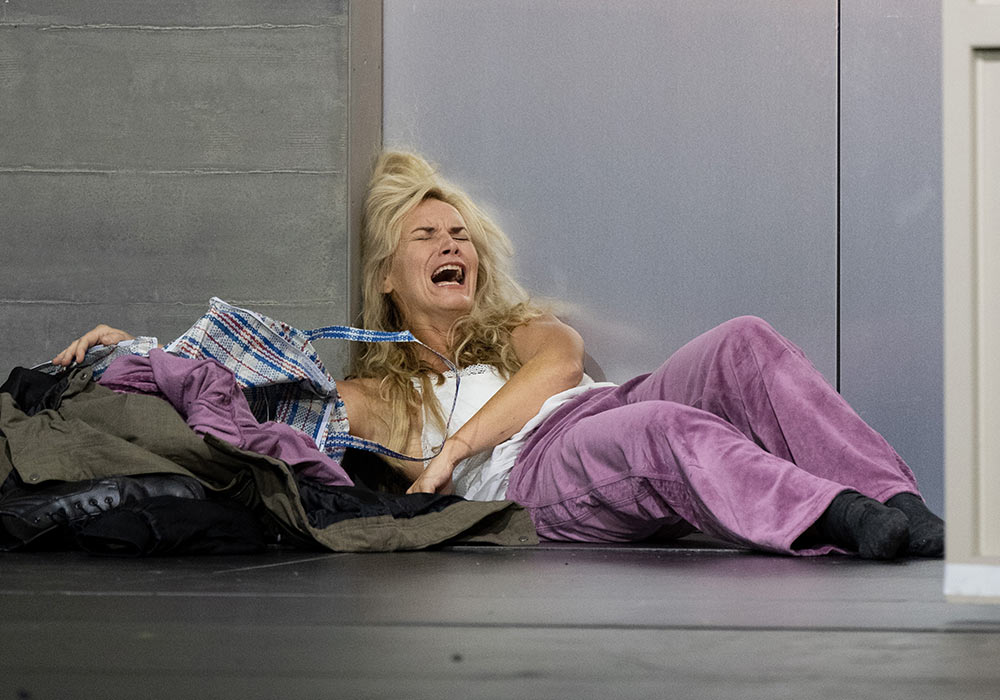 Vida Miknevičiūtė as Sieglinde. (Photo: Monika Rittershaus)
Anja Kampe as Brünnhilde was similarly top drawer, in command of the vocal demands of the role throughout, while taking us on a journey from strength to vulnerability that was punctuated by some particularly dramatically compelling moments, such as when her character decides to defy Wotan.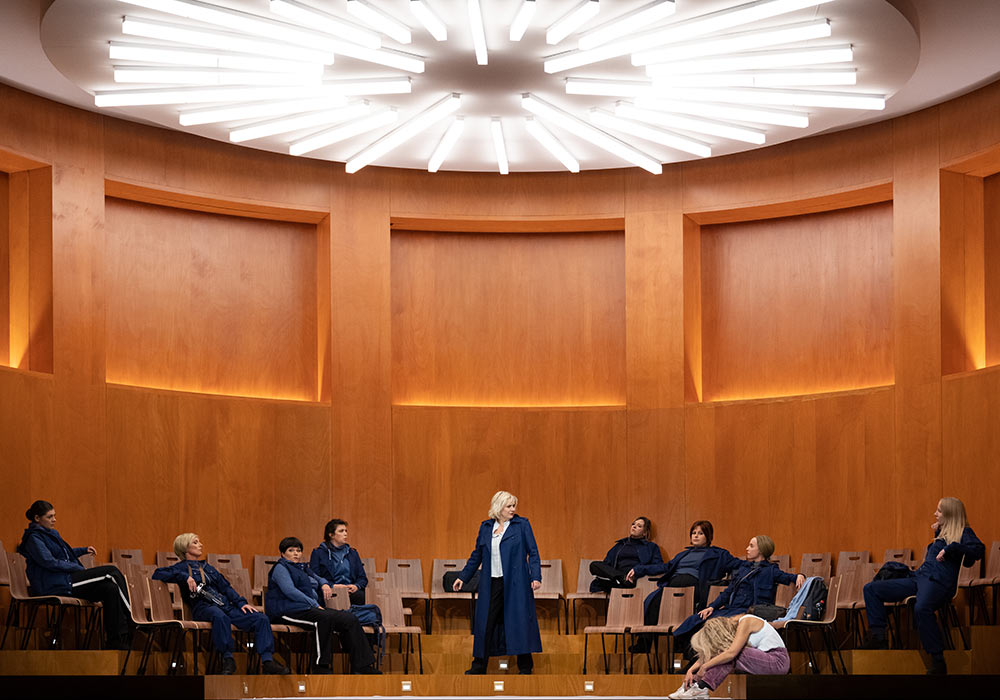 Anja Kampe (Brünnhilde), Vida Miknevičiūtė (Sieglinde) and the valkyries. (Photo: Monika Rittershaus)
Mika Kares had already given us a splendid turn as Fasolt the previous evening, but he exceeded that performance here as Hunding, combining his rich tone with a surly, brutish characterisation that was genuinely unnerving. Also surpassing an already good showing in Das Rheingold was Claudia Mahnke, who returned as Fricka and merely upped the ante in terms of sonorous indignation. Meanwhile, a variety of vocal timbres made the Valkyries seem more like individuals than they sometimes do, while still combining well as an ensemble.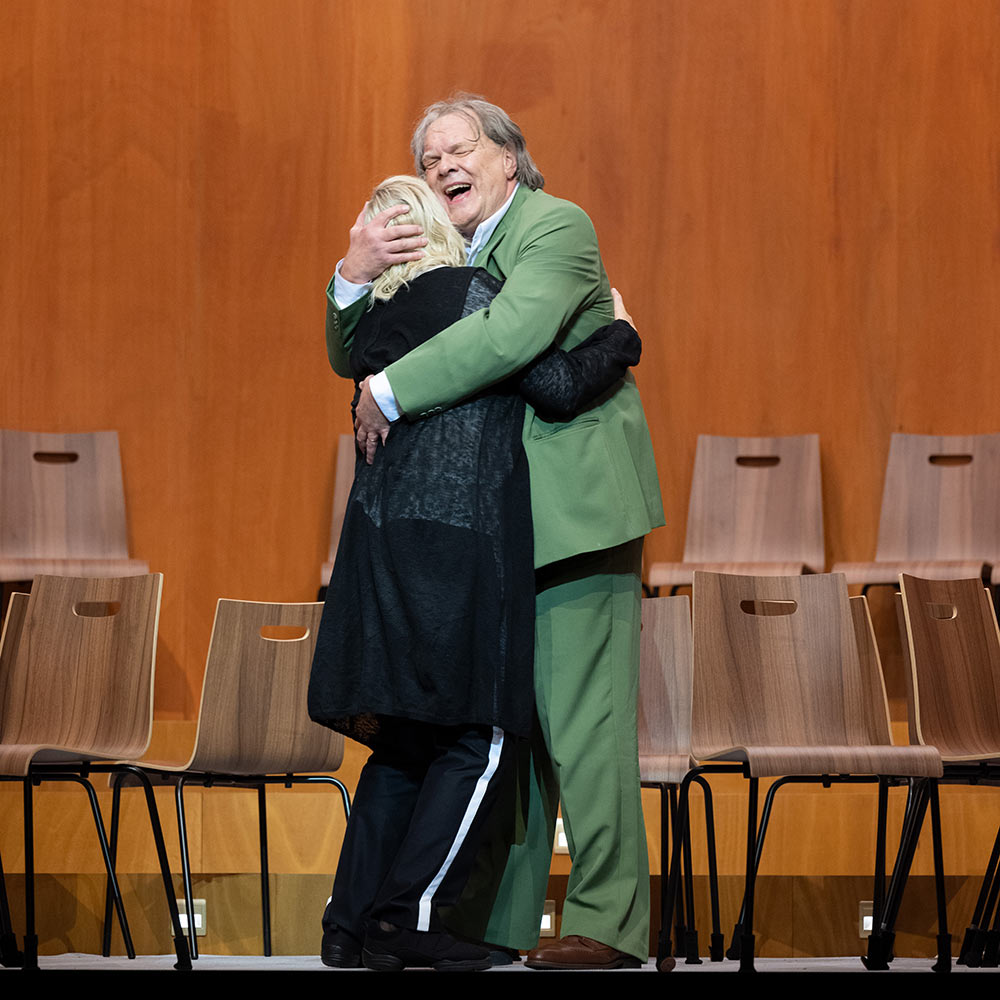 Michael Volle (Wotan) and Anja Kampe (Brünnhilde). (Photo: Monika Rittershaus)
The last word on the musical side of the evening must, however, go to Michael Volle as Wotan. Given that I already waxed lyrical about his Rheingold efforts in the previous review, the fact that he was even better in this now puts me in the awkward position of really needing a Spinal Tap thesaurus, where words of praise are turned up to 11. His understanding and conveyance of the text made one think it'd be worth paying good money to hear him give a poetry recital, and vocally, phrasing, dynamics, and timbre were all expertly handled. Opera singing at its greatest.
Overall then, this was a Die Walküre that was perhaps slightly less ostentatiously cerebral and interventionist than the previous night, but which was no less impactful for it, its greater focus on the consequences of experimentation than the experiments themselves helping to bring things into focus. With two nights remaining, Tcherniakov has established a world in which attempts to exert control in this way seem to have failed, and only served to mentally disturb almost everyone involved, including the main perpetrator. Who knows where we will end up after two more nights, but the directorial set-up has certainly made me eager to find out.
→ Tcherniakov: Das Rheingold, Staatsoper Berlin, 2022
→ Tcherniakov: Die Walküre, Staatsoper Berlin, 2022
→ Tcherniakov: Siegfried, Staatsoper Berlin, 2022
→ Tcherniakov: Götterdämmerung, Staatsoper Berlin, 2022
More reviews of Dmitri Tcherniakov's Ring production at Staatsoper Berlin
Das Rheingold
The Rheingold Experiment: Tcherniakov's new Ring des Nibelungen at the Staatsoper Berlin (Alexandra Richter, bachtrack.com)
Die Walküre
N/A
Siegfried
N/A
Götterdämmerung
Zwei Zimmer, Küche, Bad: Götterdämmerung an der Staatsoper Berlin (Alexandra Richter, bachtrack.com)
The Ring
Review: Berlin Takes Wagner's Approach to Staging the 'Ring'. All four parts of Wagner's epic were presented within a week, in a new production by Dmitri Tcherniakov inspired by the work's experimental roots. (Joshua Barone, The New York Times)
Outstanding performances can't save Dmitri Tcherniakov's new production of the Ring – originally due to have been conducted by Daniel Barenboim – from closing to a barrage of boos (Fiona Maddocks, The Observer)