Christoph Marthaler: Tristan und Isolde (Bayreuth Festival) on DVD and Blu-ray
Missed Tryst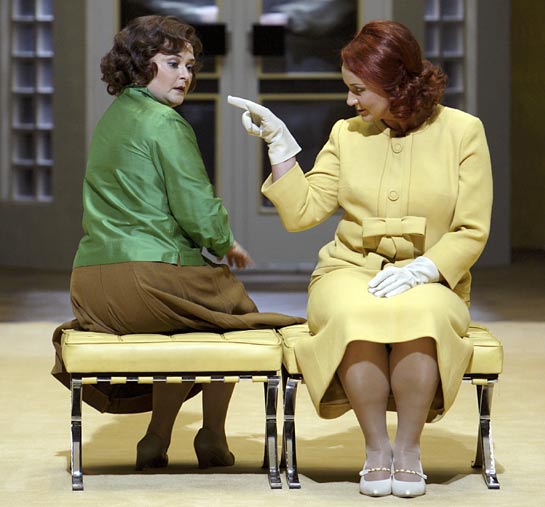 Filmed in 2009, Opus Arte's Tristan und Isolde is the first in a series of Bayreuth Festival performances the label released in a collaborative agreement between the recording company and the festival. (Two other Opus-Arte Bayreuth DVDs, Die Walküre and Die Meistersinger von Nürnberg, were previously reviewed by Wagneropera.net.)
The production, premiered in 2005.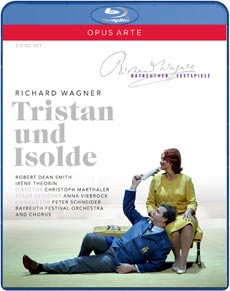 Conductor: Peter Schneider
Stage Director: Christoph Marthaler
Revival Director: Anna-Sophie Mahler
Tristan: Robert Dean Smith
Marke: Robert Holl
Isolde: Iréne Theorin
Kurwenal: Jukka Rasilainen
Melot: Ralf Lukas
Brangäne: Michelle Breedt
A Young Sailor: Clemens Bieber
A Shepherd: Arnold Bezuyen
A Steersman: Martin Snell
Bayreuth Festival Orchestra and Chorus
Choral Conducting: Eberhard Friedrich
TV Director: Michael Beyer
Recorded live at the Bayreuth Festival, Germany in July, August 2009
290 minutes, including a "The Making of Tristan und Isolde" extra
Opus-Arte OABD7067D
Seen in its Blu-ray vision, the release has admirable qualities but also demonstrates some very questionable choices by its directors, Christoph Marthaler and revival director Anna-Sophie Mahler.
Technically, the video quality is superior, even better than Opus-Arte's Glyndebourne Tristan und Isolde DVD.
And there is splendid singing by several principals, especially soprano Iréne Theorin, interviewed by Wagneropera.net's Per-Erik Skramstad during her 2008 Bayreuth performances as Isolde.
Act I is set in a ship's lounge with a plethora of chairs. There are too many instances in this act of characters (Kurwenal and Isolde) overturning the chairs to symbolize their anger, a cliché that mars many contemporary opera productions.
But it is nonetheless a gripping act, primarily because of Theorin's vengeful Isolde. Seldom is this character's rage as keenly displayed as when Theorin erupts during her Narrative and Curse or when she sarcastically confronts Tristan late in the act. (The camerawork is also particularly inspired during Act I.)
Platitudinous, stoic responses by Tristan, tenor Robert Dean Smith, drive Isolde into even greater fury and during parts of the act she restlessly paces like a caged lioness with a craving for prey.
After the two characters drink the potion, Isolde, thinking she has swallowed poison, checks her pulse. This gesture is one of the production's most dramatically striking moments. After Tristan and Isolde acknowledge their passion, there is no sign of King Mark and his retinue, who are supposed to enter at the very end of the act.
Bayreuth Festival 2022 Reviews: Das Rheingold • Die Walküre • Siegfried • Götterdämmerung •
Bayreuth Festival 2019 Reviews
Bayreuth Festival 2017 Reviews
Bayreuth Festival 2016 Reviews
Bayreuth Festival 2015 Reviews
Bayreuth Festival 2014 Reviews
Bayreuth Festival 2013 Reviews
Bayreuth Festival 2012 Reviews
Bayreuth Festival 2011 Reviews
Bayreuth Festival 2010 Reviews
Act II Artificiality
Act II is supposed to be the acme of operatic passion but in this production the act is mostly a series of muted symbolic gestures that seem artificial and anti-climatic, especially after the opening act's intensity.
(Although this doesn't have to be the case, it's not uncommon for the first act of this opera to dramatically overshadow the rest of the work; this happened in Francesca Zambello's Tristan und Isolde production, first performed in Seattle in 1998, then in Chicago, where I saw it, and in other productions.)
In Act II of the Bayreuth production, Isolde's Act I wig of flowing, curly red hair is replaced in by a late 1950s-early 1960s bouffant hairdo and the character is primly costumed to look like Jacqueline Kennedy. She wears a pair of dress gloves which she slowly removes during the Liebesnacht, as Tristan demurely rests his head on Isolde's lap. Later, Isolde unbuttons her suit jacket and we see part of her slip.
Tristan, however, does not even unbutton his blazer. Given the erotically tinged productions staged in many European opera houses (or the metaphysical eroticism in The Tristan Project film), the enervating action during the love duet in this Bayreuth production seems regressive.
Even in the 1950s men took their coats off while behaving amorously and as I watched Act II, I wished Tristan would pop some Viagra.
Act III Stasis
After fairly realistic stage action during Tristan's long Act III monologue, this act also devolves into symbols. Although Tristan expires on the floor of a grungy below-decks room, when Melot and Kurwenal die, they continue standing, facing the wall, looking away from the action and the audience. And after they sing their final lines Marke and Brangäne also face the wall.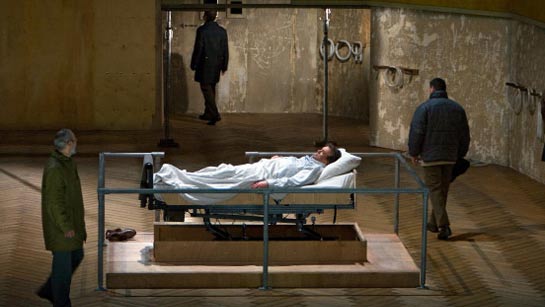 The dying Tristan (Robert Dean Smith) in Act 3 of Christoph Marthaler's production of Tristan und Isolde.
Photo: Enrico Nawrath/Bayreuther Festspiele
Isolde is thus symbolically alone when she sings the Liebestod, intoned magnificently by Theorin as she stands in front of Tristan's gurney. After she sings "höchste Lust", Isolde lies down on the gurney and covers herself with a sheet to symbolize her death.
The end of the Glynebourne production, where Isolde is gradually enclosed in darkness or the luminous finale of Heiner Müller's 1990s Bayreuth production are much more dramatically apposite endings to Wagner's opera of love and transcendence.
Other Artistic Contributions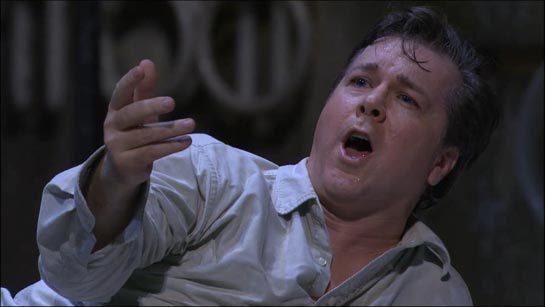 After being outmatched by Theorin in the first two acts, Smith's Tristan becomes more compelling in Act III, vocally and dramatically limning Tristan's torturous ravings during the character's lengthy monologue. Even though he doesn't have a heldentenor's lung power, Smith compensates with nice legato during "Die alte Weise, sagt mir's wieder" and in other parts of the act. (Since this DVD is a composite performance, it is difficult to assess Smith's vocal stamina.)
Mezzo-soprano Michelle Breedt is an admirable Brangäne, her devotion to her mistress Isolde partly symbolized by the similar wigs the two wear. Kurwenal, Jukka Rasilainen, also defers to his master although his bass-baritone voice sounds a bit grainy.
Bass-baritone Robert Holl's Marke is now more vocally seasoned than splendid. Four other singers, Ralf Lukas (Melot), Clemens Bieber (Sailor), Martin Snell (Steersman) and Arnold Bezuyen (Shepherd) are assets. However, in the below-the-decks space on a ship, there hardly can be sheep grazing on the hillside, which the shepherd character sings about in Act III.
Peter Schneider is more a workaday than brilliant Wagner conductor so the Bayreuth Festival Orchestra provides sturdy, rather than febrile accompaniment. The male chorus sings their brief passages lustily.
Tristan und Isolde Timings (Complete with no cuts)
| | |
| --- | --- |
| 3.38 | Böhm, Bayreuth, 1966 (DGG, CD) |
| 3.44 | Knappertsbusch, Munich, 1950 |
| 3.49 | Carlos Kleiber, Bayreuth, 1974 (CD) |
| 3.55 | Furtwängler, Bayreuth, 1931 |
| 4.04 | Mottl, Bayreuth, 1886 |
| 4.11 | Toscanini, Bayreuth, 1930 |
| 4.15 | Furtwängler, London, 1952 |
| 4.26 | Bernstein, Munich, 1981 (Philips, CD) |
Sources: Jonathan Brown: Great Wagner Conductors, Per-Erik Skramstad
Singing at Bayreuth
"What's wonderful here [in Bayreuth] is that you can hear yourself both at the front and the back of the stage. It isn't always like this in concert halls and opera houses. There can be a very dry acoustic, but that isn't the case at Bayreuth. Sometimes the orchestra is incredibly loud and that's when it's important to take care not to exert yourself too much. You have to be focused. It's the conductor's job to quieten the orchestra if it's too loud. Singing too loudly is the worst thing you can do." (Irène Theorin in interview with Per-Erik Skramstad)