Daniel Barenboim: Complete Wagner Operas (34 CD)
They are not, of course, 'complete' in an absolute sense, for the three earliest operas, Die Feen, Das Liebesverbot, and Rienzi are not present, but here are the complete Teldec recordings of Wagner's operas and music dramas, as recorded by Daniel Barenboim. Knowing where to start with such an undertaking threatens to seem almost as daunting as undertaking it oneself, so I hope that the reader will forgive what is by necessity a cursory and partial examination of what seem to me to be some of the more notable features of this set.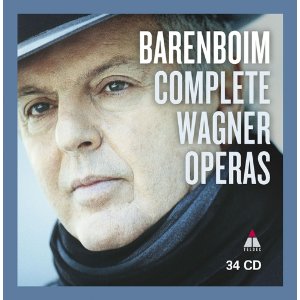 Der fliegende Holländer
Robert Holl (Daland), Falk Struckmann (Der Holländer), Jane Eaglen (Senta), Peter Sieffert (Erik), Felicity Palmer (Mary), Rolando Villazon (Der Steuermann)
Chor der Deutschen Staatsoper, Staatskapelle Berlin
To my surprise, Der fliegende Holländer somewhat disappoints. Barenboim's conducting has its moments, and sometimes rather more than that; moreover, he has his own Staatskapelle Berlin on excellent form, its dark, 'old German' sound an increasingly rare pleasure in an age of international homogenisation.
It is certainly a welcome aspect of Barenboim's interpretation that he takes the opera in forward-looking fashion, more interested in highlighting musico-dramatic presentiments than trying to belittle it as so many do, as if this were merely a more ambitious type of Italianate number opera. However, that feeling for musical 'line', which is so often one of the most remarkable aspects of Barenboim's conducting, is not always entirely with him. One might argue that that reflects the score's ambivalence, but turn, say, to Klemperer and one does not feel the same.
Yet it is really the singing that lets down the set. Falk Struckmann's Dutchman might well be coming into greater focus as a dramatic strategy, but it is difficult to feel that Struckmann is at his best here. Far more serious a problem is Jane Eaglen's Senta. This is a difficult role, but her tuning is, especially for a studio recording, often alarmingly awry, and I defy anyone truthfully to warm to her general tone, let alone to find hers a sympathetic, involving portrayal. Fans of Rolando Villazón may wish to capture his cameo as the Steersman, but I doubt that even the most fanatical would purchase a set such as this for that alone.
Tannhäuser
Jane Eaglen (Elisabeth), Waltraud Meier (Venus), René Pape (Hermann, Landgraaf von Thuringen), Peter Seiffert (Tannhäuser), Thomas Hampson (Wolfram von Eschenbach), Gunnar Gudbjornsson (Walther von der Vogelweide), Hanno Muller-Brachman (Biterolf), Stephan Rugamer (Heinrich der Schreiber), Alfred Reiter (Reinmar von Zweter) & Dorothea Röschmann (Ein junger Hirt)
Chor der Deutschen Staatsoper Berlin & Staatskapelle Berlin
The Dutchman is given in its non-redemptive Dresden version; Tannhäuser largely follows Dresden, save for its use of Paris in the second scene of the first act. (Experienced Wagnerites will know that the situation is rather more complicated than 'Dresden' v 'Paris', but let us leave that on one side for the moment.) Eaglen again proves a millstone – why was she engaged? – but if you can somehow take a Tannhäuser with its Elisabeth filtered out, you might find more to enjoy. That said, it would be difficult to consider this recording as a vocal triumph. René Pape's Landgrave and Hanno Müller-Brachmann's Biterolf are probably the best sung roles, but no one is going to buy a Tannhäuser for its Biterolf, nor even for Waltraud Meier's dramatically committed Venus. I might also add Dorothea Röschmann as the Young Shepherd, but that depends how one feels about a female voice in the role. (It is often preferable, at least in practical terms, in the theatre, given the potential for a treble to go awry, but a recording should be another matter.) Peter Seiffert, Erik in the Dutchman, does a reasonable job in both, but little more than that: he can sing the notes, but is not the most illuminating of interpreters.
As in the previously considered recording, however, Barenboim, his orchestra, and his chorus, expertly trained by Eberhard Friedrich, prove intelligent and purposeful guides. Weighting and balance are often superbly judged, and Barenboim's command of line rarely deserts him on this occasion.
Lohengrin
Peter Seiffert (Lohengrin), Falk Struckmann (Friederich von Telramund), René Pape (Heinrich von Vogler), Roman Trekel (Der Heerrufer des Konigs), Emily Magee (Elsa von Brabant) & Deborah Polaski (Ortrud)
Chor der Deutschen Staatsoper Berlin & Staatskapelle Berlin
Seiffert fares much the same as Lohengrin. One hears far worse, but nor does one hear anything approaching a revelation.  He is certainly no Sándor Kónya. The rest of the cast largely impresses, however: Pape again, as Henry the Fowler, his rich darkness of tone a pleasure that is not remotely guilty, Emily Magee a silvery-toned Elsa, Struckmann on more focused form as Telramund, and Deborah Polaski a fine singing actress of an Ortrud. I prefer Meier (for Abbado) here, perhaps partly on account of having experienced her extraordinary portrayal in the theatre, but Polaski's is a fine alternative of that ilk. A particular reason to acquire this set is the completeness of the score: the second part of the Grail narration is restored. In performance, and certainly in the theatre, I think that Wagner's own cut – as suggested to Liszt, for the first, Weimar performance – has great merit, but a committed Wagnerite will surely want at least one 'full' Lohengrin. Barenboim again conducts the Staatskapelle Berlin with great insight, never resorting to cheap thrills, preferring to respond to the score's requirements in terms of harmonic rhythm. Again, weighting and balance are for the most part impeccable. The chorus on this occasion is not that of the Staatsoper, but that of the Deutsche Oper.
Der Ring des Nibelungen
Das Rheingold
John Tomlinson (Wotan), Günter von Kannen (Alberich), Bodo Brinkmann (Donner), Helmut Pampuch (Mime), Kurt Schreibmayer (Froh), Matthias Hölle (Fasolt), Graham Clark (Loge), Philip Kang (Fafner), Linda Finnie (Fricka), Hilde Leidland (Woglinde), Eva Johansson (Freia), Annette Küttenbaum (Wellgunde), Birgitta Svendén (Erda), Jane Turner (Flosshilde)
Bayreuth Festival Orchestra and Choir
Die Walküre
Paul Elming (Siegmund), Nadine Secunde (Sieglinde), Matthias Hölle (Hunding), Anne Evans (Brünnhilde), John Tomlinson (Wotan), Ruth Floeren (Ortlinde), Shirley Close (Waltraute), Hitomi Katagiri (Schwertleite), Eva-Maria Bundschuh (Helmwige), Linda Finnie (Siegrune/Fricka), Birgitta Svendén (Grimgerde), Eva Johannson (Gerhilde), Hebe Kijkstra (Rossweisse)
Bayreuth Festival Orchestra and Choir
Siegfried
Siegfried Jerusalem (Siegfried), Günter von Kannen (Alberich), Anne Evans (Brünnhilde), Philip Kang (Fafner), John Tomlinson (Wanderer), Birgitta Svendén (Erda), Graham Clark (Mime), Hilde Leidland (Waldvogel)
Bayreuth Festival Orchestra and Choir
Götterdämmerung
Siegfried Jerusalem (Siegfried), John Tomlinson (Wanderer), Anne Evans (Brünnhilde), Birgitta Svendén (Erste Norn), Philip Kang (Hagen), Linda Finnie (Zweite Norn), Bodo Brinkmann (Gunther), Uta Priew (Dritte Norn), Eva-Maria Bundschuh (Gutrune), Hilde Leidland (Woglinde), Waltraud Meier (Waltraute), Annette Küttenbaum (Wellgunde), Günter von Kannen (Alberich), Jane Turner (Flosshilde)
Bayreuth Festival Orchestra and Choir
It may seem perverse in a review of this kind to say less proportionately about the Ring, surely the centrepiece of any Wagner survey. It is certainly not for a want of interest on my part. However, many readers will know this Ring or at least be likely to acquire it for the sake of Harry Kupfer's Bayreuth production, to my mind the most recommendable overall since Patrice Chéreau's 'Centenary' Ring with Boulez. A few pointers then will suffice. The 'Bayreuth' sound is present and correct; this is, after all, a 'live' recording (from 1991). Those who thrill – as I am sure we all do, in the right mood – to Karl Böhm's live Bayreuth performances will experience something rather different here. There is a sense of grandeur, of spaciousness, to Barenboim's conducting that avoids the excesses of Böhm's white heat: swept along one might be during Die Walküre, but Siegfried often just feels rushed. Barenboim, as in his Lohengrin, creates a fine sense of the sound welling up from the subterranean depths, Wagner's orchestral Greek Chorus apparently – and this, for the most part, is surely illusion – taking the lead. That is not to say that the readings are lacking in direction, far from it, but it seems less imposed than more driven performances can. Solti's celebrated Decca set is not only driven but for the most part quite devoid of a greater line; some still swear by it, but I find it verges upon the unlistenable, despite some superlative singing and orchestral playing.
Moreover, Barenboim, for all his worship of Furtwängler, shows himself alert to other tendencies and possibilities. A characteristic of much of Barenboim's Wagner is an awareness of the 'French' sonorous possibilities, perhaps on account of a good deal of experience in conducting works from Berlioz to Boulez. Woodwind in particular benefit from an approach that is not so stereotypically 'Germanic' as lazy generalisations would have one believe; it is not the only way, and no one would ever wish to be without Furtwängler, Keilberth, et al., but Barenboim offers something illuminating and perhaps surprising. Take, for instance, the echoes of Auber in Gutrune's music, an aspect to which – again, the reader may be surprised to read – Boulez is also keenly attuned. As Wagner wrote in Oper und Drama, French opera is unmasked as a coquette; so it is here in musico-dramatic terms, too.
I do not have time to dwell upon the singers, but anyone who has experienced Sir John Tomlinson's Wotan in the theatre will surely want to hear it here; his voice has latterly lost its bloom whilst retaining, even intensifying, its stentorian authority. Here those intent on preferring the 'vocal' to the 'dramatic' will feel less imperative to make the analytical choice. Siegfried Jerusalem may well have been still more suited to the role of Siegmund than to Siegfried, but he is surely the finest of 'modern' Siegfrieds, a rare instance of someone one can enjoy rather than endure. Dame Anne Evans is an honest, intelligent, if perhaps not ultimately thrilling Brünnhilde, but Waltraud Meier's Waltraute is almost enough in itself for one to acquire the set. That extraordinary cantata-like scene in Götterdämmerung is the real thing; Evans certainly sounds incited to her best.
Tristan und Isolde
Siegfried Jerusalem (Tristan), Waltraud Meier (Isolde), Matti Salminen (König Mark), Falk Struckmann (Kurwenal), Johan Botha (Melot), Marjana Lipovsek (Brangäne), Peter Maus (Ein Hirt) & Roman Trekel (Ein Steuermann)
Chor der Berliner Staatsoper & Berliner Philharmoniker
Tristan und Isolde benefits from a fine pairing in the title roles: Jerusalem and Meier. Again, many of us will have favourites from the past, but these two are unlikely to be bettered in the present or the foreseeable future. One may prefer, say, Nina Stemme, but Meier's approach is not that of a Lieder-singer; it is that of a wholehearted dramatic participant. Perhaps it really needs to be seen, but one can see a great deal in one's head, so vivid is this account. If you want perfection, venture elsewhere, but is this not a work that goes far beyond, painfully beyond, 'mere' perfection?
The Berlin Philharmonic Orchestra is of early Abbado vintage (1994), sounding more traditionally German than it tends to do so nowadays. (Though I should add that if you listen to the orchestra playing for Christian Thielemann, it still can sound as of old.) Barenboim knows the score intimately, and handles it with evident loving care. However, I miss here a sense either of the Furtwänglerian transcendent or, say, the sheer drama of Böhm or, better still, Carlos Kleiber. It is a fine performance, nevertheless, and is unlikely to disappoint.
Die Meistersinger von Nürnberg
Robert Holl (Hans Sachs), Emily Magee (Eva), Endrik Wottrich (David), Birgitta Svendén (Magdalene), Andreas Schmidt (Sixtus Beckmesser), Peter Seiffert (Walther von Stolzing), Matthias Hölle (Veit Pogner), Kwangchul Youn (Ein Nachtwächter)
Chor und Orchester der Bayreuther Festspiele
Die Meistersinger von Nürnberg, by contrast, and rather like a performance I heard Barenboim conduct at the Berlin Staatsoper Unter den Linden, has a slight tendency towards the marmoreal, Karajan on a not-so-good day. (Unlike many, I greatly admire much of Karajan's Wagner.) Sometimes the Bayreuth Festival Orchestra, for all its virtues, sounds a little dull. When more variegated in tone, recalling those 'French' tendencies mentioned with respect to the Ring, it springs into life, but the golden tone of, say, Kubelík with the Bavarian Radio Symphony Orchestra, or indeed, Karajan in Dresden or Bayreuth, brings us closer, and more consistently closer, to the heart of this joyous work. (That goes for its many darker moments too: the dialectic is thereby felt all the more keenly, especially with Kubelík.)
The Bayreuth chorus is as splendid as one would expect – many thanks to Norbert Balatsch – but this is not a Meistersinger that is distinguished vocally. Seiffert as Walther again sings the part, but does not really go beyond that. (There are, moreover, far more beautiful assumptions.) Robert Holl and Andreas Schmidt are rather matter of fact as Sachs and Beckmesser; on a recording, one wants more than that. And Magee's Eva is adequate rather than inspiring. (Who will ever forget Gundula Janowitz for Kubelík?)
Parsifal
José van Dam (Amfortas), Matthias Hölle (Gurnemanz), Günter von Kannen (Klingsor), John Tomlinson (Titurel), Siegfried Jerusalem (Parsifal) & Waltraud Meier (Kundry)
Chor der Deutschen Staatsoper Berlin & Berliner Philharmoniker
Finally, Parsifal, perhaps the finest of the bunch. The Berlin Philharmonic sounds resplendent in 1989-90 guise, and even the recording location, the Jesus-Christus-Kirche, seems to play its part in permitting the score to bloom, not least in the choral scenes. Barenboim guides these and indeed the rest not only with a sure hand but with a dramatic sense which must, at the very least, approach second-to-none amongst present-day interpreters. The searing drama of, say, Boulez in the second act is not quite Barenboim's way, but then nor is the extraordinary Zen-like ritual of Karajan in the first and third. There are always viable alternatives to whatever approach one might happen to favour, and Barenboim's account renders one aware not only of the drama, but also of the more 'purely' musical virtues of Wagner's scoring. (Not that others do not, but that seems to me a particular virtue of Barenboim's performance.) Again his ear for orchestral sonority works wonders here, but so does his experience of pacing. Jerusalem and Meier again make as fine a modern pair in the two central roles as one could hope for. Again, anyone who has experienced Meier's Kundry in the theatre will certainly want to hear this. I have heard greater agony in Amfortases than I do with José van Dam, but his is an intelligent portrayal throughout, unlikely to disappoint. Matthias Hölle might do, as Gurnemanz, but there is nothing especially wrong with what he does; he just does not bring to life the narrations as a Hotter, or indeed a Tomlinson, is wont to do.
There is, then, a great deal to recommend in this set. None of the recordings would quite be my first recommendation, but then the whole concept of a 'first recommendation' is perhaps the problem in works that admit of, indeed require, a multiplicity of approaches and auditions even to begin to reveal their true wealth of riches. In any case, amongst 'modern' recordings, many of these would rank highly indeed. As a set, however, this proves more than the sum of its parts. Not only does one acquire all of the dramas from the Dutchman onwards at what must be an unbeatable price; not only is Barenboim's conducting manifestly superior to the stopping and starting of Solti, whose 'complete' set is really the only comparable endeavour; one also becomes a companion to one of the greatest musicians of our time, in his continuing engagement with some of the supreme achievements of musical drama.
---
Mark Berry
Mark Berry is Lecturer in Music at Royal Holloway, University of London, and previously taught and lectured in History at the University of Cambridge. He has written widely on intellectual, cultural, and musical history from the later seventeenth century to the present day. He is the author of Treacherous Bonds and Laughing Fire: Politics and Religion in Wagner's Ring (2006) and After Wagner: Histories of Modernist Music Drama from 'Parsifal' to Nono (2014). He will also co-edit the forthcoming Cambridge Companion to Wagner's 'Ring'. Further reviews may be found at http://boulezian.blogspot.com.
Tristan und Isolde Timings (Complete with no cuts)
| | |
| --- | --- |
| 3.38 | Böhm, Bayreuth, 1966 (DGG, CD) |
| 3.44 | Knappertsbusch, Munich, 1950 |
| 3.49 | Carlos Kleiber, Bayreuth, 1974 (CD) |
| 3.55 | Furtwängler, Bayreuth, 1931 |
| 4.04 | Mottl, Bayreuth, 1886 |
| 4.11 | Toscanini, Bayreuth, 1930 |
| 4.15 | Furtwängler, London, 1952 |
| 4.26 | Bernstein, Munich, 1981 (Philips, CD) |
Sources: Jonathan Brown: Great Wagner Conductors, Per-Erik Skramstad
Parsifal (complete) timings
| | |
| --- | --- |
| 3.38 | Pierre Boulez, Bayreuth 1970 |
| 3.44 | Clemens Krauss, Bayreuth 1953 (Jonathan Brown has 3.52) |
| 3.49 | Pierre Boulez, Bayreuth 1966 |
| 3.55 | Hartmut Haenchen, Copenhagen 22 March 2012 |
| 3.58 | Wilhelm Furtwängler, Milano 1951 |
| 4.02 | Christian Thielemann, recorded at Staatsoper, Wien in June 2005 (Deutsche Grammophon) |
| 4.04 | Herman Levi, Bayreuth 1882 |
| 4.08 | Michael Balling, Bayreuth 1904 |
| 4.10 | Hans Knappertsbusch, Bayreuth 1962 |
| 4.12 | Wilhelm Furtwängler Bayreuth 1936 |
| 4.15 | Felix Mottl, Bayreuth 1888 |
| 4.17 | Herbert von Karajan (1981, Deutsche Grammophon) |
| 4.19 | Anton Seidl, Bayreuth 1897 |
| 4.22 | Siegfried Wagner, Bayreuth 1909 |
| 4.23 | Fischer, Bayreuth 1882 |
| 4.23 | Hans Knappertsbusch, Bayreuth 1952 |
| 4.25 | Armin Jordan (Hans-Jürgen Syberberg's Parsifal film, 1982) (according to the cover) |
| 4.27 | Karl Muck, Bayreuth 1901 |
| 4.28 | Hans Knappertsbusch, Bayreuth 1954 |
| 4.29 | Kaehler, Bayreuth 1924 |
| 4.33 | Hans Knappertsbusch, Bayreuth 1951 |
| 4.33 | James Levine, Bayreuth 1990 |
| 4.42 | Arturo Toscanini, Bayreuth 1931 |
Sources: Jonathan Brown (Great Wagner Conductors), Derrick Everett, Per-Erik Skramstad, Hartmut Haenchen.
"The Master has already composed Parsifal to be very slow, so one doesn't need to add to this by also conducting it slowly." (Richard Strauss to the orchestra during rehearsals)