Stefan Herheim production of Tannhäuser at the Norwegian National Opera in Oslo
Salvation for Tannhäuser?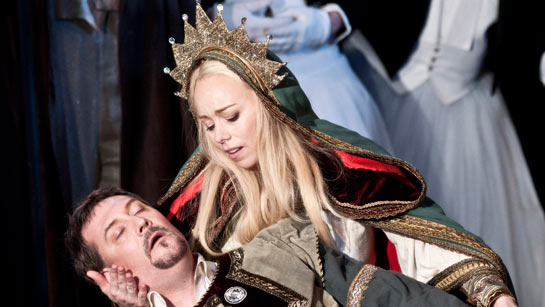 Redeemer? The mad Elisabeth dressed up as the Virgin Mary redeems Tannhäuser. Gary Lehmann and Elisabet Strid. Photo: Eirik Berg / Den Norske Opera
With his playful and visually arresting production of Tannhäuser in Oslo, Stefan Herheim has delivered another theatrical event rich in references and ambiguities. With spectacular scene changes and staging, he seduces the audience into applauding their own escapism.
Seduction and redemption are intertwined themes explored in new contexts in Herheim's Wagner trilogy consisting of Parsifal at Bayreuth, Lohengrin at Staatsoper Berlin and now Tannhäuser at the Norwegian National Opera.
Parsifal at Bayreuth was highly disturbing because the Redeemer character lacked credibility, and at the end everything seemed more un-erlöst than ever; in Lohengrin the Redeemer proved to be a mere theatrical illusion and now in Tannhäuser the Redeemer is split in two: first you have the braindead world of bad opera productions (!) and - far more dangerous - religious fanaticism. Both solutions are bad fiction, Herheim tells us through Wolfram, who at the very end steps out of the production and makes the orchestra stop playing, obviously in the hope that we in the audience will reflect on the madness we have just seen.
Although one never doubts the seriousness of the production, it is a delightful spectacle with many gags and subtle levels of irony . The wonderful thing about how the great masters use irony, is that it breathes - the dividing lines between irony and sincerity is flexible, and this is one of the things making this Tannhäuser so exciting. It is also part of Herheim's anti-authoritarian project.
Tannhäuser finds himself torn between the reassuring realm of one-dimensional escapist opera productions (the Venusberg), and the narrow-minded, religious world of those who have 'seen the light', in this case, The Salvation Army. Although the existential depth of the first is rather shallow, the two worlds are united in Act 3 to great effect in a spectacular final scene.
The excellent cast was lead by two vocally strong tenors in the title role, Gary Lehmann and Scott MacAllister, and the Swedish soprano Elisabet Strid as Elisabeth, who sang with precision and wonderful acting energy. The same must be said of the young Stuttgart baritone Michael Nagy's outstanding performances (Wolfram). As the Landgrave two very different interpreters, Magne Fremmerlid and Carsten Stabell, both sang and acted very well. The chorus deserves a special mention. Not only did they sing better than they have ever done; they also acted (actually: intentionally overacted) with a wonderful vitality. The thunderous applause was well deserved.
Herheim's stage directions were superbly detailed and the rapid scene transformations spectacular. This production is in all respects a major achievement for the Norwegian National Opera, and German critics dispatched to Oslo have been suitably enthusiastic.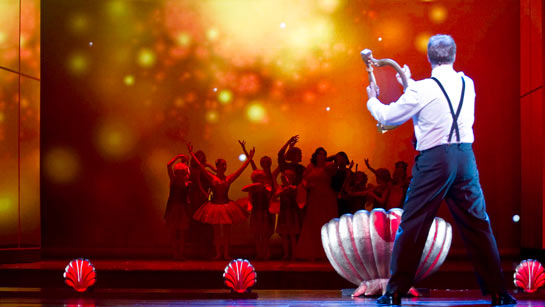 Photo: Eirik Berg / Den Norske Opera
Tannhäuser: Gary Lehman and Scott MacAllister
Elisabeth: Elisabet Strid and Itziar M. Galdos
Venus: Judit Németh and Tuija Knihtilä
Hermann, Landgrave of Thüringen: Magne Fremmerlid and Carsten Stabell
Wolfram von Eschenbach: Geert Smits and Michael Nagy
Walther von der Vogelweide: Kjell Magnus Sandve
Biterolf: Ketil Hugaas
Heinrich: Svein Erik Sagbråten
Reinmar von Zweter: Eirik Roland Egeberg-Jensen
A young shepherd: Amelie Aldenheim
Four noble pages: Thale Bergsaune, Sabine Gross Kari Lise Høgseth, Tone Kristin Aasen
Conductor: Christian Badea
Stage director: Stefan Herheim
Dramaturg: Alexander Meier-Dörzenbach
Scenografi/ kostymer: Heike Scheele
Light: Gretar Sveinbjørnsson
Reviews in German
Reviews etc. in Norwegian, Danish
Reviews in English
Interview with Elisabet Strid (in Norwegian)