Anne Evans
Anne Evans, established as one of Britain's most internationally successful singers, has appeared in opera and concert throughout the world.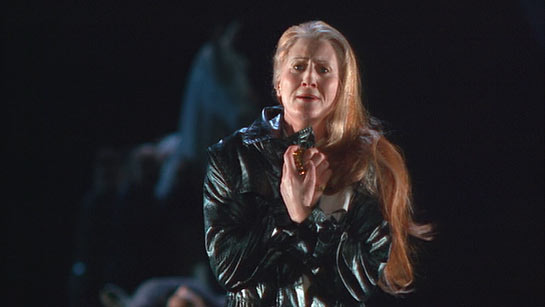 > Read interview with Anne Evans here
She sang Brünnhilde at the Bayreuth Festival with Daniel Barenboim from 1989 to 1992. These performances are available on CD and DVD. She also sang this role to great critical acclaim in Berlin, Vienna, Paris, Covent Garden, Buenos Aires, Nice, Welsh National Opera, in concert with the Cleveland Orchestra and Christoph von Dohnanyi, and in semi-staged performances at the Royal Albert Hall in London with Bernard Haitink.
Anne Evans, a celebrated Isolde, sang the role in Berlin, Paris, Dresden, Brussels, for Welsh National Opera and Scottish Opera, and at the Ravello Festival. Her performances of Leonore (Fidelio) included the Metropolitan Opera New York, the Edinburgh Festival, and Stuttgart, and other notable engagements have included Sieglinde (San Francisco), Elisabeth in Tannhäuser at the Metropolitan New York, the Marschallin (Der Rosenkavalier) in a new production for English National Opera, Ariadne at the Edinburgh Festival, The Turn of the Screw at La Monnaie in Brussels (released on CD), and Les Dialogues de Carmelites at Glimmerglass.
In the concert hall she has sung with many of the world's leading conductors and has given recitals at the Wigmore Hall and the Edinburgh Festival. In August 2003 she sang excerpts from Der Rosenkavalier with the BBC Symphony Orchestra and Sir Charles Mackerras at the BBC Proms in what was to be her farewell public appearance.
Anne Evans was made a Dame of the British Empire in June 2000.
> Read Wagneropera.net's interview with Anne Evans here
Anne Evans on Wikipedia
Singing Isolde
"You have to work yourself up into a lather at the start. But other times it's like flying. It's my favourite Wagner role, but you have to know what you're doing. You can blast yourself into bits in the first act and have nothing left for the third. It's very varied. It's like owning a huge chest of drawers and opening the one you need at each different stage."
Anne Evans (The Guardian)