Kasper Holten: Tannhäuser (Copenhagen)
Creative Crux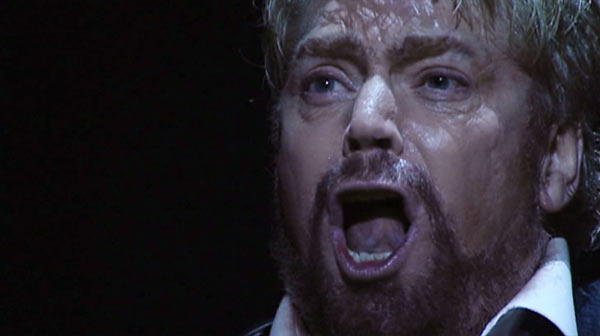 Stig Andersen as Tannhäuser
Often video releases of opera productions are filmed during final dress rehearsals, without a live audience and may include spliced segments. Decca's Tannhäuser DVD is a creditable spontaneous performance, similar to the experience the viewer would have during a good night at the theater.
In fact, this DVD is a splendid document of the Royal Danish Opera's 2009-10 production, which utilized the 1861 Paris Version of the score, rather than the earlier, more austere Dresden version.
As the overture begins, Tannhäuser, tenor Stig Andersen, enters the living room of his upper-middle-class home, wearing a coat and beret, the type of clothing that Wagner wore.  The character of Tannhäuser represents a forward-looking nineteenth-century creative genius, rather than a medieval minstrel.
State of Mind
Instead of the locales specified in Wagner's libretto, director Kasper Holten sets the opera inside Tannhäuser's mind, so that the work becomes a depiction of an artist's struggles.
As the opera opens, Tannhäuser sits at his writing desk and Elisabeth, portrayed by soprano Tina Kiberg, appears on the top floor of the couple's house, glides down the stairs and gathers up their son.
Tannhäuser's surges of creative inspiration are played out within this single-unit home set, designed by Mia Stensgaard. Combined with the intriguing lighting concepts and designs of Åsa Frankenberg and Mikael Sylvest, this 'home' is the jumping off spot for Tannhäuser's disparate musical-dramatic trips.
Most intriguing are the way the house's staircases and landings are transformed, depending on where Tannhäuser's imagination is roving.
Monstrous Staircases
These staircases and landings are represented literally during the Overture and in Act II.  But in Venus's bacchanale and in Act 3 the upper staircases on either side of the stage turn upside down and in reverse and are transformed by imaginative lighting technique into two gigantic monsters, face-to-face with open jowls, ready to devour each other or anyone on stage with their huge, long teeth (the banisters of the staircases).
Choregrapher Signe Fabricius transforms Tannhäuser's house maids and servants into a crew of oral-fixated revelers for the Venusberg ballet. They consume flowers and fruit and use their tongues to clean floors and windows. At one point a servant actually walks upside down on the upper risers of the inverted staircase into the monster's jowls.
Much of this performance was filmed in close-ups and it is obvious this production portrays Tannhäuser and Elisabeth as a middle-aged couple. Both Stig Andersen and Tina Kiberg provide moving, engaging and detailed interpretations of their roles that only great singing actors can provide.
Andersen's evenly sung Tannhäuser was performed without any hint of vocal strain. The most unique part of his role, Act III's Rome Narrative, is an unpretentious and aesthetically satisfying musical experience.
Kiberg's warm tone and smooth legato singing are among the major attractions of this DVD. Although she sounded uncomfortable singing the high B in the climax of "Dich, teure Halle", Kiberg remains one of the most elegant and moving artists who perform Wagner's heroines.
Creamy Toned Venus
Venus, portrayed by Susanne Resmark, appears to represent Tannhäuser's ego-centered creativity. She is dressed in the same costume Tannhäuser wears. She also appears in every act but appears to be bored.  After all, she is immortal, so why should she be affected by human emotion?
Like Tannhäuser's soul, Venus must separate and depart from the protagonist when he dies in the last act, so there is not much point in her getting involved in mundane activities
Resmark's hushed delivery of the 'Geliebter komm!' in  Act I, Scene 2 was the creamiest performance of this music I've heard.  But this was the part of the performance wherein she displayed any discernible visual or vocal seductiveness.
Ioannis Marinos, who initially appears as Tannhäuser's son, skillfully delivered the Shepherd's plaintive song  'Frau Holda kam' at the beginning of Act I, Scene 3.
Stephen Milling's Landgraf was a well-sung, light-toned but not very sympathetic Landgraf.  His character was another manifestation of Tannhäuser's imagination and he proved to be a surprisingly inhospitable host for the song contest.
Otherworldly Wolfram
Tommi Hakala, Wolfram von Eschenbach, was made up so that his face was deathly white.  His colorless visage is set off by bright crimson lips and he appears to be yet another otherworldly representation of Tannhäuser's imagination.  
As Tannhäuser's greatest admirer, Hakala's Wolfram is not part of the society that castigates the protagonist. Hakala sang his paean to love, "Blick ich umher", during the song contest in Act II with a hollow, ghostly tone.
Although Wolfram addresses Elisabeth directly, she does not seem to be aware of his presence during the last act. And Hakala's haunting, detached rendition of "O du mein holder Abenstern" seems to be a tribute to the ultimate release that only death provides. 
Expressive Chorus
The chorus of knights, nobles and pilgrims sang with enthusiasm and expressiveness particularly in their appearance as the pilgrims in the first and third acts. Dramatically, the chorus seems to represent a fickle, uninspired society informed by limited artistic expression. 
They condemn Tannhäuser's performance in Act II and destroy his compositions while he lives, yet celebrate him as a great poet and singer after he dies in the final act.
But as director Kasper Holten writes in the DVD liner notes: "When the artist dies, the miracle occurs. Now society can safely celebrate the artist's work and canonize it ..."
Tannhäuser
Tannhäuser Stig Andersen
Elisabeth Tina Kiberg
Venus Susanne Resmark
Hermann Stephen Milling
Wolfram von Eschenbach Tommi Hakala
Walther von der Vogelweide Peter Lodahl
Biterolf Kjeld Christoffersen
Heinrich von Schreiber Peter Arnoldsson
Reinmar von Zweter Jens Bruno Hansen
A Boy Ioannis Marinos
Royal Danish Opera and Chorus
Friedemann Layer, Conductor
Kasper Holten, Director
Philip White, Chorus Master
Mia Stensgaard, Set and Costume Designer
Åsa Frankenberg, Lighting Concept
Mikael Sylvest, Lighting Designer
Signe Fabricius, Choreographer
Uffe Bogrward, Video Director
Recorded live at the Royal Danish Opera, Copenhagen, in December 2009
200 min.
See Wagneropera.net's interview with Kasper Holten about his production