Wagner's Rienzi at Lincoln Center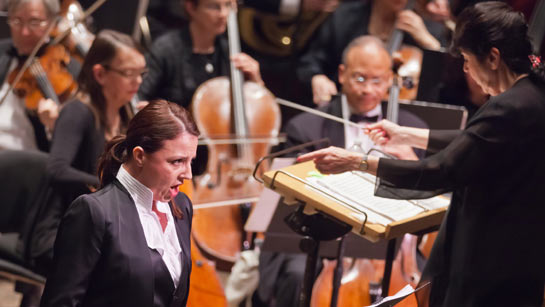 Geraldine Chauvet (Adriano) showed impeccable control, from radiant top notes to the baleful low tones. To the right: conductor Eve Queler. Photo: Chris Lee
Rienzi at Lincoln Center
January 30, 2012
Eve Queler conductor 
(in order of vocal appearance)
Paolo Orsini – Ricardo Rivera
Irene – Elisabete Matos
Stafano Colonna – Philip Horst
Adriano Colonna – Geraldine Chauvet 
Raimondo – Brandon Cedel
Cola Rienzi – Ian Storey
Baroncelli – Jonathan Winell
Cecco del Vecchio – Shannon DeVine
Messenger of Peace – Emily Duncan-Brown
New York Choral Society – John Daly Goodwin, Music Director
Vox Nova of the Special Music School – Emily John, Director
Opera Orchestra Men's Chorus – Don Barnum, Director
On-Stage Banda – Italo Marchini, Conductor
Off-Stage Banda – Douglas Martin, Conductor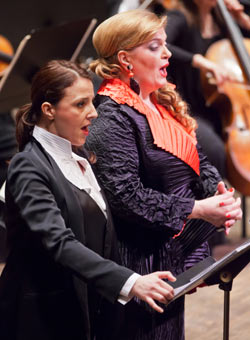 Left to right Geraldine Chauvet (Adriano), Elisabete Matos (Irene). Photo: Chris Lee
Vocal Discovery
New York's music lovers are always grateful for both the rare operatic repertoire and the vocal discoveries that Eve Queler has offered season after season. On January 29th, mezzo-soprano Geraldine Chauvet's haunting assumption of the trouser role of Adriano Colonna, in Wagner's youthful hit of 1842, Rienzi, captivated a New York audience. In Avery Fisher Hall's ungrateful acoustics, Chauvet's warm and lustrous tones overcame all barriers, communicating the full suffering and yearning in the part, first performed by Wagner's favorite singing actress, Wilhelmine Schroeder-Devrient. Chauvet did ample justice to this multi-faceted role and its legendary creator. Showing both musical imagination and technical skill, Chauvet soared easily over orchestral sforzandi, yet brought her voice down to an intimate and poignant pianissimo, as in her great third-act aria. Throughout, she showed impeccable control, from radiant top notes to the baleful low tones heard when Adriano must oppose his father. Here was supreme mastery over a role all too rarely attempted today.
Tackling a rarity
Wagner's Rienzi, a sprawling five-act epic, depicts a life-and-death struggle between the people and the patricians in 14th-century Rome. Adriano, a patrician, is in love with Irene, the sister of a plebeian, Rienzi, the people's favorite.  Rienzi at first favors friendship with all the patricians, including Adriano's father Colonna, and having gained sovereign power, also looks kindly on the love of Adriano and Irene.  But Colonna is implacable, and open battle breaks out in Act III between the patricians and the plebeians, leaving Colonna slain and Adriano forever estranged from Rienzi.  Ultimately, Rienzi loses favor with the people, and he and Irene are killed by the mob. Adriano dies trying to rescue Irene. The work unfolds on a huge canvas of varied musical colors and extreme emotions. It requires performers with energy and conviction. As Eve Queler stressed at a Wagner Society of New York panel discussion on January 23rd, Wagner in Rienzi adopts all the musical gestures of the most celebrated composers in his youth: Echoes of Meyerbeer and Bellini (in much of Adriano's music) are merely the tip of the iceberg. In Rienzi, vocal ease is required in many different styles. Rienzi is not the work of genius that Meistersinger is, but its principals must be nearly as versatile and adept in mastering its musical and technical "languages".
While Chauvet showed the greatest mastery, the other principals also seemed game in tackling challenges. Soprano Elisabete Matos's Irene, Rienzi's sister, proved effective in music that goes quite high and stays high throughout. She was not the acme of carefully shaped phrasing, nor was her ease in the florid passagework flawless, but there were no serious mishaps.
Bass-baritone Philip Horst was accomplished enough for Adriano's father, the elder patrician Stefano, although his music was heavily cut, and he might have had more of an impact in a more complete edition. It was tenor Jonathan Winell, as fellow patrician Baroncelli, who made the strongest impression of the four elders in conspiracy against Rienzi. The other two patricians were Ricardo Rivera and Shannon DeVine as Paolo Orsini and Cecco del Vecchio. One was grateful for the translucent tones of soprano Emily Duncan-Brown in her lovely solo as the Messenger of Peace. The true standout among the supporting singers was bass-baritone Brandon Cedel, whose sonorous and noble line as Raimondo transfigured an ensemble in Act I and made Raimondo's subsequent excommunication of Rienzi indelible.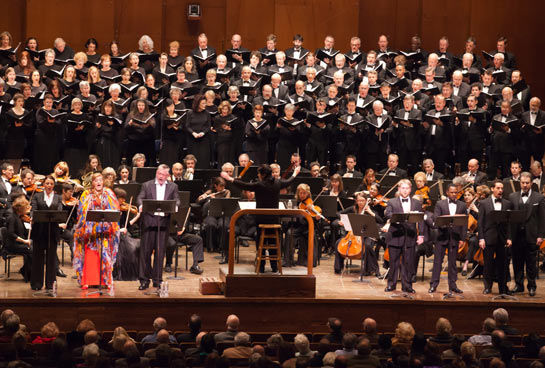 The Opera Orchestra of New York performs Wagner's Rienzi at Avery Fisher Hall. Left to right Geraldine Chauvet (Adriano), Elisabete Matos (Irene), Ian Storey (Rienzi), Eve Queler (conductor), Jonathan Winell (Baroncelli), Shannon DeVine (Cecco del Vecchio), Ricardo Rivera (Paolo Orsini), Philip Horst (Stefano Colonna). New York Choral Society (chorus). Photo: Chris Lee
Compromises
Rarely is an attempt at such a daunting work ideal, and this performance was no exception. To be ideal, such an occasion needs a protagonist who also contributes his own excitement. But Ian Storey's Rienzi was compromised by a frequent loss of musical definition, both of focus and pitch, revealing an equally frequent hollow tone. His ample voice may have once been able to do this music justice, but it failed to do so here. Granted, his occasional forays into his upper register displayed somewhat more collected tone than elsewhere, his voice cleaving easily through the massed Wagnerian forces. But that failed to compensate for a distinct lack of musicality throughout. His few attempts at soft singing, laudable in intent, revealed only brittle tones that threatened to crack.
That said, thrills like Mme. Chauvet's singing in a work as seldom done as Rienzi remind us forcefully just how much New York is in Eve Queler's debt. Viewed strictly as an effort at renewing New York's familiarity with an intriguing work which offers opportunities for unusually gifted soloists, Queler's Rienzi was worthwhile and well-intentioned. Indefatigable producer that she is, one still wishes Queler had entrusted the baton to someone who could have galvanized huge forces and maintained tension throughout. There were bad ensemble lapses at crucial junctures like the first-act trio for the three principals. Also, a monotony in phrasing and tempi compromised some of the less inspired stretches in the score, especially Act IV.
Wagner himself was never happy with the last two acts, but it is still possible to infuse the closing scenes with more vividness and shape than Queler did, especially given the cuts she adopted. One can understand the reasons for certain extensive omissions in light of an uneven and over-long score. But certain cuts did seem regrettable, like the decision to snip out entirely Adriano's warning to Rienzi of the danger he's in right before the ballet in Act II (the ballet was also omitted). That makes hash of Adriano's later plea to Rienzi for Colonna's life, pleading that he not be made culpable for his father's death because he's warned Rienzi of the danger in the first place. This cut seriously compromises Adriano's motivation.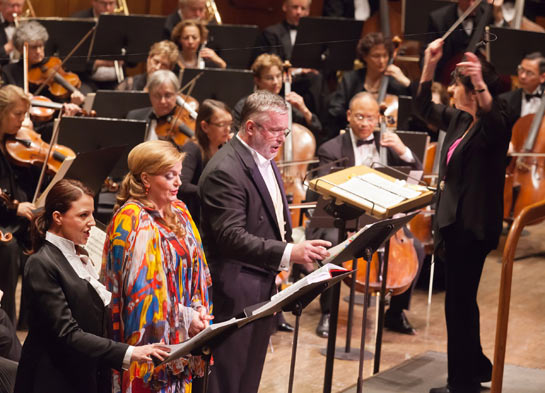 The Opera Orchestra of New York performs Richard Wagner's Rienzi at Avery Fisher Hall. Left to right Geraldine Chauvet (Adriano), Elisabete Matos (Irene), Ian Storey (Rienzi), Eve Queler (conductor). Photo: Chris Lee
Strong ensemble
Given these handicaps, the actual forces deployed at this performance were still striking. The children's chorus, Vox Nova of the Special Music School, were well-prepared by director Emily John in Act II. The impressive lineup of tenors and bass-baritones equally well-grilled by Don Barnum, and signed on at the last moment in place of choristers from West Point, delivered a strong soldiers chorus in the battle scene of Act III. The New York Choral Society under John Daly Goodwin made up the balance of the choral forces, sounding as fine at the conclusion as at the beginning of a long work where the chorus is almost constantly singing.
We have come to expect that Queler will use the whole performance space in her concert performances, and it was true theater having the off-stage banda (the term Maestra Queler used in the Rienzi program for the performance's off-stage band) under Douglas Martin deployed at different places throughout the hall. Whatever ensemble lapses were heard elsewhere, the contributions of the off-stage banda and the on-stage banda under Italo Marchini were generally precise and often exciting.
(Geoffrey Riggs and his wife, Elisabeth Hubbell Riggs, manage www.operacast.com )
Other reviews