A wasted opportunity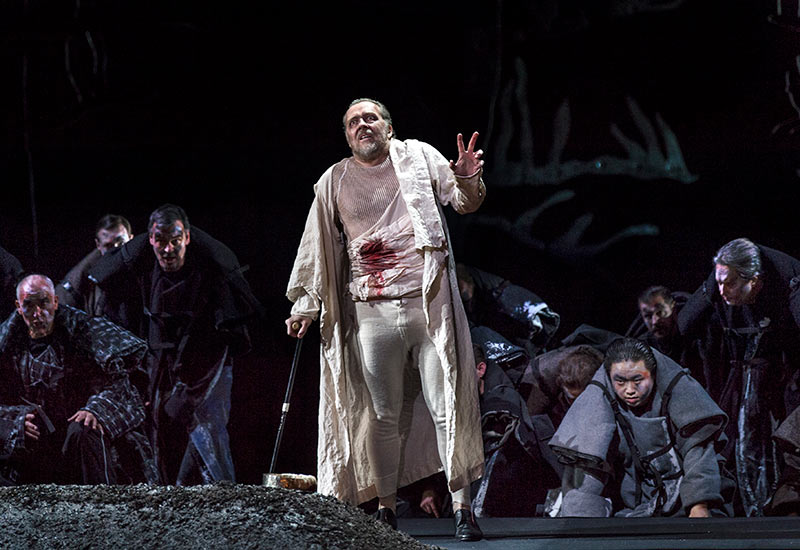 Christian Gerhaher (Amfortas). Photo: Ruth Walz/Bayerische Staatsoper
Parsifal (Pierre Audi / Georg Baselitz, Kirill Petrenko, Bayerische Staatsoper, Munich)
In the final moments of the first act of 'Parsifal', Gurnemanz asks the title character "Weißt du, was du sahst?", only to be met with silence. It's a scenario that could just as well be referring to opera reviews as Grail ceremonies, and I find that as I pose this question to myself following Pierre Audi's new production for the Bayerische Staatsoper, the cat seems to have got my tongue too. Why, then? Is it the case of a truly great production leaving me so stunned that I simply cannot really speak about it immediately afterwards? Or is it, just as it was with Frank Castorf's 'Aus einem Totenhaus' the day before this, that an information overload is making the production a tough nut to crack? Alas, neither, and although it is always possible that I'm "nur ein Tor" and don't realise it, I don't believe it's that either. Rather, I'm afraid it is simply a case of not being sure what to think, because there was little to see in the first place. Given the all-star cast assembled for this run, I can only say that this was both a shame, and a wasted opportunity.
Parsifal – Munich Opera Festival 31st July 2018
Amfortas – Christian Gerhaher
Titurel – Bálint Szabó
Gurnemanz – René Pape
Parsifal – Jonas Kaufmann
Klingsor – Wolfgang Koch
Kundry – Nina Stemme
Erster Gralsritter – Kevin Conners
Zweiter Gralsritter  - Callum Thorpe
Stimme aus der Höhe – Rachel Wilson
Vier Knappen – Paula Iancic, Annika Schlicht, Manuel Günther, Matthew Grills
Klingsors Zaubermädchen – Golda Schultz, Selene Zanetti, Annika Schlicht, Noluvuyiso Mpofu, Paula Iancic, Rachel Wilson
Bayerisches Staatsorchester
Chor, Extrachor und Kinderchor der Bayerischen Staatsoper
Conductor – Kirill Petrenko
Director - Pierre Audi
The production began with the stage covered by a screen, upon which white, horizontal, elongated human torsos were painted. Following the prelude, this screen rose to reveal a dark forest containing a campfire, a wooden wigwam-like structure, and an animal skeleton. Given the almost uniform darkness of the rest of the staging, was the whiteness of this skeleton a link with the torsos we had just seen, a hint at a decaying human community as well? Perhaps. The dead swan was, naturally, also white, and Amfortas was the only character to be dressed in white, so a suggestion of his spiritual but not physical death may have been in play, although I may be stretching. In any case, the entire act then played out in this forest setting, save for the brief appearance of a black screen during the Verwandlungsmusik, following which Parsifal simply appeared on a different part of the stage than where he was before, Gurnemanz having covered his eyes with his hands.
What sort of community were we dealing with anyway? Again, it is difficult to say. The large, bulky, black robes of the knights had a slight hint of the post-apocalyptic about them, but such a setting was far from certain given a lack of any further indications – Calixto Bieito's society of survivors, desperate for anything to give them hope, this was not. Indeed, it was not clear exactly what these people believed in, or what, if anything, had gone wrong with it. Titurel did not make an appearance, so there were no clues there; any sense that they were overly focused on the trappings of religion – the baubles and icons, or anything that might otherwise represent them – was absent, with a plain cylinder of metal held by Amfortas the only real object of note; and moreover, no belief in any specific idea or set of ideas was introduced. We were therefore left with an anonymous set of people seemingly carrying out an empty ceremony for no reason. After some walking around in circles, covering of eyes, and holding up of hands, the removal of their robes to reveal stylised grotesque nude suits added no further insight into what they were, or weren't, gaining from all of this. Audi's programme notes tell me that the "nudity" was supposed to represent their understanding of "purity", but this certainly didn't come across, and if anything it seemed like it was their imperfections being alluded to. The act closed with the trees of the forest withering and collapsing, I assume with the aim of reminding us that extending Titurel's life through the ceremony is unnatural.
Though the first act was a disappointment in terms of its engagement with ideas within the work, the second act proved the nadir. A screen with painted torsos returned for the prelude, this time with the figures upside down rather than horizontal… and then stayed there for the entire first scene. This meant that Klingsor exerted his power over Kundry in an approximately two-foot deep areas of stage, via that tried and tested, old chestnut of opera direction methods: standing at opposite sides of the stage, talking feverishly without looking at each other. The full extent of additional direction was to have the pair swap sides at one point. Really. I thought we had done away with this sort of thing for good by 2018, but there we are. When the screen did finally rise, it was replaced with a cloth backdrop of a wall with a crack in it, in front of which the rest of the act took place. The flower maidens, like the knights before them, were revealed to us as grotesque nudes, perhaps suggesting two sides of the same imperfect (or pure), brainwashed coin, before Parsifal and Kundry began their scene, again too often stood apart, only with some added circling of each other. If the point were that Kundry was attempting to control Parsifal as Klingsor controlled her, but failing, then it could surely have been made in a more interesting way. Eventually, Parsifal simply took the spear straight out of Klingsor's hand, with little effort and no hint of intervention of any kind, and the cloth wall collapsed.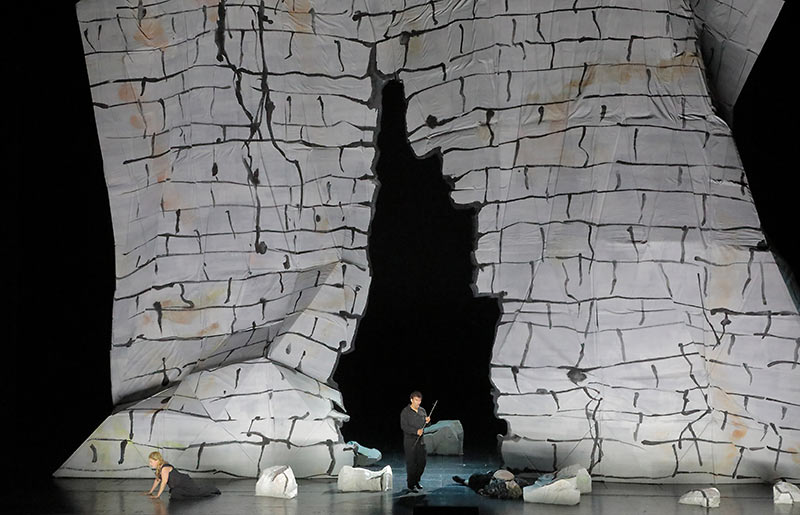 Photo: Wilfried Hösl//Bayerische Staatsoper
The upside-down torsos returned once more for the start of Act 3. I had actually expected them to be the right way up before the final act as a suggestion that Parsifal returning the spear was restoring order to the community. Or perhaps this was the point, that he doesn't? A valid interpretation for sure, although not one that I think was borne out by the way the production ended. The forest returned too, also now upside-down, with the trees and wigwam hanging from the ceiling. I considered the possibility that the potentially cyclical nature of the events of the opera was being hinted at by such revolving sets (for those interested, this is something that I think Achim Freyer's Hamburg production managed to bring into play) although again, nothing else led me to believe this was Audi's intention, and I think it may just have been an allegory for the increased dysfunction of the order during Parsifal's absence. The act then played out pretty straight once again: Parsifal returned with the spear, albeit rather bathetically, wearing a helmet reminiscent of the Green Knight in Monty Python and the Holy Grail (insert theory about wounds that don't kill here…), as well as a codpiece(?); purple lighting was used for the Good Friday meadows, perhaps providing a link to Kundry, who had worn the colour throughout the evening in contrast to most other characters; and the revealing of the Grail was completed by everyone covering their eyes, before raising their hands towards one final downstage screen, this time of an abstract design.
If all of this seems very negative, or just me doing my best Roy Walker and describing literally what I was watching, then it is certainly not because I enjoy being this way. In fact, I generally consider myself a relatively generous reviewer (I even found some nice things to say about the Baumgarten Tannhäuser) as long as I believe a director has made a good-faith attempt to draw ideas out of a work, whatever those ideas may be. But try as I did, I just could not find much of anything to grab hold of in this production – at no point was I ever made to sit up and consider something I had not previously considered about the work, and only a handful of times was I even made to consider something that I had previously considered. Most of the evening then, the staging merely provided a presumably expensive backdrop for the singers, and not a particularly atmospheric one at that. I left the theatre none the wiser about redemption, compassion, self-denial, spiritual love, physical love, belief, grace, the relationship between religion and art, time becoming space, or any other of the multitude of complex, philosophical threads that weave together through what is one of the towering masterpieces of the operatic genre. There was just very little going on, to the extent that it was fair to wonder why we were even bothering with a set at all. What there was to be gained from the evening therefore, had to come from the musical side, and happily, the musical side was largely very good indeed.
The unquestionable star of the show was Christian Gerhaher as Amfortas. Quite simply, his was one of the greatest individual performances I have ever seen in the theatre, if not the greatest – I can't offhand think of a better one. His vocal beauty is well known, and that was still there, allied to changes in timbre and diction that betrayed a deep understanding of the text. Acting wise, he was just as good, first appearing as a weary man, saving all his energy for occasional outbursts that punctuated otherwise tired, reluctant speaking. Then, before the Grail ceremony, all the simmering existential pain burst through in anger, bitterness, then resignation, as he wheeled from one emotion to the other through physicality and facial expressions. I have no idea if he intends to further add to his repertoire of Wagnerian roles, but one can only hope.
Wolgang Koch proved a fine Klingsor, overcoming the restriction of how his scenes were directed to deliver a menacing portrayal, his voice having just the right amount of growl to it for the role. René Pape's reputation as one of the leading Wagnerian basses of the last 20 years is already secure, and his subtly acted, yet carefully crafted, interpretations of Gurnemanz – surely his signature role - continue to impress both through dramatic gravitas and richness of tone, this evening being no exception.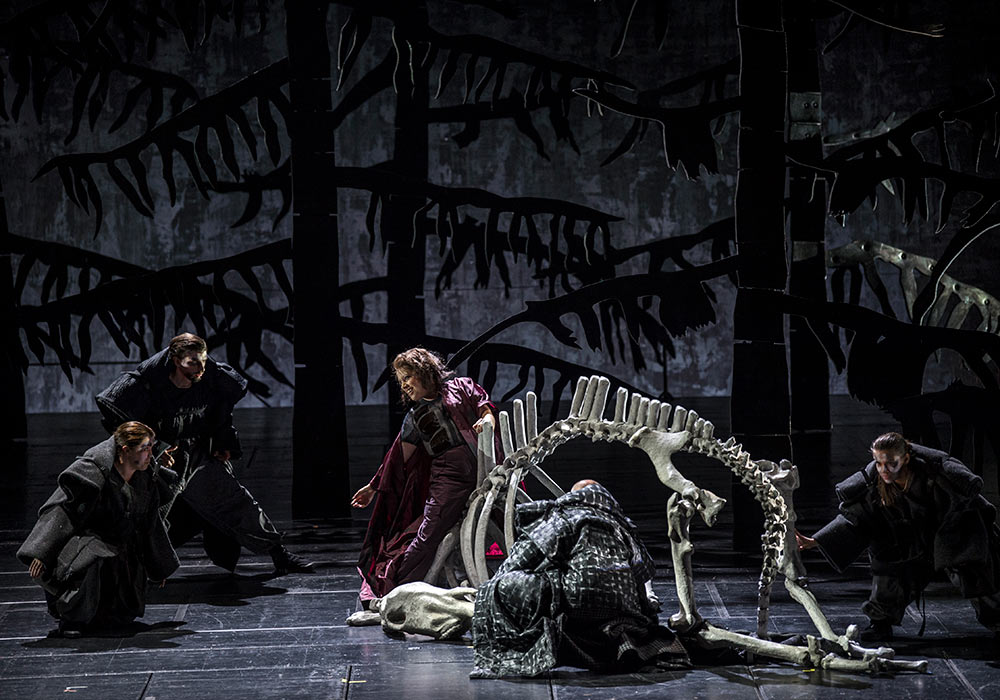 Nina Stemme as Kundry in Pierre Audi's new production of Parsifal at the Bavarian State Opera, Munich. Around her is Tara Erraught (Zweiter Knappe), Callum Thorpe (Zweiter Gralsritter), and Paula Iancic (Erster Knappe). Photo: Ruth Walz / Bayrerische Staatsoper
I felt Nina Stemme did what she could as Kundry in the circumstances, secure and dramatic vocally, yet without quite having one on the edge of one's seat, or putting one through the wringer emotionally. I suspect she was hampered more than most by the under-direction of the production, and of Act 2 in particular, but her performance by any reasonable standard was nevertheless an accomplished one. As for Jonas Kaufmann as Parsifal, it speaks volumes about the strength of the cast that he might well have been the relative weak link on the night, which is not to say that he wasn't good. Indeed, much fine artistry was present, such as some skilful, pianissimo top notes, and his trademark baritonal chocolatiness. However, and this was doubtless in large part due to the production as well, I would have liked to have felt the character go on rather more of a dramatic journey than he seemed to on this occasion. It was a very professional performance, but not an especially moving one.
In the pit, meanwhile, Kirill Petrenko enhanced his already burgeoning Wagnerian credentials. Clocking in at around the four-hour mark, this was not a slow reading by historical standards, but unlike so many Parsifals I have heard in recent years, there was never any sense that we were rushing. I felt he was particularly strong in Act 1, with the prelude having both the sort of shimmering beauty that conjures up musings on the mystery of faith, and also equal parts profundity and solemnity. Direction and phrasing during Gurnemanz's narration – like the second act of Die Walküre, one of the great tests of Wagnerian conducting - was clear and dramatic, while the Verwandlungsmusik really did make one feel that one was being transported out of body into another time or place. Furthermore, strong control over the full range of dynamics throughout the Grail ceremony ensured enough awe was present, without descending into melodrama. I felt that some aspects of the following acts didn't quite live up to these very high standards – for example, the Good Friday Music seemed curiously understated and homogenous dynamically, never really lifting one off the ground as it can do – but in general this was an accomplished reading from a man who must be considered one of the top active conductors of this repertoire.
All in all then, an evening of very fine music making, but a relatively poor night of opera. There are those who continue to claim that opera is "all about the singing", but if that weren't already proven to be nonsense, this performance surely demonstrates once and for all that for a production fully to succeed, one needs the staging to be every bit as strong as the musicians. Opera is a visual and literary artform as well as an aural one, and if one aspect or another goes AWOL, then those remaining will never mean as much. And although difficult to bring together all this might be, I know I wouldn't have it any other way.

Bayerische Staatsoper Homepage
Sam Goodyear
Sam Goodyear is an opera fan and Wagner enthusiast, originally from Portsmouth but now living in Germany. He read history at Peterhouse, Cambridge, and has at various times worked as a bookie, translator, trader, journalist, and TV researcher. He currently works in socially responsible investment. While very much an amateur, his interest in music has in the past led to him singing on BBC radio, and playing the trumpet in front of the queen. He attends as much Wagner both at home and abroad as time and money will permit, and he has written on Wagner for Classical Music Magazine.
More reviews
Shirley Apthorp, Financial Times: "This is a Parsifal assembled with prestige as its main goal. It sounds superb, and looks imposing. But it never really takes off as music theatre."
BR Klassik: "Das Dumme ist nur: Namedropping ersetzt keine Regie. Möglicherweise hat Regisseur Pierre Audi geglaubt, dass spannendes Theater entsteht, wenn man eine Baselitz-Zeichnung auf einen Vorhang projiziert und dann zwei Sänger davor stellt, die nebeneinander ins Publikum singen. Das ist nicht der Fall."
Bachtrack: "This new staging of Parsifal for the Bayerische Staatsoper has as fine a casting as one could hope for and if Pierre Audi's production had been halfway decent, it would have joined Munich's already lengthy list of legendary performances."
Deutschlandfunk Kultur: Viel "Bravo" und viel "Buh" - "Er [Jonas Kaufmann] sollte Puccini singen und nicht Richard Wagner. Er forciert heftig, wenn es laut wird und wenn es leise sein soll, dann vermag er nicht so richtig zu gestalten. Jonas Kaufmann ist immer Jonas Kaufmann, was er auch singt."
Christian Wildhagen, Neue Zürcher Zeitung: "Am besten schliesst man die Augen"
Musik Heute: "Parsifal" in München: Buhsalven für Regie und Bühne
Opern- & Konzertkritik Berlin ~ Klassik-Blog für Konzertberichte und Opernkritiken aus Berlin, Bayreuth, München etc.: Schade nur, dass Pierre Audi ohne die ganz große Frischluftzufuhr inszeniert, der Maler und Bildhauer Georg Baselitz sorgt für das zerknittert hingetuschte Bühnenbild, das sich in den Gralsritterszenen zu urweltlichen Baumlandschaften verdunkelt.
STERN: "Umstrittener Baselitz-«Parsifal» in MünchenSolche eine Blockbuster-Besetzung wie für den neuen «Parsifal» zur Eröffnung der Münchner Opernfestspiele muss man lange suchen. Doch Regisseur Pierre Audi vermasselt den Abend."
The Telegraph, 30.06.2018, Rupert Christiansen
"Ignore the boos – this Parsifal is the opera experience of a lifetime.
The dazzling highlight of its current offering is an all-star new production of Wagner's Parsifal, designed by the legendary German artist Georg Baselitz and conducted by Kirill Petrenko
5 of 5 Stars rating. What an overwhelming evening. Five stars? I could double that, for this was one of the great operatic experiences of my lifetime."

Frankfurter Rundschau, 30.06.2018, Judith von Sternburg: Parsifal als Gemälde: "Die Bilder werden ihrerseits ebenfalls wieder an den Rand gedrückt vom anderen großen Protagonisten des Abends, Kirill Petrenko und seinem sagenhaften Dirigat. Er malt mit dem glänzend aufgelegten, makellos spielenden Bayerischen Staatsorchester und dessen fulminanten Solisten alle Details und allen Abwechslungsreichtum hin, auf den ansonsten weitgehend verzichtet wird. Dabei benutzt er für seine Verhältnisse einen breiten Pinsel."
Der Freitag, 29.06.2018, Wolfgang Herles: Fern jeder Erlösung. Mit Vernunft ist diesem Werk nicht beizukommen.
"Petrenko hat ein Sängerensemble, das seinesgleichen sucht. Jonas Kaufmann ein unbezwingbarer Heldentenor. René Pape als der Erzähler Gurnemanz mit der längsten Rolle der Opernliteratur, die dieser Bassist mit sonorem Wohlklang strömen lässt. Die Kundry der schwedischen Sopranistin Nina Stemme, die zwischen Leidensmutter und schriller Hysterikerin virtuos oszilliert. Allen voran aber der Amfortas des Christian Gerhaher. Der berühmte Liedsänger, dessen faszinierend präzise, jede Silbe mit Bedeutung aufladende Gestaltungskraft diesen sterbenden Leidensmann zur einzigen wirklich lebendigen, dramatischen Opernfigur macht."
Timings Parsifal Vorspiel / Prelude Act 1
| | |
| --- | --- |
| 10'12" | Herbert Kegel, Leipzig Radio Symphony Orchestra, 1978 |
| 10'23" | Gustav Kuhn, Tiroler Festspiele, 2006 |
| 10'27" | Pierre Boulez, Bayreuth, 1970 (Deutsche Grammophon) |
| 10'57" | Kirill Petrenko, Bayerische Staatsoper, München. Premiere 28 June 2018 |
| 11'03" | Christian Thielemann, recorded at Staatsoper, Wien in June 2005 (Deutsche Grammophon) |
| 11'05" | Bruno Walter, Royal Philharmonic Orchestra (From the Album Orchestral Music - Beethoven, L. Van / Mendelssohn, Felix / Weber, C.M. Von (Studio Recordings - 1920's and 30's, Vol. 1) (Walter) (1924-1927)) |
| 11'08" | Kirill Petrenko, Bayerische Staatsoper 8 July 2018 |
| 11'25" | Bernard Haitink, Opernhaus Zürich, April 2007 (DVD) |
| 11'26" | Horst Stein, Bayreuth, 24 June - 15 July 1981 (DVD) |
| 11'35" | Erich Leinsdorf, SWR Sinfonieorchester (No year) |
| 11'40" | Kent Nagano, Baden-Baden, 6 and 8 August 2004 (DVD) |
| 11'50" | Hans Knappertsbusch, Bayreuth, 1958 |
| 11'56" | Hans Knappertsbusch, Bayreuth, 1963 |
| 11'57" | Hans Knappertsbusch, Bayreuth, 1962 |
| 12'00" | Hartmut Haenchen, Amsterdam, 1993 |
| 12'00" | Hartmut Haenchen, Paris, 2008 |
| 12'03" | Armin Jordan (Hans-Jürgen Syberberg's Parsifal film, 1982) |
| 12'03" | Hans Knappertsbusch, Bayreuth, 1964 |
| 12'05" | Herbert Von Karajan, Wiener Staatsoper 1961 |
| 12'07" | Clemens Krauss, Bayreuth, 1953 |
| 12'07" | Hartmut Haenchen, Copenhagen, 2012 |
| 12'07" | Jun Märkl, Semperoper Dresden, 19.Februar 2006 |
| 12'08" | Hans Knappertsbusch, Bayreuth, 1959 |
| 12'08" | Hartmut Haenchen, Brüssel, 2011 |
| 12'15" | Jaap van Zweden, Radio Philharmonic Orchestra. Concert performance. |
| 12'15" | Hans Knappertsbusch, Bayreuth, 1960 |
| 12'24" | Philippe Jordan, Bayreuth 2012 |
| 12'31" | Hans Knappertsbusch, Bayreuth, 1961 |
| 12'32" | Hans Knappertsbusch, Bayreuth, 1956 |
| 12'41" | Valery Gergiev, Marinski Orchestra 2010 (Marinskilabel) |
| 12'47" | Hans Knappertsbusch, Bayreuth, 1957 |
| 12'47" | Daniele Gatti, Metropolitan Opera, 2 March 2013, live on BBC Radio 3 |
| 12'59" | Felix Mottl, Freiburg, 1907, piano roll |
| 13' | Richard Wagner, Bayreuth, 25 December 1878 (Voss: Die Dirigenten der Bayreuther Festspiele) |
| 13'03" | Otto Klemperer, Philharmonia, 1960 |
| 13'06" | Arturo Toscanini, NBC Symphony, 1940 |
| 13'15" | Hans Knappertsbusch, Bayreuth, 1952 |
| 13'18" | Daniele Gatti, Bayreuth, 2010 (Stefan Herheim's Parsifal production). In 2008 Gatti conducted the prelude one minute slower. |
| 13'29" | Hans Knappertsbusch, Bayreuth, 1954 (Melodram release timing. Seven Seas has 13'15" and Tara 13'35") |
| 13'47" | Daniel Barenboim, Berliner Philharmoniker, 1989-90. Available on Daniel Barenboim: Complete Wagner Operas (34 CD) |
| 13'51" | Reginald Goodall (EMI - 1984) |
| 13'53" | Hans Knappertsbusch, Berlin, 1943 |
| 13'57" | Hans Knappertsbusch, Bayreuth, 31 July 1951 |
| 13'59" | Fritz Busch, Buenos Aires, 1936 |
| 14'03" | Wilhelm Furtwängler, Berlin, 1938 |
| 14'13" | Hans Knappertsbusch, Bayreuth, July-August, 1951 |
| 14'14" | Herbert von Karajan (1981, Deutsche Grammophon) |
| 14'18" | Fritz Reiner, New York, 1938 |
| 14'20" | Daniele Gatti, Bayreuth, 2008. Premiere of Stefan Herheim's Parsifal production. Two years later, Daniele Gatti conducted the prelude one minute faster. |
| 14'30" | Richard Wagner, Munich, 12 November 1880 |
| 15'06" | Arturo Toscanini, London, 1935 |
| 15'30" | Artur Bodanzky, New York, 1938 |
| 15'35" | Rudolf Kempe, Wiener Philharmoniker, 1958 (Seraphim). Concert ending. |
| 15'53" | Karl Muck, Berlin, 1927 |
| 16'23" | James Levine, Bayreuth, July/August 1985 |
| 16'38" | Erich Kleiber, New York, 1946 |
Sources: Jonathan Brown (Great Wagner Conductors), Per-Erik Skramstad, Hartmut Haenchen, Vic White, Pieter Berghs
Parsifal (complete) timings
| | |
| --- | --- |
| 3.38 | Pierre Boulez, Bayreuth 1970 |
| 3.44 | Clemens Krauss, Bayreuth 1953 (Jonathan Brown has 3.52) |
| 3.49 | Pierre Boulez, Bayreuth 1966 |
| 3.55 | Hartmut Haenchen, Copenhagen 22 March 2012 |
| 3.58 | Wilhelm Furtwängler, Milano 1951 |
| 4.02 | Christian Thielemann, recorded at Staatsoper, Wien in June 2005 (Deutsche Grammophon) |
| 4.04 | Herman Levi, Bayreuth 1882 |
| 4.08 | Michael Balling, Bayreuth 1904 |
| 4.10 | Hans Knappertsbusch, Bayreuth 1962 |
| 4.12 | Wilhelm Furtwängler Bayreuth 1936 |
| 4.15 | Felix Mottl, Bayreuth 1888 |
| 4.17 | Herbert von Karajan (1981, Deutsche Grammophon) |
| 4.19 | Anton Seidl, Bayreuth 1897 |
| 4.22 | Siegfried Wagner, Bayreuth 1909 |
| 4.23 | Fischer, Bayreuth 1882 |
| 4.23 | Hans Knappertsbusch, Bayreuth 1952 |
| 4.25 | Armin Jordan (Hans-Jürgen Syberberg's Parsifal film, 1982) (according to the cover) |
| 4.27 | Karl Muck, Bayreuth 1901 |
| 4.28 | Hans Knappertsbusch, Bayreuth 1954 |
| 4.29 | Kaehler, Bayreuth 1924 |
| 4.33 | Hans Knappertsbusch, Bayreuth 1951 |
| 4.33 | James Levine, Bayreuth 1990 |
| 4.42 | Arturo Toscanini, Bayreuth 1931 |
Sources: Jonathan Brown (Great Wagner Conductors), Derrick Everett, Per-Erik Skramstad, Hartmut Haenchen.
"The Master has already composed Parsifal to be very slow, so one doesn't need to add to this by also conducting it slowly." (Richard Strauss to the orchestra during rehearsals)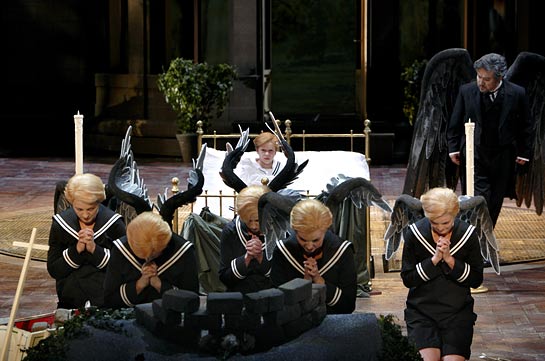 All Parsifal productions at the Bayreuth Festival