Hartmut Haenchen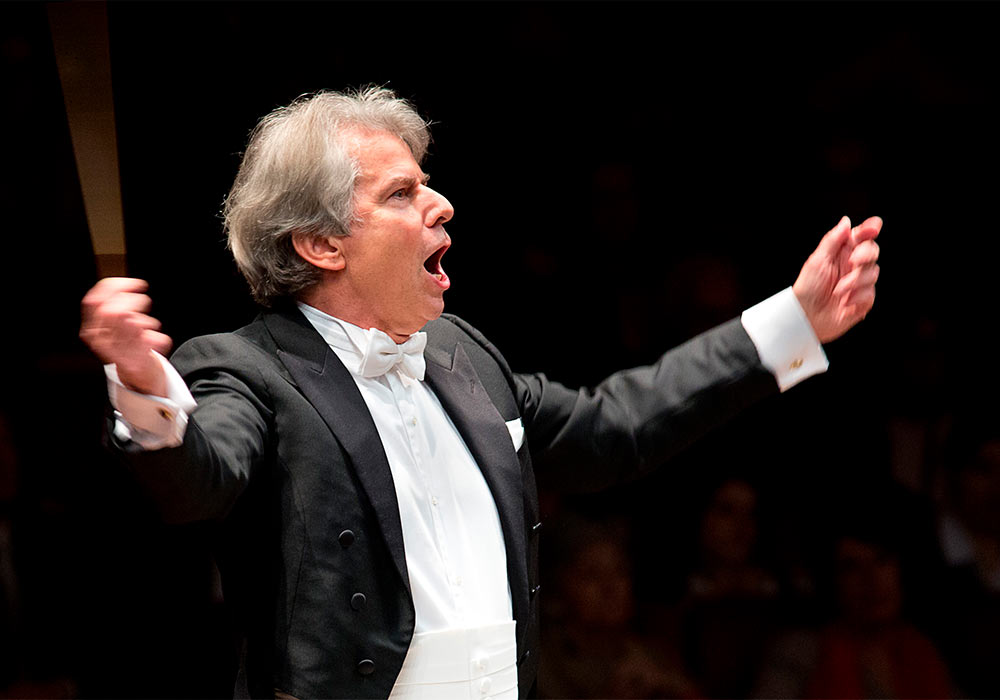 Hartmut Haenchen. Foto: Riccardo Musacchio/haenchen.net

Hartmut Haenchen's high intellect and musical integrity have secured his place in the forefront of musical life. Born in Dresden in 1943 he was raised in the post-war German Democratic Republic. Despite the severe restrictions imposed by the former East German regime, Haenchen was granted special permission to work with the West's finest ensembles, including the Berlin Philharmonic and the Concertgebouw Orchestra.
In 1986 he moved to the Netherlands and was appointed Chief Conductor of the Netherlands Philharmonic and Chamber orchestras, and Music Director of Dutch National Opera. His breadth of experience and depth of understanding have won respect, while audiences have warmed to the humanity of his interpretations. He is particularly renowned and respected for his readings of works by Richard Strauss, Wagner and Mahler. In October 2008 he was awarded the Federal Cross of Merit of the Republic of Germany, in recognition of his outstanding contribution to music and the arts.
Current highlights included a new production of Parsifal at the Bayreuth Festival released on Deutsche Grammophon, Tristan und Isolde and Elektra at Opéra de Lyon, and Cosi fan tutte at Grand Théâtre de Genève; a continuation of his War & Peace project and symphonic concerts throughout the world. He is also embarking on an Bruckner series, with plans to conduct all the Bruckner symphonies in the new critical edition.
Haenchen enjoys ongoing relationships with many orchestras worldwide. Recent and future appearances include a very close relashionship with the oldest orchestra in the world: the Royal Danish Orchestra and with the Royal Stockholm Philharmonic, Helsinki Philharmonic, Orchestre symphonique de la Monnaie, New Japan Philharmonic, Netherlands Philharmonic Orchestra, Orchestra dell'Accademia Nazionale di Santa Cecilia, Orchestra Sinfonica Nazionale della RAI (Turin), Orchestre de Paris, Orchestre national du Capitole de Toulouse, Orchestre de la Suisse Romande, Gürzenich-Orchester Köln, Staatsorchester Stuttgart and Museumsorchester Frankfurt.
Haenchen has forged close relationships with many of the world's leading opera houses. His thirteen-year tenure as Music Director of Dutch National Opera was distinguished by his wide-ranging choice of operas by Berg, Gluck, Handel, Mozart, Mussorgsky, Puccini, Reimann, Shostakovich, Strauss, Tchaikovsky, Verdi and Wagner. He enjoyed critical success conducting Wagner's Ring directed by Pierre Audi. Available on CD, DVD and streamed online, the cycle was revived for the 2013 Wagner bicentenary. Other recent productions in Amsterdam include a new production of Wagner's Der fliegende Holländer, released on Blu-ray/DVD.
Other recent work includes new productions of Strauss' Daphne and Elektra and Wagner's Tannhäuser at Théâtre du Capitole Toulouse, Lohengrin at Teatro Real Madrid, Der fliegende Holländer at Teatro alla Scala Milan, Parsifal at Royal Danish Opera, Salome and Tannhäuser at the Royal Opera London, Shostakovich's Lady Macbeth of Mtsensk (winner of the French Grand Prix de la Critique), Berg's Wozzeck at Opéra national de Paris and a new production of Parsifal at La Monnaie, winner of the 2010 Prix de l'Europe Francophone and a French Grand Prix de la Critique.
Hartmut Haenchen has made over 130 recordings with different orchestras for Berlin Classics, Capriccio, EuroArts, OpusArte, Pentatone, Philips, Sony Classical, Vanguard and ICA Classics. These include a substantial discography with his former Kammerorchester Carl Philipp Emanuel Bach, including several award-winning recordings. His most recent release, a DVD of Mahler's Symphony No. 6 on ICA Classics – was awarded a Diapason d'Or, while his disc of Mozart's last symphonies (Kammerorchester CPE Bach / Berlin Classics) has received many awards.
2017 the Magazin OPERNWELT awarded him as "Conductor of the year" Haenchen is also the author of many books on music, including important studies of Wagner and Mahler, as well a of performance practice in the 18th Century (Werktreue und Interpretation, Pfau-Verlag just released the extended 2nd edition). Hartmut Haenchen also features in a documentary – The Skies Over Dresden – broadcast both on TV and as part of the Netherlands Film Festival. This documentary won the golden palm award at the 33rd International Festival of Film on Art, Montréal.
Documentary: Hartmut Haenchen and Krzysztof Warlikowski rehearsing Parsifal in Paris (2008)
Paris Parsifal 2008: Part 1
Paris Parsifal 2008: Part 2
Paris Parsifal 2008: Part 3
Paris Parsifal 2008: Part 4
Paris Parsifal 2008: Part 5