Die Meistersinger von Nürnberg, Staatsoper im Schiller Theater, Berlin, October 15th 2015
by Sam Goodyear
Hans Sachs – Wolfgang Koch
Veit Pogner – Kwangchul Youn
Kunz Vogelgesang – Graham Clark
Konrad Nachtigall – Gyula Orendt
Sixtus Beckmesser – Markus Werba
Fritz Kothner – Jürgen Linn
Balthasar Zorn – Siegfried Jerusalem
Ulrich Eisslinger – Reiner Goldberg
Augustin Moser – Paul O'Neill
Hermann Ortel – Arttu Kataja
Hans Schwarz – Franz Mazura
Hans Foltz – Olaf Bär
Eva – Julia Kleiter
Walther von Stolzing – Klaus Florian Vogt
Magdalene – Anna Lapkovskaja
David – Stephan Rügamer
Ein Nachtwächter – Jan Martinik
Conductor – Daniel Barenboim
Director – Andrea Moses
Orchestra - Staatskapelle Berlin
Wagner's only mature comedy remains for many a problematic work. For some, all the melodic and orchestrational genius of the work, its intricate part writing, its joyous celebration of the value of artistic creation, counts for nought in the face of what is said by Hans Sachs in his closing monologue.
But as any historian worth his salt knows, when viewing historical texts context is crucial. So while it is of course true that Meistersinger was appropriated by the Third Reich and misrepresented as a paragon of Nazi ideals, this is not the context in which Sachs's monologue needs to be viewed. To riff on Freud, just because Hitler said something was a cigar, doesn't mean it is a cigar.
A cursory glance through Wagner's own writings reveals some quite different sentiments at play to what is commonly assumed. In Was ist deutsch?, Wagner presents a dichotomy between deutsch and wälsch – the latter not simply 'foreign' as often translated, but more closely meaning Romance-speaking, French or Italian, or perhaps even Catholic. On the other hand, he bemoans the German people's longing for political domination in the manner of a reborn Roman Empire, and in Über Staat und Religion he states that "in political life Wahn displays itself as patriotism".
So with this in mind, and in the context of the 1860s – a decade that saw the political unification of the Italian peninsula through war, a nationalistic France under Louis Napoleon, and the beginnings of German unification under the banner of Prussian militarism – we can perhaps see Sachs' monologue in a different light. Rather than a rallying cry for jingoistic foreign policy, or a declaration of racial superiority, it is a call to honour all that he viewed 'German' in spirit – the German art, poetry, and music respected the world over – in the face of the imperialism and violence seen not just in other countries at the time but in Germany as well.
If I have seemed to digress before beginning my review proper, then it is only because Andrea Moses's new production for the Berlin Staatsoper seemed to me to be firmly grounded in a definition of deutsch at least close to what I have outlined above. For this production succeeded admirably in conveying the opera's optimism and joy, taking us through the decades in celebrating each and all that is spiritually 'German', whilst also warning of the dangers of intolerance, violence, and inequality.
The first act opens with the largely elderly Masters attending an official state ceremony, smartly dressed in '30s style striped suits and co-respondent shoes. Differences in generation and attitude between them and other members of society are made clear immediately though, through clothes. Walther enters wearing a leather jacket reminiscent of Danny Zuko or James Dean, and he cares for none of the propriety that the Masters do. He mischievously flirts with Eva, undoing the top of her dress while the ceremony is still going on, and draws progressively disapproving looks from the town elders.
If he is a rebel without a cause, then the Davy Jones-style moptops of David and the apprentices quickly usher in the '60s. But there is no spirit of '68 to be seen, nor any sign of affluence, as the dress suits they wear are those of waiters and servants. As the guild reassembles, a board showing 'Zorn', 'Vogelgesang', 'Foltz: Invented for Life', as corporate identities, tells us that the Masters are not simply the social and artistic elite of the town, but the financial elite also. In this Nuremberg, capital is the real master and the new generation is under its yoke.
Tellingly absent from the display of eponymous companies is 'Beckmesser', who is nevertheless even more splendidly turned out than the others.  Here we have a social climber, a man whom Shakespeare might describe as "sick of self-love". He is clearly very pleased with himself for having joined high society, but insecurity about his more humble circumstances gnaws away. Is he truly 'one of them'? He is certainly trying very hard to be, too hard in fact, a symptom of which may well be his overzealousness for the rules.  

Sachs, too, stands out from the rest of the guild but not for any lack of money - his name is up there on the board. Rather, his attire is different, an untucked shirt and a day's stubble hinting that while he might be as rich and as celebrated as the other Masters, he does not share their concerns for the superficial trappings of wealth. Moreover, he is the only character in the entire production whose style of dress is difficult to pin down to a particular time period or level of society. He is a man who stands outside of all of that, an embodiment of the 'German' spirit for all and for ever. 
But though this seems like a happy society in act one, simmering underneath the surface is the tension caused by the existence of such financial and social classes, tension that will bubble above the surface later in the evening.
The apprentices that tease David at the start of the second act move us a couple of decades further on in history, being depicted as '80s punks. They appear more alienated from society than any characters seen thus far, as they loiter upon the roofs of the Sachs and Pogner company towers that sit beside the real-life Nürnberger insurance firm and form the setting for act two.
Sachs contemplates smoking a cigarette as he ponders Walther's song before deciding against it (and later smashing it with his hammer), a representation perhaps of his denial of his will. In contrast, Eva lights one up as she flirts with him, before she and Walther hide behind a large German flag.  
Beckmesser, meanwhile, continues to try too hard, putting on doublet and hose for his song. If his costume is a window into his thoughts on the sort of thing he imagines to be impressive or classy, perhaps that is also an indication that the older, melismatic style of his music is a reflection of how he thinks music 'should be done', an attempt at taking the artistic high ground as the self-appointed arbiter of some sort of 'authenticity'?
In any case, we know his song fails to impress the sleeping townsfolk, and at this point all the members of society spill onto the rooftops to make their displeasure known - football fans, punks, businessmen, LGBT activists, along with the Masters in their silk dressing gowns and their much younger wives. The ensuing brawl seems like the inevitable result of sections of society feeling left behind, their violence a frustrated cry for recognition. As the act draws to a close, the Nachtwächter succumbs to his wounds, tended to by a group of punks who seem anything but threatening. A damaged German flag with a hole in it is draped over him, and the place for violence in any truly 'German' society is clear to us.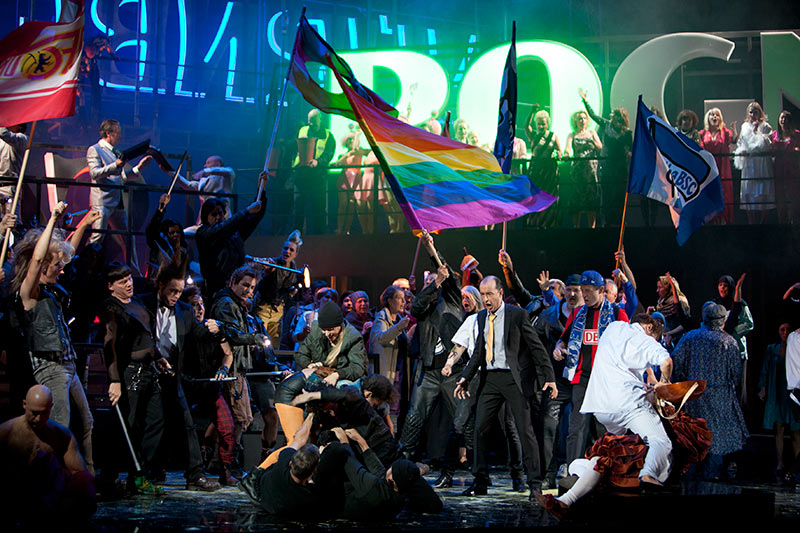 The full range of Nuremberg's inhabitants vent their frustrations.
Foto: Bernd Uhlig
The following day, as a furious Sachs delivers his Wahn monologue surrounded by books and not shoes, he once again toys with the idea of smoking and declines. But should such abstinence seem too easy, the fact that he is a man deeply struggling within to deny himself all but the performance of nobler works is made apparent when he briefly gives in to Eva's advances and they share a kiss. A shocked Walther catches them and for a moment threatens to turn matters violent again, but his singing seems to remind Sachs of his purpose. As Sachs says to Eva 'Lausch' Kind! Das ist ein Meisterlied' we know that he will not slip again.
The two couples then assemble with Sachs for the quintet, and they hold the German flag together. Gradually the pairs of lovers approach each other and drop it to the floor, showing us that love is 'German' but stands beyond nationality.
The final act takes place in the near future, in front of the completed Berliner Stadtschloss currently being reconstructed. The Masters are on hand in yellow, red, and black sashes for what seems to be the official state opening, as are suited townspeople and apprentices, Middle-Eastern dignitaries, and girls in dirndls dancing in celebration.

It is in the context of this further display of the vibrancy of multiculturalism, of Germany old and new, that Walther refuses a sash such as the Masters wear. As Sachs begins his final warning, imperial flags from the Second Empire appear as our threat, telling us that resurgent nationalism is the true danger to all that is 'German'. And then, as he gestures towards the guild and implores us to honour our German Masters, the younger Masters remove their sashes and join Walther in celebrating art, no longer needing to indulge in patriotic Wahn to feel 'German'. The older Masters, from a different era, look on confused: they are still honoured for the art they have produced, but their concept of 'German' and the economic privilege that they enjoy, is out of date, and has been rejected by the next generation of Masters.
Looking back on it as a whole then, this was an uplifting evening in the theatre, the production delivering strongly on all that is positive in the work in a way that I feel was very much in keeping with the poem. Personenregie was also a strength, with each individual Master clearly having his own character. Could it have delved deeper into the darker recesses of Sachs's mind and psychology? Yes. But this is a good production, with something to say, and one which I'm sure will be around to grace the new stage on the Unter Den Linden in future years.  
Musically, the performance, though not perfect, was of the high standard one has come to expect from this house. Daniel Barenboim has few rivals in contemporary Wagner conducting, and he led a typically coherent reading of the score, full of energy and with a firm grasp of where the music was going. There were occasional passages where I wondered whether tempi could be broader, even though this was not a particularly fast account, but in retrospect perhaps that would have taken us too far down the road of wallowing. Playing from the Staatskapelle Berlin was generally excellent throughout, a few unfortunate split trumpet notes during the third-act fanfares proving only a minor blemish.
Wolfgang Koch gave a fine performance as a world-weary Sachs - gruffer, more dishevelled, less wistful, but with a greater sense of contempt and anger for his surroundings than most. His characterisation was well contrasted with the slickness of the other Masters, and suited his strong but slightly rough-around-the-edges vocal timbre.
It speaks volumes that Klaus Florian Vogt can have an off night and still leave one feeling convinced he is the best Walther in the world. His voice may well be the smoothest of any leading Heldentenor in the history of Wagner performance, and the silky ease with which he delivered sections such as Am stillen herd was truly mesmerising. I say he had an off night, because at the time I was rather perplexed by some strange phrasing and big breaths, most notably in the Prize Song, which would later be explained when he shook the prompter's hand at the curtain. Still, these things happen, and I can't honestly say I would have preferred that someone else had been in the role.
Julia Kleiter was an excellent Eva, playing the boss's daughter to perfection and producing some really lovely sounds. Kwangchul Youn remains one of the best interpreters of Wagner's bass roles around these days, and was his usual sonorous self as Veit Pogner, paying close attention to the words.
Stephan Rügamer acted well as David in a nervous, somewhat nerdy characterisation that was far removed from the confident cheeky-chappie portrayals one often sees. I did however feel he was rather too understated vocally, and though a gentler touch may have been in keeping with his character's persona, the Rules Monologue seemed to me rather less exciting and fun than it can be.
The absolute star of the show among the principals though was Markus Werba as Beckmesser - simply magnificent. Full of character and stuffy mannerisms without ever descending into caricature, his Marker was a true Malvolioesque malcontent. Pompous, preening, waving his little notepad of errors around like a policeman with a little man complex, he was funny but not simply ridiculous, and generated what seemed to me just the right amount of sympathy for him.
A review of this production would not be complete however without mentioning the truly stellar supporting cast assembled to play the other guild members. The 91–year-old (!) Franz Mazura, veteran of the 1960 Salzburg Festival, stole every moment he had as Hans Schwarz, and Graham Clark as Kunz Vogelgesang was as ringing and clarion-like as ever, firmly giving the impression that he has one more run as Mime left in him.
It was particularly special for me though to welcome Siegfried Jerusalem back to the stage as Balthasar Zorn. I am a great admirer of his work but I am not quite old enough to have seen him in his pomp as Siegfried or Tristan. To have the opportunity to witness him bickering with Clark one more time therefore was wonderful.
Indeed, for a moment it made me wish that Christopher Lloyd would appear and whisk me back to 1985, but that wouldn't be in the spirit of a production that encourages us to be respectful of the past but recognise that time moves on and things change. That being the case I can say I am glad to have had the chance to honour some German Masters one more time in the present, while also leaving the theatre feeling optimistic for the state of future performances.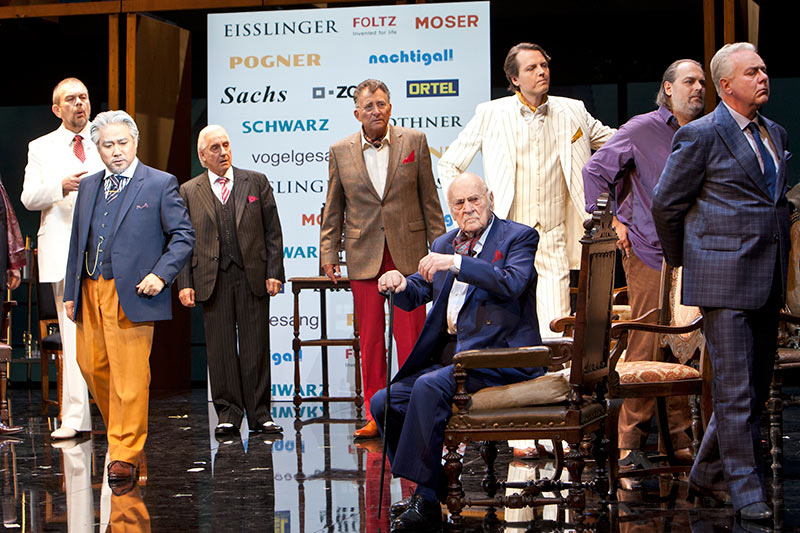 Gyula Orendt (Konrad Nachtigall), Paul O'Neill (Augustin Moser), Jürgen Linn (Fritz Kothner), Kwangchul Youn (Veit Pogner), Graham Clark (Kunz Vogelgesang), Siegfried Jerusalem (Balthasar Zorn), Franz Mazura (Hans Schwarz), Arttu Kataja (Hermann Ortel)
Foto: Bernd Uhlig
Sam Goodyear
Sam Goodyear is an opera fan and Wagner enthusiast, originally from Portsmouth but now living in Germany. He read history at Peterhouse, Cambridge, and has at various times worked as a bookie, translator, trader, journalist, and TV researcher. He currently works in socially responsible investment. While very much an amateur, his interest in music has in the past led to him singing on BBC radio, and playing the trumpet in front of the queen. He attends as much Wagner both at home and abroad as time and money will permit, and he has written on Wagner for Classical Music Magazine.