Der fliegende Holländer, Bayreuth 2023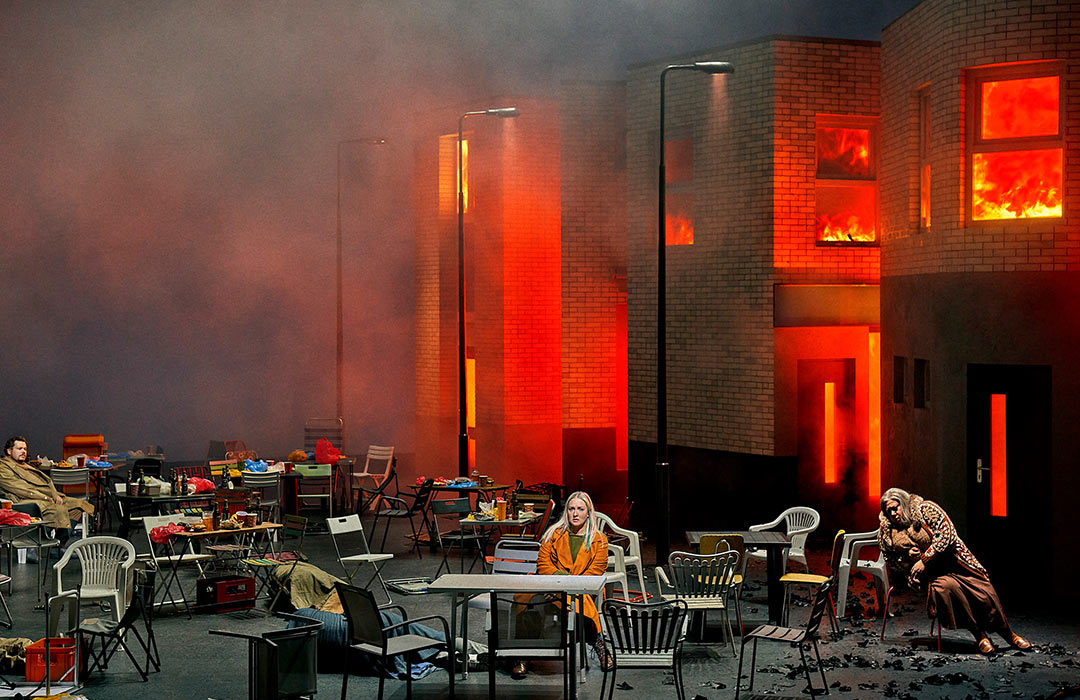 Tomislav Mužek (Erik) watching Elisabeth Teige (Senta) and Nadine Weissmann (Mary). Photo: Enrico Nawrath/Bayreuther Festspiele
I first became acquainted with Dmitri Tcherniakov's work in 2015 when I saw his thought-provoking Parsifal for the Berlin Staatsoper, after which, I jumped on the bandwagon and added him to my personal list of directors to look out for each season. In recent years, however, I had begun to cool somewhat towards his stagings: I found his Tristan in Berlin overly domestic; I thought his Ring raised a bunch of questions and then seemingly lost interest in answering them; I was basically just flummoxed by his Cosi fan tutte in Aix. If I were not quite off the bandwagon, I was at least putting the trumpet back in its case and looking earnestly for an appropriate place to tether the horses.
And then came this…and, well, let's just say not only have I decided to remain on the bandwagon, but I am considering taking control of the reins. No mealy-mouthed fence-sitting from me on this one: this was everything one hopes for from an evening at the opera, an outstanding production with a performance to match it.
A tale of two outsiders looking for a way out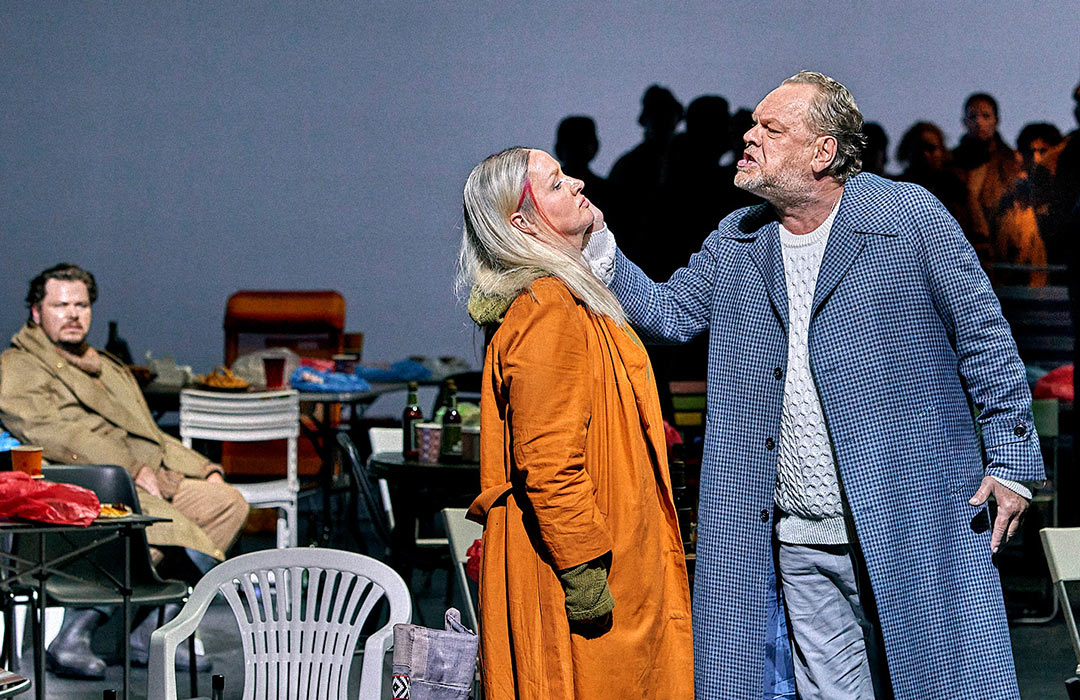 Tomislav Mužek (Erik) watching Elisabeth Teige (Senta) and Michael Volle (der Holländer). Photo: Enrico Nawrath/Bayreuther Festspiele
Tcherniakov's Holländer is a tale of two outsiders looking for a way out: Senta, from the limbo of a humdrum, small-town existence; the Dutchman, from a limbo of unprocessed childhood trauma. One is on a path of revenge, the other on a path of self-determination and awakening, and by the end of the evening, both would have to some extent achieved what they set out to, and yet at the same time, completely failed to do so.
The curtain rose at the start of the overture to reveal a town with a woman and child walking the streets. The child ran off, and then looked on in secret as his mother met an older man – who we would later learn was Daland – who she began kissing passionately. Time passed, and the woman met Daland on the streets for a second time, only this time an argument developed in which he rejected her and threw her to the ground. Townsfolk then emerged, reproving and shunning the woman, who attempted to take refuge in a church, only to be refused entry. Rejected and vilified by all, the woman, shockingly, hung herself, her body discovered by her young son, who clung to it as the overture came to a close.
Clearly, the woman was the Dutchman's mother, and the boy the Dutchman himself, and his actions for the rest of the opera would be driven by the effects of having witnessed his mother hounded into suicide. But the first ten minutes gave us a lot more than that to think about in terms of what sort of place this town was, and who was inhabiting it. For a start, there was a noticeable homogeneity to the townsfolk, all dressed in shades or grey, brown, and olive green, as if to highlight a collective conservatism. The fact that the mother was the object of their self-righteous ire, but Daland was not, also highlighted the hypocrisy, and sexism, at the heart of their mentality. Indeed, it brought to mind a Cornish village I once visited – church, corner shop, pub, village hall, and not much else – that seemed perfectly pleasant on first impressions, and whose residents couldn't have been more welcoming to me. I'd later read in the newspaper that their new priest had taken a leave of absence due to a hate campaign that involved arson attacks, all apparently due to the simple fact that she was a woman.
Other questions remained open. How long had Daland been seeing the Dutchman's mother? Could he be the Dutchman's father, which would make Senta the Dutchman's half-sister? And given that in the programme notes, Mary is described as being Daland's "life partner", not Senta's nurse, how much did she know about the episode depicted during the overture? A lot, presumably.
Either way, the Dutchman's first encounter with Daland did not seem to be a matter of chance, but a specific, calculated choice. Lurking in the shadows of a nearby alley, he joined Daland (who did a couple of double takes as if he were trying to remember where he recognised him from) and regaled him with his story. How much was it all an act, and how much did he believe it? On the one hand, the manner in which he ranted, like one of those drunk guys in pubs that simply must tell you an implausible tale, seemed genuine; on the other, one couldn't help feeling that we were watching a con artist at work. Perhaps both were the case.
Act II began not with spinning, but with the women of the town engaged in that wholesome village activity of choral singing, with Mary leading the rehearsal. Senta immediately stood out from the uniformity of the group, with coloured highlights in her hair and a brighter, yellow coat, implying at the very least a sense of an independent-minded person, and perhaps a rebellious or "alternative" streak. At this point, it is worth referring to the programme notes, in which the story of Natalya Zakharina is told, a woman who, in her youth, spoke of her love towards her future husband, the writer Alexander Herzen, in all-encompassing, self-sacrificial terms. Over the years, however, following personal tragedy, she grew to feel that playing out this so-called "ideal" was unfulfilling, and came to believe in a different image of womanhood, one of independence and growth that was "not determined by social norms", and which still involved the love of her husband, but also of another man in a different way.
Back in the world of the production, we would then, naturally, see elements of such a journey in Senta, albeit in a non-linear way. If her ballad were that of a woman expressing a yearning for a romanticised form of love, deferential to the man, it could also simultaneously be understood as a paean to the idea of independent womanhood, of breaking from social norms, a rejection of the home-town life of spinning looms and marriage to the boy next door that is expected of her. The defiance portrayed during the singing of the ballad, as well as the mocking of Mary's conducting of the spinning music, certainly implied something of a dichotomy between "normal" life and dedication to the Dutchman in her mind. But did she still love Erik, too, just as Natalya Zakharina had loved two men? That was less clear. Her ostentatiously dismissive attitude towards him, and parting middle finger at the end of the next scene, might have seemed to indicate otherwise, but on the other hand, it goes without saying that arguments and insults between people does not preclude the existence of love.
Another question arose during the final scene of the act that would become crucial by the end of the performance: why did Mary tell Senta the story of the Dutchman in the first place? Did she once have similar yearnings to Senta, and dream of escaping the mundanity of life with Daland? Or had she, perhaps, once believed that she had found such an escape with Daland, only to be disillusioned by his infidelities and no longer wish to sing the ballad or believe in romantic ideals, healthy or otherwise? Perhaps it is not a coincidence that the development of Natalya Zakharina's worldview also coincided with her husband being unfaithful. Either way, her antipathy towards the Dutchman throughout the scene was obvious. So too was the initial reticence on the part of Senta to give in to her instincts vis-à-vis the Dutchman, indicating that however confidently she might have proclaimed her willingness to be subsumed by his myth, some doubt remained as to whether embracing an idea of love totally in service to the man would really fulfil her desire for independence, especially in the context of a union arranged by her father.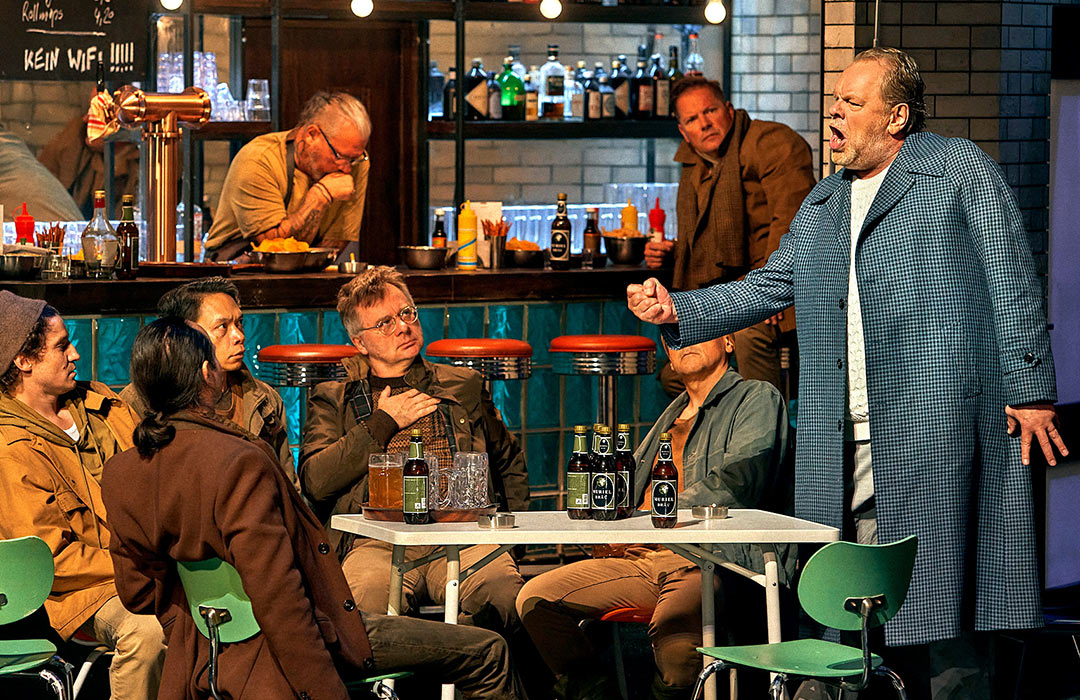 Michael Volle (der Holländer). Photo: Enrico Nawrath/Bayreuther Festspiele
The Dutchman's crew, here of the mafia rather than seafaring variety, provided a stark contrast to the townsfolk at the start of Act III, their blue jackets and ties demonstrating their greater wealth. The true nature of the Dutchman was then revealed in startling fashion when he joined them and indiscriminately murdered several townsfolk with a gun. This was not just revenge towards Daland then, but a kind of revenge on society by a deeply disturbed man. Senta, meanwhile had witnessed the shootings, but seemed unable to immediately process the dissonance between the reality of the Dutchman and the ideal of committing to him, as she ran to him and kissed his chest even as he and his men proceeded to set the town's buildings on fire and round up the remaining inhabitants for possible execution. At this stage, I wondered whether Tcherniakov had seen the 1973 Clint Eastwood movie High Plains Drifter, in which a "man with no name", possibly the ghost of a murdered sheriff, returns to the town of his demise and quite literally paints it red while meting out revenge on its inhabitants.
In any case, there would be no victory for the Dutchman in the vein of Eastwood's stranger. Throwing Senta to the floor, like Daland had done to his mother, he cackled maniacally at her last protestations of fidelity, before Mary entered and shot him in the back, dead. It was then Senta's turn to laugh, perhaps nervously, perhaps out of shock, before she composed herself and comforted a shaken Mary before the curtain fell.
Had the Dutchman ever really believed that Senta could somehow save him, or had he merely determined to use her, as his mother had been used and discarded, as a means to an end? I'm not sure that it matters, as ultimately, whatever the answer, this was a simply a man whose trauma had so corrupted him, that no escape from it or redemption was possible. This was no blaze of glory either, his demise being so quick as to be almost bathetic. More significant open questions did remain at the end though. Had Mary only acted in defence of Senta or the townsfolk? Or was it a defence of something broader, of the town's socio-political status quo against a fallacy of female independence gained through subservience to men? This could well have been the case, either out of genuine conviction, or, like the mother in Good Bye, Lenin!, despite the fact that she knew deep down that her system was equally rotten. Senta, meanwhile, had obviously gone through a traumatic experience of her own, and we were left to wonder how her search for a life as a free woman would continue after the opera, with neither the Dutchman nor a life of old-fashioned domesticity having proved the answer.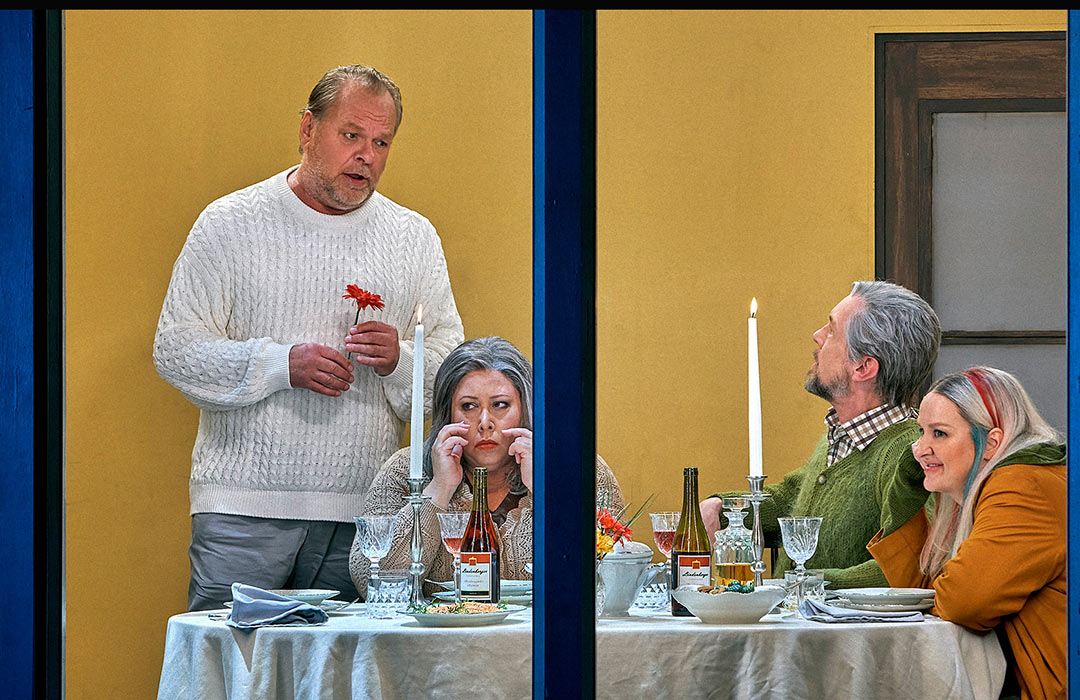 Michael Volle (der Holländer), Nadine Weissmann (Mary), Georg Zeppenfeld (Daland) and Elisabeth Teige (Senta). Photo: Enrico Nawrath/Bayreuther Festspiele
On the musical side of things, one could not wish for a better-cast production of the work. Michael Volle is one of the very finest singing-actors in the world, and his Dutchman was just as much of a tour de force as one would expect. The rage of his character was portrayed masterfully, at first bottled up, and then let out thunderously, while his attention to the text and richness of tone were ever present. Elisabeth Teige as Senta matched him note for note, and gesture for gesture, skilfully running the gamut of feelings from confidence to angst, in a powerful, dramatic performance. Vocally, her tone was emotive yet beautiful, and her high notes were majestic. If her diction were not quite as clear as some of her peers, then in this instance, it mattered little.
Returning for his third role in three days, Georg Zeppenfeld brought his inimitable way with words to Daland in a portrayal that perfectly complemented the leads and enabled them to shine, while Nadine Weissmann was equally clear and full of tone as Mary, her subtle acting crucial to the success of the production. Tomislav Mužek was new to me as Erik, but someone I now very much hope to hear and see again soon. His dramatic commitment was as strong as anyone's, and his voice rang with enough heroism to make what is often a less-than-heroic character stand out. Tansel Akzeybek, meanwhile, has been excelling in small character tenor roles on the Green Hill for several years now, and he did so once again in what may have been his meatiest part on the stage of Festspielhaus to date. It surely can't be long now until we see what he can bring to Mime or David.
In the pit, Oksana Lyniv led the festival orchestra with aplomb in a thrilling reading of the score that swelled to climaxes like the waves it was depicting, full of drama and power, yet considerate to the singers and free from any of the issues of balance than had been present the previous night. The chorus, never less than good at Bayreuth, also shone, consonants always delivered precisely as one despite the large forces on stage.
I have little else to add in conclusion, other than to say this was a firm rebuke to all the naysayers who claim artistic standards at Bayreuth are not what they once were. If there's a better production of this opera in circulation at the moment, then, well, I'm a Dutchman.
Conductor Oksana Lyniv
Director, designs Dmitri Tcherniakov
Daland – Georg Zeppenfeld
Senta – Elisabeth Teige
Erik – Tomislav Mužek
Mary – Nadine Weissmann 
Steersman – Tansel Akzeybek
Dutchman – Michael Volle
Elena Zaytseva (costumes)
Gleb Filshtinsky (lighting)
Tatiana Werestchagina (dramaturgy)
Bayreuth Festival Orchestra
Bayreuth Festival Chorus (chorus master: Eberhard Friedrich)
Sam Goodyear
Sam Goodyear is an opera fan and Wagner enthusiast, originally from Portsmouth but now living in Germany. He read history at Peterhouse, Cambridge, and has at various times worked as a bookie, translator, trader, journalist, and TV researcher. He currently works in socially responsible investment. While very much an amateur, his interest in music has in the past led to him singing on BBC radio, and playing the trumpet in front of the queen. He attends as much Wagner both at home and abroad as time and money will permit, and he has written on Wagner for Classical Music Magazine.