Bayreuth Festival 2021 opens with its first female conductor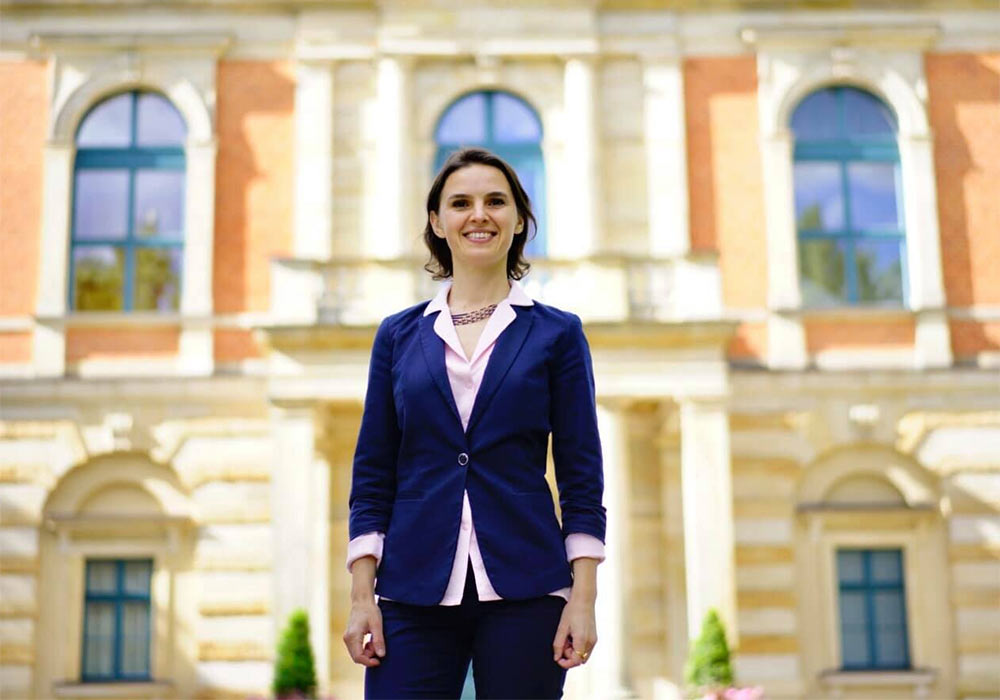 Oksana Lyniv in front of the Bayreuth Festspielhaus. Photo: Serhiy Horobets
Oksana Lyniv to conduct Der fliegende Holländer at Bayreuth 2021
The 42-year-old conductor Oksana Lyniv will be the first woman to conduct at Bayreuth since the festival was founded in 1876.
Der fliegende Holländer 2021
Conductor: Oksana Lyniv
Director: Dmitri Tcherniakov
Senta Asmik Grigorian
Holländer John Lundgren
Daland Georg Zeppenfeld
Erik Eric Cutler
Valentin Schwarz's Ring production will premiere in 2022. However, to avoid making 2021 a Ring-less year, a performance artist will produce a special version of Die Walküre at the 2021 festival. A puppet theatre production of Das Rheingold at the pond (!) in the festival park has also been announced. It will be produced by the puppet artist Nikolaus Habjan. The composer Gordon Kampe has written a version for it, which he will conduct. Plans are also made for "special editions" of Siegfried and Götterdämmerung.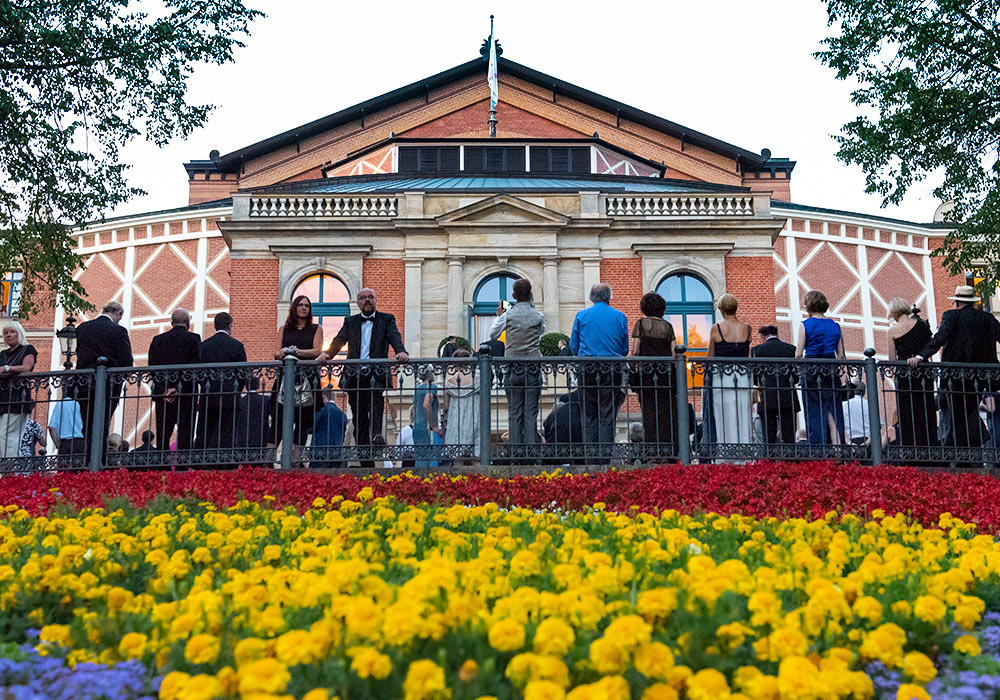 Bayreuth Festival 2020 is CANCELLED
PRESS RELEASE
In view of the effects of the Corona crisis on the operations of the Bayreuth Festival GmbH, the management and the shareholders of the Bayreuth Festival GmbH – the Federal Republic of Germany, the Free State of Bavaria, the City of Bayreuth and the Society of Friends of Bayreuth e.V. – regret that the Bayreuth Festival 2020 will have to be suspended next summer. This means that the following festival years will have to be rescheduled. In the 2021 season, in addition to the planned new production 'Der fliegende Holländer', the programme will include the revivals of 'Tannhäuser und der Sängerkrieg auf Wartburg', 'Die Meistersinger von Nürnberg', 'Lohengrin' and three concert performances of 'Die Walküre'. The new production 'Der Ring des Nibelungen' planned for this season will probably not be able to celebrate its premiere until 2022 due to rehearsal planning.
In principle, tickets already purchased for 2020 remain valid for the 2021 Festival. In order to clarify the modalities regarding concrete dates etc., the ticket office will contact all ticket purchasers for the 2020 Festival in the coming weeks.
Bavaria's Minister of Art Bernd Sibler emphasizes: "As an enthusiastic supporter of the Bayreuth Festival and the expressive music of Richard Wagner, I very much regret that we will not be able to enjoy the performances on the Green Hill this year. For cultural life, the cancellation is a bitter loss. The long festival tradition has a high value in the Bavarian cultural state".
Cancelled - Der Ring des Nibelungen (new production)
Cancelled - Das Rheingold Cast 2020
Conductor Pietari Inkinen
Director Valentin Schwarz
Stage design Andrea Cozzi
Costumes Andy Besuch
Dramaturgy Konrad Kuhn
Lighting Reinhard Traub
Wotan Günther Groissböck
Donner Raimund Nolte
Froh Magnus Vigilius
Loge Stefan Vinke
Fricka Christa Mayer
Freia Regine Hangler
Erda Wiebke Lehmkuhl
Alberich John Lundgren
Mime Arnold Bezuyen
Fasolt Ain Anger
Fafner Wilhelm Schwinghammer
Woglinde Lea-ann Dunbar
Wellgunde Stephanie Houtzeel
Flosshilde Simone Schröder

Cancelled - Die Walküre Cast 2020
Conductor Pietari Inkinen
Director Valentin Schwarz
Stage design Andrea Cozzi
Costumes Andy Besuch
Dramaturgy Konrad Kuhn
Lighting Reinhard Traub
Siegmund Klaus Florian Vogt
Hunding Georg Zeppenfeld
Wotan Günther Groissböck
Sieglinde Lise Davidsen
Brünnhilde Petra Lang
Fricka Christa Mayer
Gerhilde Daniela Köhler
Ortlinde Brit-Tone Müllertz
Schwertleite Christa Mayer
Helmwige Regine Hangler
Siegrune Nana Dzidziguri
Grimgerde Marie Henriette Reinhold
Rossweisse Simone Schröder
Cancelled - Siegfried Cast 2020
Conductor Pietari Inkinen
Director Valentin Schwarz
Stage design Andrea Cozzi
Costumes Andy Besuch
Dramaturgy Konrad Kuhn
Lighting Reinhard Traub
Siegfried Andreas Schager
Mime Arnold Bezuyen
Der Wanderer Günther Groissböck
Alberich John Lundgren
Fafner Wilhelm Schwinghammer
Erda Wiebke Lehmkuhl
Brünnhilde Daniela Köhler
Waldvogel Alexandra Steiner
Cancelled - Götterdämmerung Cast 2020
Conductor Pietari Inkinen
Director Valentin Schwarz
Stage design Andrea Cozzi
Costumes Andy Besuch
Dramaturgy Konrad Kuhn
Lighting Reinhard Traub
Siegfried Stephen Gould
Gunther Tomasz Konieczny
Alberich John Lundgren
Hagen Ain Anger
Brünnhilde Christine Goerke
Gutrune Elisabeth Teige
Waltraute Wiebke Lehmkuhl
1. Norn Wiebke Lehmkuhl
2. Norn Simone Schröder
3. Norn Regine Hangler
Woglinde Lea-ann Dunbar
Wellgunde Stephanie Houtzeel
Floßhilde Simone Schröder
Cancelled - Programme 2020
July 2020
25 Die Meistersinger von Nürnberg
26 Tannhäuser
27 Das Rheingold
28 Die Walküre
29 Lohengrin
30 Die Meistersinger von Nürnberg
31 Siegfried
August 2020
1 Götterdämmerung
2 Lohengrin
3 Die Meistersinger von Nürnberg
5 Tannhäuser
6 Lohengrin
7 Die Meistersinger von Nürnberg
8 Das Rheingold
9 Die Walküre
10 Lohengrin
11 Die Meistersinger von Nürnberg
12 Siegfried
13 Götterdämmerung
15 Lohengrin
16 Tannhäuser
17 Das Rheingold
18 Lohengrin
19 Die Meistersinger von Nürnberg
20 Tannhäuser
21 Siegfried
22 Die Meistersinger von Nürnberg
23 Tannhäuser
24 Das Rheingold
25 Die Walküre
27 Siegfried
29 Götterdämmerung
30 Beethoven: 9th Symphonie
Cancelled - Tannhäuser 2020
Director: Tobias Kratzer
Conductor: Axel Kober
Stage design and costumes Rainer Sellmaier
Lighting Reinhard Traub
Dramaturgie Konrad Kuhn
Video Manuel Braun
Choral Conducting Eberhard Friedrich
Hermann Landgraf Stephen Milling
Tannhäuser Stephen Gould
Wolfram von Eschenbach Markus Eiche
Walther von der Vogelweide Daniel Behle
Biterolf Kay Stiefermann
Heinrich der Schreiber Jorge Rodríguez-Norton
Reinmar von Zweter Wilhelm Schwinghammer
Elisabeth: Lise Davidsen
Venus Ekaterina Gubenova
Ein junger Hirt Katharina Konradi
Le Gateau Chocolat Le Gateau Chocolat
Oskar Manni Laudenbach
Cancelled - Lohengrin 2020
Conductor Christian Thielemann (29.7., 26.8., 10.8.); Axel Kober (15.8. and 18.8.)
Director Yuval Sharon
Stage design and Costumes Neo Rauch, Rosa Loy
Choral Conducting Eberhard Friedrich
Lighting Reinhard Traub
Heinrich der Vogler Georg Zeppenfeld
Lohengrin Andreas Schager
Elsa von Brabant Camilla Nylund
Friedrich von Telramund Tomasz Konieczny
Ortrud Elena Pankratova
Der Heerrufer des Königs Markus Eiche
1. Edler Michael Gniffke
2. Edler Tanzel Akzeybek
3. Edler Raimund Nolte
4. Edler Timo Riihonen
Lohengrin Reviews and articles (2018)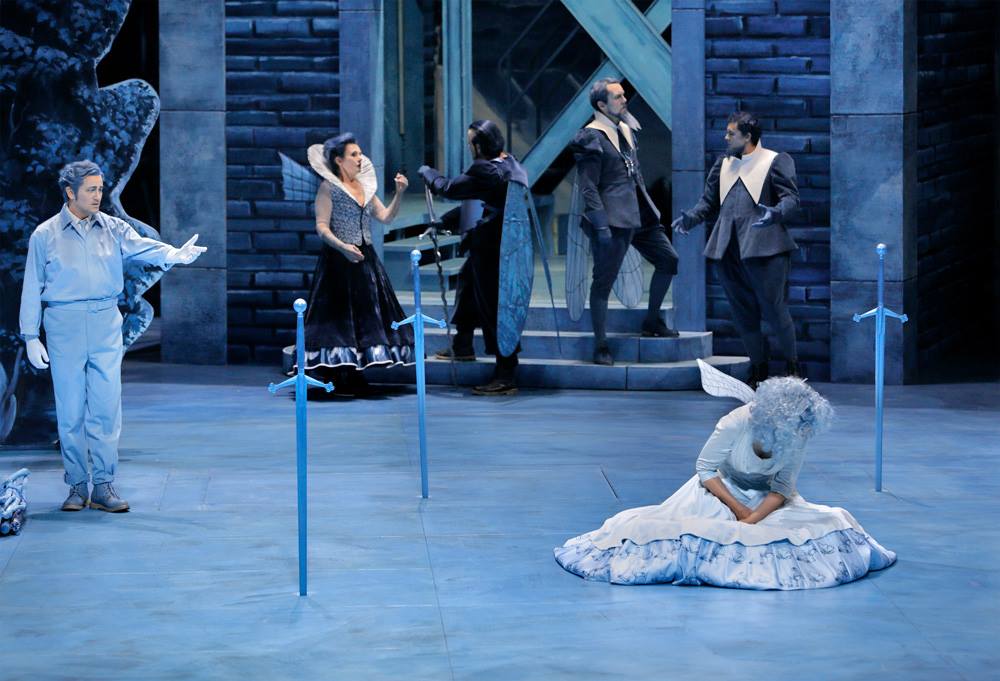 Photo: Enrico Nawrath/Bayreuther Festspiele
Cancelled - Die Meistersinger von Nürnberg 2020
Director: Barrie Kosky
Conductor: Philippe Jordan
Hans Sachs Michael Volle
Veit Pogner Günther Groissböck
Kunz Vogelgesang Tansel Akzeybek
Konrad Nachtigal Armin Kolarczyk
Sixtus Beckmesser Johannes Martin Kränzle
Fritz Kothner Daniel Schmutzhard
Balthasar Zorn Paul Kaufmann
Ulrich Eisslinger Christopher Kaplan
Augustin Moser Stefan Heibach
Hermann Ortel Raimund Nolte
Hans Schwarz Andreas Hörl
Hans Foltz Timo Riihonen
Walther von Stolzing Klaus Florian Vogt
David Daniel Behle
Eva Camilla Nylund
Magdalene Wiebke Lehmkuhl
Ein Nachtwächter Wilhelm Schwinghammer