Claus Guth's Parsifal Production at Gran Teatre del Liceu
Ward Healer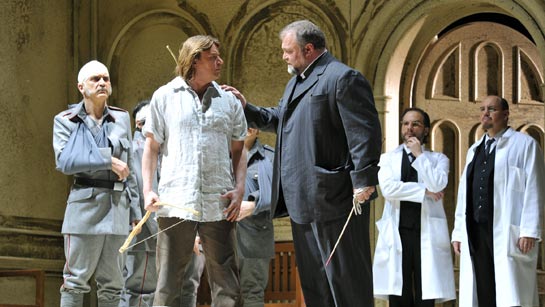 Gurnemanz (Hans-Peter König) asks Parsifal (Klaus Florian Vogt) why he shot the swan. Photo: Antonio Bofill/Gran Teatre del Liceu
When Wieland Wagner staged his then-revolutionary productions of Parsifal and the Ring at Bayreuth 60 years ago, he aimed to rid the festival of its heritage of bad political alliances and more traditional productions. In his new production of Parsifal at Barcelona's Gran Teatre del Liceu controversial director Claus Guth brings Parsifal politically full circle as the eponymous protagonist evolves into a high-ranking Nazi officer appearing on a balcony as the male chorus below aligns itself in military rows just before the work's finale. Adolf Hitler would have loved this scene.
There are other surprises in the régie staging, which I saw with alternate principals on February 24-25. During the Act I Vorspiel - Prelude, Titurel, Amfortas and Klingsor are seated at a dining table and after Titurel displays affection toward Amfortas, Klingsor wrathfully storms out of the room. Since the production is set in a decaying mansion-cum-sanatorium in the period between the 20th-century's two World Wars, the knight, are recuperating wounded, shell-shocked veterans, one of whom is blind (again, think Hitler, temporarily blinded by mustard gas in World War I and admitted to a field hospital).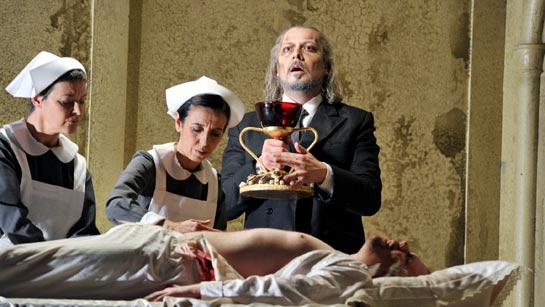 Titurel (Ante Jerkunica) prepares to drink the blood of Amfortas (Alan Held) in Act I.
Photo: Antonio Bofill/Gran Teatre del Liceu
The blood of Amfortas is the rejuventating elixir, the Liebesmahl that Titurel and most of the rest of the assemblage partake of during Act I. The flowermaidens are 1920s flappers. And the last bars of music are accompanied by a surprising redemptive onstage twist best unrevealed, so as not to spoil for those who see the production, being shared this summer with the Zürich Opera.
This provocative, and often-engrossing staging opened in Barcelona on February 20 and runs through March 12. It is also one of three new Parsifal productions to open in Europe in advance of the Easter season, including new versions at the Teatro Regio Torino in late January and at La Monnaie in February. In addition, the English National Opera's revived Nikolaus Lehnhoff's once-controversial staging in February.
Bayreuth Festival 2019 Reviews
Bayreuth Festival 2017 Reviews
Bayreuth Festival 2016 Reviews
Bayreuth Festival 2015 Reviews
Bayreuth Festival 2014 Reviews
Bayreuth Festival 2013 Reviews
Bayreuth Festival 2012 Reviews
Bayreuth Festival 2011 Reviews
Bayreuth Festival 2010 Reviews
Pair of Liceu Parsifals
Liceu's alternating Parsifals included the first cast's Klaus Florian Vogt (seen February 24) and Christopher Ventris (February 25). Vogt's translucent tenor voice and boyish mien make him ideal for the role until Parsifal cries, "Amfortas! Die Wunde! Die Wunde!" And when Vogt appeared in a fascist uniform his Teutonic looks resonated.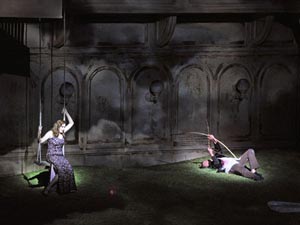 Kundry (Anja Kampe) attempts to seduce Parsifal (Klaus Florian Vogt). Photo: Antonio Bofill/Gran Teatre del Liceu
But from Kundry's Act II kiss onward, the role is better suited to Ventris' heftier tenor voice. Ventris has of course performed the role frequently, including the new Turin staging and in Stefan Herheim's Bayreuth production and in DVD releases of the Lehnhoff production and an earlier Zürich staging. So he is a vocally and dramatically assured Parsifal. Since the production is mounted on a revolving multi-room unit set, Parsifal roams about and witness the blood rituals during the Act I grail scene.
One of the production's most dramatically effective moments comes late in the opera when Parsifal goes from wounded soldier to soldier, healing their maladies. Had Guth stayed with the healing motive, and Parsifal's reuniting the spear with the chalice, rather than morphing the character into a fascist leader, the production would have stayed closer to Wagner's original intention. But since it's been fashionable in recent decades to characterize Parsifal as a proto-fascist work, Guth may have felt the need to amplify this interpretation.
Blood Meal
Earlier, in Act I, Parsifal witnesses two nurses drawing blood from Amfortas' impure wound, Titurel's gulping down several mouthfuls of blood from the chalice and nurses squeezing droplets of blood into glasses of water by the male chorus. The soldiers and sanitorium staff quaff this mixture to conclude the grail ritual.
Alan Held first sang Amfortas in my home city of Washington, DC in 2000 and added Wotan and the Dutchman to his repertory in intervening years. He has become even more dramatically and vocally compelling, as evidenced by his powerful rendition of his "Mein Vater" monologue in Act III, as he slowly made his way down a steep flight of stairs. He also lay patiently on an operating table as the nurses withdrew blood from his wound. The second cast's Amfortas, Egils Silins, is still a Wagnerian baritone-in-the-making.
Bravos for Gurnemanz
Although the entire cast was acclaimed at both Liceu performances, the singer portraying Gurnemanz earned the heartiest bravos. In Guth's staging Gurnemanz is the chaplain for a group of wounded soldiers and the sonorous bass Hans-Peter König (February 24) ranks with Kurt Moll and Matti Salminen as among the finest exponents of this role that I've experienced. Bass Eric Halfvarson, the second cast Gurnemanz, began tentatively but gained strength. A poorly sung, badly acted Gurnemanz can be one of opera's most tiresome boors, but in the Liceu production, he is a riveting character.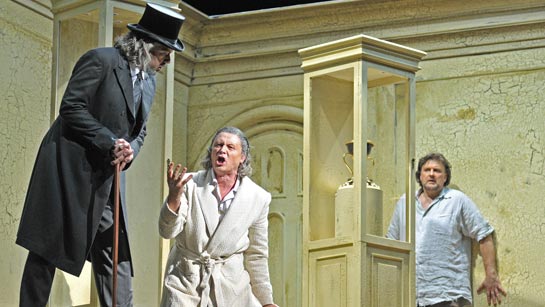 Titurel (Ante Jerkunica) implores Amfortas (Egils Silins) to begin the Act I grail ritual as Parsifal (Christopher Ventris) looks on. Photo: Antonio Bofill/Gran Teatre del Liceu
Seduction Gone Awry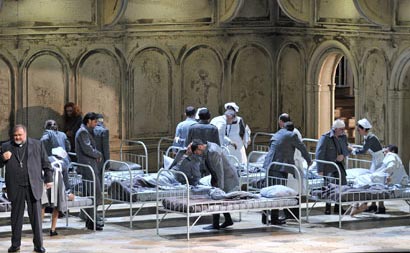 Gurnemanz (Hans-Peter König) (left) in the convalescent ward in Act I. Photo: Antonio Bofill/Gran Teatre del Liceu
Guth's more intense outer acts are not matched by Act II. Both Kundrys, sopranos Anja Kampe and Evelyn Herlitzius, negotiated the fearsome vocal leaps during Kundry's curse. But there was little sexual frisson between Parsifal and Kundry. And with Klingsor upstairs looking down on Kundry at the beginning of the act, there wasn't much dramatic tension between these two characters, either. However, having Kundry nurse the wounded soldiers in Act I and her exiting with a packed suitcase in Act III after Parsifal donned the fascist uniform were dramatically apposite. Especially, as Per-Erik Skramstad notes in his 2008 essay, Stefan Herheim's production of Parsifal in Bayreuth, "Kundry is a Jewish character, the female equivalent to the Wandering Jew." With fascism on the rise, Kundry clearly realizes it's time to leave town.
The flapper who attempt to seduce Parsifal during the second act, and their partying boyfriends, diminished the act's dramatic arc. The boyfriends are superfluous and the flapper girls hardly resemble flowermaidens. And nine Japanese lanterns attached to wires don't evoke Klingsor's magic garden.
Other Production Elements
Neither Klingsor, baritone John Wegner (February 24) or baritone Boaz Daniel (February 28), seemed particularly malevolent. However, bass Ante Jerkunica was an effective Titurel in both performances. Liceu's musical director Michael Boder conducted both performances, at a slightly faster tempo on February 25. The orchestra played magnificently on February 24 but less brilliantly the following night, with the horns occasionally straying off pitch.
Projections of a bare-legged boy walking through the grass during the first act Vorspiel, then wearing britches but still barefoot at the beginning of Act II were followed by shoe-clad male at the beginning of the last act. These projections depict Parsifal's pilgrimage. Other Act III projections showing armies at war and refugees were more murky than enlightening.
2012 Wagner Return to Barcelona
Teatre de Liceu was the first opera company to stage Parsifal when the work's copyright expired on December 31, 1913. (The work was previously performed in various North American and European countries where the copyright was not enforceable.) The special relationship between Liceu and Wagner will be further strengthened in early September 2012 when principal singers and the orchestra and chorus of the Bayreuth Festival perform concert versions of Der fliegende Holländer, Lohengrin and Tristan and Isolde in Barcelona.
---
Note: I also attended the February 28 performance of Parsifal and an account of all three Liceu performances is scheduled to appear in the July 2011 issue of The Wagner Journal.
Parsifal on DVD and CD