Parsifal and anti-Semitism
Parsifal has always seemed to provoke even more extreme reactions from his admirers and detractors than any other of Wagner's operas. I do not intend to go over these, but simply to deal with a modern, or rather post 1960s, phenomenon, namely that of extracting an anti-semitic meaning from this music drama. Thereafter, I shall try to explain the piece in my own terms.
Published in 1968, the first Wagnerian biographer to propose that an underlying anti-Jewish meaning to Parsifal exists was Robert W. Gutman. In an otherwise comprehensive, if somewhat reliant on secondary sources, resumé of the composer's life and works, Gutman's thesis comes as a shock. Now that Cosima's diaries are available, some serious questioning of Gutman's view of Parsifal by leading Wagner scholars is long overdue.
It may be seen that, from the outset, Gutman has based his argument on a flimsy basis. It amazes both me and other scholars that his argument was not more strenuously opposed at the time. On the contrary, however, his idea was seized upon by not only the anti-Wagnerians, but also many pro-Wagner scholars looking for a new angle on Wagner scholarship to discuss. The irony is that the person they all blame for this development, namely, Adolf Hitler, is the very personage whose views and actions can dispel this anti-semitic Parsifal myth.
Whatever you think of Hitler, it remains that he knew and understood Wagner's work to a very great depth. A cut of part of the grail narration which had been made in Lohengrin since the 1850s was re-installed in a performance in 1936 and he spotted it immediately. It is true that in the Nazi period, Bayreuth became Nazified in many ways, though not as much as the rest of Germany's opera houses, because even Hitler would not dictate to the festival direction. It took several years to exclude Jewish and homosexual performers who were banned immediately elsewhere. Hitler's attitude to Parsifal will therefore be very illuminating in any argument about its anti-Jewish agenda. The reality is so stunning and so simple that it amazes me that anyone has taken Gutman's argument seriously. At the outbreak of WW2, Hitler had performances of Parsifal banned throughout Germany, including at Bayreuth. His reason was that the work was too pacifist for a nation at war. Now stand back and consider what this means. It means that the world's most notorious anti-semite had not noticed that there was an anti-semitic subtext in a work that he both knew and admired. This is just beyond belief.
Let us now consider what this most difficult of psychological music dramas may mean. Wagner regarded it as his farewell to the world. If you write a piece and give it that description, you must indeed have a meaning implied and one does not have to go far to find it. The term redemption occurs throughout the opera, so who and what exactly are being redeemed and for what reason?
The answer seem to me to lie in Wagner's own character, which is, however one may regret this, that of probably the greatest egotist ever to walk the earth. By his actions, Parsifal, alias Wagner, has redeemed the world by his faithfulness to his mission. He has redeemed the Christian past in allowing its former mistakes to die with Titurel. He redeems the Christian present by healing the wounds of Amfortas. If there is a subtext there it is that he redeems Roman Catholicism by emphasising German Protestantism's theological superiority. The Dresden Amen isn't in there for nothing. He redeems the nature of man by healing the psychological wounds in the Grail community, and the nature of woman by allowing Kundry to redeem herself. Kundry's redemption is also allowing the Jews to redeem themselves by the concept of pity which he recognises in Christianity. Above all, what are the final lines saying? The Redeemer is redeemed. This is Wagner at his most egotistical. He, Wagner, has redeemed Jesus Christ himself from the errors of Rome, Judaism and misguided theology. The future of the world is about Wagner's art and only through that can the world be redeemed. Quite frankly, all Wagner's operas are saying this in different and subdued ways, but this is quite blatant and to think that Wagner would bother with a subtext is to misunderstand the rampant egotism involved in Wagner's struggle and eventual success as the leading composer and artistic thinker of his day. To put it bluntly, much as he disliked the Jews, he never thought that they, or for that matter, anyone else were worth more than a few verbal and published ravings. If you are going to redeem the entire world on your own, you get on with it. Yes, Kundry is the redeemed Wandering Jew, but if there is anti-semitism in this, it is hardly a noticeable splash on the big picture of Wagner's immense ego. There is an entry in Cosima's diaries for January 2nd 1882 which suggests that I may be on the right track. "He [Wagner] then hints at, rather than expresses, the contents of this work 'salvation to the saviour' - and we are silent after he has added, 'Good that we are alone'."
Even if this idea is too much, it is necessary again to go to primary sources to dispel the anti-Jewish argument in Parsifal. If you have trawled through Cosima's diaries, you will find any amount of visceral Jew-hating on her account, even more so than Wagner's. She is at pains to point out how fair Richard is about Jewish artists – he never has a bad word about Halevy, for instance. So if there had been an anti-semitic subtext in Parsifal, she would have revelled in it. But no, all her writings on Wagner's struggle to complete Parsifal are about its message of Christian piety and acceptance. In other words, another rabid anti-Semite didn't see anything written in Parsifal which was against the Jews. To sum up, it really is time to go on to the offensive against some of the arrant nonsense which is pedalled by sensation-seeking media pundits who have cottoned on to a bogus argument.
What will be the next twist in interpretation of Parsifal? I will lay a small wager that in the future, or possibly it is happening right now, some director will see the connection between the Grail Knights surrounded by Islamic enemies in Gothic Spain and relate it to today's fear of radical Islam. If so, instead of blaming Wagner for the atrocities of the last World War, we might see Parsifal as the spark that ignites a global religious fight to the death with Islam. Now there's an idea that couldn't be more stupid than Gutman's?
© 2007, slightly revised 2013 Colin Bayliss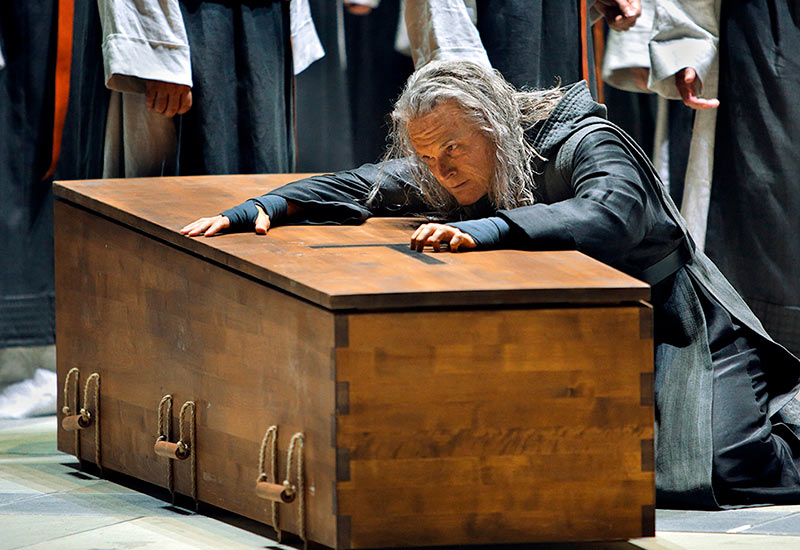 Ryan McKinny as Amfortas in Uwe Erich Laufenberg's new production of Parsifal. Photo: Enrico Nawrath / Bayreuther Festspiele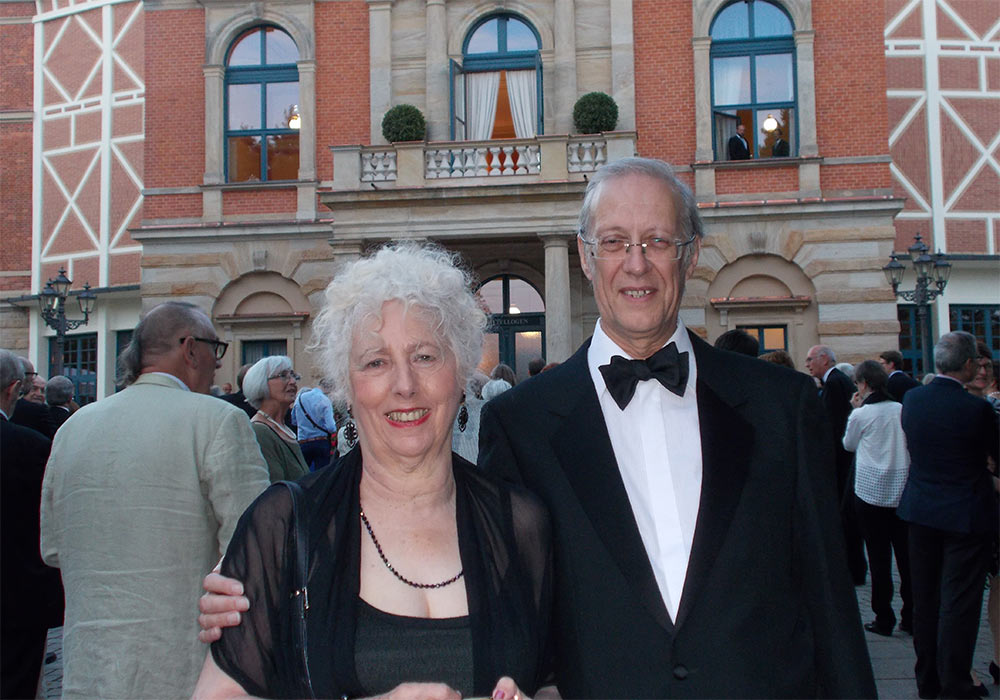 It is now 2016 and I have just returned from the Bayreuth performance of Parsifal with a sense of prophecy fulfilled! Uwe Eric Laufenberg's production was set in the Middle East amid a war with Islamic extremism. This meant that the security precautions around the Festspielhaus were tightly organised. His interpretation of the meaning of the drama, however, was one that I had not considered, namely that redemption should mean the casting of all religions into the dustbin of history and a march towards a secular society of (somewhat naively expressed) mutual understanding. I think that this interpretation, while very relevant now and for a few years, and brilliantly executed I must say, will surely only be seen in an historical context in the future, but conceptions of Wagner's own ideas will emerge over and over again in the centuries to come. All we should ask is that such interpretations should be valid and not skewed by hatred and prejudice against one of the world's outstanding artistic geniuses.
© 2016 Colin Bayliss
About Colin Bayliss
Colin William Bayliss, English composer, was born on February 15th, 1948 in Mansfield, Nottinghamshire. He was educated at Brunts Grammar School, Mansfield and Queen Mary College, London [now Queen Mary University, London], graduating in history in 1969, followed by a Post-graduate Diploma in Librarianship at University College London in 1971. Bayliss began writing music at an early age but destroyed everything written prior to 1968. His catalogue now numbers over 170 compositions including 2 operas [unpublished], 7 symphonies, 10 concertos, 5 flute quartets, 3 piano sonatas and many other instrumental and chamber pieces. His compositional technique includes works using a system of "remainder notes" from serial rows which allows him to bring diatonic tunes out of atonal music. He has also written several humorous pieces. Colin Bayliss is a member of PRS and was the final Chairman of the North West Composers' Association. As well as writing music, he has also researched and published annotated catalogues on the earlier music of Anthony Hedges and Sir Peter Maxwell Davies, thereafter compiling a catalogue of his own works. He has also written a satirical novel under the pseudonym Sally Bisconi. He worked in academic libraries and the book trade before setting up his own music publishing company, Da Capo Music Ltd., which published music of over 60 composers between the years 1992 and 2013.
Parsifal (act 2 and 3) - concert performance
Jaap van Zweden (conductor); Radio Philharmonic Orchestra; Falk Struckmann (Amfortas); Ante Jerkunica (Titurel); Robert Holl (Gurnemanz); Klaus Florian Vogt (Parsifal); Krister St. Hill (Klingsor); Katarina Dalayman (Kundry)
Parsifal at the Bayreuth Festival
Bayreuth: Parsifal Productions
Parsifal: Articles and Reviews
William Kinderman: Wagner's Parsifal (Review and comments by Germán A. Bravo-Casas)
Mark Berry: Bayreuth 2017: Parsifal
Mark Berry: Bayreuth 2016: Parsifal
Mark Berry: Bayreuth Festival: 2012: Parsifal
Mark Berry: Bayreuth Festival: 2011: Parsifal
Colin Bayliss: Parsifal and anti-Semitism
Bayreuth 2008: Stefan Herheim: Parsifal (Per-Erik Skramstad)
Jerry Floyd on Claus Guth's Parsifal production at Gran Teatre Liceu
Daniel Barenboim: Complete Wagner Operas (34 CD)
Parsifal on DVD and CD