Nina Stemme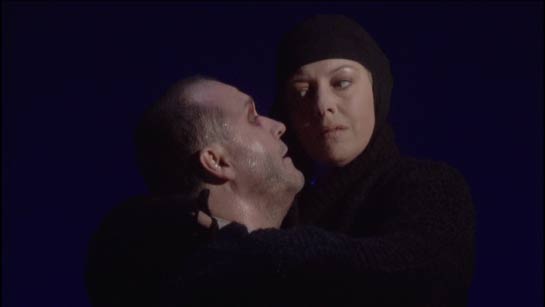 The Swedish soprano Nina Stemme is one of the leading Isoldes and Brünnhildes today. She has had tremendous success as Isolde at Covent Garden, also as Sieglinde and Brünnhilde in the Ring at Vienna State Opera. Her Isolde at Glyndebourne was acclaimed by critics and is now a best seller on DVD.
Nina Stemme sings at the major opera houses all over the world, like Bavarian State Opera Munich, Glyndebourne, Wiener Staatsoper, Salzburg, Bayreuth, Gran Teatre del Liceu Barcelona, Metropolitan Opera New York, San Francisco Opera, Semperoper Dresden, Stockholm, Geneva, Zürich and Teatro San Carlo in Naples.
Her Isolde (2005 and 2006) at the Bayreuth Festival in Christoph Marthaler's production was a great success, but unfortunately she did not return after the second year.
Nina Stemme as Isolde
"I thought my first offer of Isolde was a joke." Stemme, at that time, was more a lyric Mozartian singer than a dramatic Wagnerian. "But a seed was planted. I went away and studied the role and realised it would be possible."
Nina Stemme
Nina Stemme's Wagner roles include
Brünnhilde. Wiener Staatsoper, Bavarian State Opera Munich.
Isolde (Tristan und Isolde). Role debut at Glyndebourne Festival Opera.
This production by Nikolaus Lehnhoff is available on DVD
Eva (Die Meistersinger von Nürnberg)
Elisabeth (Tannhäuser)
Elsa (Lohengrin)
Senta (Der fliegende Holländer)
Sieglinde (Die Walküre)
Nina Stemme sings Isolde on Antonio Pappano's recording of Tristan und Isolde with Placido Domingo as Tristan.
Engagements include
Tristan und Isolde at Royal Opera Stockholm, Zürich Opera and Royal Opera House Covent Garden
Salome at Gran Teatre del Liceu Barcelona and Teatro Real Madrid
Katerina Ismailova/Lady Macbeth of Mzensk at the Metropolitan Opera New York
Brünnhilde in Vienna, San Francisco and at La Scala Milan
Der Fliegende Holländer and Rusalka at Bayerische Staatsoper
Tannhäuser at Opera Bastille Paris
Fidelio at Covent Garden
Nina Stemme was appointed Swedish Royal Court Singer in 2006. She is a member of The Royal Swedish Academy of Music. In June 2008, she was awarded with the medal "Litteris et Artibus" by H.M. the King of Sweden.
Selected Biographies