Bayreuth Festival 2021 opens with its first female conductor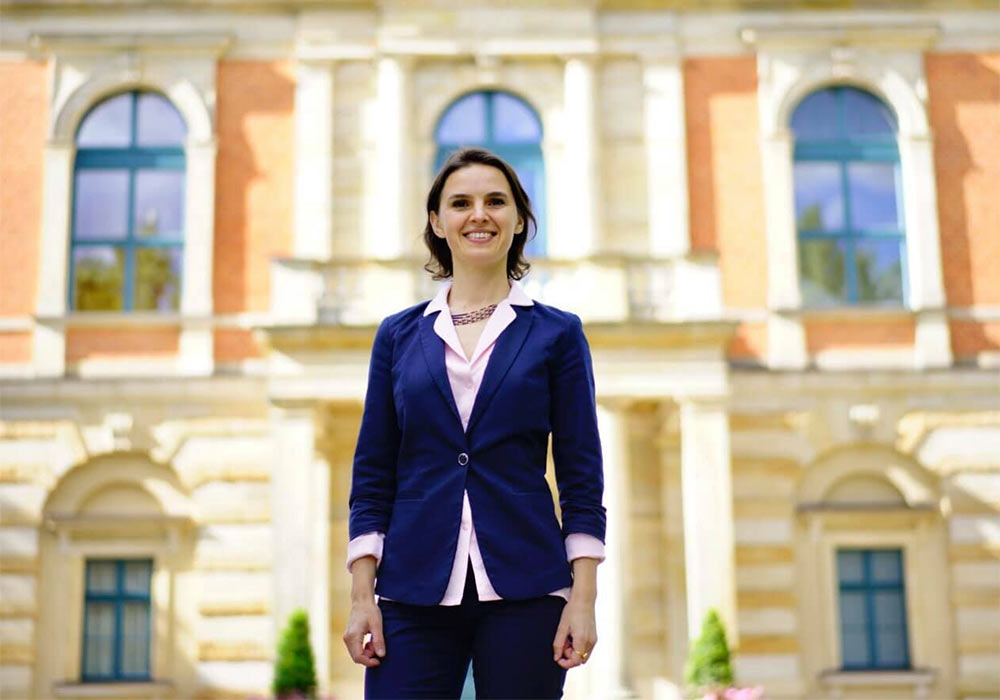 Oksana Lyniv in front of the Bayreuth Festspielhaus. Photo: Serhiy Horobets
Oksana Lyniv to conduct Der fliegende Holländer at Bayreuth 2021
The 42-year-old conductor Oksana Lyniv will be the first woman to conduct at Bayreuth since the festival was founded in 1876.
Bayreuth Festival Streaming 2021
Deutsche Grammophon: DG Stage returns to Bayreuth this summer as the Festival's global digital partner. This year's programme is offering access to one of the greatest of all musical experiences. Between 26 July and 24 August DG Stage will broadcast ten different productions – encompassing all of Wagner's mature music-dramas from the festival stage – including the exclusive online premiere of this year's new production of Der fliegende Holländer on July 27. Later Die Meistersinger von Nürnberg, Frank Castorf's Ring production. Yuval Sharon's Lohengrin, Tobias Kratzer's Tannhäuser with Lise Davidsen, Katharina Wagner's Tristan und Isolde, Uwe Eric Laufenberg's Parsifal.
Full Programme of DG Stage Streaming at Bayreuth 2021
July 27 – August 2, 2021: Der fliegende Holländer (EUR 9.90). Not available in Japan.
July 26, 2021 & August 24, 2021: Die Meistersinger von Nürnberg (FREE!)
Der Ring des Nibelungen:
Rheingold: July 30, 2021 (FREE!)
Walküre: August 6, 2021 (FREE!)
Siegfried: August 15, 2021 (FREE!)
Götterdämmerung: August 21, 2021 (FREE!)
July 31, 2021: Lohengrin (FREE!)
August 2, 2021 & August 23, 2021: Tannhäuser (FREE!)
August 9, 2021: Tristan und Isolde (FREE!)
August 10, 2021: Parsifal (FREE!)
Der fliegende Holländer 2021
Conductor: Oksana Lyniv
Director: Dmitri Tcherniakov
Senta Asmik Grigorian
Holländer John Lundgren
Daland Georg Zeppenfeld
Erik Eric Cutler
Mary Marina Prudenskaya
Der Steuermann / The Steersman Attilio Glaser
Der Holländer / The Dutchman John Lundgren
Streaming by Deutsche Grammophon
Reviews
At Wagner's Festival, a 'Dutchman' Never Sails. With neither ship nor sea, Dmitri Tcherniakov's new Bayreuth Festival staging recasts the opera as a tale of violent revenge (New York Times)
At Bayreuth, it is Tcherniakov's Der fliegende Holländer we see while Oksana Lyniv lets us hear Wagner's (Jim Pritchard in Seen and Heard)
Wagners "Holländer" als Dorf-Thriller (BR-Klassik)
At this year's Bayreuth Festival, both cheers and jeers greet the new production of Wagner's classic (Financial Times)
Die Meistersinger von Nürnberg 2021
Conductor Philippe Jordan
Director Barrie Kosky
Hans Sachs Michael Volle
Veit Pogner Georg Zeppenfeld
Kunz Vogelgesang Tansel Akzeybek
Konrad Nachtigal Armin Kolarczyk
Sixtus Beckmesser Johannes Martin Kränzle (Bo Skovhus 26.7.)
Fritz Kothner Werner Van Mechelen
Balthasar Zorn Martin Homrich
Ulrich Eisslinger Christopher Kaplan
Augustin Moser Ric Furman
Hermann Ortel Raimund Nolte
Hans Schwarz Andreas Hörl
Hans Foltz Timo Riihonen
Walther von Stolzing Klaus Florian Vogt
David Daniel Behle
Eva Camilla Nylund
Magdalene Christa Mayer
Ein Nachtwächter Günther Groissböck
July 2021: 26
August 2021: 1, 8, 12, 17, 24
Tannhäuser 2021
Conductor Axel Kober
Director Tobias Kratzer
Stage design Rainer Sellmaier
Costumes Rainer Sellmaier
Lighting Reinhard Traub
Video Manuel Braun
Dramaturgy Konrad Kuhn
Landgraf Hermann Günther Groissböck
Tannhäuser Stephen Gould
Wolfram von Eschenbach Markus Eiche
Walther von der Vogelweide Magnus Vigilius
Biterolf Olafur Sigurdarson
Heinrich der Schreiber Jorge Rodríguez-Norton
Reinmar von Zweter Wilhelm Schwinghammer
Elisabeth, Nichte des Landgrafen Lise Davidsen
Venus Ekaterina Gubanova
Ein junger Hirt Katharina Konradi (7/27, 8/2, 8/5), Alexandra Steiner ( 8/13, 8/16, 8/23)
Le Gateau Chocolat (Kyle Patrick)
Oskar Manni Laudenbach
Die Walküre 2021
The performances of the "Walküre" will be framed by commissioned works in various artistic genres that mirror, comment on, continue or re-experience all parts of the "Ring des Nibelungen". Action artist: Hermann Nitsch.
| | |
| --- | --- |
| Conductor | Pietari Inkinen |
| Action artist | Hermann Nitsch |
| Siegmund | Klaus Florian Vogt |
| Hunding | Dmitry Belosselskiy |
| Wotan | Tomasz Konieczny |
| Sieglinde | Lise Davidsen |
| Brünnhilde | Iréne Theorin |
| Fricka | Christa Mayer |
| Gerhilde | Kelly God |
| Ortlinde | Brit-Tone Müllertz |
| Waltraute | Stephanie Houtzeel |
| Schwertleite | Christa Mayer |
| Helmwige | Daniela Köhler |
| Siegrune | Nana Dzidziguri |
| Grimgerde | Marie Henriette Reinhold |
| Rossweisse | Simone Schröder |
Parsifal (concert performance), 10 August 2021
Conductor Christian Thielemann
Amfortas Michael Volle
Titurel Günther Groissböck
Gurnemanz Georg Zeppenfeld
Parsifal Stephen Gould
Klingsor Derek Welton
Kundry Petra Lang
1. Gralsritter Tansel Akzeybek
2. Gralsritter Timo Riihonen
1. Knappe Alexandra Steiner
2. Knappe Simone Schröder
3. Knappe Martin Homrich
4. Knappe Attilio Glaser
Klingsors Zaubermädchen: Tuuli Takala, Katja Stuber, Simone Schröder, Alexandra Steiner, Bele Kumberger, Marie Henriette Reinhold
Eine Altstimme Simone Schröder
Reviews
Puristen-Parsifal: Thielemann rockt (Festspielblog.de)
Christian Thielemann dirigiert in einer starken Bayreuther Saison einen genialen "Parsifal" im Festspielhaus (Frankfurter Rundschau)
Concerts conducted by Andris Nelsons
22 August 2021
Sopran: Christine Goerke
Bass: Günther Groissböck
Tenor: Klaus Florian Vogt
Die Walküre – Act 1
Intermission
Lohengrin – Vorspiel
Lohengrin – Excerpts. Solist Klaus Florian Vogt
Parsifal Vorspiel Act 1
Parsifal – Excerpts. Solist Klaus Florian Vogt
Parsifal – "Karfreitagszauber"
25 August 2021
Sopran: Christine Goerke
Bass: Günther Groissböck
Tenor: Klaus Florian Vogt
Die Walküre – Act 1
Intermission
Die Walküre – "Walkürenritt" Die Walküre – "Abschied und Feuerzauber" (Günther Groissböck)
Götterdämmerung – "Siegfrieds Rheinfahrt"
Götterdämmerung – "Siegfrieds Tod und Trauermarsch" (Klaus Florian Vogt) Götterdämmerung – Final scene (Christine Goerke )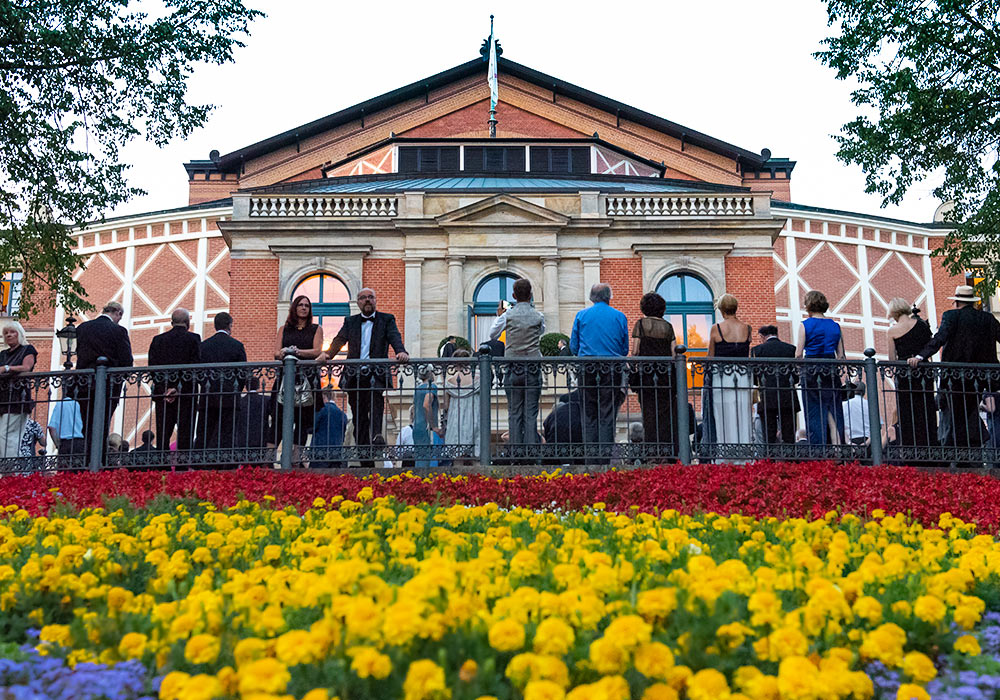 Lohengrin Reviews and articles (2018)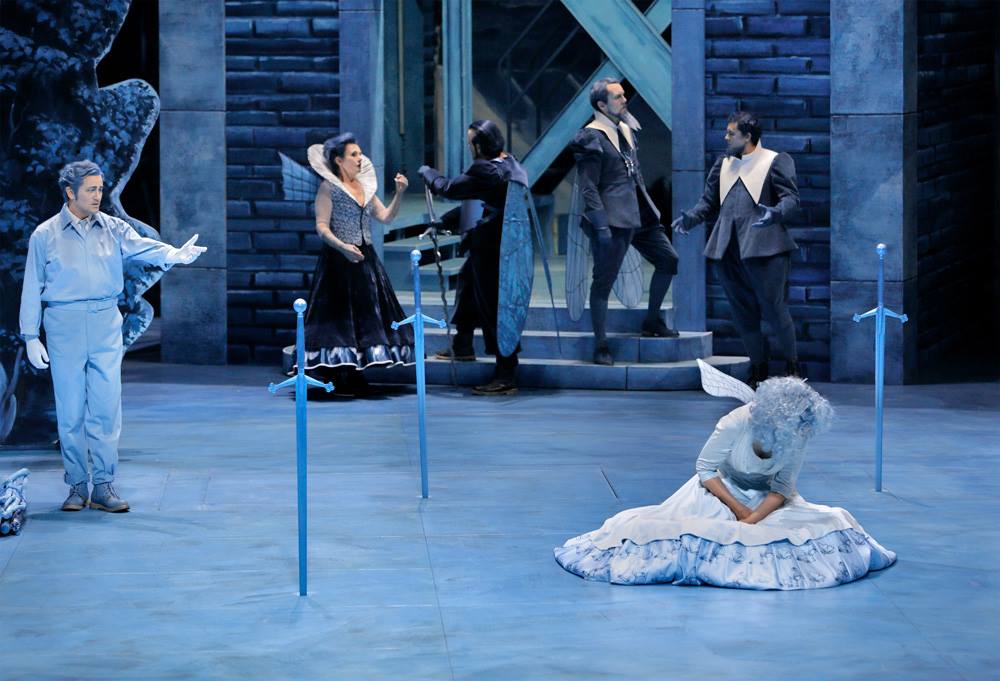 Photo: Enrico Nawrath/Bayreuther Festspiele