Die Walküre, Metropolitan Opera
Machine Age Die Walküre (2011)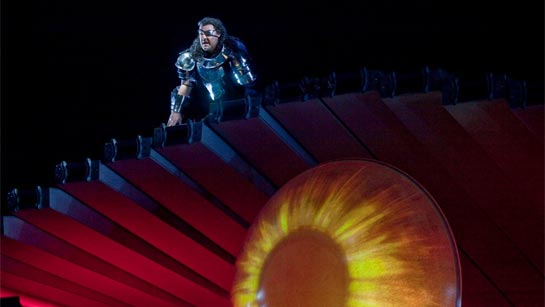 Bryn Terfel sang more eloquently and passionately when he portrayed the Das Rheingold Wotan. Photo: Ken Howard/Metropolitan Opera.
Die Walküre (Metropolitan Opera), 28 April 2011
Cast (in order of appearance)
Siegmund Jonas Kaufmann
Sieglinde Eva-Maria Westbroek
Hunding Hans-Peter König
Wotan Bryn Terfel
Brünnhilde Deborah Voigt
Fricka Stephanie Blythe
Gerhilde Kellie Cae Hogan
Helmwige Molly Fillmore
Waltraute Marjorie Elinor Dix
Schwertleite Mary Phillips
Ortlinde Wendy Bryn Harmer
Siegrune Eve Gigliotti
Grimgerde Mary Ann McCormick
Rossweise Lindsay Ammann
Conductor James Levine
Production Robert Lepage
Associate Director Neilson Vignola
Set Designer Carl Fillion
Costume Designer François St-Aubin
Lighting Designer Etienne Boucher
Video Image Artist Boris Firquet
Based on last autumn's HD broadcast of Das Rheingold and a live performance of Die Walküre seen on April 28, the Metropolitan Opera's new Ring cycle is a costly miscalculation.
Director Robert Lepage and his production team have created a high-tech unit set that consists of 24 moveable plans and is dubbed the "Machine". Combined with a price tag estimated as high as $40 million, and its various staging mishaps, this Ring is turning into the operatic equivalent of the Broadway show, Spiderman: Turn off the Dark.
When the visually irritating contraption rearranges itself, the Machine's squeaks and groans detract from Wagner's music and the staging is otherwise static and boring. And not all of the Die Walküre cast are suited for their roles.
Bayreuth Festival 2019 Reviews
Bayreuth Festival 2017 Reviews
Bayreuth Festival 2016 Reviews
Bayreuth Festival 2015 Reviews
Bayreuth Festival 2014 Reviews
Bayreuth Festival 2013 Reviews
Bayreuth Festival 2012 Reviews
Bayreuth Festival 2011 Reviews
Bayreuth Festival 2010 Reviews
Risky Business
When the opera premiered on April 22, soprano Deborah Voigt, Brünnhilde, fell as she clambered up the Machine's treacherous slope. And during the Act III Walkürenritt at the April 28 performance as mezzo-soprano Eve Gigliotti, Siegrune, slid down a plank-cum-horse's neck she fell onto the main stage floor, three feet below where she was supposed to land. According to the Met's press office this mishap occurred because of a misheard cue.
One of Gigliotti's colleagues assisted her and as the other Valkyries continued to sing Gigliotti ran into the wings. She gamely returned a few minutes later to audience applause and continued performing.
The audience also applauded the opening of Act III, when the Valkyries sit astride the Machine's planks and appear to be riding horses. However, puppet horses used in the play War Horse at Lincoln Center's nearby Vivian Beaumont Theater are more theatrically imaginative, and realistic, steeds than the Machine's planks.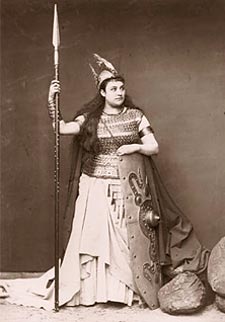 The Valkyries' costumes are partly reminiscent of Amalie Materna's 1876 Brünnhilde costume.
Given the moving machinery, the long skirts the Valkyries wear is another potential hazard. Designed by François St-Aubin, this garb is reminiscent of the costume worn by Amalie Materna when she performed Brünnhilde in Bayreuth in 1876.
Wrong Direction
Too often this production of Walküre lumbers from scene to scene, the Machine starts twisting and turning and the next part of the opera unfolds. The work's dramatic arc is diffused so instead of being caught up in the opera's taut familial conflicts, we witness a series of disparate scenes ruled by the Machine.
Hunding's spacious hut is too wide to provide any sense of claustrophobia and performing much of Act I below the apron mitigated the tension that should develop between Siegmund, Sieglinde and Hunding. The distracting snowstorm projected onto the backdrop during part of Act I was another example of the production team's preoccupation with technical gimmickry. (The snow must have melted quickly because spring unfolds by the end of the act.)
Today's Ring directors can benefit from studying Patrice Chéreau's engrossing direction of the Bayreuth centenary production. Certainly Brünnhilde's anointing of Siegmund in Chéreau's staging of the "Todesverkündigung" scene was one of the highlights of the live performance and the videotaped version of Die Walküre and should also be one of the most gripping moments in of any staging of the Die Walküre.
In Lepage's version, the Machine stands upright, lit by projections to resemble tree trunks in a forest. Brünnhilde walks onto the stage and she and Siegmund, Jonas Kaufmann, sing their music. But the static, overly bright lighting and hackneyed stage movements dilute the scene's mystical aura.
Casting Crunch
Singers with the requisite vocal heft to surmount the Ring's orchestration are increasingly rare. At least mezzo-soprano Stephanie Blythe, Fricka, and bass Hans-Peter König, Hunding, are imposing Wagnerians. Blythe portrays a vulnerable, disappointed Fricka, whose wrath is understandable. However, Fricka's chair, which includes rams' horns as arm rests, resembles furniture usually seen in comic book panels.
König, who was so effective as Gurnemanz in the Grand Teatre del Liceu's Parsifal two months ago, has the blackness of tone if not the menacing stage presence needed for Hunding. König's costume makes him appear more like Falstaff than one of Wagner's vengeful warriors. Still, it was a pleasure to hear this singer again so soon after his Parsifal appearances.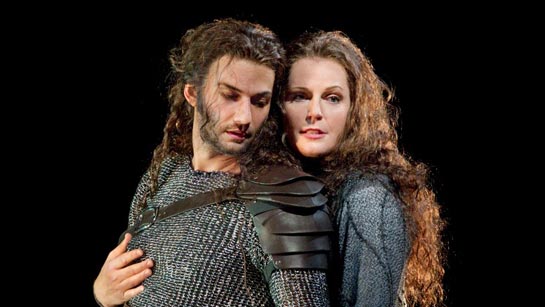 Siegmund (Jonas Kaufmann) and Sieglinde (Eva-Maria Westbroek). Photo: Ken Howard/Metropolitan Opera.
Even though soprano Eva-Maria Westbroek's voice sounds a couple of sizes too small for the Met's cavernous auditorium, she and tenor Kaufmann are physically appealing twins. Westbroek seemed to have recovered from the indisposition that caused her to cancel her appearance in the last two acts during the premiere. But on April 28, the conclusion of Sieglinde's "O, Herstes Wunder!" was more cloudy than radiant.
Kaufmann's is making his debut as Siegmund in this production and he is of course a charismatic actor. Still, his lyric tenor is better suited for lighter Wagner repertory, not heldentenor roles. While his "Wälse! Wälse!" rang out forcefully during Act I, Kaufmann displayed a bit of a wobble.
Bass-baritone Terfel lacks the gravitas needed for an authoritative Wotan. Still, he sang more eloquently and passionately than last autumn, when he portrayed the Das Rheingold Wotan.
Voigt is an engaging actress and her voice still has a girlish timbre. But she is not a hochdramatischesopran and for much of the opera her singing was more a sketch than a fully realized portrayal. Her effortful performance was akin to those heard in smaller opera houses and one wonders how Voigt will manage the vocal challenges that await her next season in Siegfried and Götterdämmerung at the Met.
Band Aid
In 1984, I witnessed James Levine's conducting of his very first Ring performances when he led Die Walküre with the Met on tour in Washington, DC. Those two stirring performances were a harbinger of Levine's work in the Met's then-planned new Ring cycle. Lately, Levine's Wagner conducting has become erratic, so credit is due to the Met's orchestra for playing so splendidly. And credit also the spirited, unflappable singers who portrayed the Valkyries.
The April 28 performance was the company's 525th performance of Die Walküre. After the new Lepage productions of Siegfried and Götterdämmerung are unveiled the Met presents three complete Ring cycles during spring 2012.
Other reviews
Anne Midgette (The Washington Post)
Martin Bernheimer (The Financial Times)
Anthony Tommasini (The New York Times)
James Jorden (The New York Post)
Heidi Waleson (Wall Street Journal)
Lee Rosenbaum (Huffington Post)
Manuela Hoelterhoff (Bloomberg)
George Loomis (The Classical Review)
Zachary Woolfe (The New York Observer)
RML (I Hear Voices)
We recommend
Der Ring des Nibelungen: Articles and Reviews
Nila Parly on Regietheater: Visions of the Ring
The Cry of the Valkyrie: Feminism and Corporality in the Copenhagen Ring
Mark Berry: Bayreuth 2017: Das Rheingold (Frank Castorf / Marek Janowski)
Mark Berry: Bayreuth 2017: Die Walküre (Frank Castorf / Marek Janowski)
Mark Berry: Bayreuth 2016: Das Rheingold (Frank Castorf)
Mark Berry: Bayreuth 2016: Die Walküre (Frank Castorf)
Mark Berry: Bayreuth 2016: Siegfried (Frank Castorf)
Mark Berry: Bayreuth 2016: Götterdämmerung (Frank Castorf)
Mark Berry: Bayreuth 2014: Das Rheingold (Frank Castorf)
Mark Berry: Bayreuth 2014: Die Walküre (Frank Castorf)
Mark Berry: Bayreuth 2014: Siegfried (Frank Castorf)
Mark Berry: Bayreuth 2014: Götterdämmerung (Frank Castorf)
Germán A. Bravo-Casas: Wagner's Dream. A documentary film directed by Susan Froemke and edited by Bob Eisenhardt
Per-Erik Skramstad: Bayreuth 2013: There Will Be Blood: Frank Castorf Has Entered the Ring
Per-Erik Skramstad: Bayreuth 2010: Curtain Down on Tankred Dorst's Ring
Mark Berry: 2010 Cassiers Ring
Sam Goodyear: Laufenberg's Wiesbaden Ring 2017
Jerry Floyd: Rheingold, Metropolitan 2010
Jerry Floyd: Die Walküre, Metropolitan 2010
Jerry Floyd Washington National Opera: Siegfried
Jerry Floyd Washington National Opera: Siegfried II
Jerry Floyd Washington National Opera: Götterdammerung Concert (2009)
Jerry Floyd Washington National Opera: Götterdammerung Concert (2009)
Mark Berry: Richard Wagner für Kinder – Der Ring des Nibelungen (2011)