Bayreuth Festival 2017: Wagner's Work and National Socialism (two-day symposium)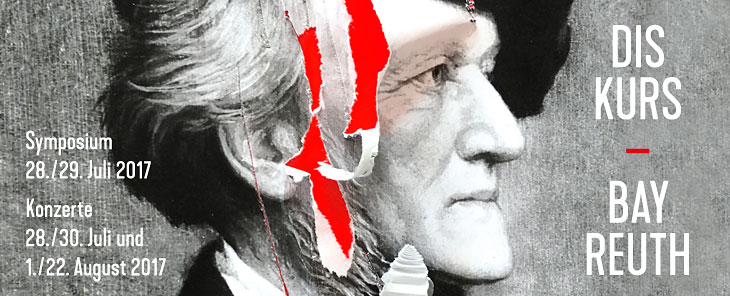 The Bayreuth Festival is launching a new supporting programme this year. It is entitled "Bayreuth Discourse" and is designed as a series of events for the academic and artistic analysis of Wagner's work and legacy.

A two-day symposium will be held in summer 2017. This year's theme will be "Wagner's Work and National Socialism". Lectures and discussions will examine facets of Wagner's personality and the effect of his works and writings during the Nazi regime and the long-term consequences. Four concerts will feature music by opponents and victims of Nazi rule.

Bayreuth Discourse is intended to be a platform where the controversies surrounding the composer and ideas about the complex meanings and legacy of the person and work of Richard Wagner can be discussed. Representatives of different disciplines including artists, academics, musicians, and theatre professionals will meet in one-on-one discussions.

Bayreuth Discourse is generously supported by the Gesellschaft der Freunde von Bayreuth e.V. and takes place in cooperation with the Richard Wagner Museum of Bayreuth.
Symposium
28 July 2017: Wagner under National Socialism: A Fall from Innocence?
29 July 2017: Opera without Wagner? Music without Opera? The situation of the arts during the post-war reconstruction
Both 10:00 am – 5:45 pm, Haus Wahnfried, free admission
Concerts
28, 30 July, 1, 22 August 2017
Participants include members of the Festival Orchestra, Daniel Behle (tenor), Jürgen Kruse (piano), and others
Each 8:00 pm, Haus Wahnfried, Admission €25.00.
More information about the symposium here!